Find out if pepperoni is safe for a gluten-free diet, plus get a list of gluten-free pepperoni brands you can enjoy while avoiding gluten.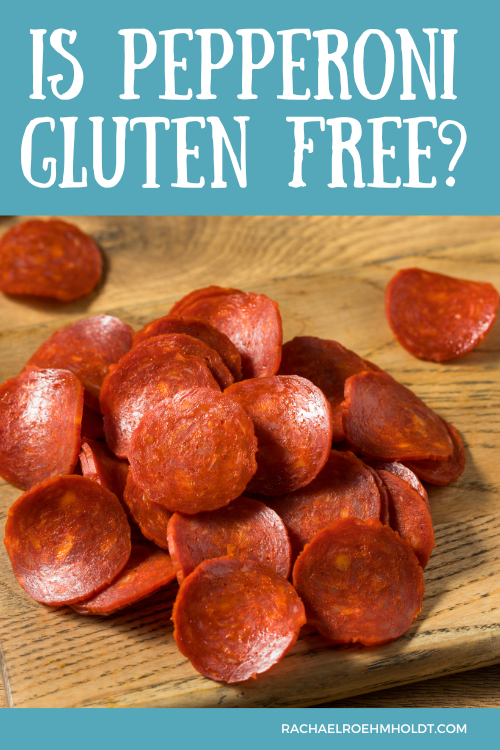 Note: I am a proud Amazon, Chomps, MunkPack, and Thrive Market affiliate and am happy to recommend their service and products to you. Please know that as an affiliate, I may receive a small commission on the products you purchase after clicking through my links. For more info, please see my disclosure policy here.
If you and your family love to make pizza at home, you're probably no stranger to picking up a package of pepperoni from the grocery store to make that pizza come together.
I bet if you're new to a gluten-free diet that you're already aware that the crust of a pizza needs to be substituted with a gluten-free variety instead of making one with traditional white flour.
You'll need to make a pizza crust from scratch with gluten-free flour or buy a gluten-free pizza crust mix to help you make this family pizza night a reality.
One thing you might not have considered though are all the toppings that go on top of the gluten-free crust. Is the sauce gluten-free? Is the cheese gluten-free? And of course, are the pepperoni or other toppings gluten-free?
In this post, we're diving in to answer that one specific question: Is pepperoni gluten-free? Because if you're like my family, pizza is an important part of our family life. And you'll need answers just like we do.
Let's take it one step at a time and find out the answers to some of these questions: What is pepperoni made of? What is gluten- Is pepperoni gluten-free? And what brands (if any) are gluten-free?
By the end of this post, hopefully you'll have all the answers you need to make an informed decision next time you're shopping for pepperoni for your next pizza night!
Let's get into it!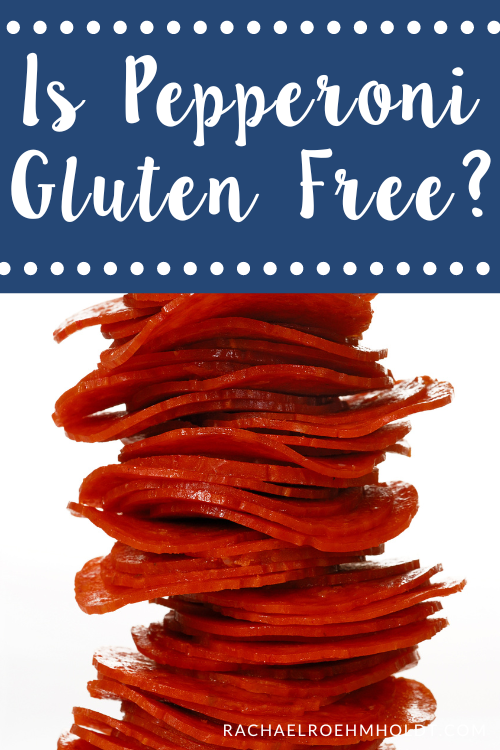 What is pepperoni made of?
To get an idea of what ingredients are in pepperoni, let's look at a few of the most popular pepperoni brands you can find at many grocery stores throughout the US: Hormel and Applegate.
The Hormel Original Pepperoni contains these ingredients:
"Pork, Beef, Salt, Contains 2% or less of Water, Dextrose, Spices, Lactic Acid Starter Culture, Oleoresin of Paprika, Garlic Powder, Sodium Nitrite, BHA, BHT, Citric Acid."
There is also a note that says that BHA and BHT with citric acid are added to help protect flavor.
Applegate offers a range of products that are generally considered more natural. Let's look at the ingredients list of their most popular pepperoni product.
Ingredients in Applegate Naturals Uncured Pork & Beef Pepperoni:
"Pork, Beef, Sea Salt. Contains Less Than 2% Of The Following: Turbinado Sugar, Water, Spices, Cultured Celery Juice Powder, Granulated Garlic, Cherry Powder, Lactic Acid Starter Culture (Not From Milk), Rosemary Extract, Oleoresin Of Paprika, Lime Juice Concentrate."
There is also a note that shows that the spices added are: black pepper, white pepper, cayenne pepper, anise seed powder, allspice, and fennel seed.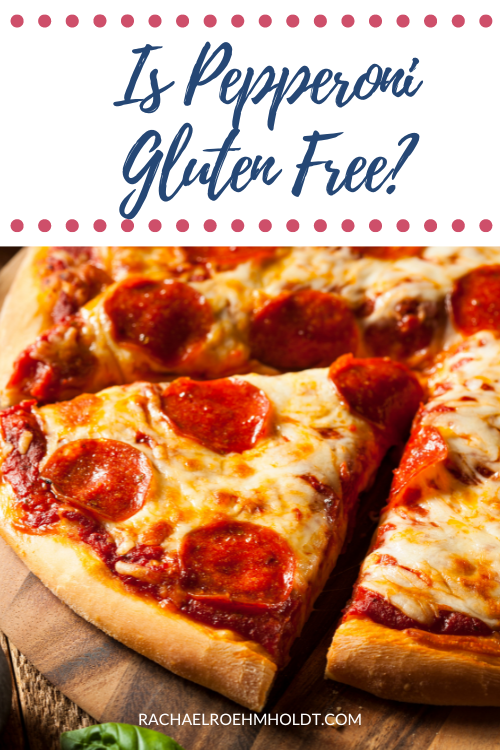 What is gluten?
Gluten is a protein found in most wheat products, and acts as the "glue" that helps to hold wheat, barley, kamut, spelt, farro, durum, bulgur, rye, and semolina together to maintain their shape.
Gluten is naturally occurring, and therefore is impossible to strip away from the grain. If a grain naturally has gluten in it, there's no way to make that food gluten-free.
Is pepperoni gluten-free?
Many brands of pepperoni are gluten-free, though not all. In general, you're likely to find that most are made without gluten ingredients, but some may contain binders that do contain gluten.
In order to help you stick with your gluten-free diet, it's a good idea to only buy pepperoni products with a gluten-free label on the packaging. This ensures that the product has been tested by the manufacturer to ensure that there is less than 20ppm of gluten, as per the requirements by the FDA.
Even some brands of pepperoni may have products that they sell that have gluten-free labels, while others do not. So it's always a good idea to check those packages before buying.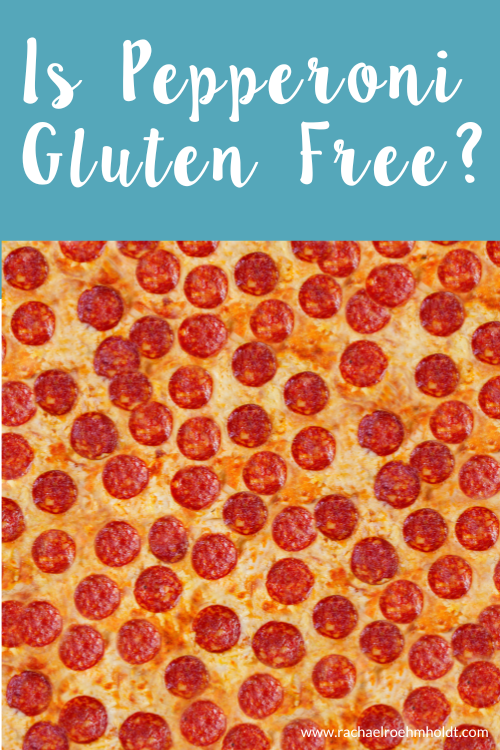 What to be careful about when buying pepperoni on a gluten-free diet
It's important to know that not all pepperoni is safe for folks on a gluten-free diet. While some brands may offer pepperoni with gluten-free labels, not all of their products are labeled as such.
This can mean that they have included gluten ingredients in their other varieties of pepperoni. Or it could mean that they process their pepperoni on shared equipment that they're aware that gluten ingredients are coming into contact with the pepperoni and there's a change for cross contamination during that processing.
The best option is for you to review all packages and ingredients every time you buy pepperoni from the grocery store. Look through ingredients lists for any hidden names of gluten, as well as reviewing for a gluten-free label on the package.
One of my little secrets is that I carry around a copy of my GFDF Take Along Cards so that I always have a point of reference when I can sneak a peek at the ingredient list of a food.
>> Get your copy of the GFDF Take-Along Cards to make this easy on you.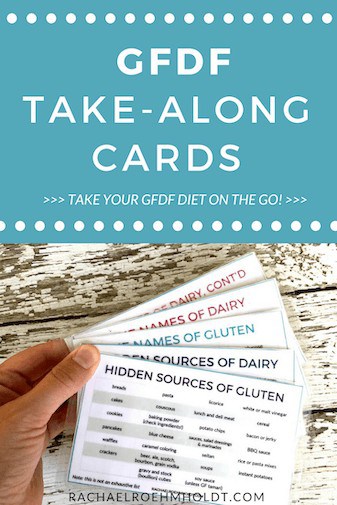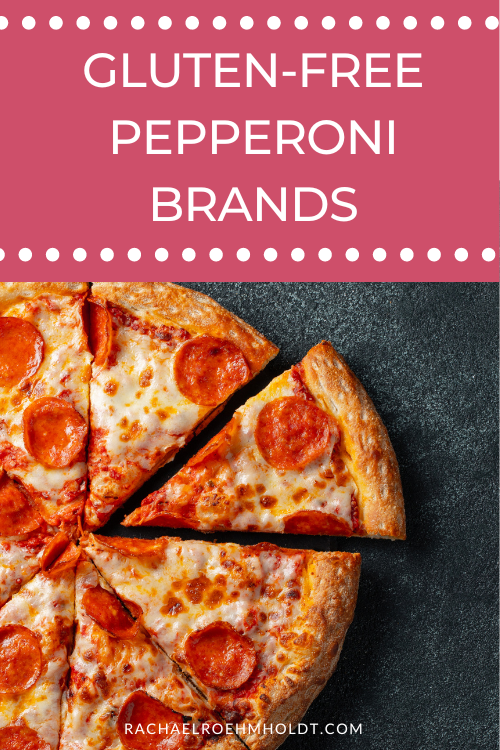 Brands of gluten-free pepperoni
There are a number of brands of pepperoni that you can buy that are considered gluten-free or made without gluten ingredients.
The difference is that brands that carry a gluten-free label on their packaging must test and ensure that their products contain less than 20ppm of gluten. Whereas products not containing any gluten ingredients may still contain gluten at trace amounts.
The difference here for some people could result in a gluten reaction, so keep this in mind as you make your way through this list, knowing that you know your level of sensitivity to gluten better than anyone else.
Let's go over some pepperoni options that have gluten-free labels to help narrow down our options next time we're shopping for our next pizza night.
Applegate
These options from Applegate are labeled as gluten-free.
Applegate Naturals Pork & Beef Pepperoni
Applegate Naturals Turkey Pepperoni
Applegate Naturals Mini Pepperoni
Armour
The three pepperoni options from Armour are all labeled as gluten-free.
Original Pepperoni
Turkey Pepperoni
Lower Sodium Pepperoni
Boar's Head
The pepperoni options from Boar's Head are labeled as gluten-free.
Pepperoni
Sandwich Style Pepperoni
Bridgford
These products are labeled as gluten-free.
Sliced Pepperoni
Thick Sliced Pepperoni
Turkey Pepperoni
Pepperoni Sticks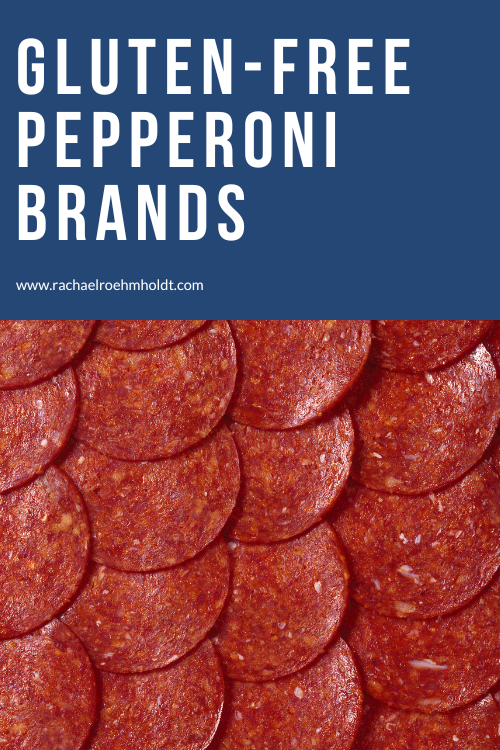 Fiorucci Foods
These products from Fiorucci Foods are labeled as gluten-free.
100% Natural Uncured Pepperoni
Antipasti Pepperoni
Panino Antipasti Pepperoni
Sandwich Pepperoni
100% Natural Uncured Pepperoni
Sandwich Pepperoni
Sliced Pepperoni
Uncured Pepperoni
Grab & Go Pepperoni
100% Natural Pepperoni Charcuterie Slices
Pepperoni Stickados – Single Stick
Great Value
This brand is labeled gluten-free.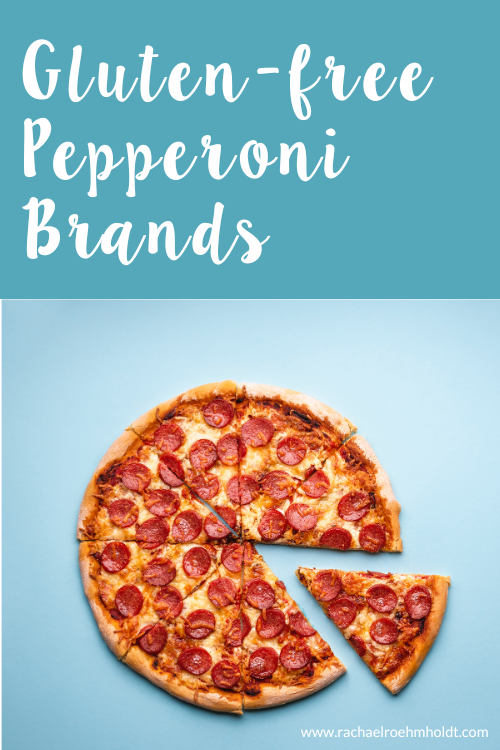 Hormel
These options from Hormel are labeled as gluten-free.
Hormel Pepperoni Original
Hormel Pepperoni Less Fat
Hormel Pepperoni 50% Less Sodium
Hormel Pepperoni Diced
Hormel Pepperoni Hot & Spicy
Hormel Pepperoni Turkey
Hormel Pepperoni Minis Original
Hormel Pepperoni Minis Turkey
Hormel Pepperoni Snack Bites Original
Hormel Pepperoni Snack Bites Turkey
Hormel Pepperoni Stix Original
Hormel Pepperoni Stix Turkey
Wellshire Farms
Wellshire Farms Dried Pepperoni Stick contains no gluten ingredients, but does not have a gluten-free label on the packaging.
What dishes can I use gluten-free pepperoni in?
Pepperoni can be used in a number of different ways in your gluten-free diet. Here are a few relevant blog posts that might help you make the most of this ingredient:
I hope if you've been wondering if you can put pepperoni on your pizza next time you're making homemade pizza or charcuterie plates that this post has been helpful for you.
Many brands of pepperoni are considered safe for a gluten-free diet, though it never hurts to check ingredients lists and review the packaging for a gluten-free label before buying.
If you loved this post, I hope that you'll share it with your friends on Facebook and pin it for future reference on Pinterest.
Love this post? You might also want to check out these!
Find out if your favorite foods and ingredients contain gluten with these posts!