These gluten and dairy-free Mexican rice bowls are quick, easy, full of flavor, and perfect for meal prepping. Try this recipe for an easy weeknight dinner.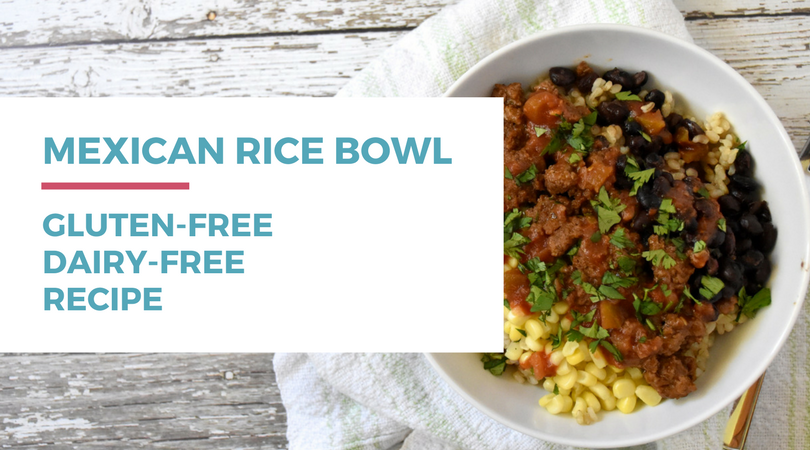 If you've been around my blog for any amount of time, you probably already know that my family LOVES Mexican food. My husband and I always loved going to Mexican restaurants long before I went gluten and dairy-free, but what I ordered way back when was much different.
When you go out to Mexican restaurants, you can almost expect that half of almost any plate is covered in cheese. Many dishes also come with sides of sour cream. These places are swimming with dairy – and as you know, being dairy-free, that quickly becomes the things of nightmares.
It is possible to order gluten-free and dairy-free options out at Mexican restaurants – and I still do frequently with my family. But my husband and I also became pretty well-versed in making some tasty Mexican-inspired dishes at home so that we can get the flavors that we crave without having to worry about missing out on the cheese.
There are so many Mexican ingredients that are all gluten-free and dairy-free friendly, which is why we make so many dishes at home. Not only can we avoid the dairy and gluten, but we can control the quality of the ingredients we use, opting for high quality, fresh and organic ingredients when possible.
Corn tortillas, beans, rice, salsa, meat, avocados and guacamole. There are a ton of ingredients that are safe on this diet – and easy to create loads of recipes around. In this blog post, I wanted to share one of our favorite Mexican dishes to make at home…. Mexican rice bowls.
Read on: Gluten-free Mexican food
We love Mexican Rice Bowls, because they're
Easily customizable – everyone can make their bowl exactly to their liking
Made from simple inexpensive ingredients that don't take a ton of time to prep
Homemade using the best ingredients and things we can make in big batches
Delicious when reheated for leftovers the next day
Awesome for weekly lunch prep
Easy on the wallet
Read on: Gluten and dairy-free lunch ideas

Mexican Rice Bowl Recipe
This recipe is more of a "build your own" concept than an actual recipe. I'm adding in some ingredient amounts, but you can easily add or take away from each of these to suit your tastes.
Ingredients
Directions
Cook the ground beef in a skillet over medium-high heat until browned. Add taco seasoning and water, then let simmer about 5 minutes until the sauce thickens and most of the water is gone.
Cook your frozen corn either in the microwave or stovetop, whatever works best for you.
Heat the beans in a small saucepan with cup water over low heat until warmed through.
Create your rice bowls with a layer of brown rice in the bottom of a bowl. Next add cooked taco meat, corn, beans, and salsa. Top everything with chopped cilantro. Dig in and and enjoy!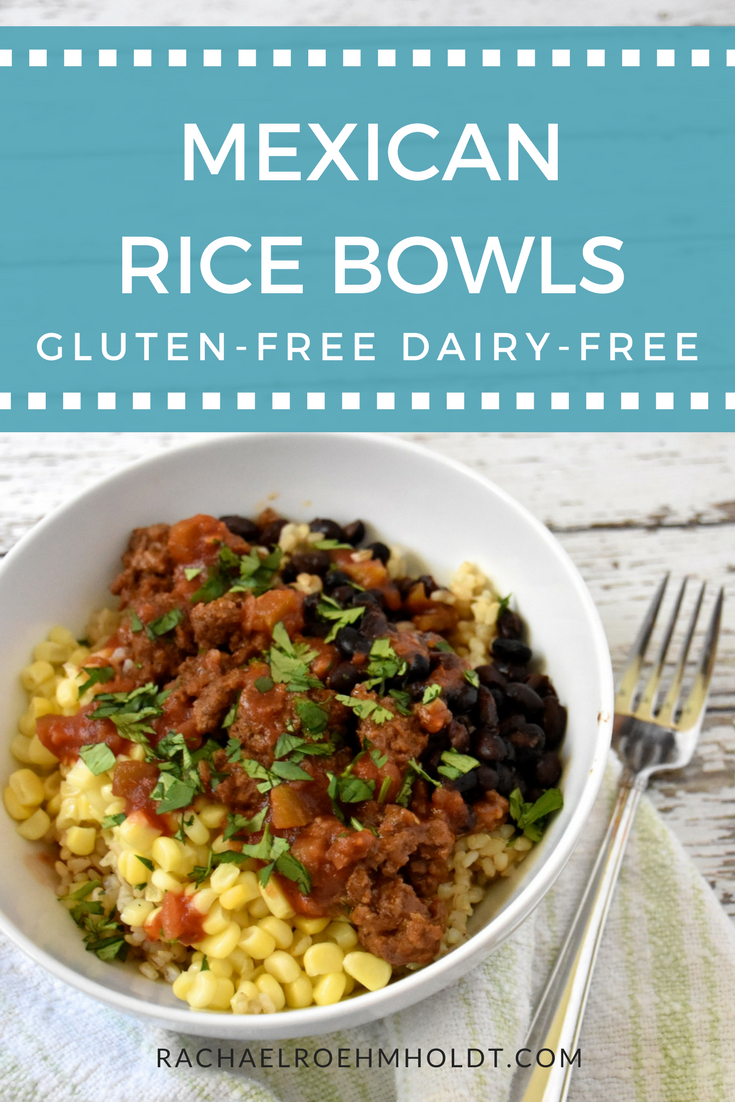 It's easy to make your own favorite Mexican dishes at home for less and gluten-free dairy-free friendly. Try this recipe next time you want a Mexican food fix but want a healthy home-cooked meal too.
If you loved this post and recipe, be sure to download my gluten-free dairy-free shopping list and 5 more sample recipes below.

Get the FREE Gluten-free Dairy-free Shopping List
Get access to the most comprehensive - and healthy! - gluten-free dairy-free shopping list around!
Plus get 5 sample gluten-free dairy-free recipes!