Is quinoa gluten-free? If you follow a gluten-free diet, you may have been wondering if this food is safe for you to eat. In this post, you'll learn what quinoa is, how to enjoy it, and if it's good for a gluten-free diet.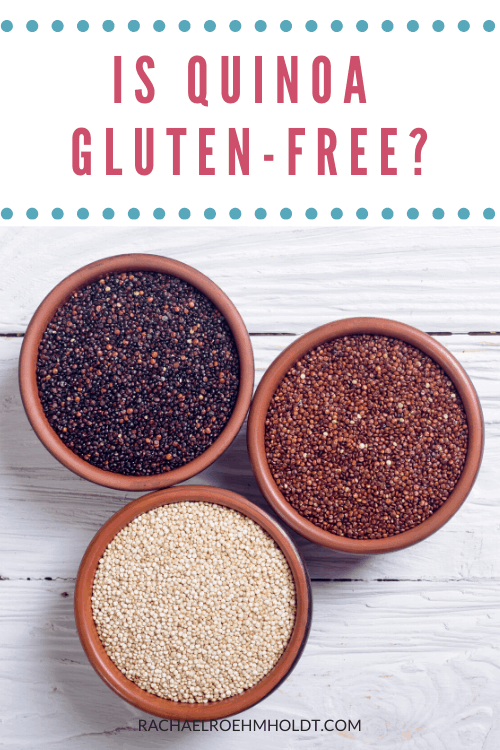 Note: I am a proud Amazon and Thrive Market affiliate and am happy to recommend their service and products to you. Please know that as an affiliate, I may receive a small commission on the products you purchase after clicking through my links. For more info, please see my disclosure policy here.
Quinoa is a popular ingredient, and while it used to be known as a food only "health nuts" ate, it has made its way into many homes, and even the most casual and approachable restaurants these days. This ingredient is versatile and can be used in so many different recipes from sweet to savory dishes.
You may be wondering if it's safe to enjoy on a gluten-free diet, because as you know gluten can be found in many whole grains, but it's not always straightforward to know which ones contain wheat or gluten and which ones don't.
In this post, we'll discuss:
What is Quinoa?
The Health Benefits of Quinoa
What is Gluten?
Is Quinoa Safe for People on a Gluten-free Diet?
Are All Products with Quinoa Gluten-free?
Do I need to Rinse Quinoa?
Where to Buy Quinoa
How to Cook Quinoa
How To Enjoy Quinoa
I hope if you've been on the lookout for answers on if you can eat quinoa with ease on your gluten-free diet that this post helps clear up some of the questions you may have. Let's get to it!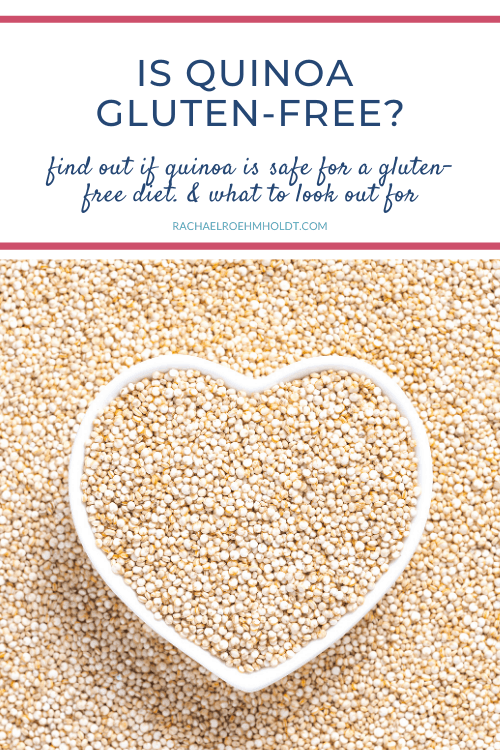 What is Quinoa?
Quinoa (pronounced KEEN-wah) is a seed, and commonly known as an "ancient grain." It originates from the Andes and is a prominent pseudo grain that is grown and eaten commonly in South America.
Quinoa has gained popularity in the United States and other countries over the past decade or so with the rise in people looking for "superfoods." Superfoods are foods that offer a good amount of healthy proteins, vitamins, and minerals in just one food.
Quinoa is prepared in a similar fashion to rice or other whole grain, even though it isn't technically a grain at all but a seed. The fact that it holds a similar texture to grains and can be cooked in the same way allows quinoa to be considered a healthy grain even if it isn't a true grain.
Quinoa has an earthy nutty flavor that has a similar size to couscous with the texture of brown rice. It holds up to cooking without getting too mushy, which makes it a great option for adding to soups and cold salads.
The Health Benefits of Quinoa
Quinoa has gained so much popularity over the past 10 years or so, because it is such a healthy food. Many people eat quinoa in place of rice, pasta, or other whole grains, because of the high protein content.
Here's what you need to know about the nutritional density in 1 cup of cooked quinoa (data found here):
8 grams of protein
5 grams of fiber
It offers a great source of manganese, magnesium, phosphorus, and folate
Has copper, iron, zinc, and potassium in each serving
Even has vitamins B1, B2, and B6
222 calories
39 grams of carbohydrates
4 grams of fat
Some omega 3 fatty acids
Quinoa offers a really great combination of fiber and protein compared to many whole grains, complete with all the essential amino acids.
Find even more health benefits of quinoa here.
What is Gluten?
Gluten is a protein found in most wheat products, and acts as the "glue" that helps to hold wheat, barley, kamut, spelt, farro, durum, bulgur, rye, and semolina together to maintain their shape.
You can find gluten in whole grains, but also in many processed foods as well. When it comes to picking out a whole grain for a gluten-free diet, you need to know what gluten is in order to avoid it.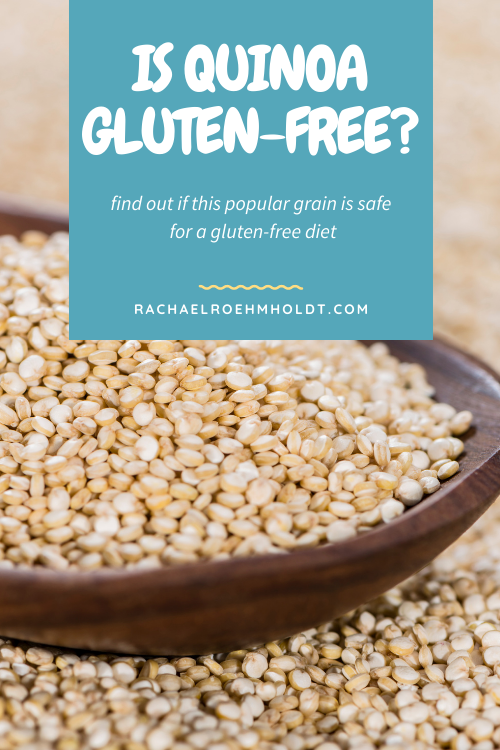 Is Quinoa Safe for People on a Gluten-free Diet?
Quinoa is safe for a gluten-free diet, as it contains no gluten naturally. If you follow a gluten-free diet, you can eat quinoa freely without worry.
Quinoa Does Not Contain Gluten
Naturally, quinoa does not contain gluten, making it a great choice for a gluten-free diet.
When it comes to eating quinoa on a gluten-free diet, you'll want to be careful if you're extremely sensitive to cross contamination. You can get quinoa from bulk bins or from packages from the grocery store. As with any product you buy from bulk bins, you'll want to be sure that cross contamination isn't an issue.
The safest way to enjoy quinoa on a gluten-free diet is to purchase quinoa in bags from manufacturers who haven't been processing other wheat containing ingredients in the same facilities and on the same machinery. Usually, products will indicate this on their packaging, but if you can't find an answer there, you can also look on the manufacturer's websites for answers.
Are All Products With Quinoa Gluten-free?
No, just because a product may contain quinoa does not make it gluten-free. Although quinoa is gluten-free, a product that contains gluten may not be. If you find a product that has quinoa in a soup or other whole grain blend, you'll need to do your research on the ingredients to find out if there is any hidden gluten in the rest of the product.
You'll also want to make sure that the product isn't manufactured on machinery that also processes wheat containing ingredients if you know you are sensitive to gluten to the point of even small amounts from cross contamination.
Do your due diligence with any packaged product by reviewing the ingredient list on the package before buying.
If you need help finding out if a particular product has gluten, you might want to grab a copy of my GFDF Take-Along Cards to help you scan and review ingredient lists to make sure they're safe for your diet.
One of my little secrets is that I carry around a copy of my GFDF Take Along Cards so that I always have a point of reference when I can sneak a peek at the ingredient list of a food.
>> Get your copy of the GFDF Take-Along Cards to make this easy on you.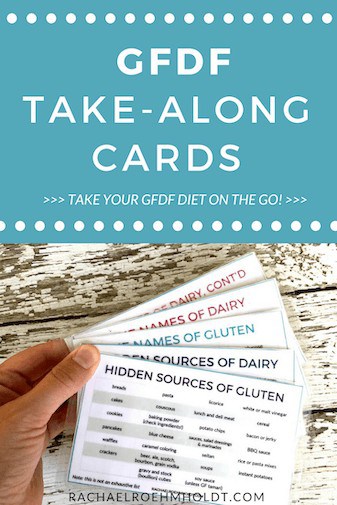 Do I Need To Rinse My Quinoa?
Quinoa is known to have a natural coating on the outside of the seeds, called saponin. This saponin, when cooked, tastes a little bit soapy, which is not a delicious flavor of any food you're looking to enjoy.
Many packaged quinoas are said to be pre-rinsed, so you wouldn't need to rinse it at home. However, some people prefer to rinse their quinoa anyway.
If you do decide to rinse the quinoa before you cook it, know that there may be a slight difference in flavor and texture, but overall it will be about the same.
I personally never rinse my quinoa and haven't experienced the soapy flavor on the quinoa that I buy from Costco.
Read on: Dairy and gluten-free Costco finds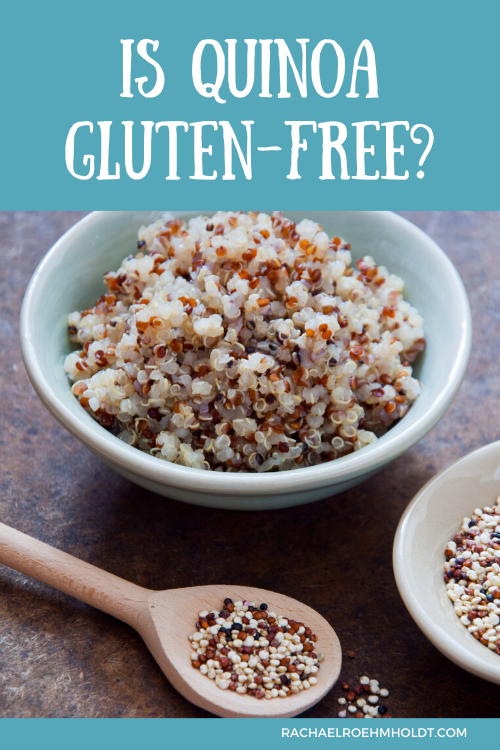 Where To Buy Quinoa
You can buy quinoa at most grocery stores in packages with other whole grains or in the health food aisles. You may also find quinoa in bulk bins at your grocery store, but again, if you are sensitive even to small amounts of gluten even from cross contamination, I'd probably stay away from the bulk bins. You can also find quinoa at Costco pretty reliably.
If you can't find quinoa locally, you can always find it online through various retailers like Amazon or Thrive Market (my two go-to places to get harder to find gluten-free ingredients).
How To Cook Quinoa
Quinoa is exceptionally easy to prepare, which is one of the reasons I love it so much and make sure to include in my diet as much as possible.
How to Make Quinoa on the Stovetop
Boil 2 cups of water for every 1 cup of quinoa you plan to cook.
When the water is up to a boil, turn the heat to low, add the quinoa, cover, and cook for 15 minutes.
After 15 minutes, remove the pan from the heat, but leave the lid on for another 5 minutes.
After 5 minutes, remove the lid, fluff with a fork and enjoy!
How to Make Quinoa in an Instant Pot (my preferred method)
Add 3 cups water plus 3 cups quinoa to the Instant Pot.
Put the lid on the Instant Pot, then turn the settings to Pressure Cook for 1 minute.
After the quinoa has cooked, you can let the pressure naturally come down or you can do the 10-minute quick release.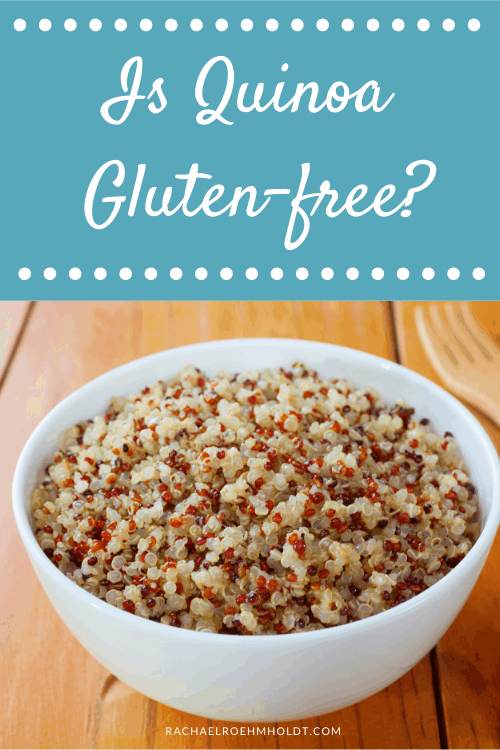 How To Enjoy Quinoa
Now that you know that quinoa is a great option for a gluten-free diet, how can you use it in your cooking more regularly? Here are some of my favorite ideas for using quinoa:
If you've been wondering if quinoa is a good option for your gluten-free diet, I hope that this post has inspired you to get cooking! Of course, check ingredient lists of what you purchase to ensure there isn't hidden gluten, if there is only one ingredient (quinoa), you'll know it's safe for your gluten-free diet.
Did you know quinoa was gluten-free? What questions do you have about it that I can help answer? Post them in the comments section below and I'll answer as best I can!
Wondering if other ingredients or foods are gluten-free? Check out the FAQ's on my Gluten and Dairy-free Diet Basics for more.
Love this post? You might also want to check out these!
Find out if your favorite foods and ingredients contain gluten with these posts!