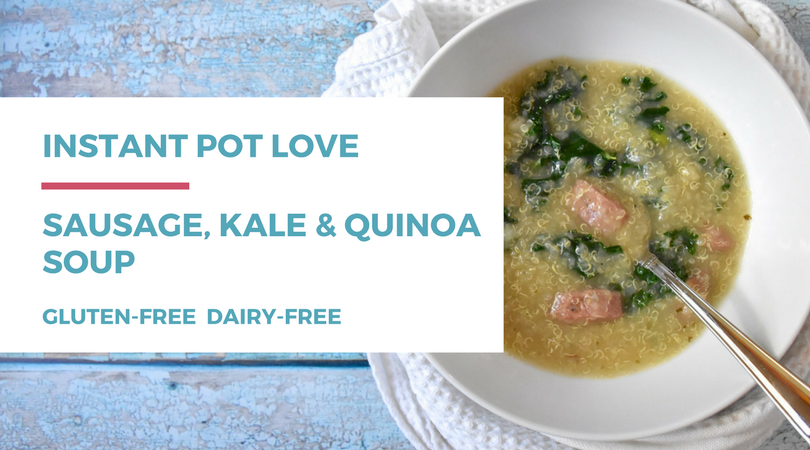 I don't know about you, but I find that figuring out what to eat for lunch every day is always tough. Since I stay home with my son full-time, it's always a toss up as to where we'll be or what we'll be doing around lunch time. In all honesty, I wind up eating PB&J sandwiches (or some variation like almond butter or sunflower seed butter) at least once a week when we're out of the house. But on any other day, I'm not so great at planning for lunches. Plus, my husband works out of our house too, so having food on hand for healthy lunches is pretty critical.
This week, I decided I was going to try to get on top of things. I know that always eat healthier and make better choices when I'm prepared. Plus, I'm ten times less likely to sneak some of my son's snacks as lunch food when I have something ready to go and easy to reheat.
Enter one of my favorite quick-cooking ingredients: quinoa.
I whipped up this super simple Sausage, Kale and Quinoa Soup in my Instant Pot while I was doing other meal prep for the week. And honestly, after I was done prepping it, I couldn't believe that I don't plan and prepare like this every week.
Read on: Gluten and dairy-free lunch ideas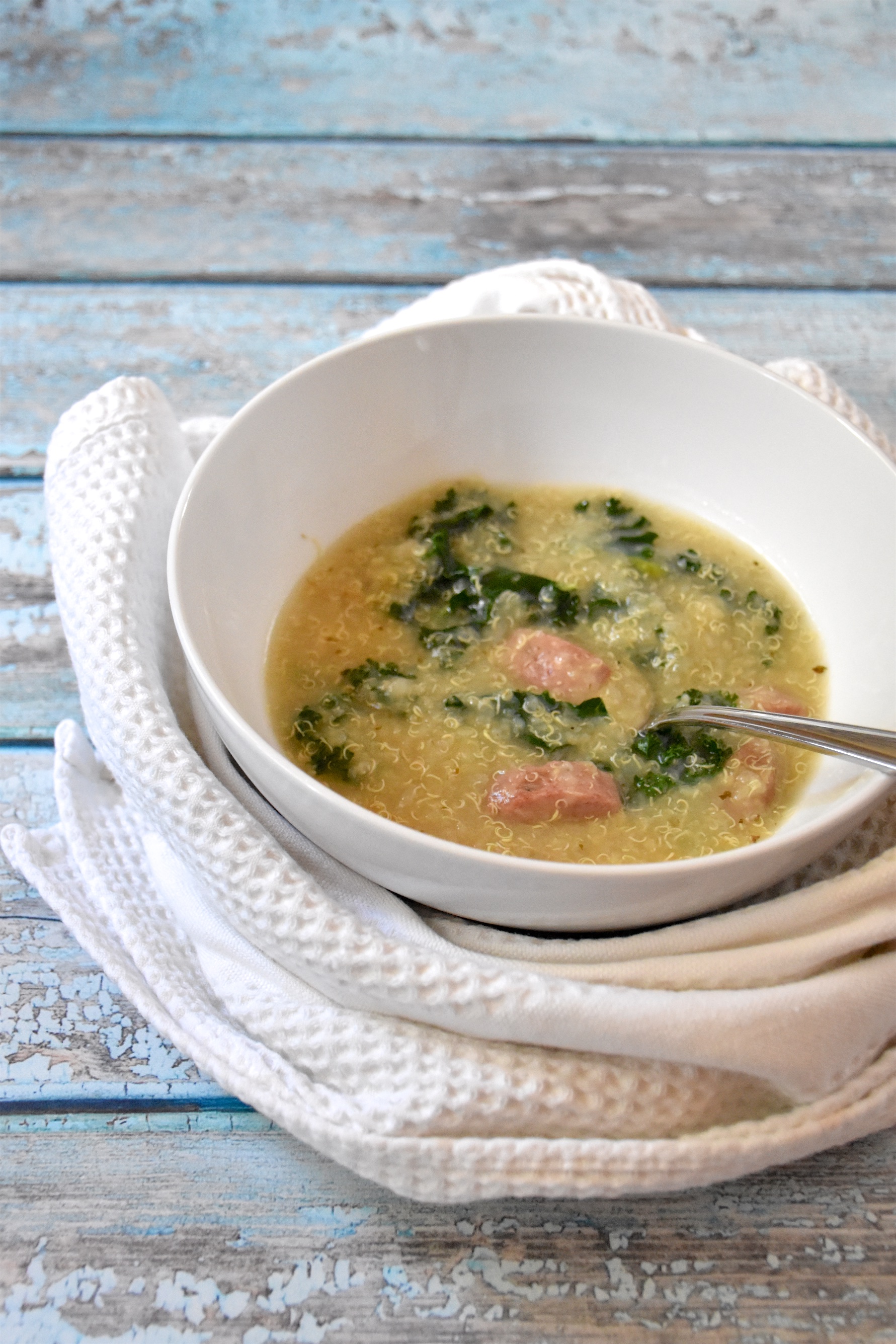 This Sausage, Kale and Quinoa Soup is awesome for a few reasons:
It takes less than 10 minutes to prep and get into the

Instant Pot

It takes less than 5 minutes of cooking time

It's got only 5 ingredients – which means quick prep and quick cleanup

It's packed with protein from the sausage and quinoa

It keeps well in the fridge and reheats quickly in the microwave

It lasted for three lunches for both my husband and I (6 hefty servings in total), taking a lot of the questions of 'what should I eat today?' off the table

It's filling AND delicious

Sausage, Kale and Quinoa Soup
Makes 6 generous servings
Ingredients
1 tbsp olive oil

1 onion, chopped

1 clove garlic, minced

4 chicken-apple sausages, chopped into half-moons ( I used Aidell's brand)

1 cup quinoa

1 quart low-sodium chicken stock (I used this brand)

2 cups water

1 tsp Italian seasoning

tsp pepper

3-4 kale leaves, stalks removed and roughly chopped
Directions
Turn the Instant Pot to the Saute function for 30 minutes.

Add the olive oil and onion and cook 2-3 minutes or until translucent. Add the garlic and cook an additional 1 minute. Press the Cancel button to turn off the Saute function.

Add all the remaining ingredients except the kale and stir to combine.

Close and lock the lid. Set the Instant Pot to Pressure Cook for 5 minutes on Normal and High Pressure.

Once the timer is up, allow the pressure to release naturally. You may choose to do a quick release after 10 minutes, but be very careful to watch out for the steam.

Once the pressure is released, stir in the kale and close the lid for an additional 5 to 10 minutes.

Open the lid, give everything a stir – then serve!
If you're looking to get ahead and eat healthy meals, I highly recommend prepping meals in advance. I also recommend using quick-cooking ingredients like quinoa and leafy greens, and recipes that yield a lot of high-quality food without a lot of time investment. If you're interested in getting ahead this week, try this recipe and you won't be disappointed!

Get the FREE Gluten-free Dairy-free Shopping List
Get access to the most comprehensive - and healthy! - gluten-free dairy-free shopping list around!
Plus get 5 sample gluten-free dairy-free recipes!