If you want to make sure you stick with your gluten-free diet, meal prepping is one of the easiest ways to do that. Check out this post for the 8 steps for how to meal prep for a gluten-free diet.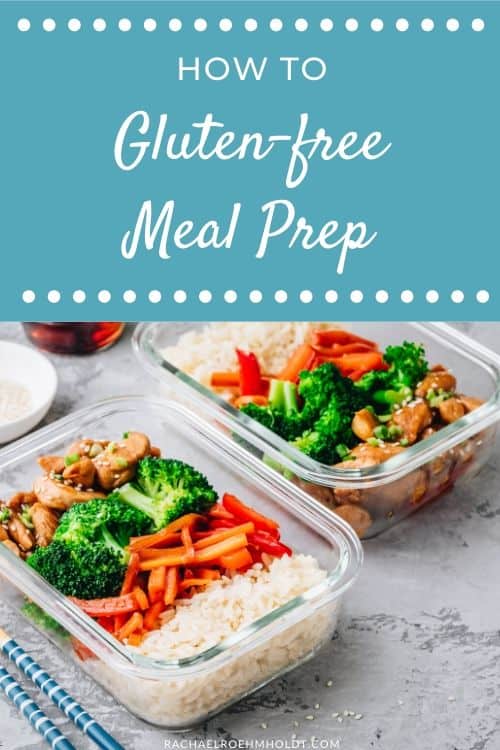 Note: I am a proud Amazon, Chomps, MunkPack, and Thrive Market affiliate and am happy to recommend their service and products to you. Please know that as an affiliate, I may receive a small commission on the products you purchase after clicking through my links. For more info, please see my disclosure policy here.
If you have a busy life and schedule, meal prep can be one of the very best habits to get into. On a gluten-free diet, you may be unsure of how to meal prep – and what exactly to prep to get ahead during the week.
There are a few great reasons to meal prep when you're eating a gluten-free diet:
You save energy deciding what you will eat at each meal
You save money by batch cooking and having meals on hand
You save money by not going out to eat
You save money by not purchasing prepared meals from packages or the frozen food aisle
You can control the quality of the ingredients, sodium content, and how much – or lack of – sugar included in your meals
You can leverage slow or quick cooking recipes and cooking methods to make quick work of meal prep
This past fall, I started to realize the true benefit of gluten-free meal prep. I generally have breakfast and dinner nailed down on my gluten-free diet (I eat dairy and egg-free too).
For breakfast, I use one of these gluten and dairy-free breakfast ideas each morning and rotate through them based on what I'm in the mood for, how hungry I am, and what I have on hand. For dinners, I follow my own menu planning service, GFDF Weekly.
Recently, I was really failing when it came to eating healthy lunches – and that's where I became a meal prep convert again.
After years of packing and preparing lunches when I worked in an office environment, being a full-time mom and working at home for the past 5 years has made me pretty relaxed about planning lunches out ahead of time.
My husband and I both got into the habit of snacking through lunch, or for me, I'd simply just skip lunch entirely and be so hungry by dinner that I ate more than I normally would.
It wasn't a great cycle, and one I was happy to break once I got myself organized. 
Even though I started meal prepping for lunches, everything I share in this article can be applied to gluten-free meal prep for breakfast, lunch, dinner, and even snacks. You can meal prep every single meal of your day if you want to!
Check out these 8 steps to go from good intentions to fully mapped out and meal prepped.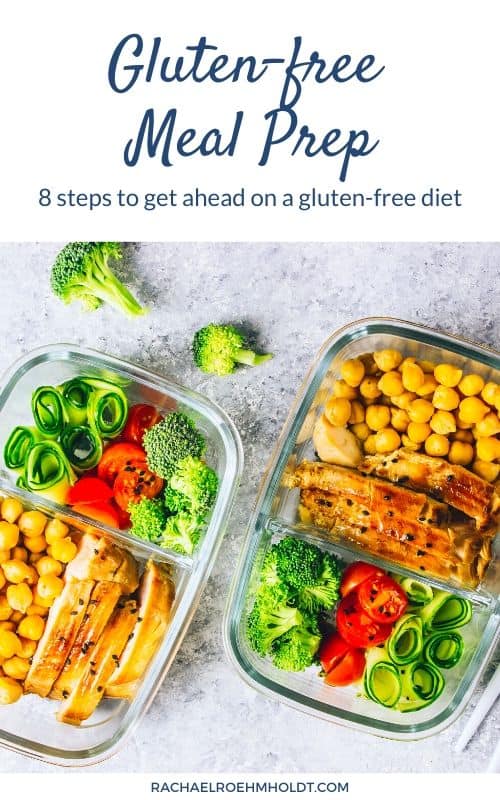 Steps to gluten-free meal prepping
Step 1. Make a plan
Plan your recipes and plan your meal prep session. Set aside some time to write down what you need your meal prepped recipes to be. Ask yourself a few questions before you get started.
Do your meals need to refrigerated? Do you have access to a microwave for reheating? If no refrigerator, what other small appliances do you have access to?
Do you have a thermos or other food storage to keep food warm? How many meals will you be preparing at a time? Is it for just lunches, or breakfasts and dinners too?
Think through these questions and think about your schedule before you decide on recipes that are good for you. 
Think through a plan for your meal prep session. Will you set aside one or two days a week to make a few meals? Will Sunday afternoons be your meal prep days?
Or will you try to meal prep every night before bed for the next day? Set intentions for your plan so that you can make that plan come to life.
Step 2. Gather recipes
Now that you know what your plan will be, you can start looking for recipes for your gluten-free meal prep session. Knowing the parameters for what kinds of foods you want to prep – warm, cold, needing to be reheated, etc, you can seek out some recipes that work for you.
There are plenty of places to find gluten-free recipes for gluten-free meal prep. I prefer using recipes that I already know I like, so I'll usually use cookbooks I already own, my Instant Pot meal prep cookbook that I got a few months ago and LOVE, or find a few recipes on Pinterest that I want to try out.
I'll say here that it's better to do all this work up front, so you're not left looking around for recipes a lot later on.
Create a folder or file on your computer to have all this research done to help you save time seeking out recipes for meal prep later. The more research you do now, the less you'll do later.
Each week (or whenever you plan your meal prep), you can choose a few recipes from this list of inspiration and get organized.
Step 3. Shop for ingredients
Once you've narrowed down the recipes you want to use for your meal prep session, the next thing you'll want to do is create a shopping list for everything you'll need from the store.
I like to plan my meal prep sessions before I head to the store for the week to get my other groceries, but you can dedicate a shopping trip to your meal prep session if it helps keep you better organized.
Create your list of ingredients by working your way through each and every recipe that you plan to make during your meal prep session and make sure you either have it on hand in your fridge or pantry, or put it on your shopping list.
Make your list and head out to the store for ingredients for a successful meal prep session. You'll be glad you thought ahead with this step so that you don't find yourself halfway through a recipe and realize you didn't have an important ingredient on hand.
Step 4. Get ingredients and tools together
After you've been to the store to get all the ingredients you didn't have on hand, you should now have everything you need for a successful meal prep session.
If you don't yet have meal prep containers, be sure to add these to your grocery list or order some from Amazon too. You can get those that have dividers or one big container, depending on how you plan to meal prep (one main dish or with sides).
These are the meal prep containers I have and enjoy using. They're glass with plastic snap tops. The glass is microwave and dishwasher safe, while the plastic top is dishwasher safe, but requires no heated drying.
On the day of your gluten-free meal prep session, you'll want to get all the ingredients out and all the tools that you know you'll use while making your meals.
Get out all the produce, meat, herbs, and spices. Grab all the pots, pans, bowls, mixing bowls, and your portioned meal prep containers.
It will be so much easier to move through your kitchen when everything is already out and you don't have to take multiple trips to the pantry or fridge while you're cooking. 
Step 5. Prep ingredients and sauces before cooking
To get started with your meal prep session, the very first thing you'll want to do is prep any ingredients and sauces BEFORE you start doing any actual cooking.
I know this might seem counterintuitive to do all the chopping or mixing before ever turning on a burger or your slow cooker.
I promise when you have all this preparation done before you get started with the heat, you'll find it much easier to stay on track with the timeline of following recipes – especially if you're making more than one thing at a time.
It also helps if you do this, so that if more than one recipe calls for the same thing, you can prep them both at the same time, saving you a little bit of time starting the task all over again with clean knives and cutting boards.
You can make all your sauces or salad dressings at this time too. If you do all this work at once, you can minimize cleaning time as well as chopping time.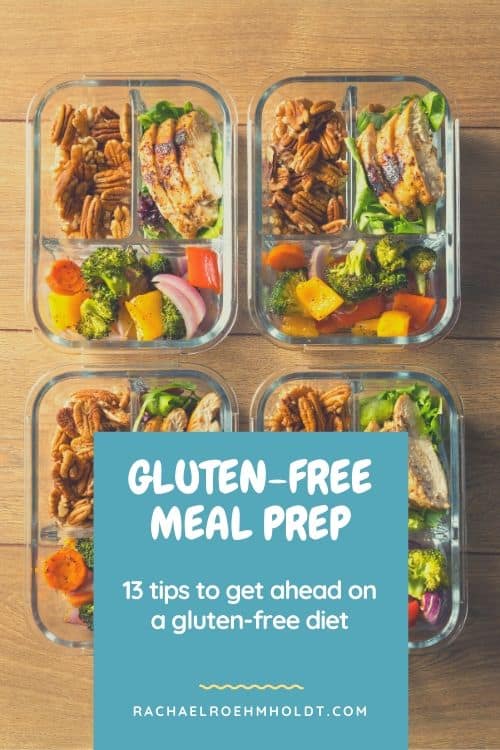 Step 6. Cook in order from the longest to the shortest task
Once you have your ingredients and sauces prepared, you can finally get started with the actual cooking.
If you're using your oven, this is the first step you'll want to take, because it often takes at least a few minutes to get it up to the temperature you'll need.
Put your crock pot or Instant Pot to work if you have them. I love using my Instant Pot for rice or quinoa for meal prep, so this is usually what I like to do next, because it takes a little bit of time for the pressure to come up and back down.
Jasmine rice and quinoa both only take 4 minutes at high pressure, but the time it takes to bring it up to pressure and for it to come back down is at least 30 minutes, so I like to get started on this early.
Next, cook any meats or veggies you'll want for your meal prep recipes. This can be on the stove top, in the oven, crock pot, or Instant Pot. Utilize some hands-off cooking time to make the most of your time in the kitchen.
I like to bake some chicken with garlic powder and Italian seasoning for salads at the same time I roast vegetables to make sure I'm getting the most out of my oven time while it's still hot.
Prep any other ingredients or components of meals you need that take a little shorter time. You can roast and chop nuts for salads, or portion out fruit for snacks or salads. Do these shorter tasks last while the rest of your appliances are working for you.
Step 7. Portion the cooked meals into refrigerator and microwave safe containers
Once all the different parts of your meal prep are completed, now it's time to package them up. I have these glass meal prep containers that are great for salads, soups, and chilis.
All my meal prep recipes go in these, because they are both microwave and dishwasher safe.
I'll take the recipes I've created and put them into individual containers so I have meals ready for me when I am. I like to create an assembly line or station to portion these meals out.
For example, line the different ingredients up and plan out one scoop of this or one ladle of that goes into the container, snap on the lid, and done! Then repeat with the next container.
I like using the containers that are both microwave and dishwasher safe, so that I know that I can refrigerate the food in them, then pop them into the microwave to reheat without having to dirty another dish.
Dishwasher safe is important, because… yeah, the less dishes I have to clean by hand, the better.
Step 8. Keep track of your plan to use again in the future
If you're new to meal prepping or you're simply just trying out new recipes for your gluten-free diet, make sure to keep track of the recipes you make and the plans you followed.
Write down any notes about them, like if you feel they were over or under seasoned or if you just plain wouldn't make the recipe again if you didn't like them.
I like to keep my meal prep plans, so that I can use them again in the future. If I've already done the work once, why do it again if I enjoyed the results? Then I can come back to the same plan in a few months and know that I'll be happy with it.
I hope this rundown and step-by-step process of how to meal prep for a gluten-free diet has been helpful for you!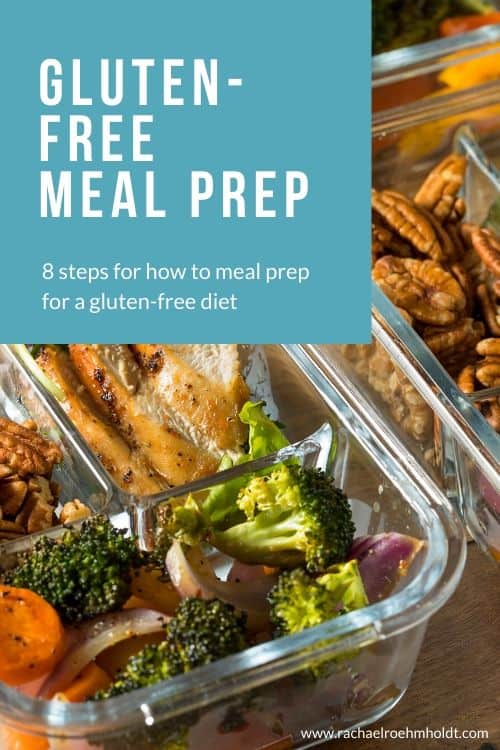 I hope this post has given you some inspiration to get started with gluten-free meal prep. All it takes to be successful with meal prepping is simply being organized and just doing it.
For me, the hardest part is setting aside time and energy to do it, so I've tried to build in time every week to make it a habit and a priority.
I know that if I set aside the time to make it happen, I'm much more likely to actually do it – and I know that I'll be much more successful on my gluten-free diet when I have foods that are ready for me to eat.
If I try to wing it, I'm way more likely to eat something that makes me feel terrible (gluten) or wind up eating too many snacks and not enough real food throughout the day.
If you loved this post, I hope that you'll share it with your friends on Facebook and pin it for future reference on Pinterest.
If you'd like more information (and support) around meal prepping, check out GFDF Weekly, my gluten and dairy-free weekly menu planning and recipe service.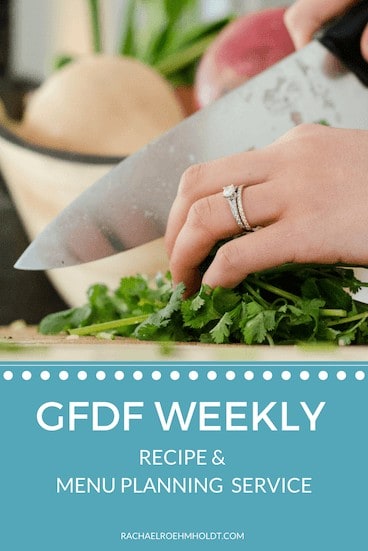 Sign up for a free shopping list and sample recipes by entering your information below!
Want more menu planning and meal prep ideas? Check out these posts!
Find some menu planning and meal prepping tips and recipes in these posts!