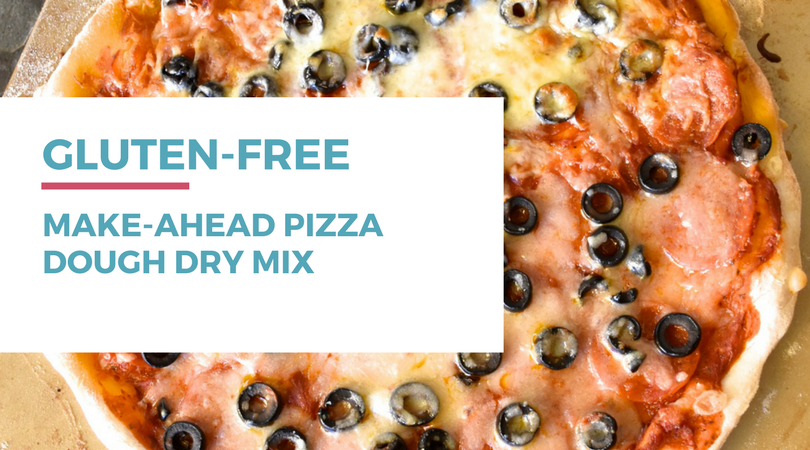 Learn how to create gluten-free dairy-free pizza dough dry mix that you can make ahead. Perfect for an easy dinner you can feel good about – and still enjoy your favorite flavors of pizza on a gluten and dairy-free diet. Scroll down for the full post.
Note: I am a proud Amazon affiliate and am happy to recommend their service and products to you. Please know that as an affiliate, I may receive a small commission on the products you purchase after clicking through my links. For more info, please see my disclosure policy here.
When it comes to sticking with my gluten-free dairy-free diet, I know that the number one thing for me to do is to have ingredients on hand for quick and easy meals. I also know that when it comes to not feeling deprived, there are a few foods that I had to quickly figure out how to make at home so I didn't feel like I had to go without. One of those meals was pizza.
Gluten-free dairy-free pizza?
Yes, it is possible and it DOES taste good.
We LOVE in our house is pizza but a store-bought gluten-free dairy-free pizza isn't super easy to come by. What we do is prep the dry ingredients ahead of time and keep the dry mixes stocked in our pantry. It's seems obvious, but once we started doing it – it was SUCH a game-changer when it came time for pizza night.
Prepping the dry ingredients is something that I don't mind doing in advance, and usually I even enjoy it, because it's a fun little activity to let my son help me out in the kitchen. He loves measuring and pouring ingredients, so it's a good hands-on kitchen activity that I don't have to worry about him getting 100% right. Plus, if pizza is an end result of any activity, we all feel like winners.
Read on: Gluten-free dairy-free pizza: brands & flavors
Read on: Pizza Hut Gluten-free Menu Items
Read on: Little Caesars Gluten-free Menu Items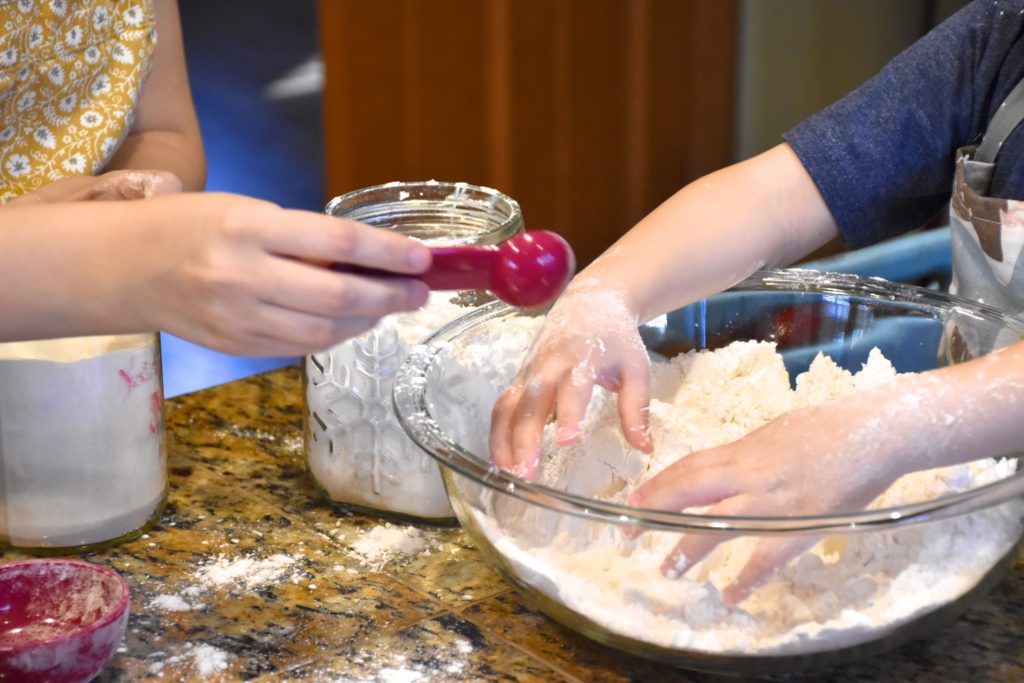 I should mention that this recipe and this concept wasn't entirely my own either. Both were inspired by one of my favorite GFDF cookbooks, The Healthy Gluten-free Life by Tammy Credicott. Her cookbook is a standby in my kitchen and I've learned quite a bit about cooking for a gluten-free dairy-free diet just from reading and creating her recipes.
I used her recipe for pizza dough as a jumping off point – borrowing the ratios, but swapping out some of the flours. And the concept of making the dry mixes I learned from her book as well, and it's a habit I try to stick to regularly to stay on track with this diet and lifestyle.
So first, here is the recipe for the dry mixes. You can make as many dry mixes as you want, and one batch will equal two pizzas. I usually like to double or triple this recipe, so that I have ample amounts of dry mixes to stock my pantry. I figure if I have all the ingredients out, I might as well make a number of dry mixes at once so I have them at-the-ready when I need them. This time I just made one batch for that night's dinner and one extra batch for my pantry. That's four pizzas in total – so we're set for a while.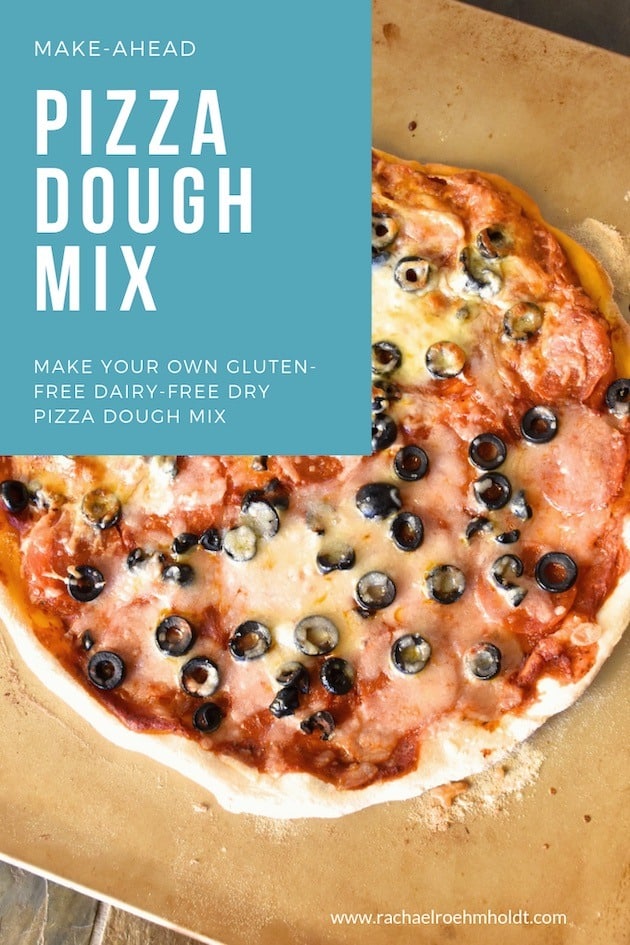 Gluten-free Pizza Dough Dry Mix Recipe
Recipe inspired by The Healthy Gluten-free Life
Combine the following in a jar (for later) or in a bowl to turn the dry mix into a pizza that night: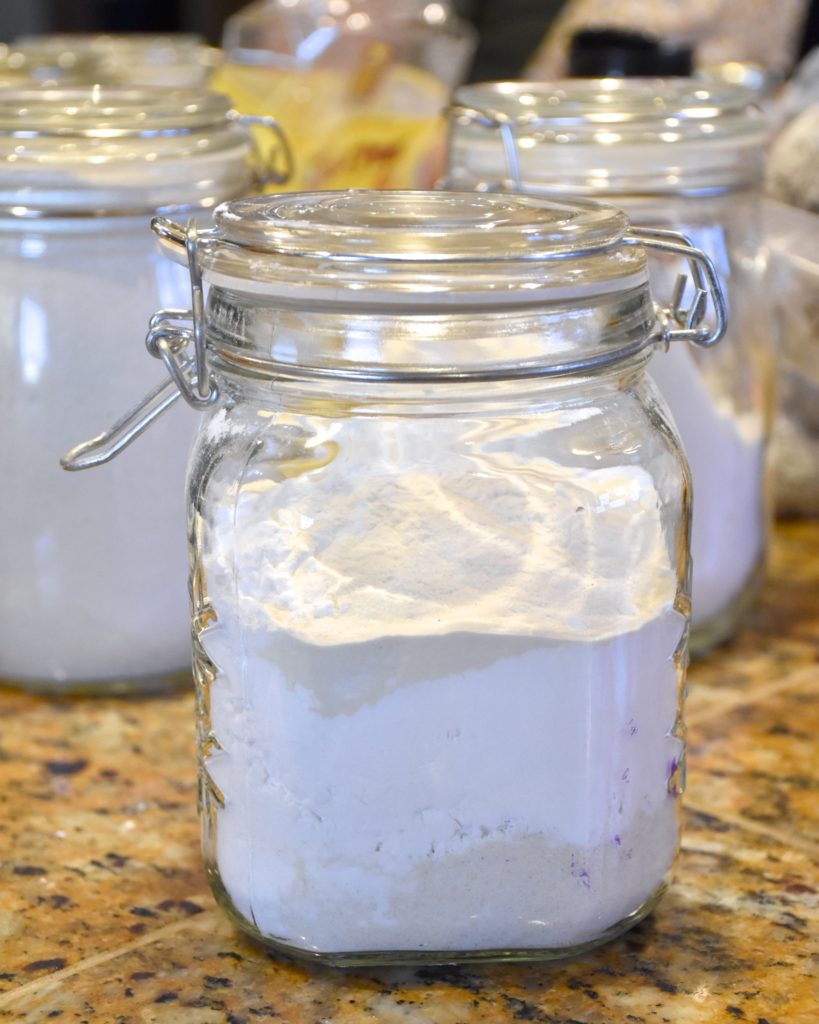 So that's where I stop with the dry ingredients. When you're ready to make the pizza, here are the next ingredients and steps.
Gluten-free Pizza Crust
Recipe adapted fromThe Healthy Gluten-free Life
Ingredients
Directions
In a small bowl, stir honey into warm water. Add yeast and stir gently. Set aside for 5 minutes to start foaming.
In a stand mixer (I have this one), combine dry mix, olive oil, apple cider vinegar, and yeast mixture.
Blend on low until a soft ball forms. Dough will be very soft. (NOTE: my dough did not form a soft ball as indicated in the recipe – but I was able to still pat it out with enough brown rice flour to get a nice crust shape and my hands not too gooey)
Grease two 12-inch pizza pans (or cookie sheets) with baking spray or shortening. Place half of the dough on each pan.
Liberally dust dough with rice flour. With quick pats, press the dough into the pan, flattening into a circle. Continue to dust dough as needed to prevent sticking.
Preheat oven to 425 degrees F. Bake crusts for 12-15 minutes, until it begins to brown on the bottom, rotating trays halfway through.
Remove from oven and top with your favorite sauce and toppings. Place back in oven, turn heat up to 450 degrees F, and bake for about 15 minutes (rotate again part way through), until sauce is bubbly and edges are browned.
Cool slightly, cut into slices, and enjoy!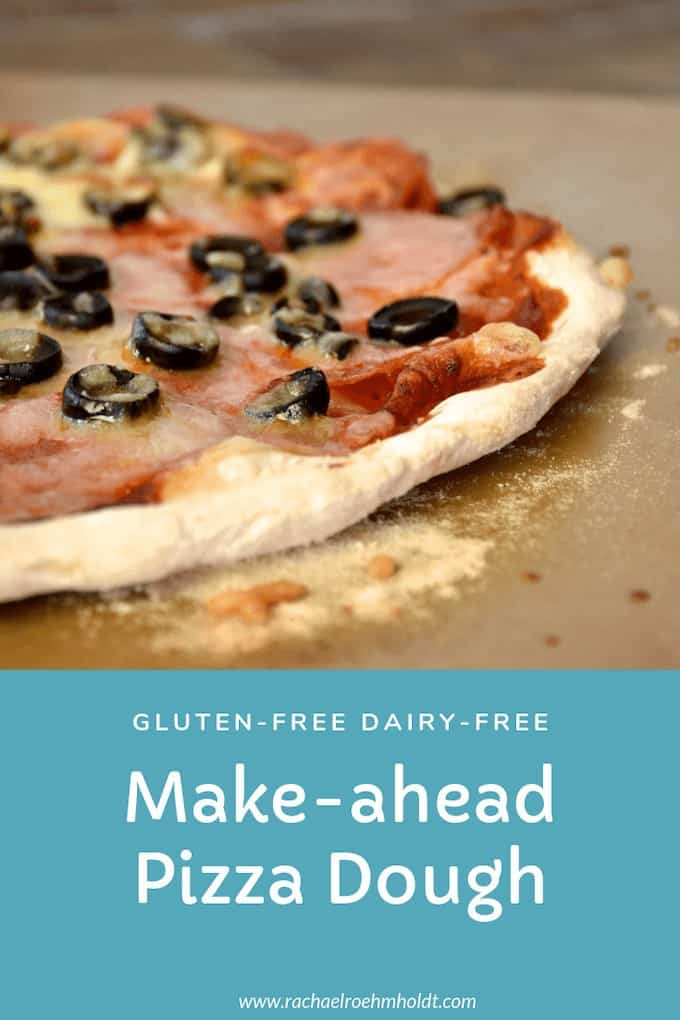 In The Healthy Gluten-free Life, the author says that you can make the pizza dough ahead of time, then wrap and freeze them for finishing out your pizza later. I've done this with her recipe, but have yet to try it with my own adaptation. That's an excellent time-saving tip as well, but I like my dry mixes a little more.
So at this point, you've got two pizza doughs ready to turn into amazing gluten-free dairy-free pizzas. One of these we made right away and the other, I wrapped in plastic wrap, then stuck in a gallon-sized freezer bag (just barely fit!) for the freezer.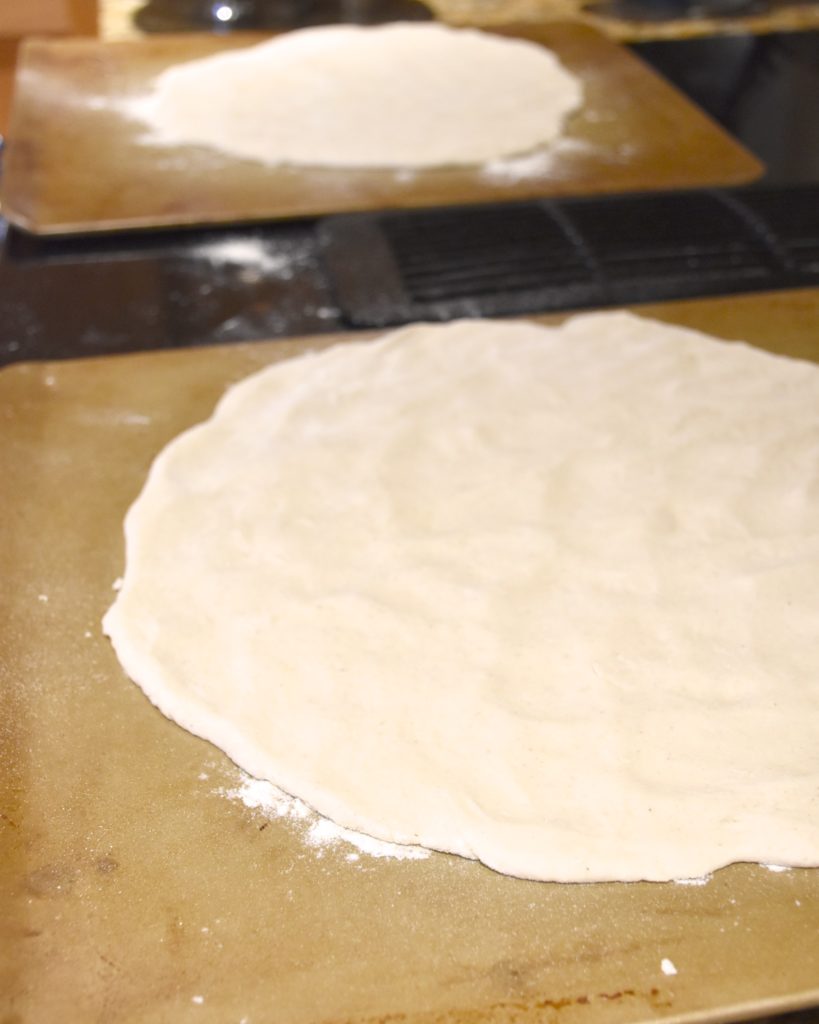 You can add whatever sauces or toppings that you like. Here's what we like in our house:
Pepperoni and black olives:
Black olives
Dairy-free cheese (usually Daiya or Trader Joe's vegan mozzarella)
Hawaiian:
Sliced ham
Pineapple bits
Dairy-free cheese (usually Daiya or Trader Joe's vegan mozzarella)
Pesto chicken and artichoke:
Vegan pesto (either homemade or Trader Joe's)
Cooked chicken breasts, chopped
Chopped artichoke hearts
Dairy-free cheese (usually Daiya or Trader Joe's vegan mozzarella)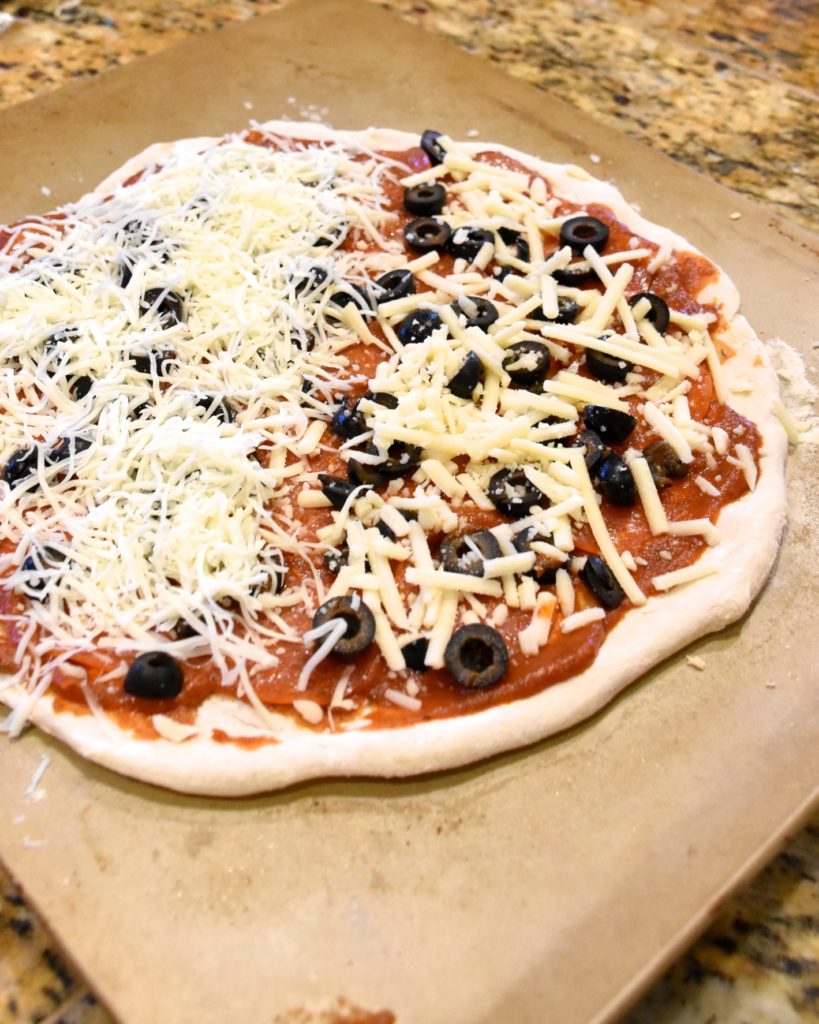 Half normal cheese, half dairy-free cheese (I used Trader Joe's vegan mozzarella)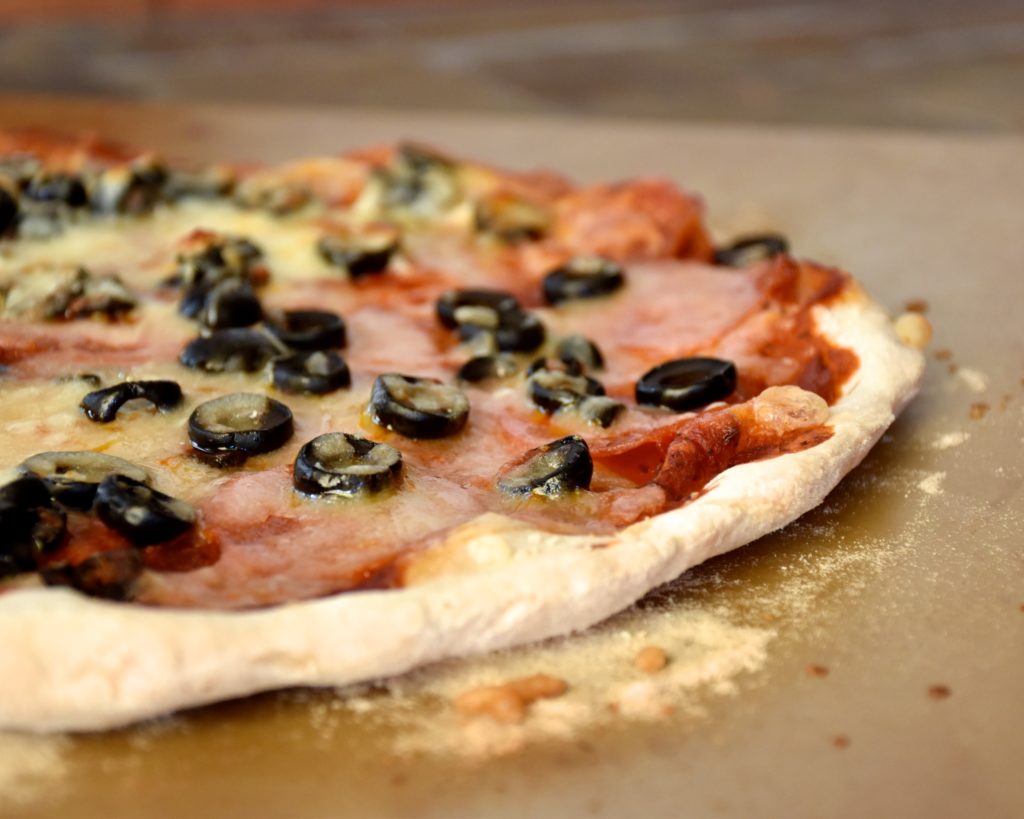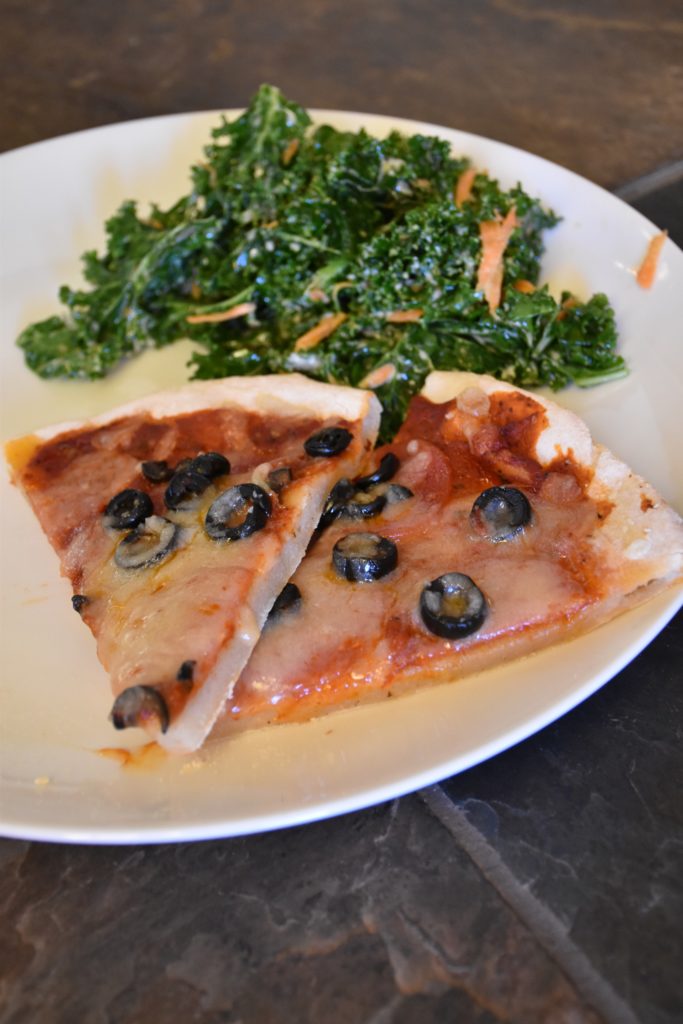 We served our homemade pizza with a tasty massaged kale and carrot salad with dairy-free avocado ranch (Tessemae's is the brand I've been loving lately). And my son even enjoyed a piece of this pizza cold the next day for lunch!
If you love this concept of making pizza dry mixes, be sure to check out the ingredients that I use in mine below.
So as you can see, with a little prep and organization, pizza night is a tradition that we still embrace and enjoy as a family – even while sticking to a gluten-free dairy-free diet and lifestyle. The best part is that it doesn't take that long or require too many ingredients. I'd encourage you to try out these dry mixes to make pizza night a quick and easy meal any night of the week.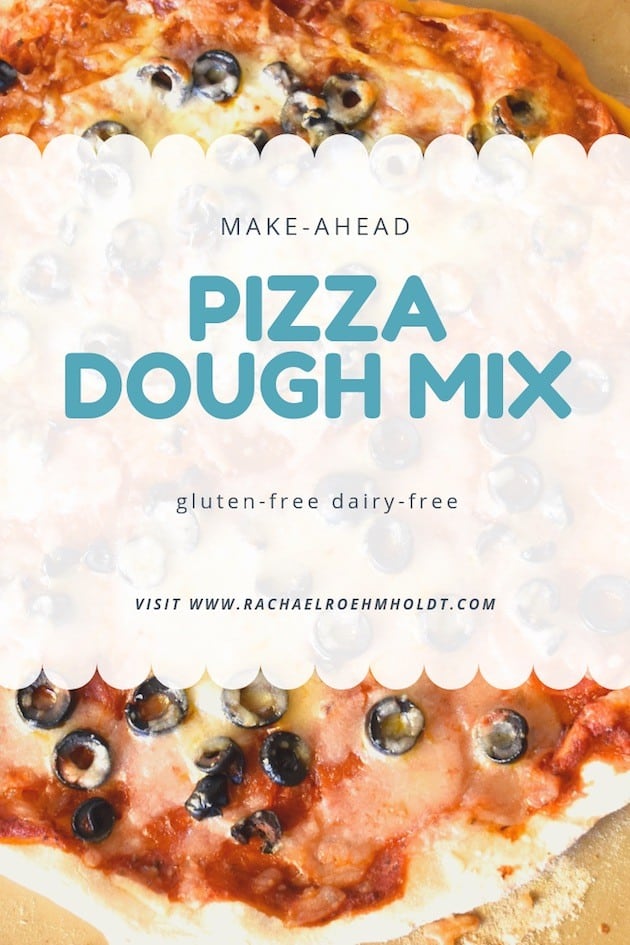 If you loved this post and recipe, be sure to download my gluten-free dairy-free shopping list and 5 more sample recipes below.
Get the FREE Gluten-free Dairy-free Shopping List
Get access to the most comprehensive - and healthy! - gluten-free dairy-free shopping list around!
Plus get 5 sample gluten-free dairy-free recipes!