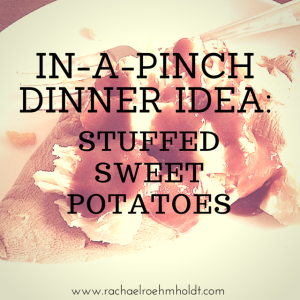 I'm still getting the hang of this new mom business. Despite the fact that my son is now 7 months old, I still feel like some days I'm barely past the first three weeks of this new life. Many of the things I once did effortlessly, now feel like they require all the stars to align to make them happen.
Like getting a shower in or getting dressed. Or drying my hair, getting makeup on (neither of these two things happens most mornings at my house), or staying on top of laundry and the kitchen chores. Finally – dinner doesn't always seem to happen like I plan most nights.
Menu planning is one of this mama's best friends, but occasionally the plan doesn't go according to plan. Some days are off for whatever reason. An unexpected late meeting for my husband. An off-schedule nap routine that throws the evening off. Or (more often than not) when I forget to take meat – or a make-ahead meal – out of the freezer.
These are the nights I need to have something on hand for my in-a-pinch meal. Stuffed sweet potatoes are it. It's my go-to meal when we have nothing else ready for three reasons:
It's ridiculously easy
It takes only a few minutes
It's healthy and tastes great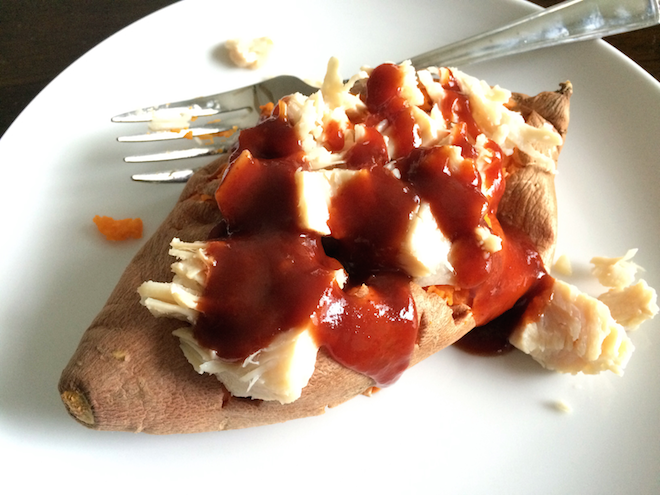 Truth be told, I get a lot of guff for this meal from my husband. Why? Because maybe I've relied on it a few too many times in the past few weeks. Or maybe because he not-so-secretly wants me to cave in to driving down the road for some tacos instead of finding something healthier at home.
Regardless, every time we're in a pinch for dinner, I'm met with the same few sarcastic words… "Oh, let me guess… you want stuffed sweet potatoes!"
It's true, though, I do love sweet potatoes. I rely on them a LOT in the fall and winter and put them in just about everything. They taste sweet, but I can still say I'm getting my vegetables. And I love that I can make them go more sweet or more savory depending on how I flavor them.
Lately my favorite stuffed sweet potato is my BBQ Chicken Stuffed Sweet Potato. Here's what I do:
I pop the sweet potatoes in the microwave and use the "potato" setting.
I open a can of chicken breast from Costco (or pick off some chicken from a rotisserie chicken).
Once the sweet potatoes are cooked, I toss the chicken on top and drizzle the whole thing with barbecue sauce (I like the Organicville brand).
We eat!
Read on: Gluten and dairy-free lunch ideas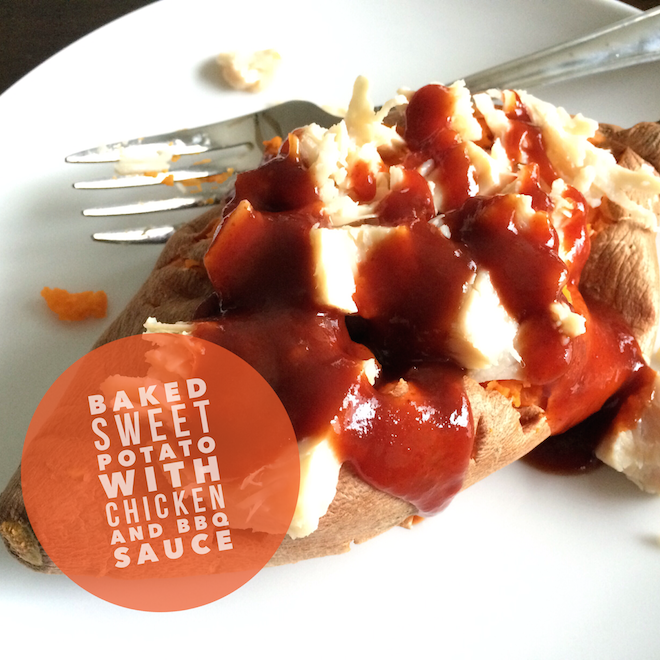 See? It's ridiculously easy, only takes a few minutes, is healthy and tastes great. My kind of meal. I'll take the snarky comments if it gets dinner in my belly faster.
Like I said, I've done this meal a million ways, so you don't have to be limited to just chicken and BBQ sauce. Here are a few of my other favorite toppings for stuffed sweet potatoes for a fast healthy dinner:
Rinsed and drained canned black beans, frozen corn, and salsa
Cooked chard, bacon and a dash of white wine vinegar
Cooked kale, white beans, a squeeze of lemon and sesame seeds
Broccoli, quinoa and avocado with a squeeze of lime
(Dessert option) Toasted walnuts, coconut oil and a drizzle of maple syrup — and yes, I have eaten this as a meal before
What are your favorite in-a-pinch dinners? Share in the comments below.