Find out which whole grains are gluten-free and safe to eat on a gluten-free diet. Learn the 12 whole grains to stock your gluten-free pantry with in this article.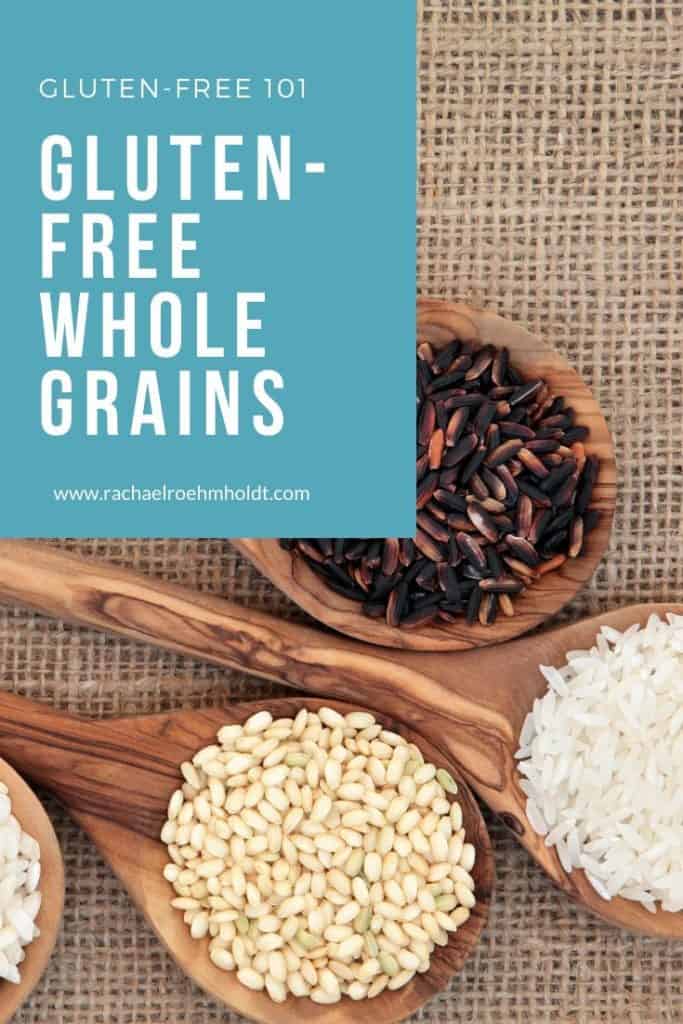 Note: I am a proud Amazon, Chomps, MunkPack, and Thrive Market affiliate and am happy to recommend their service and products to you. Please know that as an affiliate, I may receive a small commission on the products you purchase after clicking through my links. For more info, please see my disclosure policy here.
Whole grains are an excellent addition to your gluten-free dairy-free diet. But I often get asked – which whole grains really are gluten-free? There are plenty to choose from – and tons of recipes you can make with each!
Whole grains not only provide loads of vitamins, minerals, and plant-based protein, and they're high in fiber, which can help move your digestion along in the very best way. Let's dive into this topic deeper, shall we?
The first thing to consider is which grains are NOT gluten-free: anything that is wheat or is derived from the wheat plant. These include: wheat (obviously), barley, spelt, kamut, farro, durum, bulgur, semolina, and rye.
The next thing to consider is cross contamination. Since grain fields are often grown very close together, they can have cross contamination either from blowing seeds from one field to the next.
Another way for grains to have cross contamination is by facilities using the same machinery on wheat grains as gluten-free grains. This is the most common and what people are often concerned about the most when it comes to following their gluten-free diet.
This is the case for oats, which are naturally gluten-free, but are very commonly processed on the same machinery as grains that contain gluten. That's why oats are often marked as gluten-free. Not because the oats themselves aren't gluten-free, but so you know they were processed in a dedicated facility.
This cross contamination may or may not make a difference for you if you're living with a gluten intolerance, but will be a very important distinction if you have a wheat allergy or celiac disease.
Now you know what grains aren't great for your gluten-free diet, let's discuss each of the gluten-free grains you'll want to add to your pantry.
Oatmeal doesn't contain gluten, but it's often cross-contaminated with glutenous grains. I like to be on the safe side and eat only Bob's Red Mill certified gluten-free oats.
Read on: Are rolled oats gluten-free?
Read on: Are oats gluten-free?
Read on: Is oatmeal gluten-free?
Brown rice is a staple for many gluten-free meals in our house. You can use it for breakfast, lunch, or dinner, in salads, soups, or sides. Use it in Mexican or Asian dishes – the possibilities are endless!
Read on: Is Rice Gluten-free?
Read on: Is brown rice gluten-free?
Read on: Is white rice gluten-free?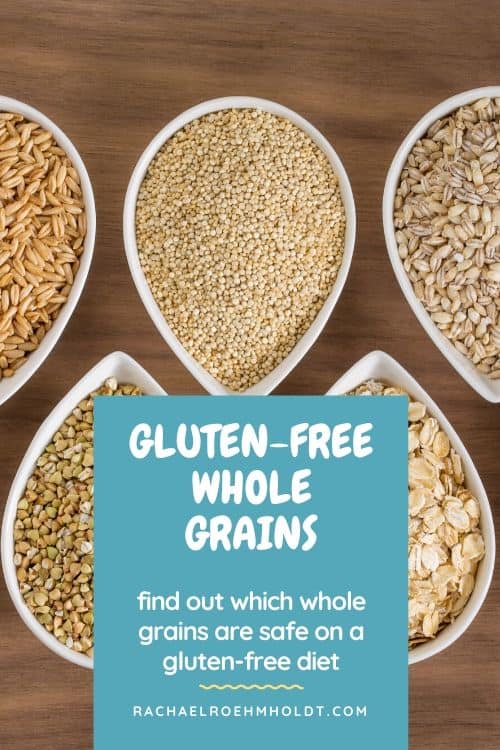 Quinoa is another great gluten-free whole grain to have on hand and can be used in a million way. I like to use it for healthy salads and in place of rice in soups or when I want that extra boost of protein in my meal.
Read on: Is Quinoa Gluten-free?
Kasha is a lesser known gluten-free whole grain, but is delightfully nutty and filling. If you haven't tried it before, pick some up and try it as a breakfast porridge bowl (like you would oatmeal), or as a swap for rice as a base for stir-fry. It's pretty versatile so try it out and get creative!
Read on: Is buckwheat gluten-free?
Read on: Is buckwheat flour gluten-free?
Amaranth is another gluten-free whole grain that most people haven't heard of. It has a slight grassy flavor with a texture similar to couscous or quinoa. I've enjoyed it as a side dish, worked it into homemade veggie patties, and even had it as a breakfast bowl.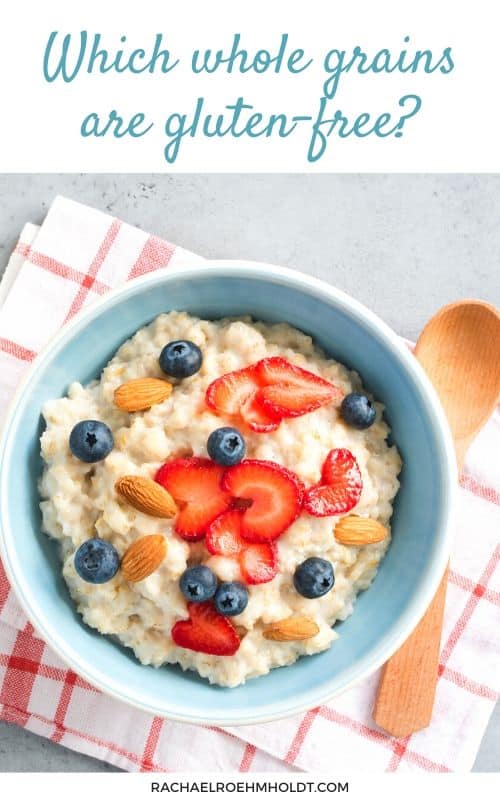 Teff is a great gluten-free whole grain to have on hand. It's a great source of protein (even more than quinoa!) and can be used in a variety of ways. I like to use it in my baking (just pulse it into flour first) or as a breakfast porridge with dried fruit, nuts and maple syrup.
Millet is a gluten-free grain that's high in protein and extremely versatile. I like to add it into salads for an extra texture, use it in homemade veggie or black bean patties, and have even used it in place of breadcrumbs in my homemade meatloaf.
Read on: Is Millet Gluten-free?
Sorghum is a gluten-free whole grain that is sweet and delicious! I love using sorghum flour in my baking, because it isn't as gritty as many other gluten-free flours. I like to use this whole grain variety as a base for chili or Mexican bowls or as a salad mix-in.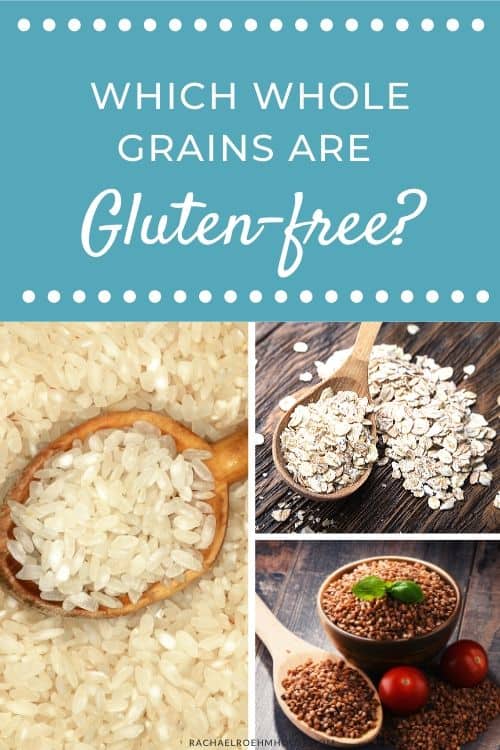 Wild rice is a wonderful addition to your gluten and dairy-free pantry, because it lends an earthy flavor I have yet to find in any other food. I love this wild rice blend to add to hearty soups in the fall and winter and as a base for delicious and simple light rice and veggie cold salads in the spring and summer months.
Arborio rice is a super starchy gluten-free whole grain that is perfect for making homemade risotto (not nearly as hard as you may think!) and even rice pudding.
Read on: Is Risotto Gluten-free?
Jasmine rice is our go-to rice, aside from brown rice, that we keep on hand in our house for a side for stir-fries or curries or in one-pot meals. You can get it at Costco in a huge bag or a more reasonable sized bag at your local grocery store or online.
Read on: Is jasmine rice gluten-free?
Believe it or not, popcorn is actually a whole grains – and gluten-free! This is our go-to movie popcorn. You can add your own flavorings like coconut oil and salt if you want or keep it plain. I like that it's a blank slate so I can add whatever I want and mix up the flavors every time.
Read on: Is popcorn gluten-free?
As you can see, there are plenty of options for adding whole grains to your gluten-free diet. If you've found a new ingredient in this list, I'd love for you to share in the comments which ones are new to you – and what you're looking forward to trying!
Interested to find out what other delicious foods I stock my gluten and dairy-free pantry with? Check out my Stocking a Gluten-free Dairy-free Pantry Post here or by clicking the image below.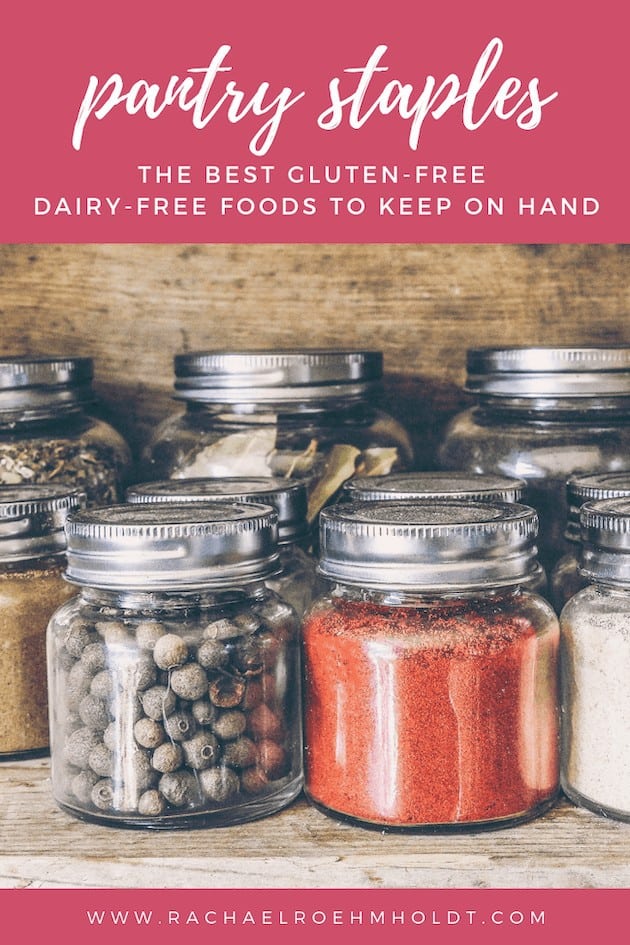 f you loved this post, I hope that you'll share it with your friends on Facebook and pin it for future reference on Pinterest.
If you'd love even more inspiration and recipes for a gluten-free dairy-free diet, be sure to grab my free shopping list – plus 5 free recipes – by entering your details below!
Love this post? You might also like to check out these!
Find out if your favorite foods and ingredients contain gluten with these posts!