Find out what menu items have no wheat ingredients and may be gluten-free from Dunkin Donuts. Plus what you need to know about eating out on a gluten-free diet.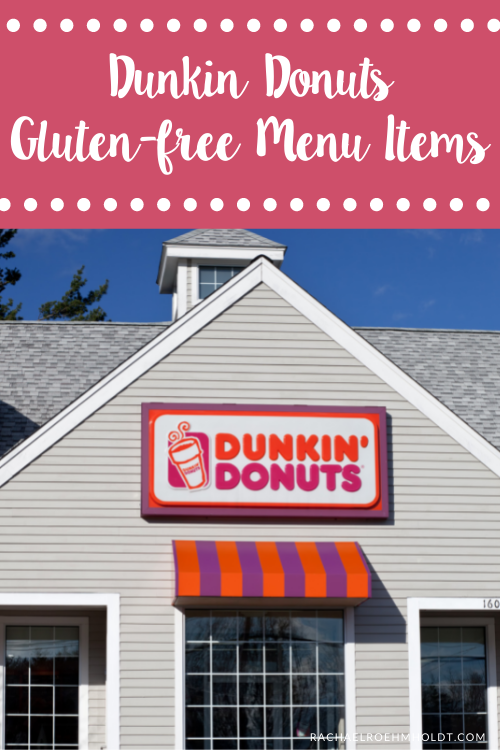 Note: I am a proud Amazon, Chomps, MunkPack, and Thrive Market affiliate and am happy to recommend their service and products to you. Please know that as an affiliate, I may receive a small commission on the products you purchase after clicking through my links. For more info, please see my disclosure policy here.
If you love swinging by Dunkin Donuts every once in a while for a quick breakfast or snack, you may have been wondering what menu items are safe for you on your gluten-free diet.
When it comes to ordering food from fast food restaurants or coffee shops, it's important to know what the company's stance is on allergens, what they're going to disclose about their products and ingredients, as well as what items they see as gluten-free or wheat-free.
In this post, we're going to talk about one of the most popular coffee and donut shops, Dunkin Donuts, and find out what exactly you can order from the menu to help you stick with your gluten and dairy-free diet.
But first, let's go over some of the basics about gluten and how it shows up in many fast food and quick serve restaurants.
Read on: Do donuts have dairy?
What is gluten?
Gluten is a protein found in most wheat products, and acts as the "glue" that helps to hold wheat, barley, kamut, spelt, farro, durum, bulgur, rye, and semolina together to maintain their shape.
Gluten is naturally occurring, and therefore is impossible to strip away from the grain. If a grain naturally has gluten in it, there's no way to make that food gluten-free.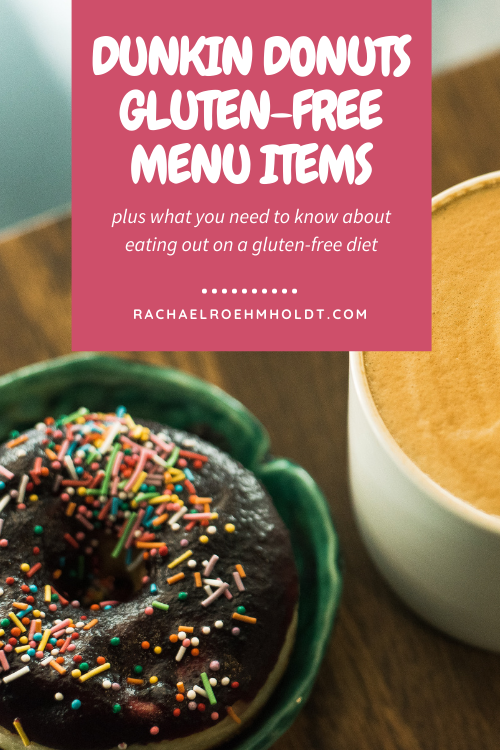 Where can you find gluten in food?
Gluten can be found in the form of wheat and grain products, like bread of flour in the more obvious places. You can also find gluten as a binding ingredient, an ingredient added for texture like to make a food more crispy, or as a thickening agent.
Where can you find gluten in many fast food restaurants?
Depending on the fast food restaurant you're visiting, you may find gluten in a variety of places. Hamburger buns, the breading of crispy chicken sandwiches or chicken nuggets, some French fries, salad dressings, croutons on salad, and chili or soup options.
Pizza dough is most often made with wheat flour which contains gluten. Flour is also used to dust work spaces for making and forming dough, so a risk of cross contamination is high in pizza restaurants.
Where gluten is found in the menu items will vary from restaurant to restaurant. That's why it's always a good idea to review menus from home, and see if you can find any allergen information before you get to the restaurant itself.
Being able to review nutritional information and allergen statements before visiting a fast food restaurant can be the difference between ordering something that you think is safe for your gluten-free diet and getting sick, and being knowledgeable about what specific menu items you'll be able to eat without any worries of later reactions.
What to know about cross contamination at fast food restaurants
Most fast food restaurants are not considered gluten free establishments so it's useful to keep this in mind when making decisions about where to go and what to order.
It's important to know that even if a fast food restaurant claims that their menu items do not contain gluten, that the possibility and probability of gluten in their products is going to be high if there is even one menu item with gluten available.
Depending on your level of sensitivity to gluten, this can be make or break information for you. If you are Celiac and are allergic to trace amounts of gluten, you'll likely want to avoid most fast food restaurants that offer any bread products or French fries that are cooked in a shared fryer with other gluten-containing ingredients.
If you are not sensitive to gluten at the trace level and have adverse reactions to gluten due to a food intolerance, you may decide that these trace amounts of gluten from cross contamination are worth risking for a quick, easy, and convenient food option.
Being aware of how you have reacted to gluten in your diet in the past and how much gluten it takes for your body to react is useful knowledge when it comes to situations like these. Use your best judgment about what you know about your body, how you react to gluten, and what the risks are for you specifically.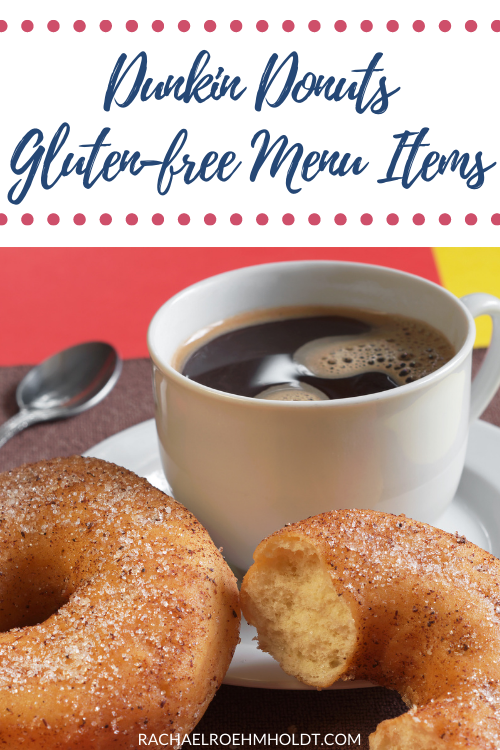 Dunkin Donuts Allergen Statement
In the Allergen and Ingredient Guide put out by Dunkin Donuts, they have a note that states:
"All products are prepared in restaurant and may have come into contact with Eggs, Milk, Peanuts, Soy, Tree Nuts, Wheat, Fish, or Shellfish."
We can see that this company is making sure it's clear you know as a consumer that there is a chance and high likelihood of gluten contamination in most of their food and drinks.
They also have this note at the bottom of their PDF guide:
"Dunkin' has made a reasonable effort to provide allergen and ingredient information based upon standard product formulations. Test products, limited time offers and regional menu variations may not be included and not all items listed may be available in all restaurants. The information on these materials may vary from that which may be available in our restaurants."
Are donuts gluten-free?
Most donuts you can buy at stores and bakeries contain gluten in the form of all-purpose flour or enriched flour, or a blend of flours suited for baking.
If you follow a gluten-free diet and love donuts, you may want to find a brand that offers gluten-free options or buy ingredients and learn to make them at home on your own.
Read on: Are donuts gluten-free?
Read on: Gluten-free chocolate cake donuts, Gluten-free vanilla cake donuts
Read on: 25 gluten-free donut recipes.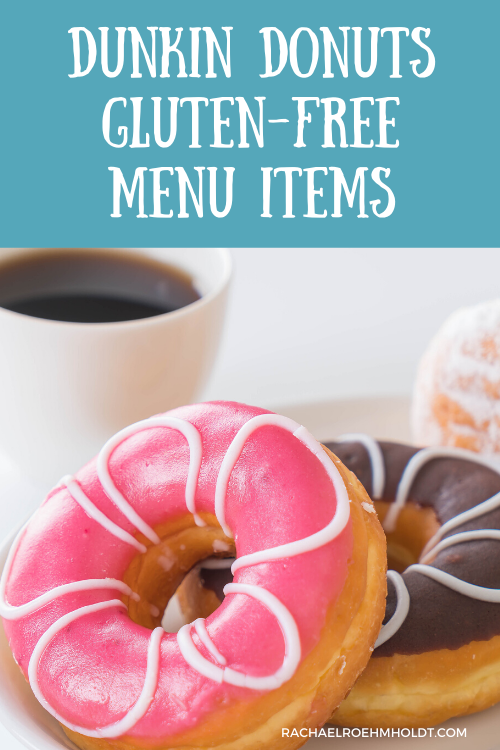 Dunkin Donuts Gluten-free Menu Items
After reviewing the Dunkin Donuts Allergen and Ingredient Guide, the following items do not have allergens or allergen warnings listed for wheat.
This doesn't mean that these are gluten-free options, but that they are LESS likely to contain wheat or gluten, because it is not labeled as such by the company. Cross contamination is still likely and probable even among these menu items.
This information was recorded in March 2022 and the table was last updated February 10, 2022. The items with an asterisk (*) below also do not contain milk allergens.
Limited Time Products
These are listed in a section of their own in the Allergen and Ingredient table. These are presumably menu items that change out seasonally.
Drinks
Blueberry Oat Cold Brew*
Salted Caramel Cream Cold Brew with Cream
Salted Caramel Cream Cold Brew, Black
Salted Caramel Signature Hot Latte
Salted Caramel Signature Iced Latte
The Charli Cold Foam
Toasted Almond Cold Brew*
Vanilla Cold Brew with Sweet Cold Foam
Irish Creme Swirl Frozen Chocolate
Irish Creme Swirl Frozen Coffee
Irish Creme Swirl Hot Cappuccino
Irish Creme Swirl Hot Coffee
Irish Creme Swirl Hot Latte
Irish Creme Swirl Hot Macchiato
Irish Creme Swirl Iced Cappuccino
Irish Creme Swirl Iced Coffee
Irish Creme Swirl Iced Latte
Irish Creme Swirl Iced Macchiato
Shamrock Hot Macchiato
Shamrock Iced Macchiato
Vanilla Oatmilk Iced Matcha Latte
Food
Bacon & Cheddar Omelet Bites
Egg White & Veggie Omelet Bites
Sweet Black pepper Snacking Bacon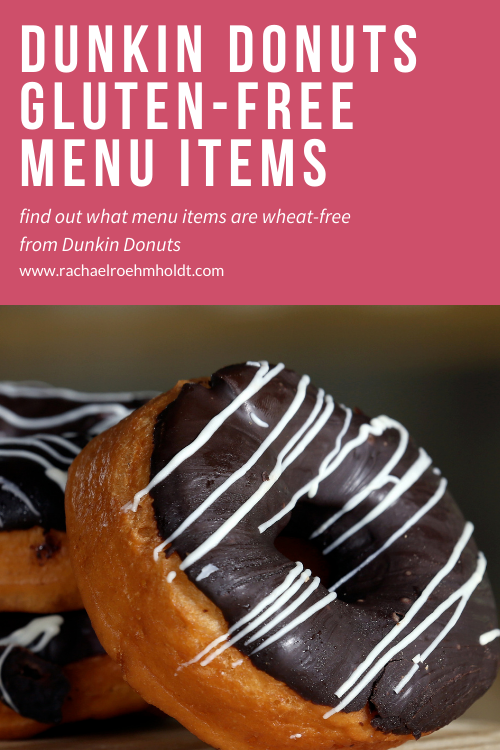 Permanent Products
These are the menu items on Dunkin Donuts menu that contain no wheat ingredients. This doesn't mean they are considered gluten-free. In fact, there is still a high probability of cross contamination with gluten in this restaurant. However, these are the menu items listed that have no wheat ingredients.
Drinks
Cold Brew Coffee*
Nitro Cold Brew Coffee*
Blue Raspberry Coolatta*
Strawberry Coolatta*
Vanilla Bean Coolatta
Peach Passion Fruit Dunkin' Coconut Refresher*
Strawberry Dragonfruit Dunkin' Coconut Refresher*
Blue Raspberry Dunkin' Energy Punch Powered by Monster Energy*
Strawberry Dunkin' Energy Punch Powered by Monster Energy*
Peach Passion Fruit Dunkin' Refresher*
Strawberry Dragonfruit Dunkin' Refresher*
Caramel Swirl Frozen Chocolate
French Vanilla Swirl Frozen Chocolate
Frozen Chocolate
Caramel Swirl Frozen Coffee
French Vanilla Swirl Frozen Coffee
Frozen Coffee
Mocha Swirl Frozen Coffee
Frozen Chai Latte
Frozen Dunkaccino
Frozen Matcha Latte
Americano*
Cappuccino
Caramel Swirl Hot Cappuccino
French Vanilla Swirl Hot Cappuccino
Mocha Swirl Hot Cappuccino
Box 'O Joe Hot Chocolate
Dunkaccino
French Vanilla Dunkaccino
Hot Chocolate
Mint Hot Chocolate
Original Hot Chocolate
Cafe Au Lait
Caramel Swirl Hot Coffee
French Vanilla Swirl Hot Coffee
Hot Coffee
Mocha Swirl Hot Coffee
Cafe con Leche
Cortadito
Caramel Craze Signature Hot Latte
Caramel Swirl Hot Latte
Chai Hot Latte
Cocoa Mocha Signature Hot Latte
French Vanilla Swirl Hot Latte
Hot Latte
Matcha Hot Latte
Mocha Swirl Hot Latte
Caramel Swirl Hot Macchiato
French Vanilla Swirl Hot Macchiato
Hot Macchiato
Mocha Swirl Hot Macchiato
Vanilla Spice
Bold Breakfast Black Tea*
Chamomile Fields Herbal Infusion*
Cool Mint Herbal Infusion*
Decaf Breakfast Black Tea*
Harmony Leaf Green Tea*
Hibiscus Kiss Herbal Infusion*
Iced Americano*
Caramel Swirl Iced Cappuccino
French Vanilla Swirl Iced Cappuccino
Iced Cappuccino
Mocha Swirl Iced Cappuccino
Caramel Swirl Iced Coffee
French Vanilla Iced Coffee
French Vanilla Swirl Iced Coffee
Iced Cafe Au Lait
Iced Coffee*
Mocha Swirl Iced Coffee
Almondmilk Iced Matcha Latte*
Caramel Craze Signature Iced Latte
Caramel Swirl Iced Latte
Chai Iced Latte
Cocoa Mocha Signature Iced Latte
French Vanilla Swirl Iced Latte
Iced Latte with Almondmilk*
Iced Latte with Coconutmilk*
Iced Latte with Oatmilk*
Iced Latte
Matcha Iced Latte
Mocha Swirl Iced Latte
Caramel Swirl Iced Macchiato
French Vanilla Swirl Iced Macchiato
Iced Macchiato with Coconutmilk*
Iced Macchiato with Oatmilk*
Mocha Swirl Iced Macchiato
Iced Green Tea Sweetened*
Iced Green Tea Unsweetened*
Iced Tea Sweetened*
Iced Tea Sweetened Blueberry Flavored Tea*
Iced Tea Sweetened Raspberry Flavored*
Iced Tea Unsweetened
Iced Tea Unsweetened Blueberry Flavored Tea*
Iced Tea Unsweetened Raspberry Flavored Tea*
Sweet Tea*
Sweet Tea Blueberry Flavored*
Sweet Tea Raspberry Flavored*
Extra Thick Shake – Chocolate
Extra Thick Shake – Coffee
Extra Thick Shake – Vanilla
Frozen Coffee Float
M&M's Mix-in
Strawberry Coolata Float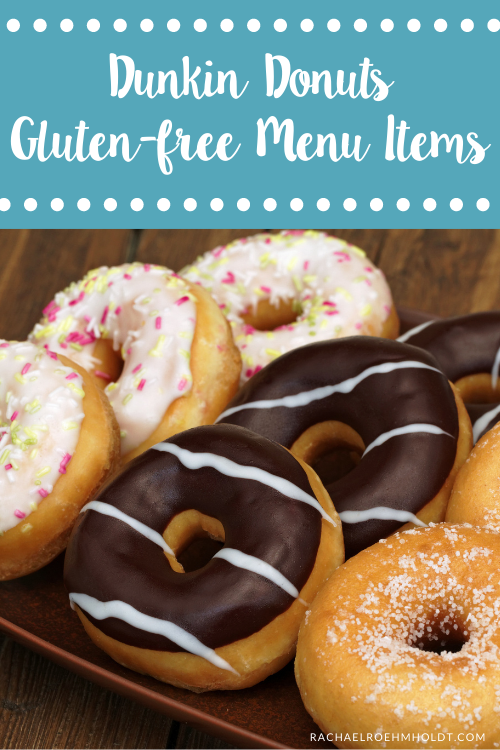 Packaged Drinks
Dunkin Decaf K-Cup Pod*
Dunkin Midnight K-Cup Pod*
French Vanilla K-Cup Pod*
Ground Dunkin Decaf Packaged Coffee*
Ground Dunkin Midnight Packaged Coffee*
Ground French Vanilla Packaged Coffee*
Ground Hazelnut Packaged Coffee*
Ground Original Packaged Coffee*
Original Blend K-Cup Pod*
Whole Bean Original Blend Packaged Coffee*
Bold Breakfast Black Packaged Tea*
Chamomile Fields Herbal Infusion Packaged Tea*
Cool Mint Herbal Infusion Packaged Tea*
Harmony Leaf Green Packaged Tea*
Hibiscus Kiss Herbal Infusion Packaged Tea*
Decaf Breakfast Black Packaged Tea*
Food
Avocado Spread*
Butter Packet
Butter Spread with Canola Oil
Classic Plain Cream Cheese Spread
Garden Veggie Cream Cheese Spread
Strawberry Cream Cheese Spread
Hash Browns*
Read on: 15 Gluten-free breakfast sandwich recipes
Read on: Are hash browns gluten-free?
Are Dunkin egg bites gluten-free?
While none of the products at Dunkin Donuts are considered gluten-free by the company, their omelet egg bites are listed as not containing and wheat ingredients.
Use your best judgment based on what you know about your level of sensitivity to gluten to determine if this is a food you want to eat on your gluten-free diet.
You may or may not be surprised to find that many of their drinks and only a handful of their food items (that aren't even necessarily real food but condiments) are wheat-free. Dunkin Donuts doesn't have much in the way of food for folks who are avoiding wheat and gluten ingredients.
Of course, if you love Dunkin coffee and drinks, you are in luck with this brand. If you're hoping to stop by for donuts as well, your best bet is to keep on driving.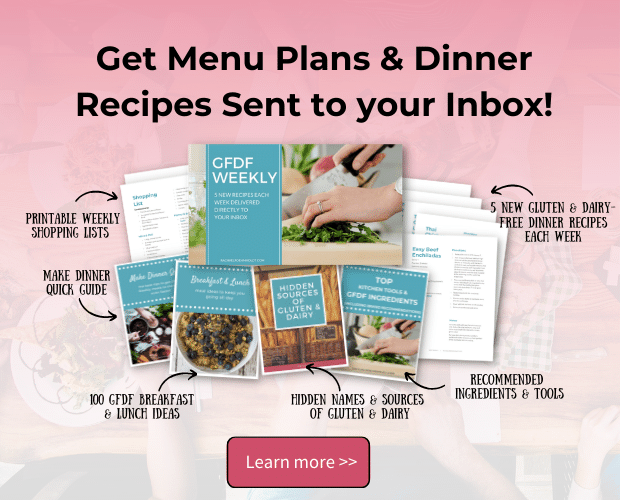 If you loved this post, I hope that you'll share it with your friends on Facebook and pin it for future reference on Pinterest.