Get 25 gluten-free donut recipes, including vanilla, chocolate, cinnamon sugar, fruit-flavored, and vegan donuts. Many are dairy-free too!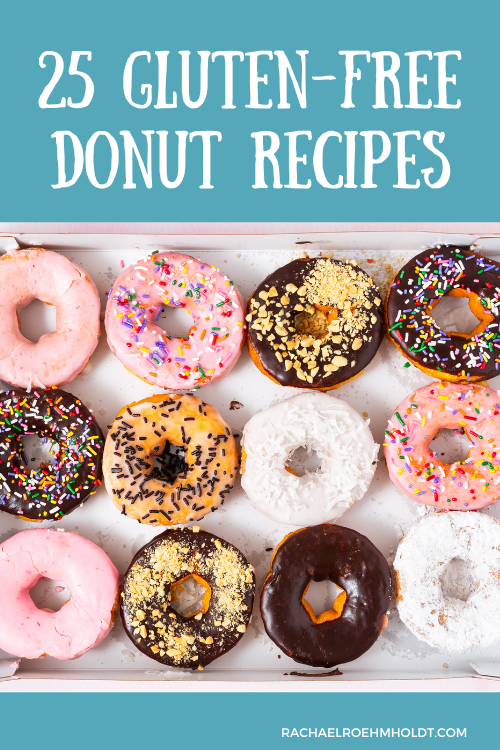 Note: I am a proud Amazon, Chomps, MunkPack, and Thrive Market affiliate and am happy to recommend their service and products to you. Please know that as an affiliate, I may receive a small commission on the products you purchase after clicking through my links. For more info, please see my disclosure policy here.
If you used to love going out for donuts on special occasions, I'm betting that switching to a gluten-free diet was a real bummer unless you have a great gluten-free donut spot near you.
This was the case for me. For the longest time, there were no places I could pick up a donut that worked for my diet until the past handful of years when one or two shops started making them or having them shipped in from nearby towns to sell in local coffee shops.
One thing that's been somewhat frustrating for me is how much these places charge for gluten-free donuts.
Now I get it, I'm a business owner and one that loves supporting other business owners as well, but I don't love paying $5 for one donut when my husband who isn't gluten-free can go into any bakery and pay less than $2 for a donut.
The tax of wanting treats when you're gluten-free can be somewhat annoying, which is why a few years ago, I bought myself a donut pan and started baking up my own donuts.
Now every once in a while, my family and I will bake up a batch of gluten-free donuts that don't cost an arm and a leg to enjoy.
The best part of making your own gluten-free donuts at home? You get to choose what's on the menu!
Read on: Are donuts gluten-free?
Read on: Do donuts have dairy?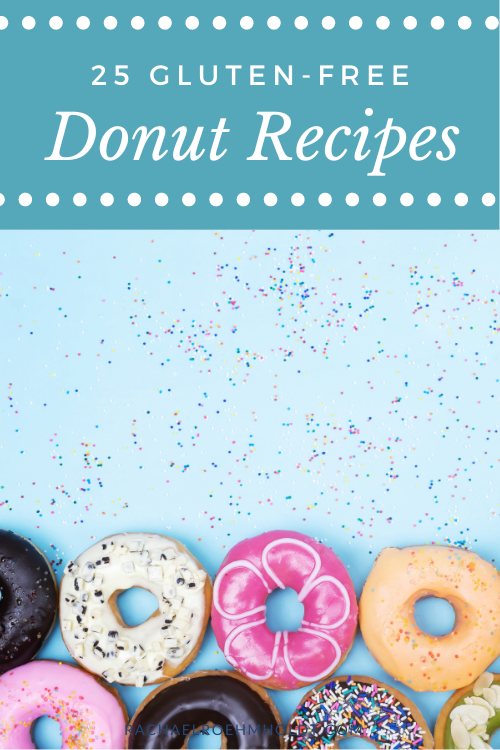 That's why I've decided to round up 25 gluten-free donut recipes in this post. I want to have a great resource for you (and myself) to come back to when we want to make homemade donuts without paying the sky high price tags at the fancy bakeries.
In this post, I'm rounding up 25 different donut recipes in five different categories: gluten-free vanilla donuts, gluten-free chocolate donuts, gluten-free fall-inspired donuts, gluten-free fruit-flavored donuts, and gluten-free and vegan donuts.
I've made sure to make notes in many of the recipes I'm sharing if they are also dairy-free, egg-free, or vegan, because in addition to avoiding gluten in my diet, I also steer clear of dairy and eggs.
If you enjoy donuts and want some inspiration of what you can make next time you don't want to spend $5 on a donut, check out some of the recipes in this post!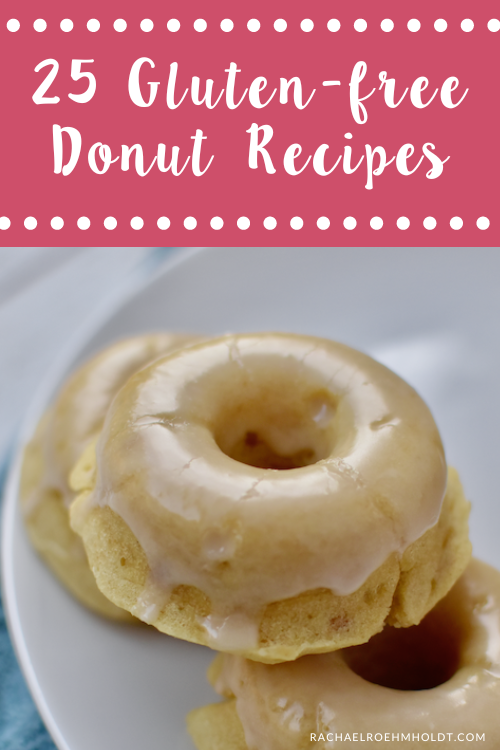 Gluten-free Vanilla Donut Recipes
Try one of these simple gluten-free vanilla donuts that are perfect with a cup of coffee in the morning! Get creative with colorful icing and sprinkles.
Enjoy these delicious, light, and fluffy gluten-free vanilla cake donuts that are also vegan and dairy-free. Great for special occasions, birthdays, or a fun weekend treat.
These melt-in-your-mouth donuts are said to taste just like Krispy Kreme donuts. Made with almond flour and tapioca flour as the base, this recipe comes together with a simple powdered sugar vanilla glaze.
These gluten-free donuts are a simple and straight-forward vanilla donut that are topped with a powdered sugar glaze that you can add food coloring to in order to make it your own.
The recipes from Mama Knows Gluten Free never disappoint – and this one doesn't either.
Combine gluten-free all-purpose rice flour blend with baking powder, baking soda, salt, brown sugar, salt, an egg, butter, vanilla extract, and a dairy-free milk to have these come together.
If you avoid gluten and eggs like I do, you'll appreciate this recipe. These donuts are full of all the standard gluten-free donut ingredients but swap an egg for an egg replacer, making them a great option for egg-free folks.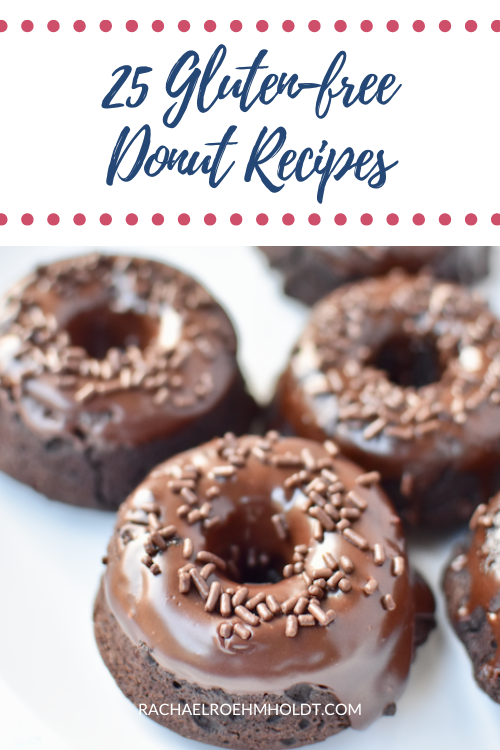 Gluten-free Chocolate Donut Recipes
If you love chocolate donuts, you'll love these gluten-free chocolate donut recipes. Choose from a traditional recipe, a small batch option, grain-free donuts, and learn to make a delicious chocolate glaze.
Are you looking for a chocolate donut recipe that's gluten-free, dairy-free and vegan? Try these gluten-free chocolate cake donuts that are super chocolatey, light, and fluffy!
This gluten-free chocolate cake donut can be made with or without dairy in the form of butter and cream.
Swap out the butter for vegan butter and cream for canned coconut milk for a dairy-free option.
For a smaller batch of chocolate donuts, you can get eight out of this gluten-free recipe.
Combine vegan butter, avocado oil, sugar, an egg, baking powder, baking soda, salt, vanilla, cocoa powder, gluten-free all purpose flour, and a dairy-free milk of your choice to make these delicious chocolate donuts.
If you avoid gluten, a search term that might be helpful when you go looking for recipes is "grain free" which implies both the recipe is made with no grains and therefore no gluten.
This recipe uses a mixture of almond, coconut, and tapioca flour instead of a traditional gluten-free flour which usually has a combination of rice or other gluten-free grains.
This chocolate donut is made gluten-free with a cobmination of almond flour and coconut flour.
You can make either a chocolate or white chocolate glaze and top with your choice of toppings to make each of your donuts unique.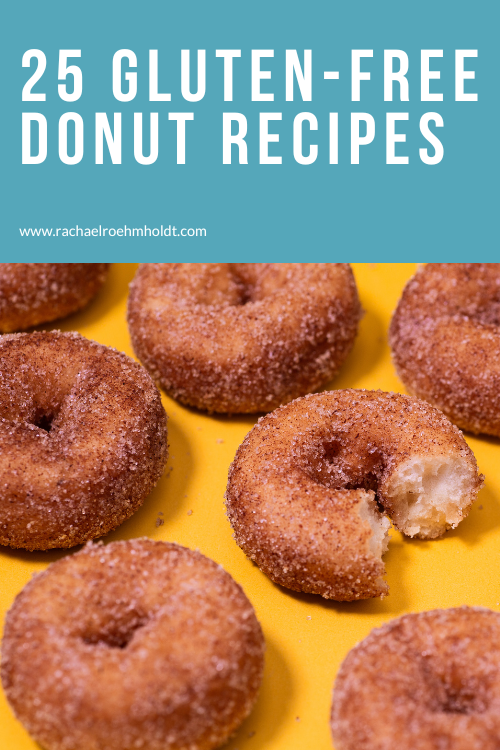 Gluten-free Fall-Inspired Donut Recipes
There's something that feels quintessentially fall about donuts and apple cider. You'll love these five recipes with warm spices like cinnamon, nutmeg, and chai spices.
If you're looking for some donuts to make this fall, these cinnamon sugar donuts won't disappoint.
They are baked, made with a combination of blanched almond flour, white rice flour, and potato starch instead of an all-purpose flour. Best of all, there's cinnamon both in and on the donuts giving them a ton of flavor.
These yummy gluten-free cinnamon sugar donuts are also vegan, which is great if you avoid dairy and eggs like I do.
After you bake up these donuts, give them a light brush of oil and dunk them a plate of cinnamon and sugar for loads of flavor.
If you love chai tea or chai lattes, you'll be excited to try this recipe for chai donuts. This recipe is flavored with tons of spices, like cinnamon, ginger, nutmeg, cardamom, and even a cup of brewed and cooled chai tea.
If you avoid sugar, you'll love this recipe even more as it uses xylitol instead of regular sugar.
There's nothing I love more in the fall than apple cider and adding the flavor of apple cider to donuts just screams fall to me.
To give your donuts flavor, add cider in place of another liquid you'd normally find in a donut recipe and add loads of spiciness from cinnamon and nutmeg.
This gluten-free donut recipe uses rolled oats and roasted pecans instead of a traditional gluten-free all purpose flour.
You'll love how these come together with cinnamon, nutmeg, and maple syrup in the donuts as well as a homemade maple syrup flavored glaze.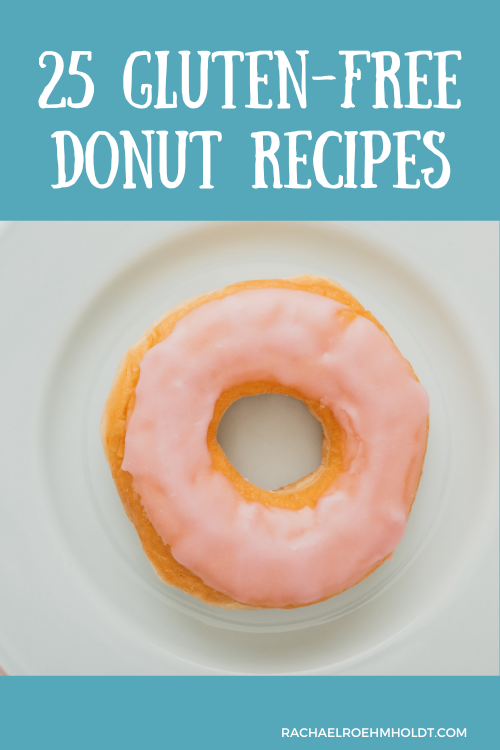 Gluten-free Fruit Flavored Donut Recipes
If you love a fruity donut, you won't want to miss these recipes for strawberry, raspberry, blueberry, lemon, and pear gluten-free donuts.
These baked strawberry donuts get their flavor from fresh strawberries that have been diced and added to the donut batter and the strawberry glaze.
I love that this recipe is vegan so there are no eggs or dairy!
I always have tons of raspberries in my freezer since I grow them in my garden every summer.
This is the perfect way to use up some of them with a gluten-free raspberry donut. Enjoy making them gluten-free with a homemade blend of gluten-free self-rising flour.
This recipe isn't specifically gluten-free, but it does have notes to use gluten-free flour to make it that way.
You can alter them slightly too by choosing what type of milk you use (dairy or a dairy-free milk), and choosing to add cinnamon or cardamom for extra flavor.
I like when recipes call out that they only use one bowl to make – and this one does just that. This recipe uses besan flour, which is a chickpea flour in place of a normal gluten-free all purpose flour.
Combine that with cornstarch or potato starch, almond flour, salt, lemon zest, baking powder, and baking soda. Then add lemon juice, vanilla extract, vinegar, water, and oil. Top your lemon donuts with a delicious lemon glaze.
If you like to add fruit to your homemade gluten-free donuts, you'll love how these incorporate fresh pears into them for added flavor and moisture.
This recipe uses oat flour to make them gluten-free and these donuts are topped with a delicious dark chocolate glaze.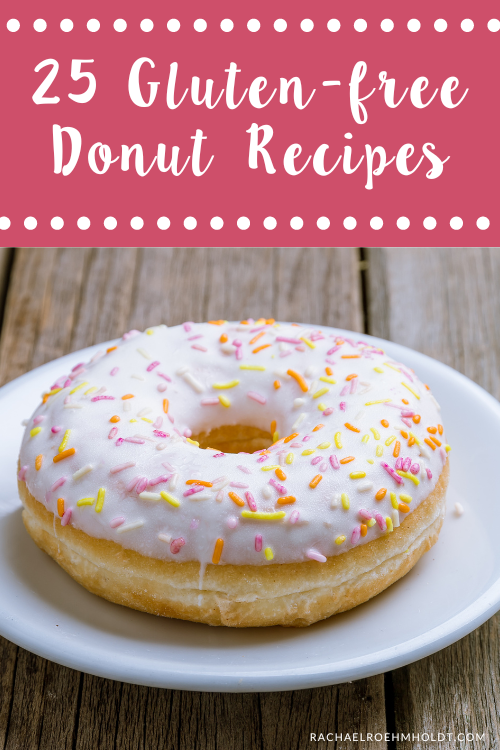 Gluten-free Vegan Donut Recipes
If you avoid dairy or eggs like I do in my diet, you'll be pleased to know there are gluten-free donut recipes without those ingredients.
Try one of these delicious recipes to enjoy a treat and stick with the diet your body handles best.
Don't think that because you avoid gluten, dairy, and eggs that you have to live without donuts. This recipe proves that you can still have treats when you have the right ingredients on hand.
This recipe calls for non-dairy milk, vinegar, gluten-free flour, sugar, nutmeg, vegan butter, and vanilla extract.
This recipe for vegan donuts is gluten-free, dairy-free, egg-free, and has a ton of different variations you can make.
The base recipe is a simple gluten-free vanilla donut made with oat flour, and the toppings allow you to get really creative.
Make chocolate, berry, or plain vanilla frostings and add whatever toppings your heart desires to make it your own!
For this healthy take on donuts, you'll need five ingredients: a gluten-free self-rising flour, maple syrup, coconut oil, milk of choice, and a homemade chocolate frosting.
In under 20 minutes, you'll have a full batch of healthier donuts ready for you on your counter. That's faster than driving to the donut shop!
Enjoy these cinnamon sugar donuts that are vegan, gluten-free, and refined sugar-free.
For this recipe you'll need gluten-free flour, cinnamon, nutmeg, coconut sugar, vegan butter, dairy-free milk, and apple cider vinegar. Serve them with a big cup of coffee!
My husband is a huge coffee fanatic and would flip for this recipe. What I love about it is that it is full of flavor from the ground coffee beans that are added right into the gluten-free chocolate donut batter.
These donuts are topped with a chocolate glaze – a perfect breakfast indulgence!
If you love donuts and have been looking for some gluten-free donut recipes, I hope this post has given you some yummy inspiration to get into your kitchen and get baking!
If you loved this post, I hope that you'll share it with your friends on Facebook and pin it for future reference on Pinterest.
Love this post? You might also want to check out more of my recipe roundups here!
Find some delicious gluten and dairy-free recipes in these popular recipe roundup posts!
Want more? Check out all my Gluten-free Dairy-free Recipes!