Find out what menu items from Burger King do not contain gluten and what you need to know about gluten-free options from fast food restaurants.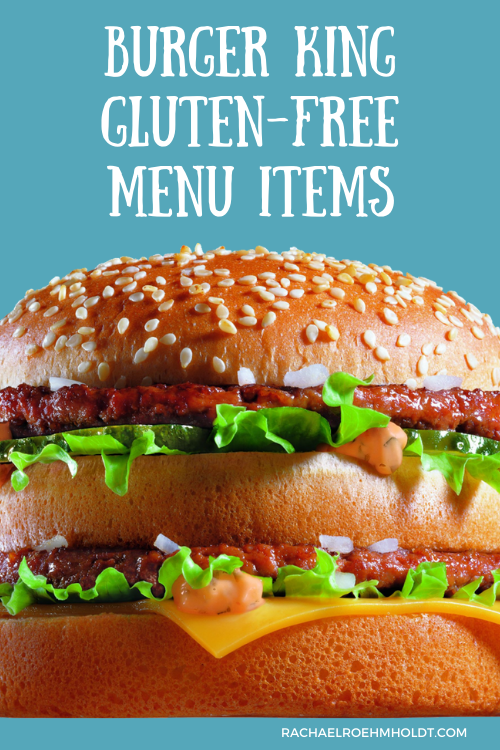 Note: I am a proud Amazon, Chomps, MunkPack, and Thrive Market affiliate and am happy to recommend their service and products to you. Please know that as an affiliate, I may receive a small commission on the products you purchase after clicking through my links. For more info, please see my disclosure policy here.
If you love grabbing a quick bite on your way home from work or just like knowing what your options are when you're out of the house at meal time, you may have wondered what menu items are gluten-free at Burger King.
For folks who avoid gluten, it can be tricky to find options at fast food restaurants, which is why I've decided to make a post on some of the most popular fast food restaurants and what their gluten-free options are. Sometimes having a short list of options can help make decisions easier, both deciding what to order and/or skipping this restaurant entirely and looking for a different place to eat.
If you've been wondering what's gluten-free at Burger King, I'm here to help you narrow down your options so you can be informed next time you are thinking about stopping by for a burger or milkshake.
Before we dive in, let's make sure that we're all on the same page as it relates to what gluten is, where you can find it, and where you're most likely to encounter it at a fast food restaurant.
What is gluten?
Gluten is a protein found in most wheat products, and acts as the "glue" that helps to hold wheat, barley, kamut, spelt, farro, durum, bulgur, rye, and semolina together to maintain their shape.
Gluten is naturally occurring, and therefore is impossible to strip away from the grain. If a grain naturally has gluten in it, there's no way to make that food gluten-free.
Where can you find gluten in food?
Gluten can be found in the form of wheat and grain products, like bread of flour in the more obvious places. You can also find gluten as a binding ingredient, an ingredient added for texture like to make a food more crispy, or as a thickening agent.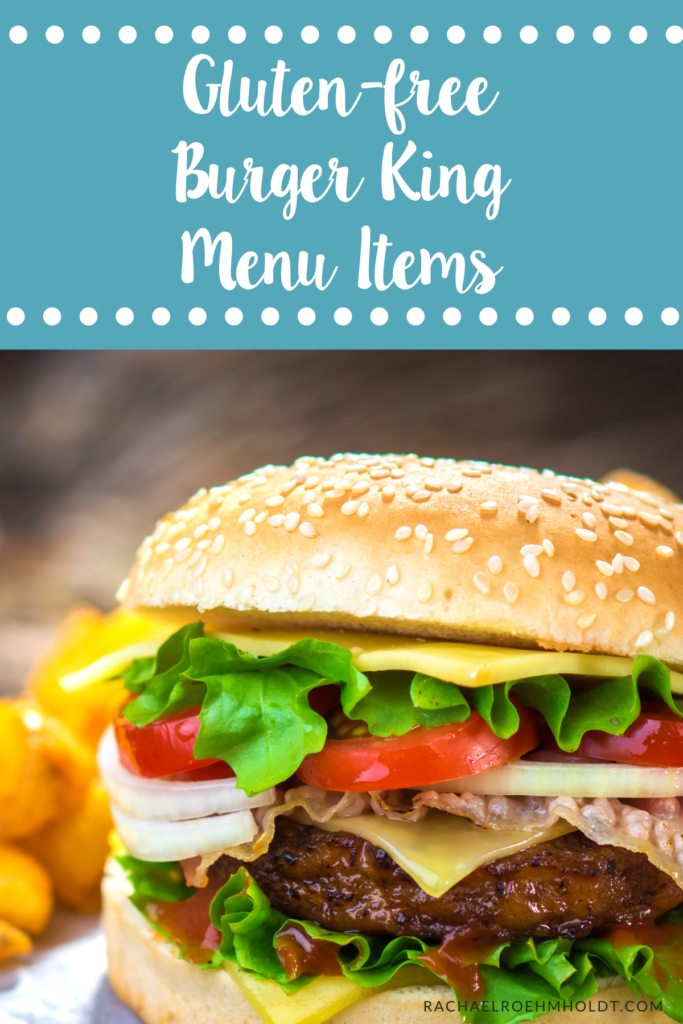 Where can you find gluten in many fast food restaurants?
Depending on the fast food restaurant you're visiting, you may find gluten in a variety of places. Hamburger buns, the breading of crispy chicken sandwiches or chicken nuggets, some French fries, salad dressings, croutons on salad, and chili or soup options.
Where gluten is found in the menu items will vary from restaurant to restaurant. That's why it's always a good idea to review menus from home, and see if you can find any allergen information before you get to the restaurant itself.
Being able to review nutritional information and allergen statements before visiting a fast food restaurant can be the difference between ordering something that you think is safe for your gluten-free diet and getting sick, and being knowledgeable about what specific menu items you'll be able to eat without any worries of later reactions.
Burger King allergen statement
Burger King puts out a regular Allergen Information PDF on their website that you can access at any time. Their most recent update was in July of 2021, and this document outlines all their menu items and which of those contain seven top allergens: milk, wheat, egg, soy, fish, peanuts, and tree nuts.
This document also has a column indicating when a shared fryer is used to cook that menu item so you can get an idea whether or not there is a possibility of cross contamination with other foods in the fryer.
This is the text that accompanies the Allergen Information put out by Burger King:
"We recommend that you always consult your doctor for questions regarding your diet as Burger King Corporation, its franchisees and employees, do not assume responsibility for a person's sensitivity or allergy to food provided in our restaurants."
They go on to say "Please note that normal kitchen operations may involve some shared cooking and preparation areas and utensils, and the possibility exists that your food items may come in contact with other food products, including other allergens."
"Products fried in a shared fryer include but may not be limited to: Fish Filet, Pork Sausage, Ch'King Chicken Filet, Chicken Nuggets, Original Chicken Patty, Hash Browns, French Toast Sticks and Onion Rings."
Burger King notes that they "encourage anyone with food sensitivities, allergies, or special dietary needs to check www.bk.com on a regular basis to obtain the most up-to-date ingredient information before ordering."
The bottom line here is that Burger King is telling us that even if some of their menu items contain no gluten, it is expected that there is cross contamination with all menu items served there.
Read on: Are hash browns gluten-free?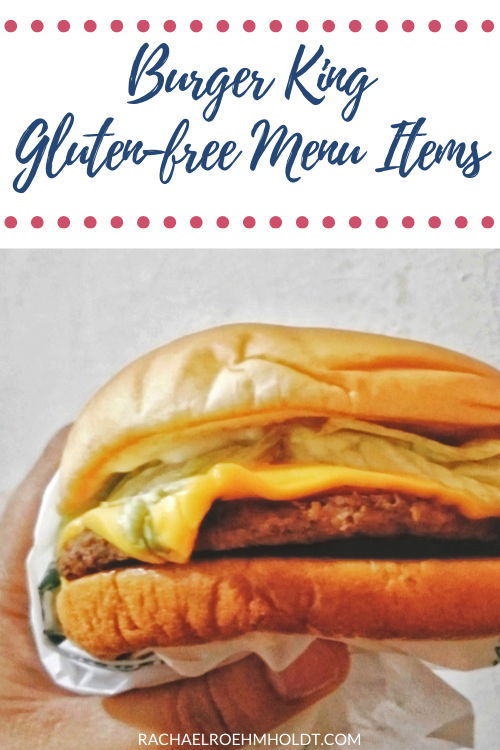 What to know about cross contamination at fast food restaurants
Most fast food restaurants are not considered gluten free establishments so it's useful to keep this in mind when making decisions about where to go and what to order.
It's important to know that even if a fast food restaurant claims that their menu items do not contain gluten, that the possibility and probability of gluten in their products is going to be high if there is even one menu item with gluten available.
Depending on your level of sensitivity to gluten, this can be make or break information for you. If you are Celiac and are allergic to trace amounts of gluten, you'll likely want to avoid most fast food restaurants that offer any bread products or French fries that are cooked in a shared fryer with other gluten-containing ingredients.
If you are not sensitive to gluten at the trace level and have adverse reactions to gluten due to a food intolerance, you may decide that these trace amounts of gluten from cross contamination are worth risking for a quick, easy, and convenient food option.
Being aware of how you have reacted to gluten in your diet in the past and how much gluten it takes for your body to react is useful knowledge when it comes to situations like these. Use your best judgment about what you know about your body, how you react to gluten, and what the risks are for you specifically.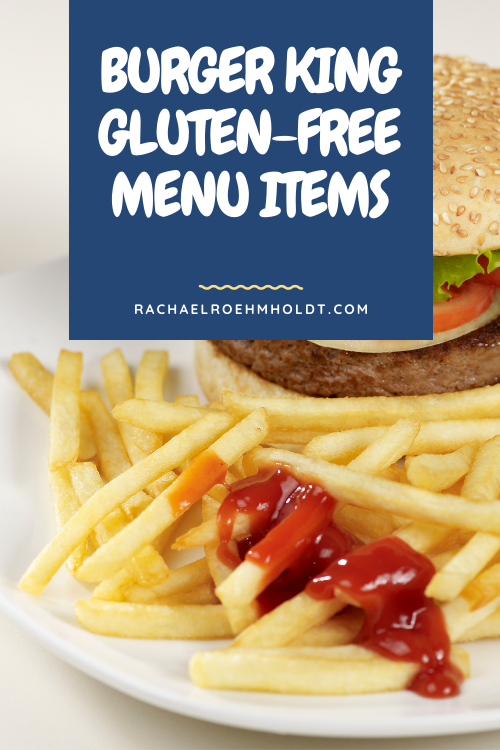 Gluten-free Menu Items from Burger King
Since Burger King shares that most of their products either contain gluten or have the possibility of cross contamination from shared fryers and proximity within the restaurant, we can't really say that any of the items on their menu are gluten-free.
That said, we can review the Allergen Information sheet for any items that do not contain wheat to give us an idea as to what might be a good choice if we find ourselves at Burger King some time in the future.
Since I also follow a dairy-free diet and you might too, I've noted those without milk ingredients in this list as well. These items are marked with an asterisk (*) and are both without wheat or milk ingredients.
Flame-Grilled Burgers
All Flame-Grilled Burgers from Burger King contain gluten, as they all come with a bun.
Chicken & Fish
All Chicken & Fish menu items from Burger King contain gluten ingredients, both from the bun and from the deep frying of the chicken patties and nuggets.
Garden Fresh Salads
The Garden Side Salad* without any dressing is the only salad without gluten. The three dressing options without wheat are Ken's Golden Italian Dressing*, Ken's Ranch Dressing, and Ken's Lite Honey Balsamic Vinaigrette*.
King Jr. Meals
Of the King Jr. Meals, these are the ones that contain no specific wheat ingredients:
Oatmeal
Mott's Natural Applesauce*
French Fries*
Fat Free Milk
1% Low Fat Chocolate Milk
Capri-Sun 100% Apple Juice*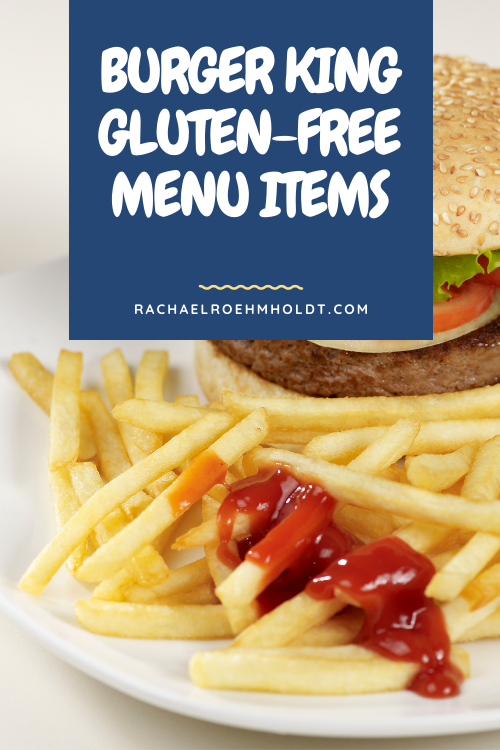 Desserts
Burger King offers a few gluten-free dessert options you can look for:
Soft Serve Cup
Vanilla Shake
Hershey's Chocolate Shake
Breakfast
All Breakfast Items from Burger King contain wheat except for their breakfast syrup, which wouldn't really be much of a meal option, would it?
Sides & Add-Ons
Burger King French Fries do not contain wheat ingredients, but share a fryer with ingredients that do.
These dipping sauces also contain no wheat ingredients:
Barbecue Dipping Sauce*
Buffalo Dipping Sauce
Honey Mustard Dipping Sauce*
Ranch Dipping Sauce
Zesty Dipping Sauce*
Marinara Dipping Sauce
Jam Packet*
Read on: Are Burger King fries gluten-free?
Read on: Are French fries gluten-free?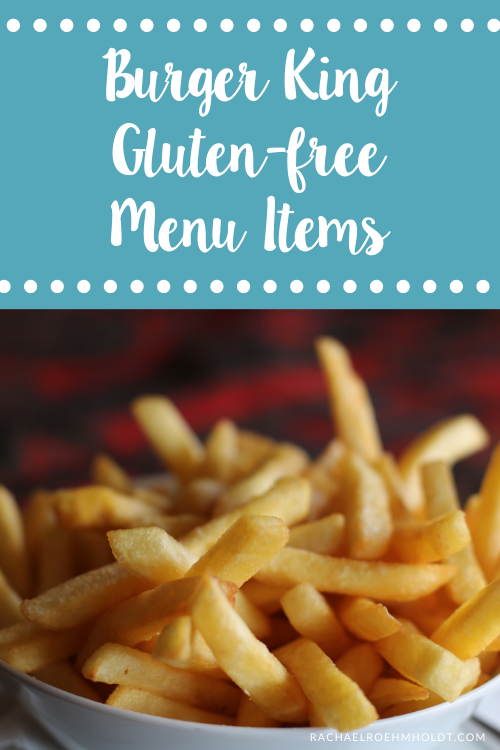 Beverages
All of Burger King's beverage options contain no wheat ingredients, including:
BK Cafe*
BK Cafe Decaf*
BK Cafe Iced Vanilla Coffee
BK Cafe Iced Mocha Coffee
Coca-Cola*
Diet Coke*
Sprite*
Dr Pepper*
Frozen Coke*
Simply Orange Juice*
Iced Tea (Sweetened or Unsweetened)*
Read on: Is soda gluten-free?
If you've been wondering what menu items you can eat on a gluten-free diet, I hope this information has been helpful for you. It's important to note that nothing on the Burger King menu is considered fully "gluten-free," as there is always the possibility of cross contamination based on what the company shares in their allergen statement.
As you can see, there are really very few options at Burger King on a gluten-free diet, but having it outlined what specifically you can order can help you make easier decisions about what to order – or to skip this place entirely and opt for somewhere with more gluten-free options to choose from.
If you loved this post, I hope that you'll share it with your friends on Facebook and pin it for future reference on Pinterest.
Looking for more information on gluten-free restaurants?
Be sure to check out my Gluten-free Restaurants post or get all the information in one place with my Gluten-free Restaurant Guide!