Find out what menu items from Panda Express do not contain gluten and what you need to know about their allergen statement.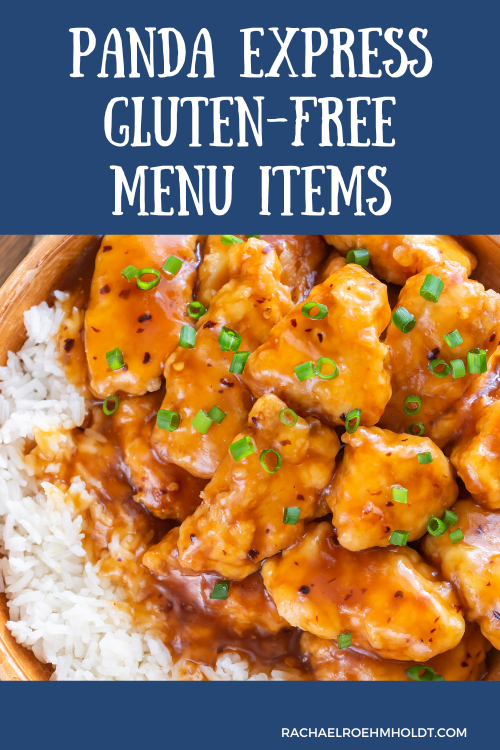 Note: I am a proud Amazon, Chomps, MunkPack, and Thrive Market affiliate and am happy to recommend their service and products to you. Please know that as an affiliate, I may receive a small commission on the products you purchase after clicking through my links. For more info, please see my disclosure policy here.
If you enjoy grabbing a quick lunch on your lunch break at work or like to get a meal out on the weekends, you may have been tempted to stroll into Panda Express and see what their gluten-free options are.
Or if you're new to a gluten-free diet, you may have previously loved going to Panda Express and are now wondering what options this fast food Chinese restaurant has to offer.
In this post, we're digging into the Panda Express menu and figuring out what this company's stance is on handling gluten and allergens in their kitchens.
Plus find out what you need to know about gluten at any fast food restaurant and what to be aware of regarding cross contamination.
Let's talk about Panda Express!
What is gluten?
Gluten is a protein found in most wheat products, and acts as the "glue" that helps to hold wheat, barley, kamut, spelt, farro, durum, bulgur, rye, and semolina together to maintain their shape.
Gluten is naturally occurring, and therefore is impossible to strip away from the grain. If a grain naturally has gluten in it, there's no way to make that food gluten-free.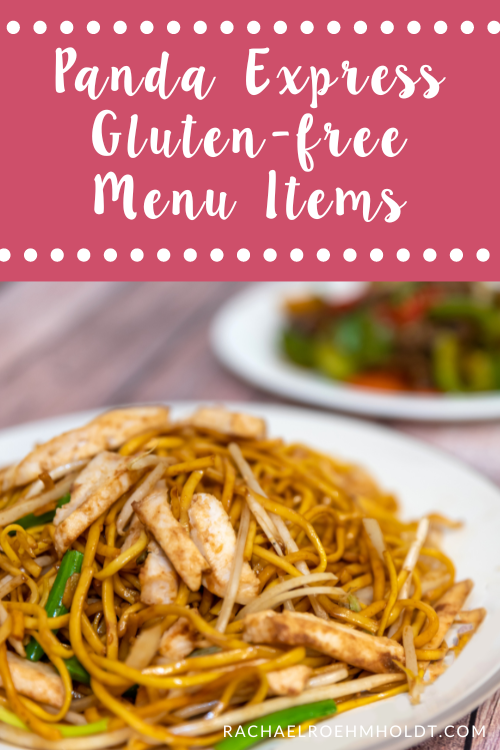 Where can you find gluten in food?
Gluten can be found in the form of wheat and grain products, like bread or flour in the more obvious places.
You can also find gluten as a binding ingredient, an ingredient added for texture like to make a food more crispy, or as a thickening agent.
Where can you find gluten in restaurants?
Depending on the restaurant you're visiting, you may find gluten in a variety of places.
At fast food restaurants, there will be gluten in hamburger buns, the breading of crispy chicken sandwiches or chicken nuggets, some French fries, salad dressings, croutons on salad, and chili or soup options.
At other restaurants, you'll find gluten in flour in sauces, in pizza or other pastry dough, pasta, and as a thickener in some soups.
Where gluten is found in the menu items will vary from restaurant to restaurant. That's why it's always a good idea to review menus from home, and see if you can find any allergen information before you get to the restaurant itself.
Being able to review nutritional information and allergen statements before visiting a fast food restaurant can be the difference between ordering something that you think is safe for your gluten-free diet and getting sick.
Being knowledgeable about what specific menu items you'll be able to eat without any worries of later reactions is crucial to sticking with your gluten-free diet.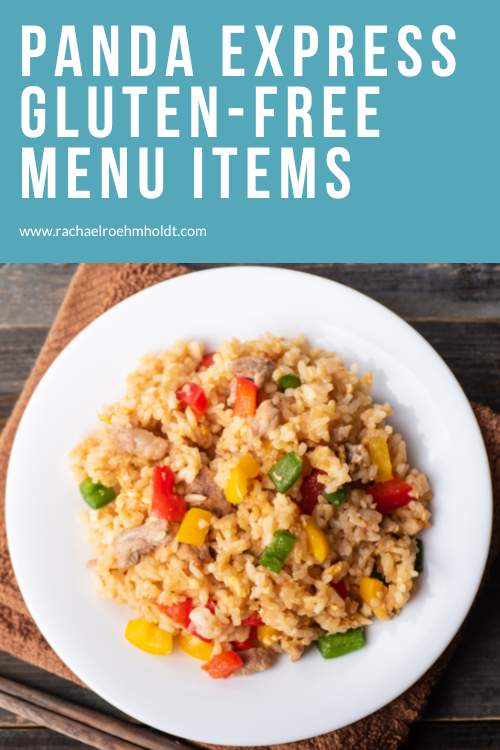 Panda Express allergen statement
While perusing the menu online, you can find this information on all the menu items that Panda offers.
"Panda uses ingredients that contain the major FDA allergens (peanuts, tree nuts, egg, fish, shellfish, milk, soy and wheat). Panda prepares his dishes with shared kitchen equipment. Therefore, allergens could be present in any dish. Panda Express does not have any vegetarian or gluten-free dishes."
What you need to know about the gluten-free at Panda Express
Panda Express makes it known that they do not offer any gluten-free dishes whatsoever in their restaurants.
They are clear in their allergen statement that they use ingredients with wheat and gluten and these ingredients are used in their kitchens. It seems as though no effort is made to accomodate folks who are celiac or have a gluten sensitivity or intolerance.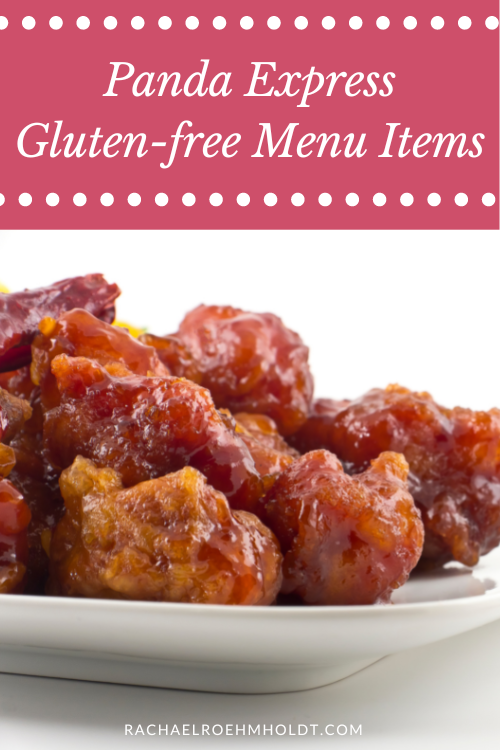 What to know about cross contamination at restaurants
Most fast food and carryout restaurants are not considered gluten-free establishments so it's useful to keep this in mind when making decisions about where to go and what to order.
It's important to know that even if a fast food restaurant claims that their menu items do not contain gluten, that the possibility and probability of gluten in their products is going to be high if there is even one menu item with gluten available.
Depending on your level of sensitivity to gluten, this can be make or break information for you.
If you are Celiac and are allergic to trace amounts of gluten, you'll likely want to avoid most fast food restaurants that offer any bread products or French fries that are cooked in a shared fryer with other gluten-containing ingredients.
If you are not sensitive to gluten at the trace level and have adverse reactions to gluten due to a food intolerance, you may decide that these trace amounts of gluten from cross contamination are worth risking for a quick, easy, and convenient food option.
Being aware of how you have reacted to gluten in your diet in the past and how much gluten it takes for your body to react is useful knowledge when it comes to situations like these.
Use your best judgment about what you know about your body, how you react to gluten, and what the risks are for you specifically.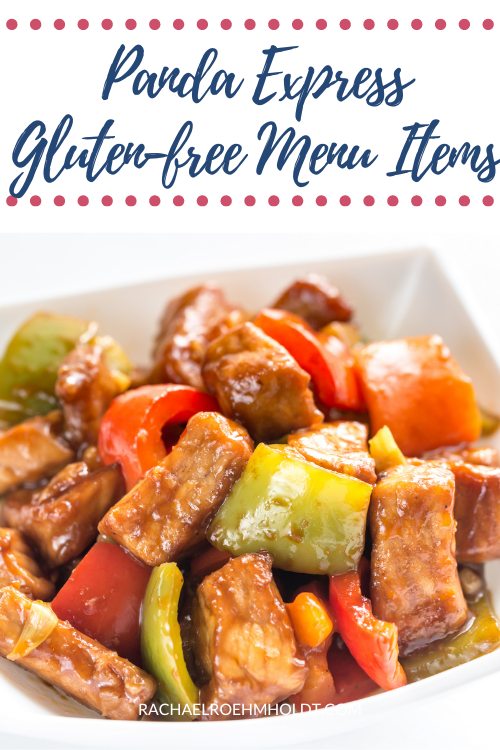 Panda Express Gluten-free Menu Items
Unfortunately, there are no menu items that Panda Express shares on their menu that are considered gluten-free by the brand.
That said, if you are sensitive to gluten and can still tolerate amounts from cross contamination, you may consider one of these few options I found in this Panda Express Nutrition & Allergen Information document.
These are listed as not containing wheat as an ingredient, but again may still contain gluten from cross contamination from within the kitchen.
Entrees
None of the entrees from Panda Express can be considered safe to eat on a gluten-free diet.
Sauces
Sweet & Sour Sauce
Chili Sauce
Hot Mustard
Plum Sauce
Tree Top Apple Crisps
Sides
White steamed rice
Brown steamed rice
Though there is still a chance of cross contamination with gluten among all foods served in the kitchens at Panda Express restaurants, rice is naturally gluten-free.
If you are sensitive to gluten but can tolerate up to the amount of gluten that could come from shared utensils and shared kitchen surfaces, then these may be okay choices for you.
Appetizers
None of the appetizers from Panda Express can be considered safe to eat on a gluten-free diet.
Desserts
None of the desserts from Panda Express can be considered safe to eat on a gluten-free diet.
Beverages
All beverages from Panda Express are considered to be wheat-free. Out of everything on the menu, their drinks are the safest option I'd recommend buying from this restaurant if you're trying to stick with a gluten-free diet.
Barq's Root Beer
Cherry Coca-Cola
Coca-Cola
Coca-Cola Zero Sugar
Diet Coke
Dr Pepper
Fanta Fruit Punch
Fanta Orange
Fanta Strawberry
Fuze Lemon Black Tea
Fuze Raspberry Tea
Glaceau Vitaminwater Squeezed Zero
Gold Peak Premium Unsweetened Tea
Hi-C Flashin Fruit Punch
Minute Maid Lemonade
Minute Maid Light Lemonade
POWERade Mountain Berry Blast
Seagram's Ginger Ale
Sprite
Sprite Zero
Black Tea
Lemon Green Tea
If you've been wondering if you can find any gluten-free options from Panda Express next time you're in the mood for a fast food version of Chinese food, keep this information in mind.
While avoiding gluten, your best bet at this restaurant is to stick to their beverages only.
Looking for more information on gluten-free restaurants?
Be sure to check out my Gluten-free Restaurants post or get all the information in one place with my Gluten-free Restaurant Guide!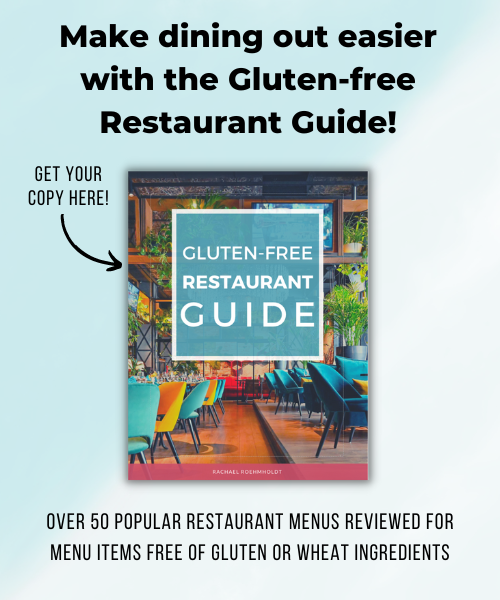 If you loved this post, I hope that you'll share it with your friends on Facebook and pin it for future reference on Pinterest.