Find out what menu items from Chipotle do not contain gluten and what you need to know about their gluten-free options.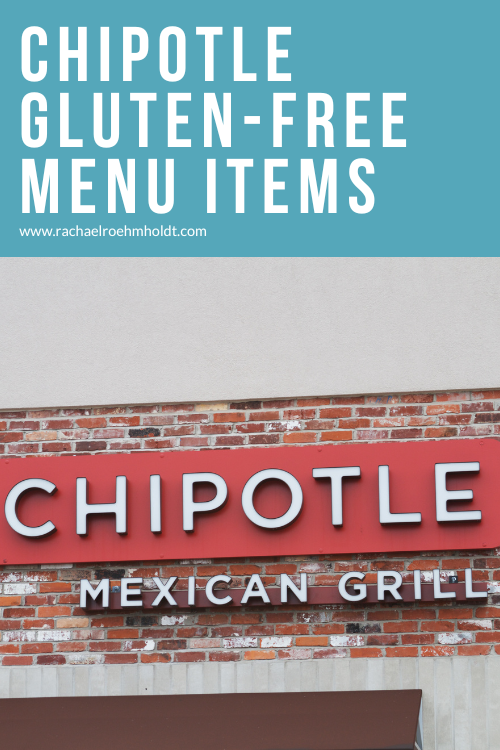 Note: I am a proud Amazon, Chomps, MunkPack, and Thrive Market affiliate and am happy to recommend their service and products to you. Please know that as an affiliate, I may receive a small commission on the products you purchase after clicking through my links. For more info, please see my disclosure policy here.
If you enjoy a quick lunch or dinner with loads of Mexican food options, you're probably no stranger to Chipotle. This fast casual restaurant offers tacos, burritos, bowls, quesadillas, and other Mexican flavors.
If you follow a gluten-free diet, you likely know that Mexican food is often a good option when certain ingredients are omitted and there's no opportunity for gluten to make its way into prepared foods.
In this post, we're going to discuss Chipotle restaurants and dig into how the company handles allergens, what menu items may be safe if you avoid gluten, and what you need to know about cross contamination at Chipotle.
We'll also talk about gluten and cross contamination at other restaurants so you know what to expect when you go out for a meal at a fast food restaurant or other restaurant, and you can be prepared.
But first, let's cover the basics of gluten and where you can find it in many foods.
What is gluten?
Gluten is a protein found in most wheat products, and acts as the "glue" that helps to hold wheat, barley, kamut, spelt, farro, durum, bulgur, rye, and semolina together to maintain their shape.
Gluten is naturally occurring, and therefore is impossible to strip away from the grain. If a grain naturally has gluten in it, there's no way to make that food gluten-free.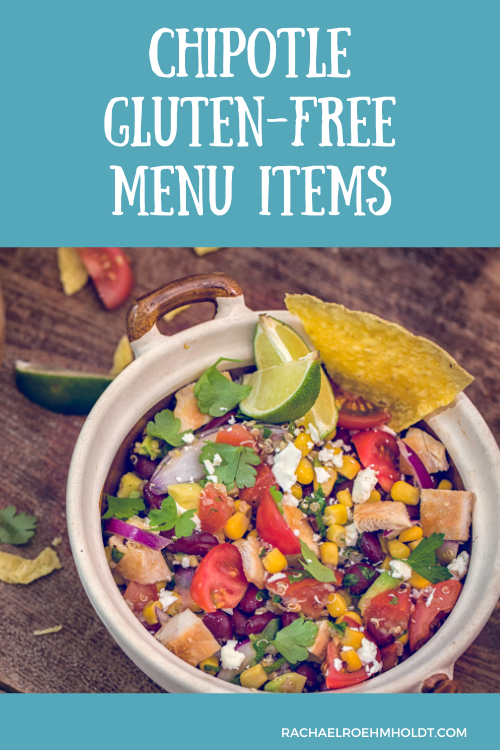 Where can you find gluten in food?
Gluten can be found in the form of wheat and grain products, like bread or flour in the more obvious places.
You can also find gluten as a binding ingredient, an ingredient added for texture like to make a food more crispy, or as a thickening agent.
Where can you find gluten in restaurants?
Depending on the restaurant you're visiting, you may find gluten in a variety of places.
At fast food restaurants, there will be gluten in hamburger buns, the breading of crispy chicken sandwiches or chicken nuggets, some French fries, salad dressings, croutons on salad, and chili or soup options.
At other restaurants, you'll find gluten in flour in sauces, in pizza or other pastry dough, pasta, and as a thickener in some soups.
Where gluten is found in the menu items will vary from restaurant to restaurant. That's why it's always a good idea to review menus from home, and see if you can find any allergen information before you get to the restaurant itself.
Being able to review nutritional information and allergen statements before visiting a fast food restaurant can be the difference between ordering something that you think is safe for your gluten-free diet and getting sick.
Being knowledgeable about what specific menu items you'll be able to eat without any worries of later reactions is crucial to sticking with your gluten-free diet.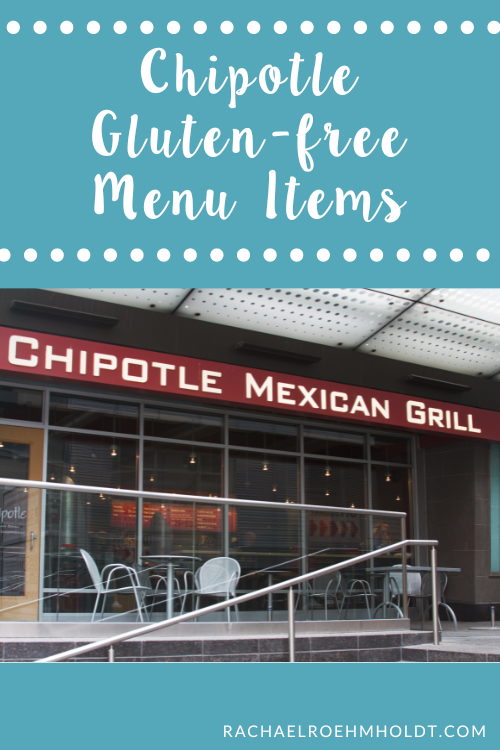 Chipotle allergen statement
This is what Chipotle has to say about how they handle allergens and where they show up in their ingredients.
This information was found on their Allergens & Special Diet page of their website.
"No matter what your unique dietary needs are, Chipotle has options for you. Unless you have an allergy to delicious food, in which case, we might have an issue."
"If you avoid gluten, don't eat our flour tortillas. If you are highly sensitive to gluten and would like us to change our gloves, just let us know at the start of your order.
You should be aware items containing corn, including corn tortillas (chips and crispy corn tortillas) and corn salsa, may have trace amounts of gluten from potentially co-mingling with gluten-containing grains in the field."
"We do not use eggs [except in locations where breakfast is available], mustard, peanuts, tree nuts, sesame, shellfish, or fish as ingredients in our food."
What you need to know about eating gluten-free at Chipotle
There is no specific "gluten-free" claim from Chipotle as this restaurant does offer ingredients that contain gluten. Their flour tortillas used for tacos and burritos are made with wheat flour and should be avoided.
Chipotle cares about transparency with the food they serve. You can review ingredients in all their different foods on their website, which is handy if you have questions about what a menu item contains.
Cross contamination is a possibility at Chipotle and the level of attention to keep the risk of cross contact will vary from one restaurant to another.
Since usually only one set of utensils is used per food (one spoon for black beans, one spoon for chicken, etc), you can't know for sure if that utensil has touched a tortilla before it makes its way back to the container.
You'll want to know your level of sensitivity to gluten before visiting a Chipotle, knowing that there's a potential for cross contamination.
You may be able to request new utensils be used or a fresh batch of an ingredient if you are celiac but know that it would be up to the restaurant to determine whether or not to accommodate this request.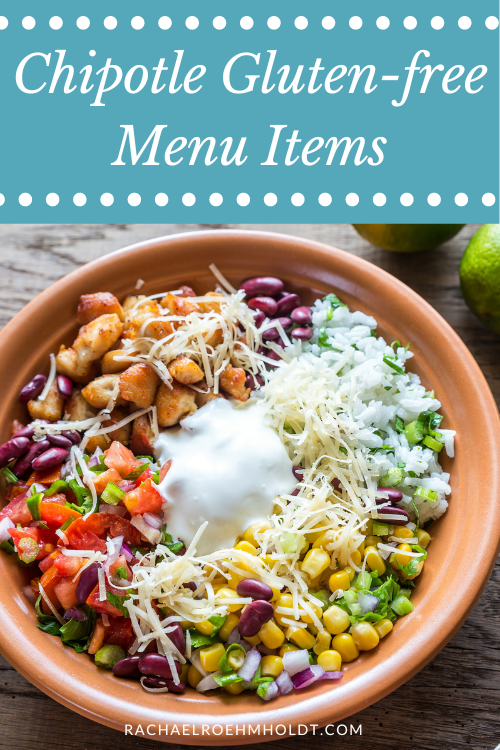 What to know about cross contamination at restaurants
Most fast food and carryout restaurants are not considered gluten-free establishments so it's useful to keep this in mind when making decisions about where to go and what to order.
It's important to know that even if a fast food restaurant claims that their menu items do not contain gluten, that the possibility and probability of gluten in their products is going to be high if there is even one menu item with gluten available.
Depending on your level of sensitivity to gluten, this can be make or break information for you.
If you are Celiac and are allergic to trace amounts of gluten, you'll likely want to avoid most fast food restaurants that offer any bread products or French fries that are cooked in a shared fryer with other gluten-containing ingredients.
If you are not sensitive to gluten at the trace level and have adverse reactions to gluten due to a food intolerance, you may decide that these trace amounts of gluten from cross contamination are worth risking for a quick, easy, and convenient food option.
Being aware of how you have reacted to gluten in your diet in the past and how much gluten it takes for your body to react is useful knowledge when it comes to situations like these.
Use your best judgment about what you know about your body, how you react to gluten, and what the risks are for you specifically.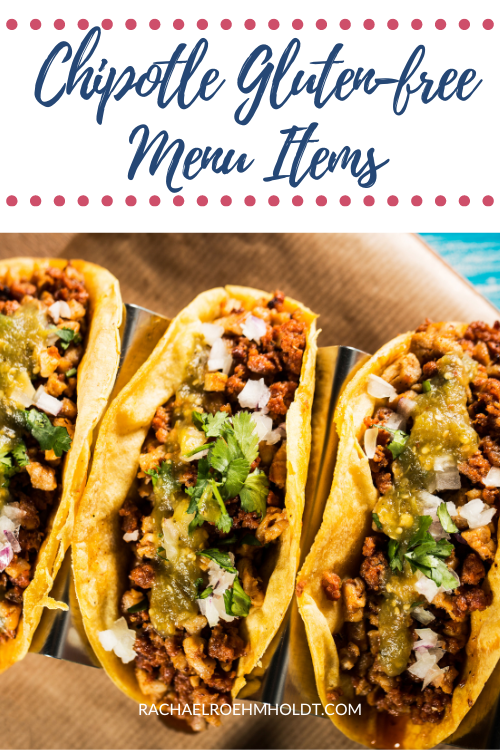 Chipotle Gluten-free Menu Items
Using the Allergens & Special Diet page on the Chipotle website, these are the items listed as not containing gluten ingredients.
Everything except for the flour tortillas used in burritos and tacos contain wheat and gluten.
Barbacoa
Black Beans
Carnitas
Chicken
Tortilla Chips
Brown Rice
White Rice
Crispy Corn Tortilla
Fajita Vegetables
Fresh Tomato Salsa
Guacamole
Monterey Jack Cheese
Pinto Beans
Queso Blanco
Roasted Chili-Corn Salsa
Romaine Lettuce
Sofritas
Sour Cream
Steak
Supergreens Lettuce Blend
Tomatillo Green-Chili Salsa
Tomatillo Red-Chili Salsa
Chipotle Honey Vinaigrette
Are Chipotle chips gluten-free?
Though the ingredients in Chipotle chips are gluten-free, the company makes it clear that there is a possibility of cross contamination. This is due to cross contact with other gluten-containing grains while the corn used in their chips is being grown and harvested.
Read on: Are Chipotle chips gluten-free?
If you love Chipotle or grabbing a quick lunch or dinner from a Mexican restaurant, this place does actually have some options for folks on a gluten-free diet.
Note that there is a chance for cross contamination at this restaurant, so be aware and know how your body reacts to small amounts of gluten in case this happens to you.
Looking for more information on gluten-free restaurants?
Be sure to check out my Gluten-free Restaurants post or get all the information in one place with my Gluten-free Restaurant Guide!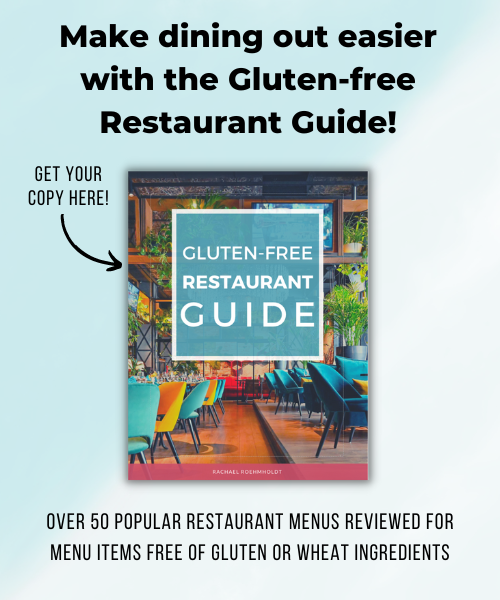 If you loved this post, I hope that you'll share it with your friends on Facebook and pin it for future reference on Pinterest.