Find out what menu items from Olive Garden do not contain gluten and what you need to know about their Gluten-Sensitive menu.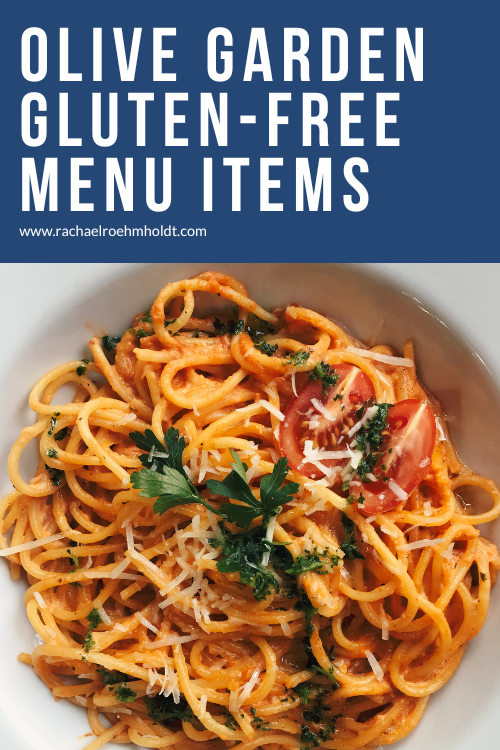 Note: I am a proud Amazon, Chomps, MunkPack, and Thrive Market affiliate and am happy to recommend their service and products to you. Please know that as an affiliate, I may receive a small commission on the products you purchase after clicking through my links. For more info, please see my disclosure policy here.
If you love to visit restaurants where the menu is fairly consistent across multiple locations, you have probably visited an Olive Garden.
This Italian inspired restaurant is best known for their pasta dishes, as well as their soup, salad, and breadsticks.
Olive Garden may have been on your regular rotation before going gluten-free. If you've been wondering if you can still enjoy a lunch or dinner out at this restaurant now that you've taken gluten out of your diet, you're not alone.
Since so many folks love Olive Garden, I've put together this useful list of all the options for gluten-free folks at this restaurant chain.
Find out what Olive Garden's stance is on making gluten-free food, how they prepare their food, and what menu items are going to be the safest to choose from their menu for people who are following a gluten-free diet.
We'll also go over some of the basics of where cross contamination comes from in many restaurants as well as some notes about what you can expect from the gluten-free experience at Olive Garden.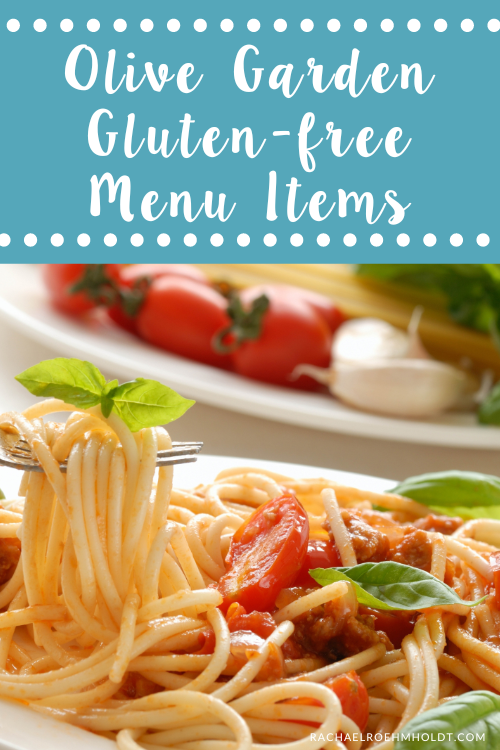 What is gluten?
Gluten is a protein found in most wheat products, and acts as the "glue" that helps to hold wheat, barley, kamut, spelt, farro, durum, bulgur, rye, and semolina together to maintain their shape.
Gluten is naturally occurring, and therefore is impossible to strip away from the grain. If a grain naturally has gluten in it, there's no way to make that food gluten-free.
Where can you find gluten in food?
Gluten can be found in the form of wheat and grain products, like bread, pasta, or flour in the more obvious places.
You can also find gluten as a binding ingredient, an ingredient added for texture like to make a food more crispy, or as a thickening agent.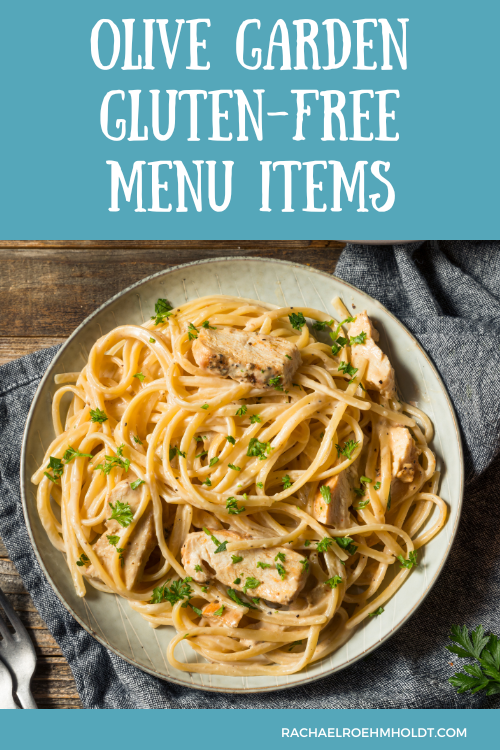 Where can you find gluten in restaurants?
Depending on the restaurant you're visiting, you may find gluten in a variety of places.
At fast food restaurants, there will be gluten in hamburger buns, the breading of crispy chicken sandwiches or chicken nuggets, some French fries, salad dressings, croutons on salad, and chili or soup options.
At other restaurants, you'll find gluten in flour in sauces, in pizza or other pastry dough, pasta, and as a thickener in some soups.
Where gluten is found in the menu items will vary from restaurant to restaurant. That's why it's always a good idea to review menus from home, and see if you can find any allergen information before you get to the restaurant itself.
Being able to review nutritional information and allergen statements before visiting a restaurant can be the difference between ordering something that you think is safe for your gluten-free diet and getting sick.
Being knowledgeable about what specific menu items you'll be able to eat without any worries of later reactions is crucial to sticking with your gluten-free diet.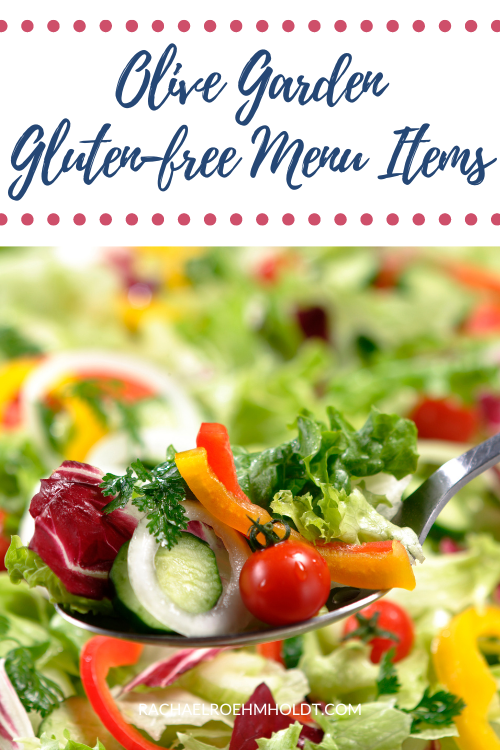 Olive Garden allergen statement
Olive Garden's website has a document of all the allergens in every menu item they serve at their restaurants. These are the notes specific to folks who are on a gluten-free diet or are avoiding allergens like gluten:
"At Olive Garden, we're committed to making the dining experience for every guest, including our guests with food allergies, an exceptional one. That's why we are proud to offer this information to help you make an informed food selection."
"The information inside details which menu items contain the most common allergens and intolerances, based on the information provided by our suppliers. We work to keep this information as up-to-date as possible, and suggest you check our allergen information each time you dine with us. Please also note that this information does not indicate which items may have been made in a facility with an allergen."
"Note on Gluten… Our menu items are freshly prepared in our kitchens, which are not free of gluten. Cross-contact with other food items that contain gluten is possible. While we aim to accommodate the dietary needs of our guests, we cannot ensure that these items meet the definition of "gluten-free." Please let your server know you are avoiding gluten."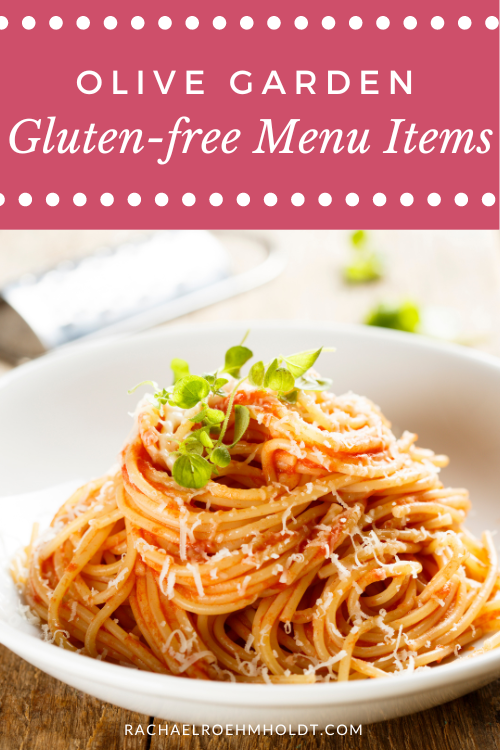 What you need to know about the Gluten-Sensitive options at Olive Garden
Olive Garden has created a Gluten-Sensitive menu for folks who avoid gluten in their diet due to a food intolerance. It is not recommended that people with celiac disease eat at their restaurants due to the high likelihood of cross contamination.
The Olive Garden brand makes it known on their website that the Gluten Sensitive menu items are made with ingredients without gluten, but they are not claiming that any of them are "gluten-free."
They make it clear that they have not tested any of their dishes for gluten and cannot be considered "gluten-free" as they don't know if they hit the FDA's threshold of less than 20ppm of gluten.
The gluten-free pasta that's used at Olive Garden is made of brown rice flour as the main ingredient, so keep that in mind if you are trying to avoid grains in addition to gluten.
The pasta used from the Gluten Sensitive menu is considered to be gluten-free with less than 20ppm of gluten, but again remember other ingredients and finished dishes have not been tested.
Olive Garden states that their "gluten-free pasta is cooked and held separately until ordered. At that time it is added directly to the sauté pan to avoid cross contact with other pasta or pasta water."
The gluten-free pasta is kept separate from pasta made with flour, however the chance of cross contact with gluten in the kitchen is not improbable.
Olive Garden's Italian dressing has no gluten ingredients, but it is made in a facility that processes gluten-containing ingredients. Keep this in mind as you decide if this is an ingredient that you're comfortable with ordering.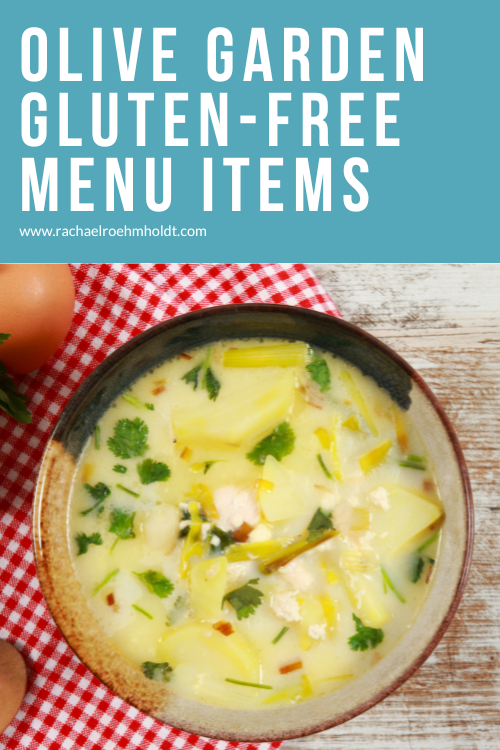 What to know about cross contamination at restaurants
Most restaurants are not considered gluten-free establishments so it's useful to keep this in mind when making decisions about where to go and what to order.
It's important to know that even if a restaurant claims that their menu items do not contain gluten, that the possibility and probability of gluten in their products is going to be high if there is even one menu item with gluten available.
Depending on your level of sensitivity to gluten, this can be make or break information for you.
If you are Celiac and are allergic to trace amounts of gluten, you'll likely want to avoid most restaurants that offer any bread products or French fries that are cooked in a shared fryer with other gluten-containing ingredients.
If you are not sensitive to gluten at the trace level and have adverse reactions to gluten due to a food intolerance, you may decide that these trace amounts of gluten from cross contamination are worth risking for a quick, easy, and convenient food option.
Being aware of how you have reacted to gluten in your diet in the past and how much gluten it takes for your body to react is useful knowledge when it comes to situations like these.
Use your best judgment about what you know about your body, how you react to gluten, and what the risks are for you specifically.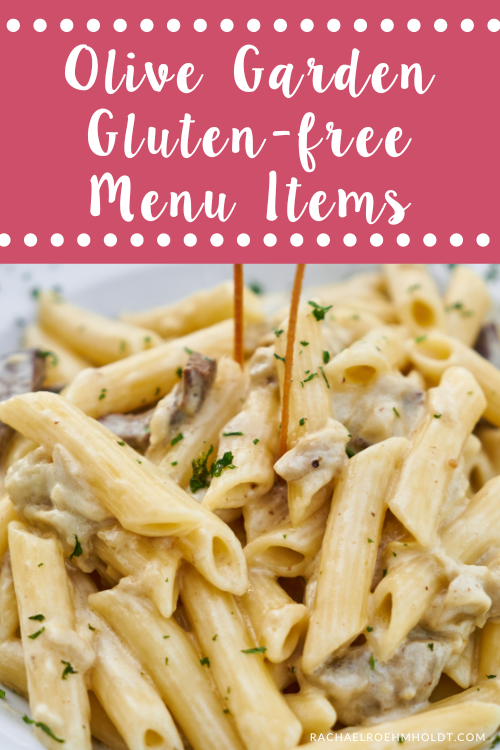 Olive Garden Gluten-free Menu Items
These are the menu items from Olive Garden's Allergen Guide that are listed as not containing any wheat ingredients.
I've noted those items with no dairy ingredients with an asterisk (*) in case you also avoid dairy like I do in my diet.
Appetizers
None of the Appetizers from Olive Garden are considered gluten-free.
Soups, Salad & Breadsticks
The only gluten-sensitive soup from Olive Garden is their Zuppa Toscano Soup.
Create Your Own Pasta
Gluten-free Rotini*
Marinara*
Meat Sauce*
Tomato Sauce*
Grilled Chicken*
Italian Sausage*
Sauteed Shrimp*
Entrees
The only gluten-sensitive entree option from Olive Garden is their Herb-Grilled Salmon.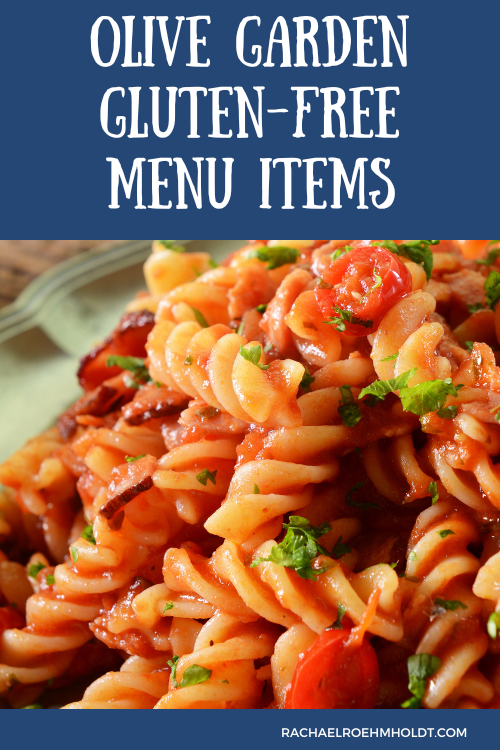 Kids Entrees
None of the Kid's Entrees from Olive Garden are considered gluten-free.
Sides
Broccoli*
French Fries*
Grapes*
Gluten-Sensitive
Famous House Salad without Croutons
Zuppa Toscana Soup
6 oz Sirloin
Grilled Chicken Parmigiana with Rotini & Marinara
Herb-Grilled Salmon
Rotini Pasta with Marinara*
Rotini Pasta with Meat Sauce (with Grilled Chicken, Shrimp, or Italian Sausage)*
Desserts
None of the Desserts from Olive Garden are considered gluten-free.
Does Olive Garden have gluten-free pasta?
Yes, Olive Garden offers gluten-free pasta. It is a rotini shape and it's made with brown rice flour.
Their pasta is cooked in separate cooking liquid, so they do their best to keep ingredients separate. However, there is still a chance of cross contamination at this restaurant.
Read on: Does Olive Garden have gluten-free pasta?
Is Olive Garden dressing gluten-free?
According to the Olive Garden website, "There are no gluten-containing ingredients in the dressing. However, gluten is present in the facility where the dressing is made.
Please be sure to tell your server if you are avoiding gluten when you order your salad so that we can leave off the croutons."
If you've been wondering if you can go to Olive Garden for a lunch or dinner with friends and family and find options for your gluten-free diet, I hope this post has given you the information you need to make an informed decision that works for you.
Know that all the items Olive Garden offers in their Gluten Sensitive menu are for folks with a gluten intolerance and shouldn't be eaten if you have celiac disease, as the risks for cross contamination are too high.
Looking for more information on gluten-free restaurants?
Be sure to check out my Gluten-free Restaurants post or get all the information in one place with my Gluten-free Restaurant Guide!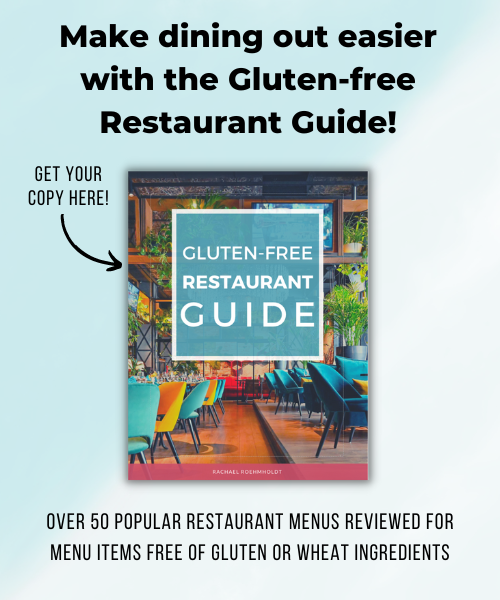 If you loved this post, I hope that you'll share it with your friends on Facebook and pin it for future reference on Pinterest.