Find out what menu items from Arby's do not contain gluten and what you need to know about their gluten-free options.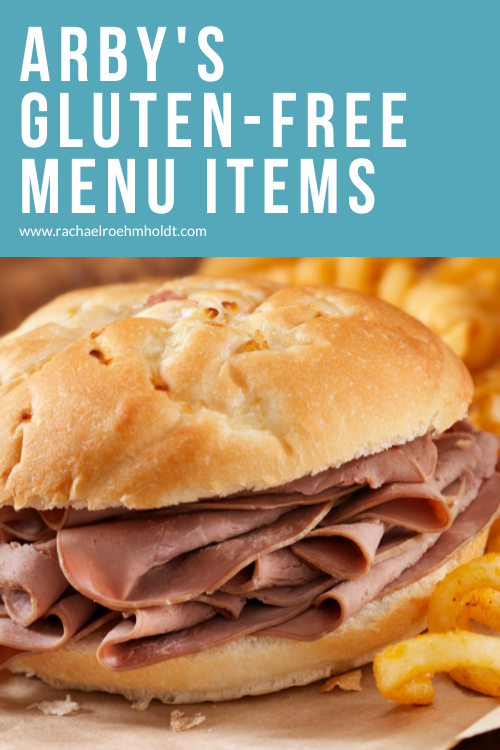 If you love to grab a sandwich for lunch or pick up food from the drive-thru after work, you may have visited an Arby's a time or two.
Arby's is a well-known chain fast food restaurant specializing in roast beef sandwiches, deli sandwiches, and their famous curly fries.
If you follow a gluten-free diet, you know that finding fast food options can be tricky – and frankly, impossible – sometimes.
In this post, we're outlining what you need to know about eating at Arby's on a gluten-free diet, what their stance on gluten is in their kitchen and menu items, and what you can feel okay ordering from this fast food restaurant while steering clear of gluten in your diet.
What is gluten?
Gluten is a protein found in most wheat products, and acts as the "glue" that helps to hold wheat, barley, kamut, spelt, farro, durum, bulgur, rye, and semolina together to maintain their shape.
Gluten is naturally occurring, and therefore is impossible to strip away from the grain. If a grain naturally has gluten in it, there's no way to make that food gluten-free.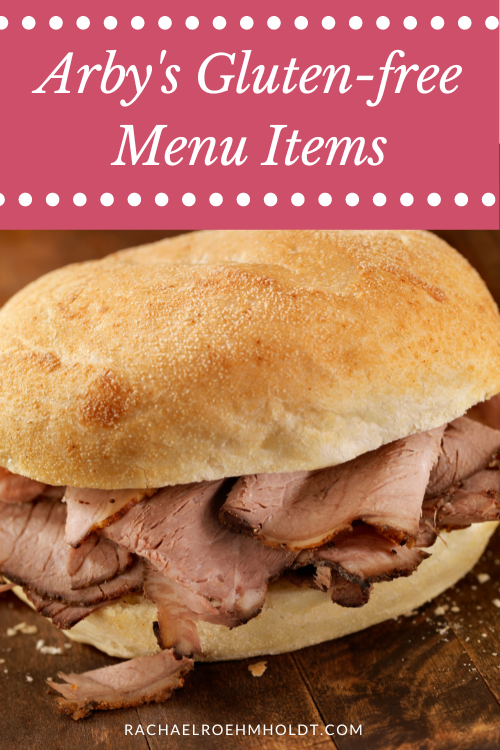 Where can you find gluten in food?
Gluten can be found in the form of wheat and grain products, like bread or flour in the more obvious places.
You can also find gluten as a binding ingredient, an ingredient added for texture like to make a food more crispy, or as a thickening agent.
Where can you find gluten in restaurants?
Depending on the restaurant you're visiting, you may find gluten in a variety of places.
At fast food restaurants, there will be gluten in hamburger buns, the breading of crispy chicken sandwiches or chicken nuggets, some French fries, salad dressings, croutons on salad, and chili or soup options.
At other restaurants, you'll find gluten in flour in sauces, in pizza or other pastry dough, pasta, and as a thickener in some soups.
Where gluten is found in the menu items will vary from restaurant to restaurant. That's why it's always a good idea to review menus from home, and see if you can find any allergen information before you get to the restaurant itself.
Being able to review nutritional information and allergen statements before visiting a fast food restaurant can be the difference between ordering something that you think is safe for your gluten-free diet and getting sick.
Being knowledgeable about what specific menu items you'll be able to eat without any worries of later reactions is crucial to sticking with your gluten-free diet.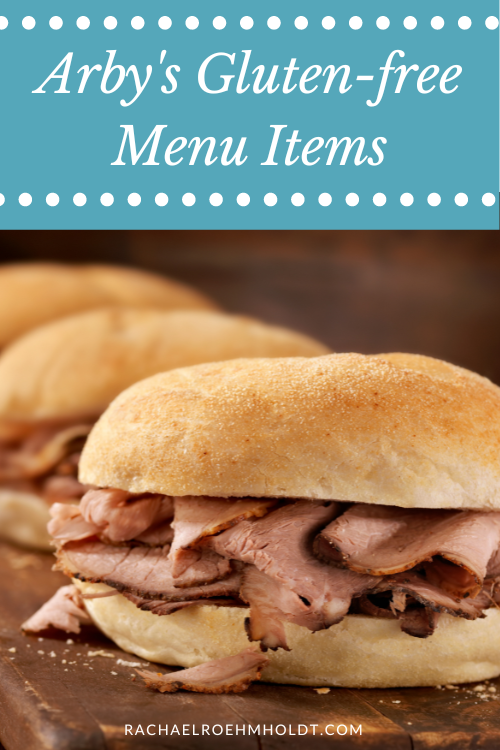 Arby's allergen statement
Arby's makes the following claims as it pertains to gluten and other allergens in their kitchens and restaurants. This information was found in this document from Arby's.
"Arby's Restaurant Group, Inc., its franchisees and employees do not assume responsibility for a particular allergy or sensitivity to any food provided in our restaurants. Federal regulations have identified 8 major food allergens: milk, eggs, wheat, soybeans, peanuts, tree nuts, fish, and crustacean shellfish.
For your convenience, menu items and ingredients that contain these major allergens have been indicated. Allergen information is determined based on standard product formulations. These product formulations may vary.
Fried menu items are cooked in common oil, and possible contact with other major allergens is also indicated. Federal regulation has exempted from allergen declaration any highly refined oil derived from the major food allergens; therefore, soy oil as an ingredient is not indicated as an allergen. Please consult your Doctor to know if you should avoid products that contain highly refined soy oil.
We encourage anyone with food allergies, sensitivities, or special dietary needs to check our website at www.arbys.com on a regular basis to obtain the most comprehensive and up-to-date information."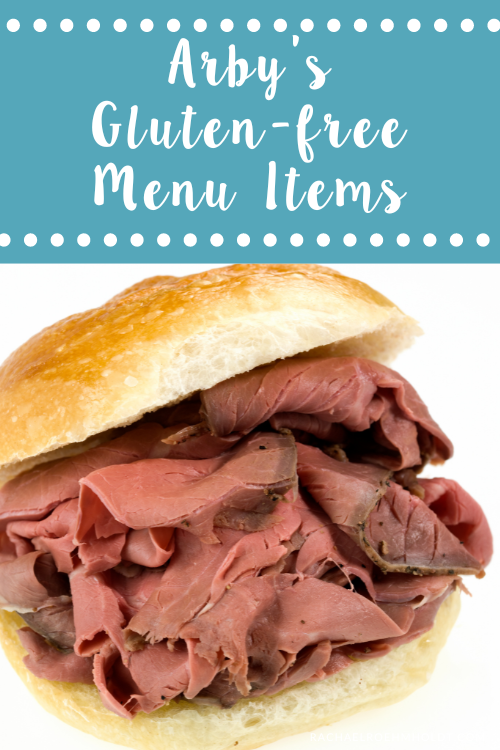 What you need to know about eating gluten-free at Arby's
No items on their menu are considered "gluten-free," because the restaurant uses plenty of ingredients that contain wheat and gluten and they acknowledge that the likelihood of cross contact is high.
What to know about cross contamination at restaurants
Most fast food and carryout restaurants are not considered gluten-free establishments so it's useful to keep this in mind when making decisions about where to go and what to order.
It's important to know that even if a fast food restaurant claims that their menu items do not contain gluten, that the possibility and probability of gluten in their products is going to be high if there is even one menu item with gluten available.
Depending on your level of sensitivity to gluten, this can be make or break information for you.
If you are Celiac and are allergic to trace amounts of gluten, you'll likely want to avoid most fast food restaurants that offer any bread products or French fries that are cooked in a shared fryer with other gluten-containing ingredients.
If you are not sensitive to gluten at the trace level and have adverse reactions to gluten due to a food intolerance, you may decide that these trace amounts of gluten from cross contamination are worth risking for a quick, easy, and convenient food option.
Being aware of how you have reacted to gluten in your diet in the past and how much gluten it takes for your body to react is useful knowledge when it comes to situations like these.
Use your best judgment about what you know about your body, how you react to gluten, and what the risks are for you specifically.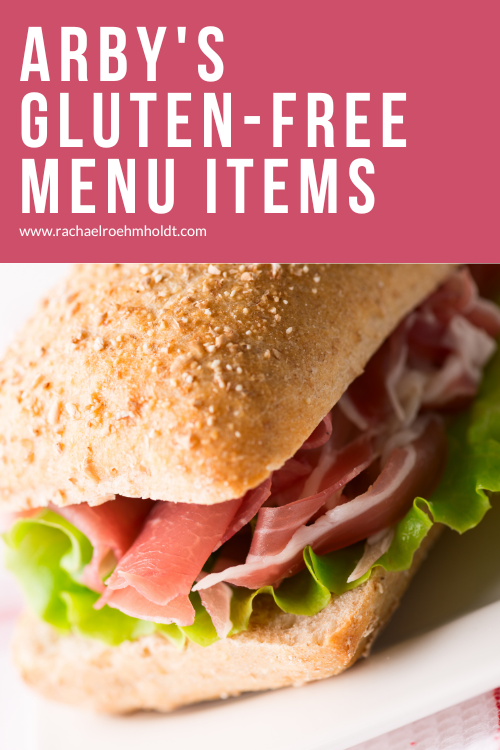 Arby's Gluten-free Menu Items
Arby's doesn't have many items that are considered wheat-free and no items that are truly considered gluten-free by the brand.
According to the Arby's Nutrition & Allergen Information, last updated in October 2022, these are the items that are considered free of gluten ingredients by category on their menu.
Slow Roasted Beef
None of the Slow Roasted Beef menu options from Arby's can be considered safe to eat on a gluten-free diet.
Crisp Juicy Chicken
None of the Crisp Juicy Chicken menu options from Arby's can be considered safe to eat on a gluten-free diet.
Market Fresh
None of the Market Fresh menu options from Arby's can be considered safe to eat on a gluten-free diet.
Meats
The information on meat was found in the 2021 Arby's Gluten-free Menu.
Corned Beef
Bacon
Roast Beef
Roast Chicken Breast
Roast Turkey
Smoke Brisket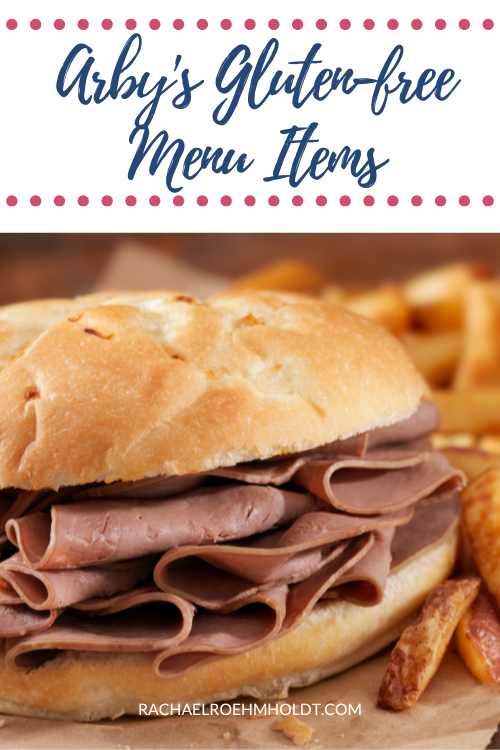 Condiments
Arby's Sauce
Horsey Sauce
Tangy Barbecue
Honey Mustard
Ranch
Ketchup
Marinara Sauce
Bronco Berry Sauce
Cheddar Cheese Sauce
Buffalo Dipping Sauce
Desserts
Jamocha Shake
Chocolate Shake
Vanilla Shake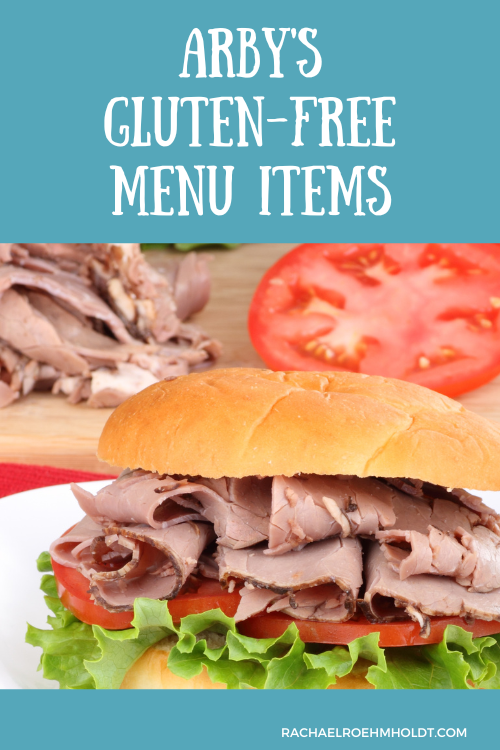 Sides & Snacks
Sliders
None of the Slider menu options from Arby's can be considered safe to eat on a gluten-free diet.
Kids Meals
Tree Top Applesauce
Honest Kids Apple Juice Drink
Shamrock Farms Lowfat White Milk
Shamrock Farms Lowfat Chocolate Milk
Beverages
Market Fresh Classic Lemonade
Market Fresh Peach Lemonade
Market Fresh Strawberry Lemonade
Barq's Root Beer
Coca-Cola
Coca-Cola Zero Sugar
Diet Coke
Fanta Orange
Hi-C Flashin' Fruit Punch
Mello Yello
Minute Maid Light Lemonade
POWERADE Mountain Berry Blast
Sprite
Dr Pepper
Diet Dr Pepper
Nestle Pure Life Bottled Water
Brewed Iced Tea
Honest Kids Apple Juice
Shamrock Farms Lowfat White Milk
Shamrock Farms Lowfat Chocolate Milk
Breakfast
Coffee
Simply Orange Juice
Toppings
Bacon
Red Ranch Sauce
Leaf Lettuce
Natural Cheddar
Tomato
Red Onion
Jalapenos
Processed Swiss
Cheddar Cheese Sauce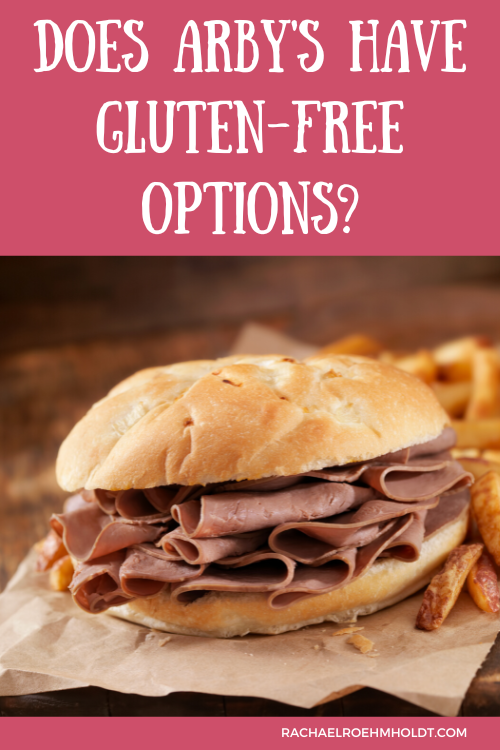 Does Arby's have gluten-free buns?
Arby's does not offer any gluten-free bun options.
Is Arby's roast beef gluten-free?
According to the 2021 Arby's Gluten-free Menu, their roast beef is considered to not contain gluten. However, due to the potential for cross contamination in their kitchens, I might consider avoiding this as well if you are sensitive to gluten.
Does Arby's cheese sauce have gluten?
Arby's cheese sauce doesn't contain any gluten ingredients as per their 2021 Arby's Gluten-free Menu.
Are Arby's fries gluten-free? Are Arby's curly fries gluten-free?
After researching Arby's fries, we can learn that their curly fries are not gluten-free. There is enriched bleached flour that's added to give the fries a crispy texture, as well as a "Contains Wheat" note on the ingredient list.
Arby's crinkle fries contain no gluten-containing ingredients, but are cooked in the same fryer where other foods with gluten are made.
Foods like the crispy chicken and crispy fish for sandwiches, chicken nuggets, mozzarella sticks, and jalapeno bites all contain gluten and are cooked in this same fryer.
If you are celiac, you'll want to avoid any foods that are cooked in their fryers since it is shared with gluten-containing foods. If you have a gluten sensitivity and can tolerate some amount of gluten, you may be okay with eating fries from Arby's.
However, only you know what your body can handle, so you may want to steer clear of this simply because of how much gluten could be swimming around in that vat of oil in the shared fryer.
Use your best judgment based on what you know about how your body reacts to gluten to decide whether or not you want to eat Arby's crinkle fries.
Read on: Are Arby's fries gluten-free?
Read on: Are French fries gluten-free?
Are Arby's milkshakes gluten-free?
Arby's milkshakes in their vanilla, chocolate, and jamocha flavors all contain no gluten ingredients.
If you enjoy eating at Arby's and have wondered if certain items on their menu are safe for your gluten-free diet, I hope this information has been helpful for you.
For the most part, most menu items contain gluten and your best options for ordering gluten-free from this fast food restaurant are to stick to their fountain drinks.
f you loved this post, I hope that you'll share it with your friends on Facebook and pin it for future reference on Pinterest.
Looking for more information on gluten-free restaurants?
Be sure to check out my Gluten-free Restaurants post or get all the information in one place with my Gluten-free Restaurant Guide!