Find out what menu items from Blaze Pizza do not contain gluten and what you need to know about their gluten-free crusts.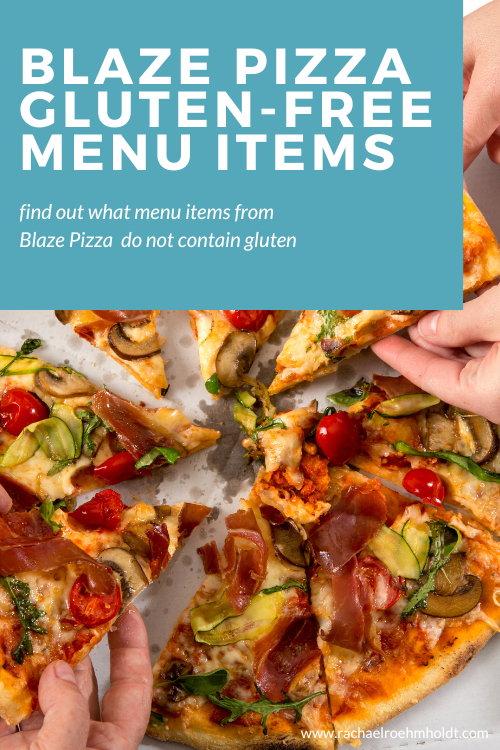 Note: I am a proud Amazon, Chomps, MunkPack, and Thrive Market affiliate and am happy to recommend their service and products to you. Please know that as an affiliate, I may receive a small commission on the products you purchase after clicking through my links. For more info, please see my disclosure policy here.
If you have a Blaze Pizza near you, you may have wondered if this restaurant has any safe options for you and your gluten-free diet.
Blaze Pizza offers some gluten-free crust options for their pizzas, but in this post we're going to dig into what that really means for folks like you and I who actually avoid gluten in our diets.
It's nice to *say* something is gluten-free, but is it safe enough for people with celiac disease? What about gluten intolerance?
We're going to dig into the gluten-free menu items from Blaze Pizza and talk about what options there are for folks who are looking for a quick place to pick up pizza or order delivery on a gluten-free diet.
We'll cover the allergen statement by Blaze Pizza, plus go into some of the details of things you may not have thought about when it comes to gluten cross contamination in various restaurants.
If you're a Blaze Pizza fan, you won't want to miss this post!
What is gluten?
Gluten is a protein found in most wheat products, and acts as the "glue" that helps to hold wheat, barley, kamut, spelt, farro, durum, bulgur, rye, and semolina together to maintain their shape.
Gluten is naturally occurring, and therefore is impossible to strip away from the grain. If a grain naturally has gluten in it, there's no way to make that food gluten-free.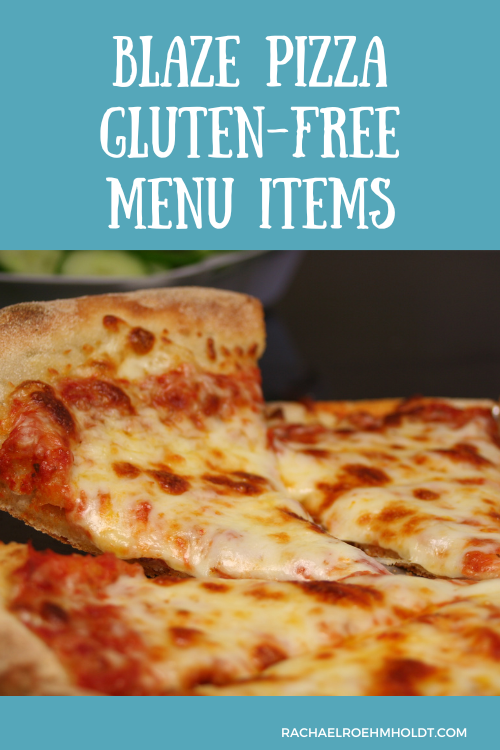 Where can you find gluten in food?
Gluten can be found in the form of wheat and grain products, like bread or flour in the more obvious places.
You can also find gluten as a binding ingredient, an ingredient added for texture like to make a food more crispy, or as a thickening agent.
Where can you find gluten in restaurants?
Depending on the restaurant you're visiting, you may find gluten in a variety of places.
At fast food restaurants, there will be gluten in hamburger buns, the breading of crispy chicken sandwiches or chicken nuggets, some French fries, salad dressings, croutons on salad, and chili or soup options.
At other restaurants, you'll find gluten in flour in sauces, in pizza or other pastry dough, pasta, and as a thickener in some soups.
Where gluten is found in the menu items will vary from restaurant to restaurant. That's why it's always a good idea to review menus from home, and see if you can find any allergen information before you get to the restaurant itself.
Being able to review nutritional information and allergen statements before visiting a fast food restaurant can be the difference between ordering something that you think is safe for your gluten-free diet and getting sick.
Being knowledgeable about what specific menu items you'll be able to eat without any worries of later reactions is crucial to sticking with your gluten-free diet.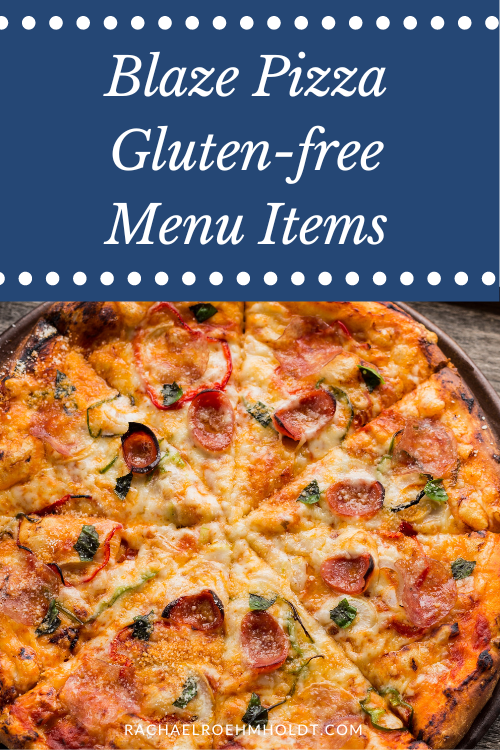 Blaze Pizza allergen statement
There is no specific allergen statement on the Blaze Pizza website. However, according to the Blaze Pizza FAQ page, they answer the question "How Gluten-free is it?"
"If you are looking to reduce the amount of gluten in your diet and don't want to give up on pizza, we offer three delicious gluten-free crust options, our Original GF Dough, Cauliflower and Keto.
Please be aware that our folks work with wheat-based flour and pizza dough all day long, and we use the same oven for all options, so there is a good chance of some cross-contact in our restaurants.
If you would like us to change our gloves or use a separate pizza cutter, we would be happy to do that at your request. If you are celiac or highly sensitive to gluten, we encourage you to carefully consider your dining choices."
What you need to know about the gluten-free crusts at Blaze Pizza
Blaze Pizza makes it clear in their FAQ page that there is going to be a strong chance for cross contamination in any of their gluten-free pizzas. Keep this in mind before choosing this restaurant and making your choice with their menu.
With that note out of the way, Blaze Pizza offers two options for crust that have no gluten ingredients. These are their Keto Pizza Crust and Vegetarian Pizza Crust.
I was able to find the ingredients information for both of these on the Blaze Pizza Nutrition Calculator page of their website.
The ingredients in the gluten-free Keto Pizza Crust are: Cauliflower, Low Moisture Mozzarella Cheese (Pasteurized Milk, Cheese Cultures, Salt, Enzymes), Rice Flour, Tapioca Starch, Water, Egg Whites, Rice Starch, Modified Food Starch, Yeast, Sugar, Salt, Cultured Brown Rice, Garlic Powder, Italian Seasoning, Xanthan Gum.).
The ingredients in the gluten-free Vegetarian Pizza Crust are: Gluten Free Pizza Blend: Brown Rice Flour, Tapioca Flour, Sea Salt, Xanthan Gum and Guar Gum, Water, Extra Virgin Olive Oil: Extra Virgin Olive Oil, Yeast: Yeast).
You can request to have the person making your pizza swap out their gloves for a fresh pair and a clean pizza cutter to have your gluten-free order prepared.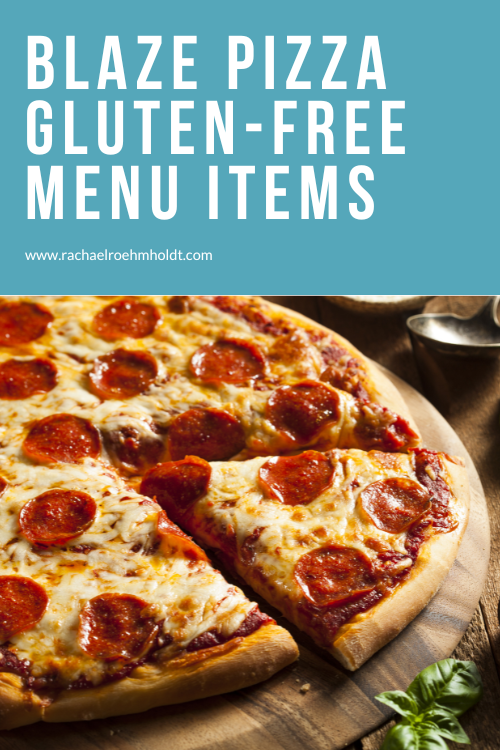 What to know about cross contamination at restaurants
Most fast food and carryout restaurants are not considered gluten-free establishments so it's useful to keep this in mind when making decisions about where to go and what to order.
It's important to know that even if a fast food restaurant claims that their menu items do not contain gluten, that the possibility and probability of gluten in their products is going to be high if there is even one menu item with gluten available.
Depending on your level of sensitivity to gluten, this can be make or break information for you.
If you are Celiac and are allergic to trace amounts of gluten, you'll likely want to avoid most fast food restaurants that offer any bread products or French fries that are cooked in a shared fryer with other gluten-containing ingredients.
If you are not sensitive to gluten at the trace level and have adverse reactions to gluten due to a food intolerance, you may decide that these trace amounts of gluten from cross contamination are worth risking for a quick, easy, and convenient food option.
Being aware of how you have reacted to gluten in your diet in the past and how much gluten it takes for your body to react is useful knowledge when it comes to situations like these.
Use your best judgment about what you know about your body, how you react to gluten, and what the risks are for you specifically.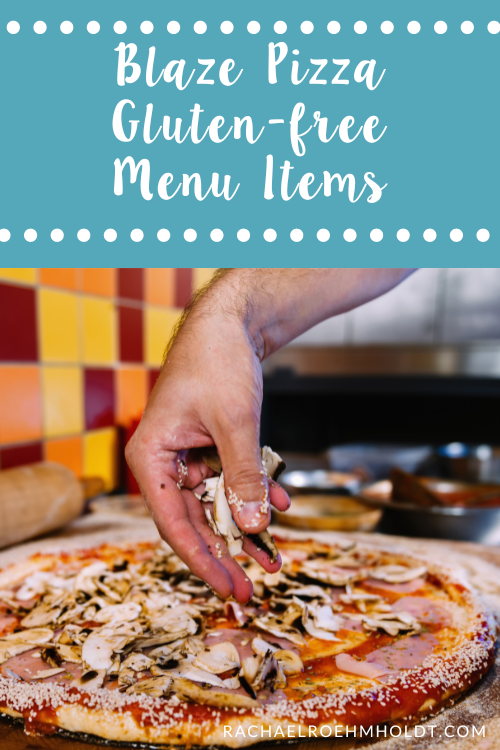 Blaze Pizza Gluten-free Menu Items
Pizza – 11 Inch
Keto Pizza
Vegetarian Pizza
Simple Salads
BLT Cobb (Entree)
BLT Cobb (Side)
BLT Wedge (Entree)
BLT Wedge (Side)
Buffalo Blue Salad (Entree)
Buffalo Blue Salad (Side)
Classic Greek Salad (Entree)
Classic Greek Salad (Side)
Drinks
Barqs Rootbeer
Blackberry Basil Agua Fresca
Black Cherry Blue Sky
Blood Orange Lemonade
Coke
Coke Zero
Diet Coke
Lemonade
Mango Agua Fresca
Mango Blue Sky
Pear Cucumber Agua Fresca
Pomegranate Limeade Agua Fresca
Root Beer Blue Sky
Sprite
Strawberry Agua Fresca
Tangerine Passionfruit Agua Fresca
Unsweetened Iced Tea
Beer & Wine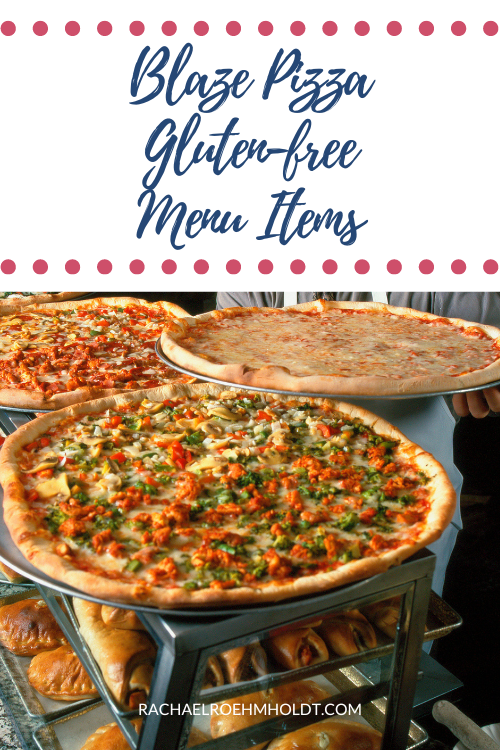 Dough – 11 Inch Pizzas
Cauliflower Crust (GF)
Keto Crust (GF)
Sauce – 11 Inch Pizzas
Garlic Pesto Sauce
Red Sauce
Spicy Red Sauce
White Cream Sauce
Cheese – 11 Inch Pizzas
Feta
Goat Cheese
Gorgonzola
Grated Parmesan
Ovalini Mozzarella
Ricotta
Shaved Parmesan
Shredded Mozzarella
Vegan Cheese
Meats And Veggies – 11 Inch Pizzas
Applewood Bacon
Artichokes
Banana Peppers
Basil
Black Olives
Cherry Tomatoes
Chicken
Chopped Garlic
Green Bell Peppers
Italian Sausage
Jalapenos
Kalamata Olives
Mushrooms
Pepperoni
Pineapple
Red Onions
Red Peppers
Roasted Brussel Sprouts
Roasted Butternut Squash
Roasted Garlic
Salame
Sauteed Onion
Scorpion Slaw
Smoked Ham
Spicy Chorizo (Vegan)
Spinach
Zucchini
Finishes – 11 Inch Pizzas
Arugula
BBQ Drizzle
Buffalo Sauce
Chipotle Ranch Drizzle
Franks Red Hot Drizzle
Olive Oil Drizzle
Oregano
Ranch
Sea Salt
It's important to note that while Blaze Pizza has gluten-free pizza crusts, there is always the possibility of cross contamination in the kitchen and they're direct in sharing that information on their website.
If you are celiac, you'll want to avoid Blaze Pizza. If you have a gluten intolerance, you may decide to give it a try, but knowing your level of gluten sensitivity up front is helpful.
Be cautious and curious about it, but don't be surprised by having a reaction if you decide to brave it.
If you've been wondering whether or not you can find gluten-free menu items at Blaze Pizza lately, I hope this information has been helpful for you.
Looking for more information on gluten-free restaurants?
Be sure to check out my Gluten-free Restaurants post or get all the information in one place with my Gluten-free Restaurant Guide!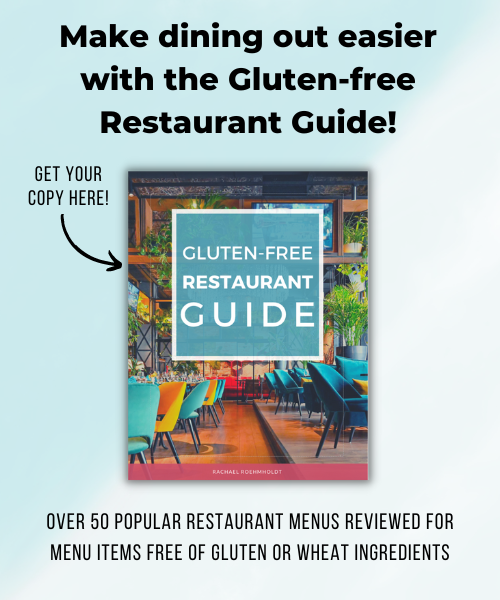 If you loved this post, I hope that you'll share it with your friends on Facebook and pin it for future reference on Pinterest.