Find out what menu items from Shake Shack do not contain gluten and what you need to know about their gluten-free options.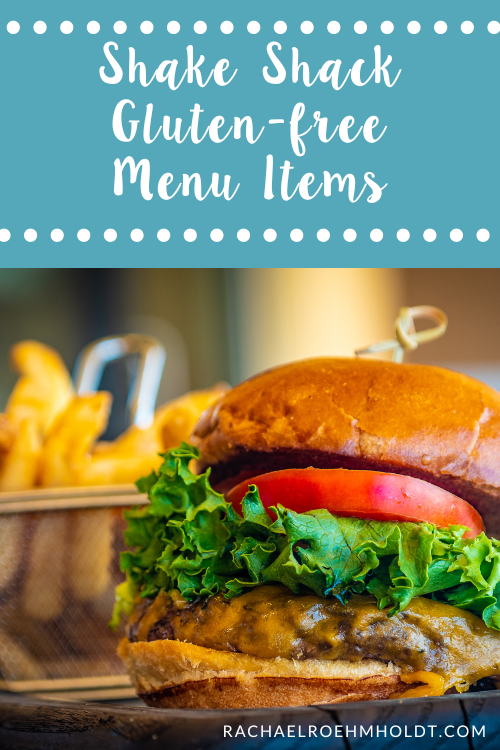 Note: I am a proud Amazon, Chomps, MunkPack, and Thrive Market affiliate and am happy to recommend their service and products to you. Please know that as an affiliate, I may receive a small commission on the products you purchase after clicking through my links. For more info, please see my disclosure policy here.
If you love burgers, fries, and shakes, you may be no stranger to Shake Shack. This restaurant is considered a "fast casual" place, where there's no drive thru, but you get very similar food than a fast food place.
If you're thinking about visiting a Shake Shack and curious if there's anything on the menu that will work for your gluten-free diet, you're in the right place.
Find out in this post what menu items are considered free of gluten and wheat, and what you need to know about eating gluten-free while dining at Shake Shack.
Before we get into the menu items, let's talk a little bit about gluten, where it hides in food – particularly restaurant food, and what you need to know about cross contamination before you visit a restaurant next.
What is gluten?
Gluten is a protein found in most wheat products, and acts as the "glue" that helps to hold wheat, barley, kamut, spelt, farro, durum, bulgur, rye, and semolina together to maintain their shape.
Gluten is naturally occurring, and therefore is impossible to strip away from the grain. If a grain naturally has gluten in it, there's no way to make that food gluten-free.
Where can you find gluten in food?
Gluten can be found in the form of wheat and grain products, like bread or flour in the more obvious places.
You can also find gluten as a binding ingredient, an ingredient added for texture like to make a food more crispy, or as a thickening agent.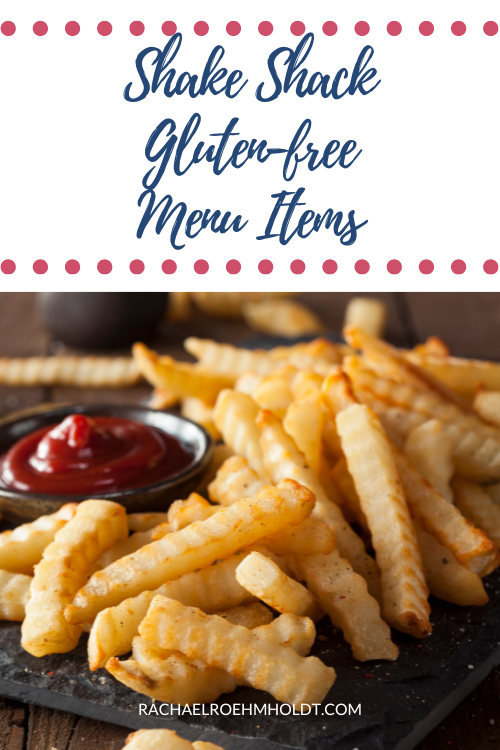 Where can you find gluten in restaurants?
Depending on the restaurant you're visiting, you may find gluten in a variety of places.
At fast food restaurants, there will be gluten in hamburger buns, the breading of crispy chicken sandwiches or chicken nuggets, some French fries, salad dressings, croutons on salad, and chili or soup options.
At other restaurants, you'll find gluten in flour in sauces, in pizza or other pastry dough, pasta, and as a thickener in some soups.
Where gluten is found in the menu items will vary from restaurant to restaurant. That's why it's always a good idea to review menus from home, and see if you can find any allergen information before you get to the restaurant itself.
Being able to review nutritional information and allergen statements before visiting a fast food restaurant can be the difference between ordering something that you think is safe for your gluten-free diet and getting sick.
Being knowledgeable about what specific menu items you'll be able to eat without any worries of later reactions is crucial to sticking with your gluten-free diet.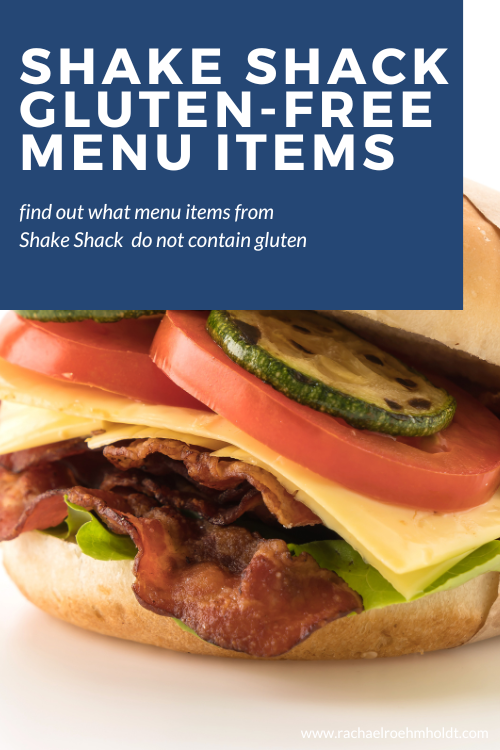 Shake Shack allergen statement
Though there is no official allergen statement by the Shake Shack, they do have the following information on their FAQ page of their website.
"What are your gluten-free options?
We'll gladly accommodate a gluten-free diet at each Shake Shack upon request. Just ask the Shack team for assistance and they'll be happy to help. Please reference our Allergen Information PDF before visiting ordering. Here are a few suggestions for anyone with a gluten allergy:
Any burger can be ordered with a lettuce wrap, and most of our US Shacks offer gluten-free buns. Flat-top dogs can also be ordered with a lettuce wrap.
Our 'Shroom Burger contains breadcrumbs, so it should be avoided.
Please do not order our fries. The oils in our fryers are filtered through the same equipment as our 'Shroom Burgers.
Frozen custard should be ordered without the cone, and make sure to double-check the ingredients of the "Seasonal Shakes" with our cashier before ordering.
The following mix-ins are safe to add: strawberry purée, chocolate toffee, marshmallow, fudge, caramel, and chocolate sprinkles.
As for drinks, skip the beer, but any soft drink or glass of wine is fine!"
What you need to know about the gluten-free options at Shake Shack
According to the Shake Shack website, this restaurant will accommodate a gluten-free diet when you make the right choices from their menu.
They are not a gluten-free establishment and have a chance of cross contamination in their kitchens, because there are menu items with gluten-containing ingredients in them. Keep this in mind before ordering anything from Shake Shack.
There's a full list of the menu items and their allergens on the website, as well. You can find out which options contain no gluten ingredients, as well as other allergens like milk, eggs, pneauts, shellfish, soy, tree nuts, fish, and sesame.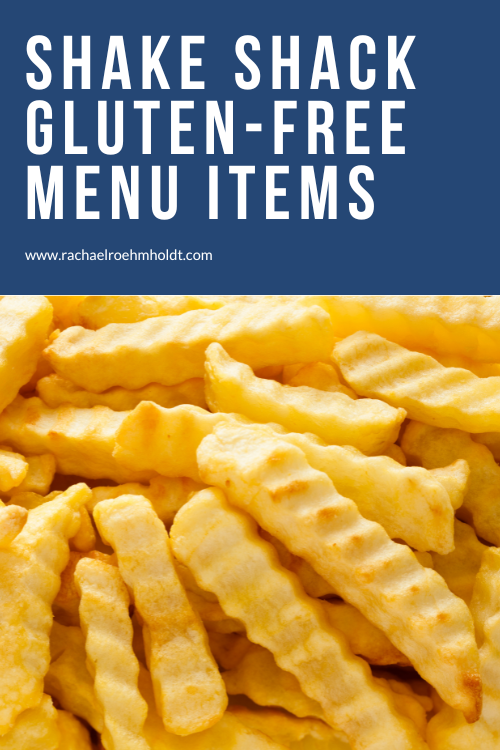 What to know about cross contamination at restaurants
Most fast food and carryout restaurants are not considered gluten-free establishments so it's useful to keep this in mind when making decisions about where to go and what to order.
It's important to know that even if a fast food restaurant claims that their menu items do not contain gluten, that the possibility and probability of gluten in their products is going to be high if there is even one menu item with gluten available.
Depending on your level of sensitivity to gluten, this can be make or break information for you.
If you are Celiac and are allergic to trace amounts of gluten, you'll likely want to avoid most fast food restaurants that offer any bread products or French fries that are cooked in a shared fryer with other gluten-containing ingredients.
If you are not sensitive to gluten at the trace level and have adverse reactions to gluten due to a food intolerance, you may decide that these trace amounts of gluten from cross contamination are worth risking for a quick, easy, and convenient food option.
Being aware of how you have reacted to gluten in your diet in the past and how much gluten it takes for your body to react is useful knowledge when it comes to situations like these.
Use your best judgment about what you know about your body, how you react to gluten, and what the risks are for you specifically.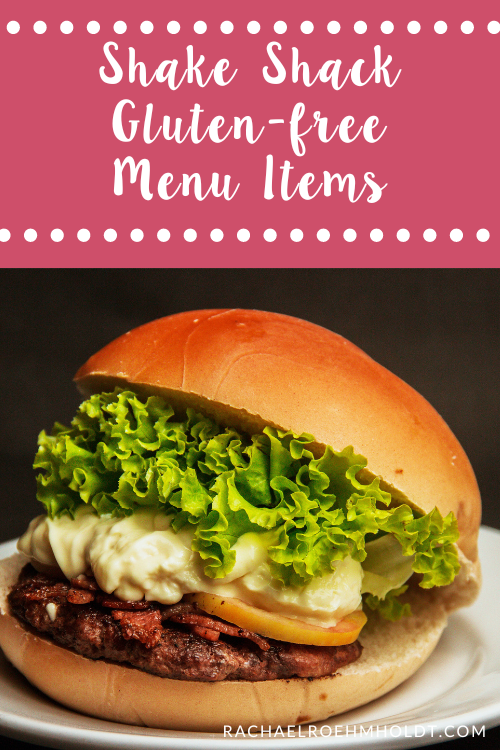 Shake Shack Gluten-free Menu Items
Shake Shack says that they are willing to work with any customer to make gluten-friendly options, including swapping a regular bun for a lettuce wrap.
Keep in mind that even if these menu items do not have gluten-containing ingredients in them, there is still a chance for cross contamination with gluten in the kitchen due to shared surfaces, equipment, and utensils.
Items listed that have are processed in a factory where possible cross contamination with gluten occurs are marked with an asterisk (*).
Burgers & Sandwiches
All burgers & sandwiches should be ordered with a lettuce wrap or gluten-free bun (if available). The burger buns from Shake Shack contain gluten and should be avoided.
Shackburger
Hamburger
Cheeseburger
SmokeShack
Veggie ShackBurger
Roadside Double
Lockhart Link Burger – without Jalapeno Cheese Sausage Link
Link Burger – without Sausage Link
Grilled Chili CheddarShack
Mound City Double
Brat Burger – without Shackmeister Shallots
Golden State Double
Slapshot Burger – without Fried Pickles
Hot Ones Burger – without Hot Ones ShackSauce
Extras
Chicken
None of the Chicken menu items from Shake Shack are safe for a gluten-free diet.
Breakfast
None of the Breakfast menu items from Shake Shack are safe for a gluten-free diet.
Flat-Top Dogs
None of the Flat-Top Dogs menu items from Shake Shack are safe for a gluten-free diet.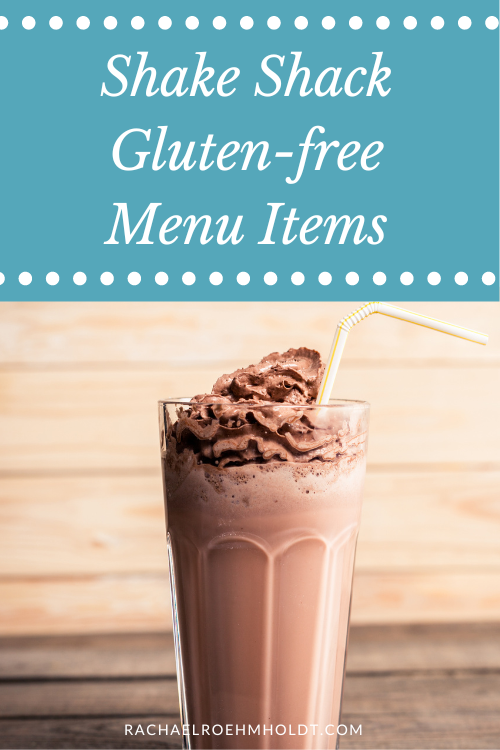 Shakes
Vanilla Shake
Chocolate Shake
Black & White Shake*
Strawberry Shake
Bourbon Salted Honey Shake*
Pumpkin Patch Shake
Choco Salted Toffee Shake
Add Whipped Cream
Floats
Root Beer Float
Purple Cow Float
Creamsicle Float
Cups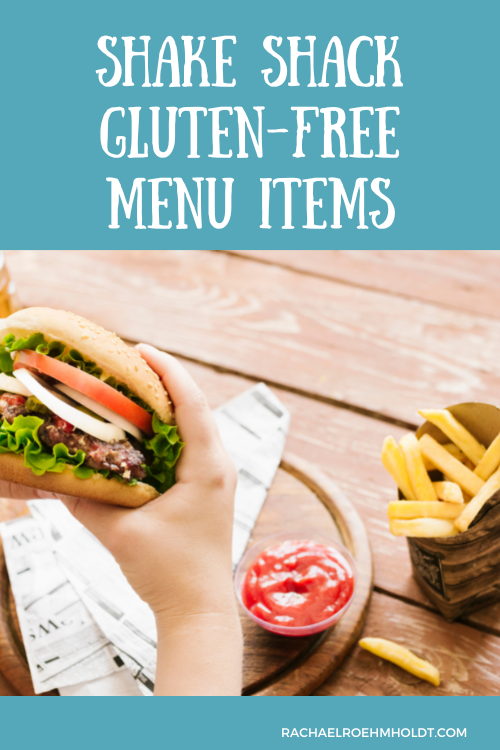 Drinks
Lemonade
Seasonal Lemonade
Fresh Brewed Iced Tea
Fresh Brewed Sweetened Iced Tea
Fifty-Fifty
Orange Juice
Coke
Diet Coke
Coke Zero
Sprite
Fanta Orange
Fanta Grape
Dr Pepper
Crush
Diet Pepsi
Sierra Mist
Mountain Dew
Pepsi
PepsiMAX
Abita Root Beer
Shack2O
Beer & Wines
Shack White
Shack Red
Shack Rose
Shack Sparkling
If you've been wondering if there are any options for you to order at Shake Shack while sticking with a gluten-free diet, I hope this information has been helpful for you.
While this restaurant shares that they are willing to make many of their menu options gluten-friendly, they still run the risk of cross contamination in the kitchen.
Use your best judgment based on what you know about how your body reacts to even small amounts of gluten from cross contact before choosing this restaurant and ordering from here.
Looking for more information on gluten-free restaurants?
Be sure to check out my Gluten-free Restaurants post or get all the information in one place with my Gluten-free Restaurant Guide!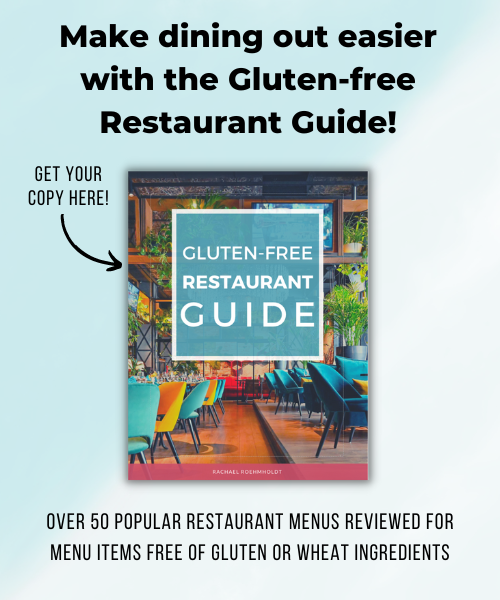 f you loved this post, I hope that you'll share it with your friends on Facebook and pin it for future reference on Pinterest.