Find out what donuts are made of, what dairy is, and if donuts generally have dairy. Plus a few recipes for dairy-free donuts to try at home.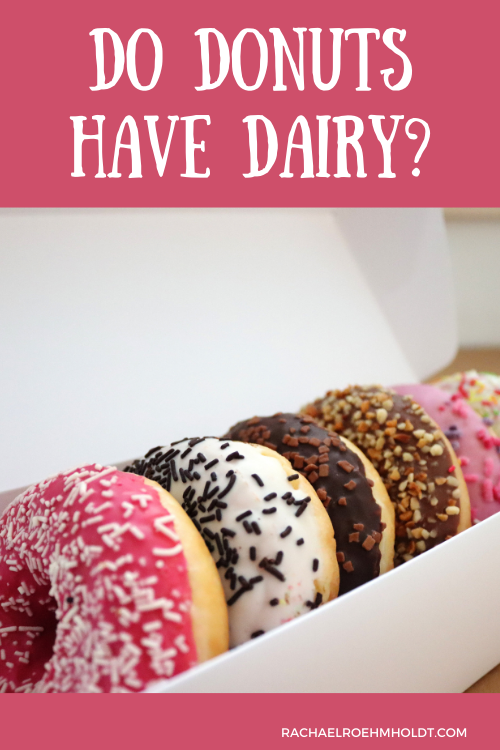 Note: I am a proud Amazon, Chomps, MunkPack, and Thrive Market affiliate and am happy to recommend their service and products to you. Please know that as an affiliate, I may receive a small commission on the products you purchase after clicking through my links. For more info, please see my disclosure policy here.
If you love donuts and are just getting started with a dairy-free diet or if you've been at this lifestyle for a while and have never ventured into eating donuts while on this dairy-free journey, I bet you're wondering if you can still eat donuts while avoiding dairy products.
If you're like me, donuts have always been a special treat on weekend mornings and going gluten and dairy-free didn't stop that craving. Maple bars, chocolate glazed, and old fashioned donuts have all been my favorites since I was a kid.
It can be hard to know which foods contain dairy ingredients without doing a little research to help you make informed decisions about what foods are safe for a dairy-free diet and which aren't.
That's why I'm answering the pressing questions about donuts and dairy here in this post. Find out what donuts are made of, if any dairy ingredients are included in most donut recipes, and find out if donuts have dairy.
We'll also talk about how donuts fit into a dairy-free diet and what your options are for making some dairy-free donuts at home.
If you're navigating your love of donuts with the necessity of avoiding dairy, you're in the right place!
What are donuts made of?
The main ingredients in a traditional donut recipe includes milk, sugar, active dry yeast, eggs or egg whites, unsalted butter or shortening, vanilla extract, salt, all-purpose flour, and vegetable oil. Sometimes yogurt or sour cream can be used in some donut recipes.
A typical glaze that doesn't have any flavoring added will include milk, powdered sugar, and vanilla extract.
Other ingredients may be added to a standard donut batter to give it flavor or for preservatives, depending on the type of donut and where you buy it.
Locally made or bigger donut restaurants may have different ingredients than a box of donuts that are shelf stable from a grocery store.
Read on: Are donuts gluten-free?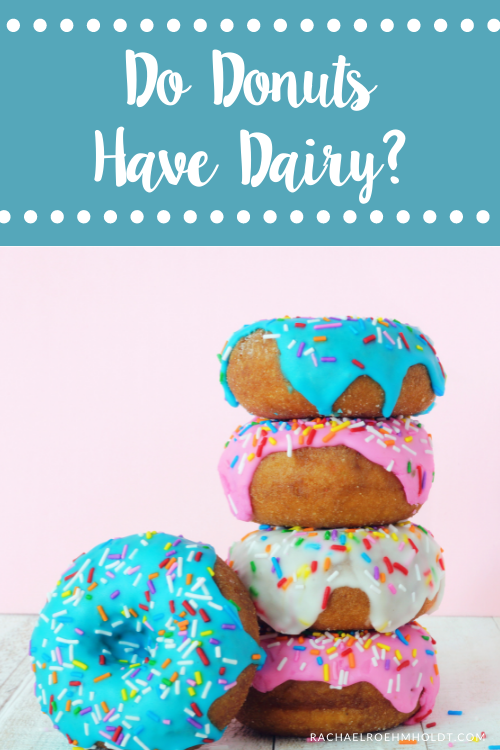 What is dairy?
Dairy is a general name for ANY food that is made from milk. Technically, this is any food made from cow's milk or goat's milk or sheep's milk. Any animal milk is dairy.
However, mostly when we're talking about dairy, we're talking about drinking cow's milk, because that's what is most popular here in the United States.
Read on: What's the difference between dairy, lactose, casein, and whey?
Do donuts have dairy?
Most donuts contain dairy from milk and butter used in the batter. This is particularly true of any donut from a chain restaurant or larger donut manufacturer who sells their products in boxes on grocery shelves.
If you find a box of donuts on the staff lunch room table at work one day, you can assume that there is dairy in those donuts.
Are donuts dairy-free?
Most donuts are not dairy-free, so it's important to keep this in mind when choosing breakfast treats at restaurants or buying them from the store.
If you follow a dairy-free diet, keep this in mind when looking for donuts and be sure to ask if you're at a local donut shop what ingredients they use.
At grocery stores, you can review ingredients lists to find out if there is dairy present, but it's generally safe to assume that most donuts are not dairy-free unless otherwise noted as dairy-free or vegan.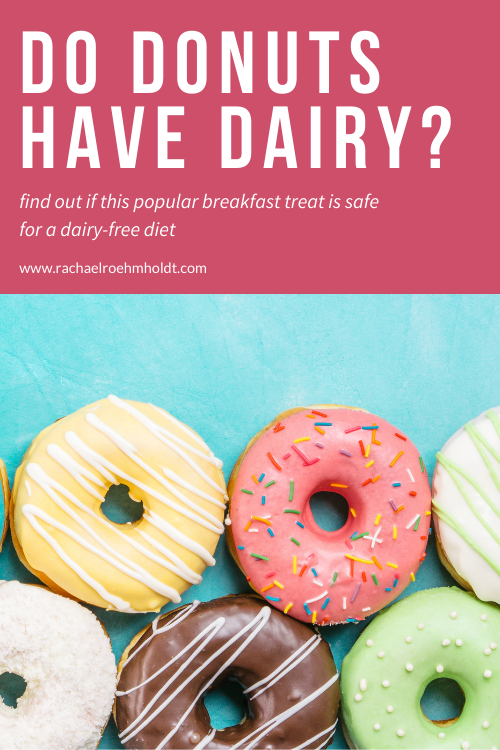 Do donuts from popular coffee and donut restaurants have dairy?
Unfortunately, big coffee and donut restaurants like Dunkin' Donuts and Krispy Kreme use milk and butter in all their donuts. It is possible to find donuts that don't have dairy, but they won't be at these bigger brand name donut places that have large-scale name recognition.
You can look around locally for a donut shop and find out what ingredients are used in them. You may have better luck finding a donut place that caters to food allergies and sensitivities in a local setting than a bigger store.
Even the place that I live, which generally doesn't cater much to food allergies or intolerances, has one donut business that offers dairy-free and vegan options. They're out there, but you need to go looking for them and ask questions about ingredients before buying.
Read on: Dunkin Donuts Gluten-free Menu Items (plus notes on which ones do not have milk ingredients)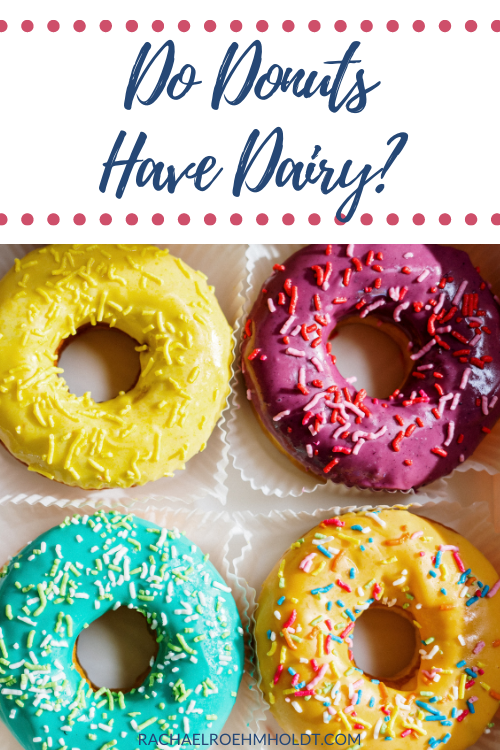 Can you make dairy-free donuts?
Absolutely! In fact, making donuts is one of my favorite treats to make. What I love about it is that it's so easy. You really only need a good recipe and a donut pan. A donut pan is simply a baking pan that has the cutouts of donuts.
What's great about homemade dairy-free donuts is that they're baked, not fried, which means they might be slightly healthier for you.
Of course there's sugar and flour (or gluten-free flour), but you get to control the ingredients of what you include, and deep frying donuts is what makes them that much more unhealthy for you due to all the saturated fat.
To make dairy-free donuts, you can substitute milk for dairy-free milk and coconut oil or vegetable oil for any butter that's in a traditional recipe.
For my two favorite dairy-free donut recipes, click the links below:
I've even had luck making a batch of these and freezing the donuts. You'll simply wrap unglazed donuts in plastic wrap and put them in a freezer safe bag, then directly into the freezer.
They keep well in the freezer just like muffins would, for up to 3 months. Thaw on the counter or in the fridge when ready to eat them, then glaze right before serving.
Read on: 25 gluten-free donut recipes (many are dairy-free too!
If you love donuts and have been wondering if you can still enjoy this delicious breakfast treat while staying away from dairy in your diet, I hope this post has given you some answers to your questions.
Most donuts that you'll find at stores and restaurants contain dairy ingredients but there are some local donut shops that don't use them.
Do your research where you live to see if you can find one. Or invest in a donut pan and whip up a batch of dairy-free donuts at home so you don't have to go without a delicious treat every once in a while!
If you loved this post, I hope that you'll share it with your friends on Facebook and pin it for future reference on Pinterest.
Love this post? Be sure to check out some of my other great breakfast posts!
Not sure what to make for breakfast on a gluten and dairy-free diet? These posts will give you loads of ideas!