Find out what you need to know about Nothing Bundt Cakes and their gluten-free options. Plus get a few recipes to try at home!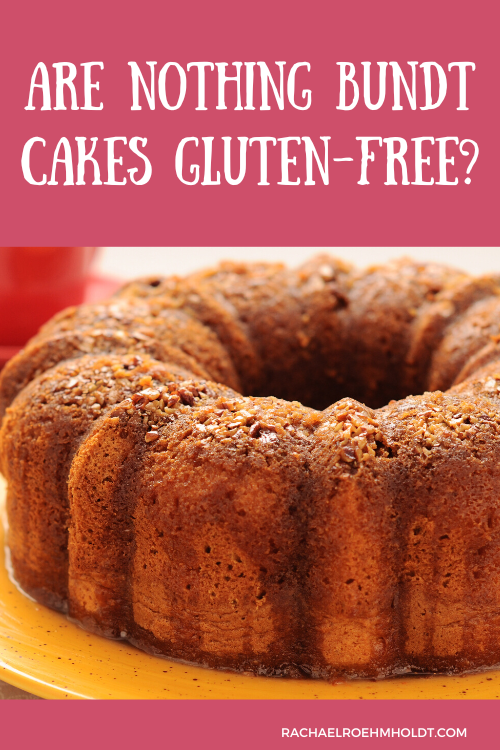 Note: I am a proud Amazon, Chomps, MunkPack, and Thrive Market affiliate and am happy to recommend their service and products to you. Please know that as an affiliate, I may receive a small commission on the products you purchase after clicking through my links. For more info, please see my disclosure policy here.
If you love a quick and easy way to get a dessert ready for a gathering, you may have thought of popping by the bakery at your local grocery store. Or finding a bakery that specializes in treats that you can bring home and impress everyone.
I love the idea of being able to buy a cake for birthdays or to bring to a party, but when I avoid gluten and dairy in my diet, I can only assume I'm bringing dessert for everyone else to enjoy but me.
That's why when I heard about Nothing Bundt Cakes, a specialty bakery chain, I was curious to find out what they offer and if I could add this to my short list of places I could trust to help me stick to my gluten and dairy-free diet.
About a year or so ago, a Nothing Bundt Cakes opened in my area and I was intrigued. All in one week, I heard about this new bakery three different times.
I had one friend buying mini bundt cakes for teachers at her son's school. I had another friend tell me they tried one at a family member's birthday party and raved at how good it was. And in the same week, my sister told me she had been gifted one from a student at school (she's a 4th grade teacher).
So apparently, the cakes are good. And this bakery is popular.
Let's get to the bottom of whether they're a good option for folks who are trying to stick with a gluten-free diet. In this post, we're going to talk about what Nothing Bundt Cakes offers, if they have any gluten-free cakes, and if they offer any dairy-free options.
Finally, I'll wrap this post up with a few ideas on how to make your own gluten and dairy-free bundt cakes at home if you feel ready to take on an afternoon of baking.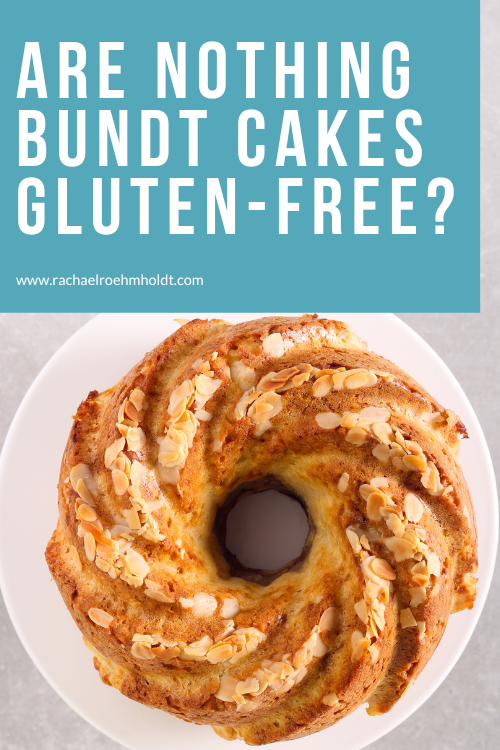 What is Nothing Bundt Cakes?
Nothing Bundt Cakes is a chain bakery that specializes in bundt cakes. These cakes are great for special occasions, as well as gift giving.
Nothing Bundt Cakes comes in a few different sizes: 8″ and 10″ cakes, bundtinis, which are like mini bundt cupcakes, and bundlets, which are marketed as "personal bundt cakes."
They offer bundt cakes in a variety of flavors, like lemon raspberry, red velvet, chocolate chocolate chip, white chocolate raspberry, lemon, strawberries and cream, snickerdoodle, confetti, carrot, classic vanilla, and gluten free chocolate chip cookie.
They also have special offers come around for specific holidays and occasions, like decorated cakes for Valentine's Day, Christmas, and birthdays.
What is gluten?
Gluten is a protein found in most wheat products, and acts as the "glue" that helps to hold wheat, barley, kamut, spelt, farro, durum, bulgur, rye, and semolina together to maintain their shape.
Gluten is naturally occurring, and therefore is impossible to strip away from the grain. If a grain naturally has gluten in it, there's no way to make that food gluten-free.
Read on: What is gluten?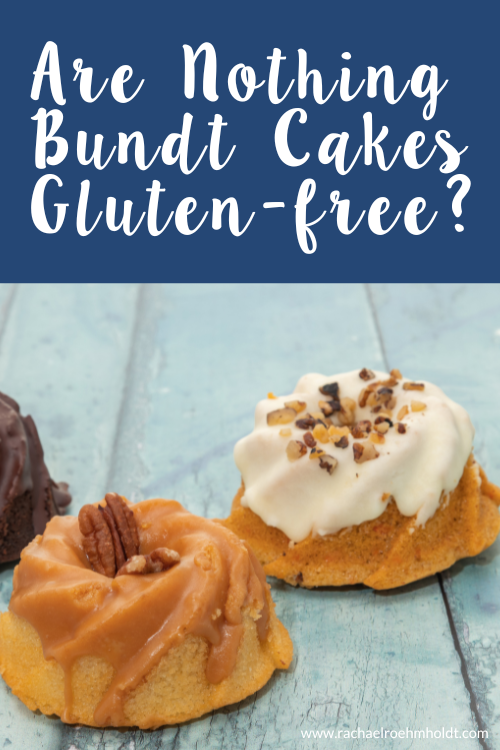 Are Nothing Bundt Cakes gluten-free?
According to the FAQ page on the Nothing Bundt Cakes website, here's what they had to say about gluten-free options:
"Our Chocolate Chip Cookie Bundt Cake is our only flavor that is made with gluten-free ingredients. However, it is not baked in a gluten-free environment."
Their website also states that "Our gluten free cakes are baked with equipment that also processes gluten-containing products. While we take many precautions during the baking process, they may still contain traces of gluten. Although the cake is gluten free, we are not a gluten free environment."
What are the ingredients in the Gluten-free Chocolate Chip Cookie Bundt Cake from Nothing Bundt Cakes?
The company doesn't share their specific ingredients list on their website, however they do say this gluten-free cake they offer is "made with gluten-free ingredients including real eggs, vanilla and mini chocolate chips."
It's important to note that even if the ingredients are gluten-free, the facility has gluten throughout, so the risk of cross contamination is high.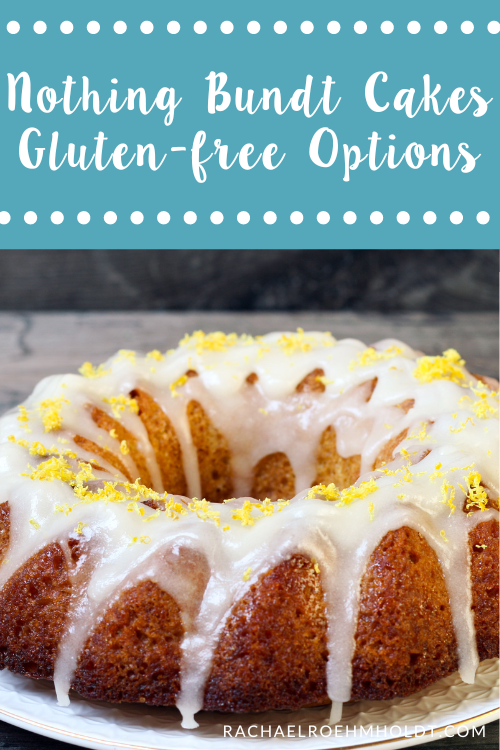 Does Nothing Bundt Cakes make dairy-free cakes?
The Nothing Bundt Cakes website share that they do in fact have a dairy-free cake once a year:
"You're in luck! Carrot, which is always on our menu, and Pumpkin Spice, an annual seasonal flavor, are considered dairy-free when requested with no frosting."
Can I make my own gluten-free dairy-free bundt cakes at home?
Absolutely! You can try one of these bundt cake recipes that contain no gluten or dairy ingredients if you're craving a Nothing Bundt Cake, but know you can't enjoy the ingredients in their store bought options.
Read on: 101 gluten-free dairy-free cake recipes
Read on: 25 gluten-free cupcake recipes
Read on: 25 gluten-free vegan cake recipes
If you enjoy grabbing a cake from Nothing Bundt Cakes for a birthday party or special occasion, or even as a gift for someone to say thank you, I hope this information about their gluten-free options has been helpful for you.
While Nothing Bundt Cakes has one gluten-free cake option available for purchase, they make it clear that there is a chance of cross contamination in their bakeries.
Keep this in mind before buying one and knowing the level of sensitivity to gluten your own body or the person you're buying the cake for can handle.
Looking for more information on gluten-free restaurants?
Be sure to check out my Gluten-free Restaurants post or get all the information in one place with my Gluten-free Restaurant Guide!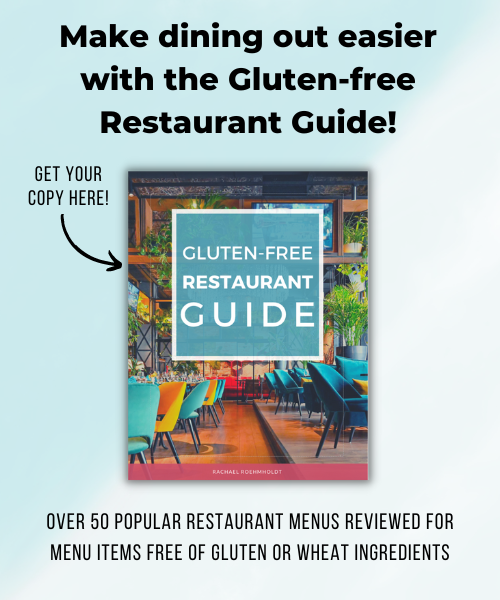 f you loved this post, I hope that you'll share it with your friends on Facebook and pin it for future reference on Pinterest.