Find out what menu items from Culver's do not contain gluten and what you need to know about their gluten-free options.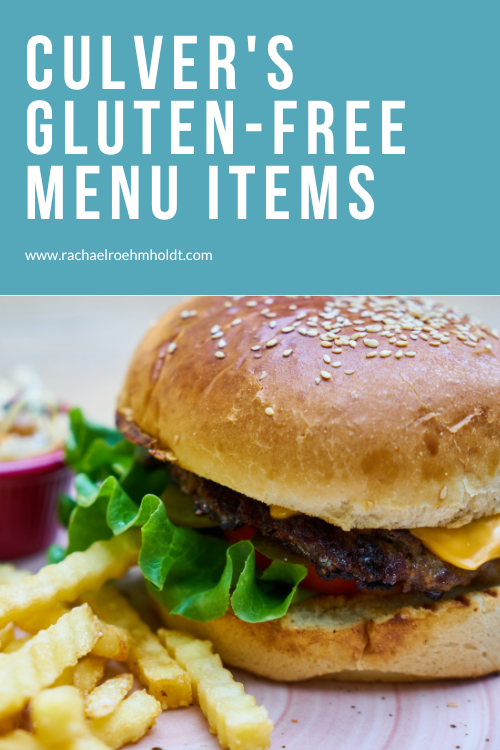 Note: I am a proud Amazon, Chomps, MunkPack, and Thrive Market affiliate and am happy to recommend their service and products to you. Please know that as an affiliate, I may receive a small commission on the products you purchase after clicking through my links. For more info, please see my disclosure policy here.
If burgers, fries, and frozen custard are on your list of go-to options for your favorite fast food when you want to go out to eat, you may have visited a Culver's a time or two.
If you're thinking about visiting Culver's and curious if there's anything on the menu that will work for your gluten-free diet, you're in the right place.
Find out in this post what menu items are considered free of gluten and wheat, and what you need to know about eating gluten-free while dining at Culver's.
Before we get into the menu items, let's talk a little bit about gluten, where it hides in food – particularly restaurant food, and what you need to know about cross contamination before you visit a restaurant next.
What is gluten?
Gluten is a protein found in most wheat products, and acts as the "glue" that helps to hold wheat, barley, kamut, spelt, farro, durum, bulgur, rye, and semolina together to maintain their shape.
Gluten is naturally occurring, and therefore is impossible to strip away from the grain. If a grain naturally has gluten in it, there's no way to make that food gluten-free.
Where can you find gluten in food?
Gluten can be found in the form of wheat and grain products, like bread or flour in the more obvious places.
You can also find gluten as a binding ingredient, an ingredient added for texture like to make a food more crispy, or as a thickening agent.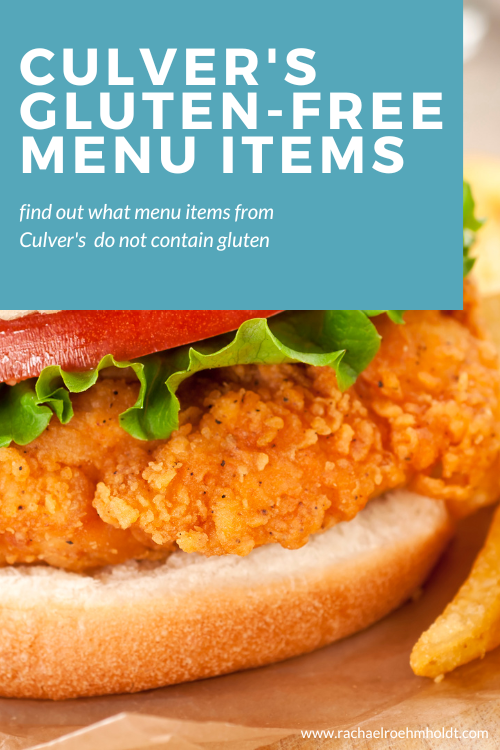 Where can you find gluten in restaurants?
Depending on the restaurant you're visiting, you may find gluten in a variety of places.
At fast food restaurants, there will be gluten in hamburger buns, the breading of crispy chicken sandwiches or chicken nuggets, some French fries, salad dressings, croutons on salad, and chili or soup options.
At other restaurants, you'll find gluten in flour in sauces, in pizza or other pastry dough, pasta, and as a thickener in some soups.
Where gluten is found in the menu items will vary from restaurant to restaurant. That's why it's always a good idea to review menus from home, and see if you can find any allergen information before you get to the restaurant itself.
Being able to review nutritional information and allergen statements before visiting a fast food restaurant can be the difference between ordering something that you think is safe for your gluten-free diet and getting sick.
Being knowledgeable about what specific menu items you'll be able to eat without any worries of later reactions is crucial to sticking with your gluten-free diet.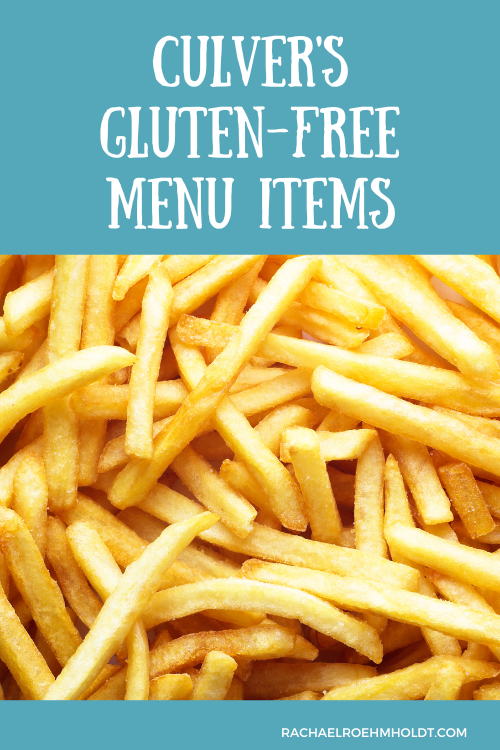 Culver's allergen statement
Culver's has a few different spots on their website where they address allergens, including gluten.
On their Allergen Grid of the Menu and Nutrition section of their website, they have this statement:
"Food safety is a top priority at Culver's. We are proud to offer an Allergen Grid that helps our guests with food allergies make informed menu selections.
The information in our Allergen Grid identifies common allergens present in each menu item.
Culver's restaurants contain common allergens and our dishes are prepared to order; however, normal kitchen operations involve shared cooking and preparation areas and we cannot guarantee any menu item will be free of allergens. Items cooked in the fryers may come into contact with egg, milk, wheat/gluten, soy, fish and shrimp.
Culver's ground beef is 100% beef, and it is cooked on a grill with bread. Breads and buns are baked in facilities that handle sesame seeds. Common allergens are present in custard toppings and cross-contact with other allergens may occur in the custard preparation and mixing area.
Please inform a restaurant manager when placing your order if a food allergy or sensitivity is a concern. From time to time, ingredients and allergens may change.
We work closely with our suppliers to keep this information up-to-date and we encourage guests with food allergies and sensitivities to check the Allergen Grid each time you visit your local restaurant. You may also request to see the ingredient label from the product case"
These other two sentences are listed on the same page farther down:
"At Culver's we work to provide the most up-to-date ingredient information on our menu items to help people with food allergies or sensitivities make wise food choices. We recommend that you consult your medical professional if you have any concerns about food allergies or sensitivities."
"Culver's restaurants are often busy and cross contamination may occur between ingredients and between different menu items, including allergens, thus if you have any food allergies it is important that you are aware of the ingredients listed in all menu items.
Always tell your local Culver's restaurant manager you have a food allergy and ask to see the ingredient listings for the products you would like to purchase, as well as any product with which it may come in to contact."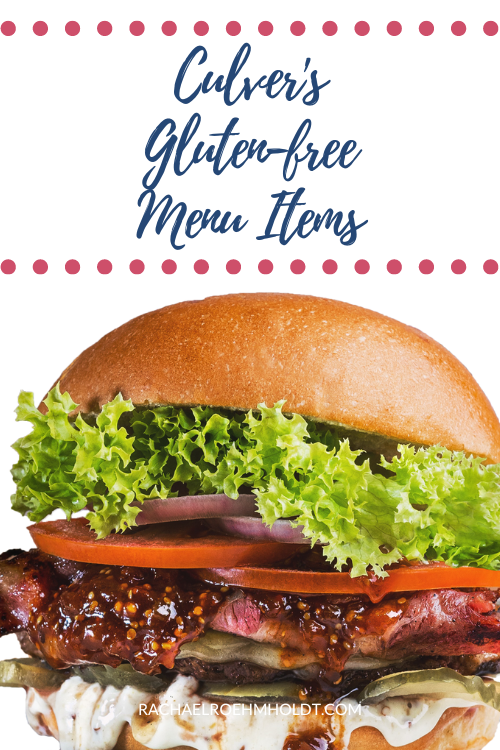 What you need to know about the gluten-free options at Culver's
Culver's offers an Allergen Grid in the Menu & Nutrition section of their website, which is the easiest way to find out what menu options do not contain gluten ingredients.
The restaurant does offer a gluten-free bun option. The ingredients in this brand of gluten-free buns, I was able to find on the Hy-Vee website (of all places) listed as:
"Water, Food Starch Modified, Corn Starch, Potato Starch, Long Grain Milled Rice, Stabilized Rice Bran, Granulated Sugar, Yeast, Egg Whites, Canola Oil, Salt, Pea Fiber, Modified Cellulose, Tapioca Starch, Xanthan Gum, Psyllium, Cultured Brown Rice, Brown Rice, Calcium Sulfate, Enzymes. CONTAINS: EGG."
Your best options at this restaurant are some burgers on a gluten-free bun, a few salad options, some soup options, and some of their custards and shakes. Their fountain drinks are safe to enjoy on a gluten-free diet.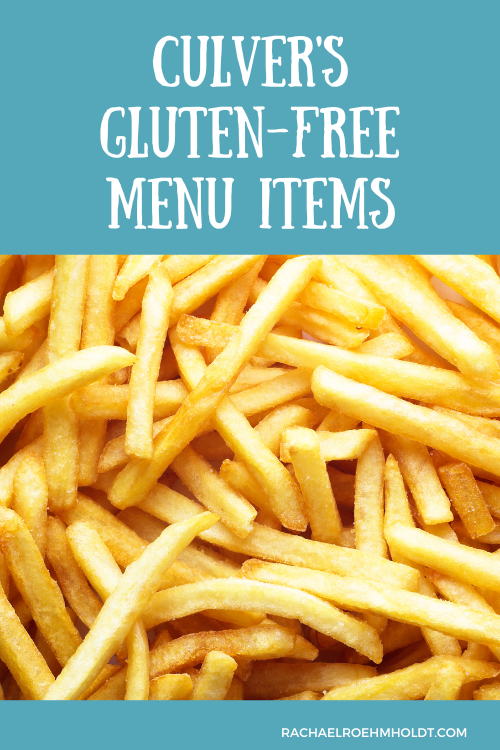 What to know about cross contamination at restaurants
Most fast food and carryout restaurants are not considered gluten-free establishments so it's useful to keep this in mind when making decisions about where to go and what to order.
It's important to know that even if a fast food restaurant claims that their menu items do not contain gluten, that the possibility and probability of gluten in their products is going to be high if there is even one menu item with gluten available.
Depending on your level of sensitivity to gluten, this can be make or break information for you.
If you are Celiac and are allergic to trace amounts of gluten, you'll likely want to avoid most fast food restaurants that offer any bread products or French fries that are cooked in a shared fryer with other gluten-containing ingredients.
If you are not sensitive to gluten at the trace level and have adverse reactions to gluten due to a food intolerance, you may decide that these trace amounts of gluten from cross contamination are worth risking for a quick, easy, and convenient food option.
Being aware of how you have reacted to gluten in your diet in the past and how much gluten it takes for your body to react is useful knowledge when it comes to situations like these.
Use your best judgment about what you know about your body, how you react to gluten, and what the risks are for you specifically.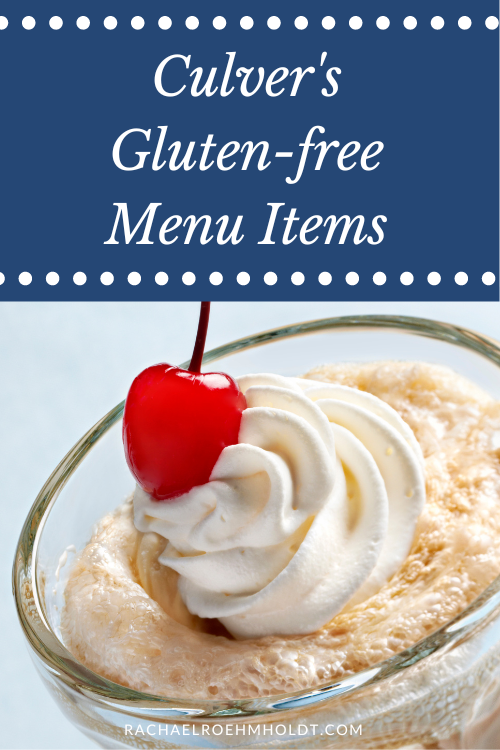 Culver's Gluten-free Menu Items
The information listed below is from the Allergen Grid on the Culver's website.
Remember that none of these options are truly considered gluten-free. Though the ingredients may not have gluten, there is still a chance for cross contamination in the kitchens.
Butterburgers
Rotella's Gluten Free Bun
Chicken Sandwiches & Tenders
None of the Chicken Sandwiches & Tenders menu options from Culver's are safe for a gluten-free diet.
Classic Sides
Coleslaw
Crinkle Cut Fries
Steamed Broccoli
Concrete Mixers
Chocolate Concrete Mixer made with Reese's
Salted Caramel Concrete Mixer made with Reese's Peanut Butter Cups
Salted Caramel Pumpkin Concrete Mixer
Vanilla Concrete Mixer made with Butterfinger
Vanilla Concrete Mixer made with Heat English Toffee Bars
Vanilla Concrete Mixer made with Reese's
Condiments
American Cheese, Slice
Bacon, 2 Slices
Cheddar Cheese, Slice
Dill Pickle
Horseradish Sauce
Ketchup
Mayonnaise
Mayonnaise Packet
Red Onion Ring Slices
Shredded Lettuce
Shrimp Cocktail Sauce
Spicy Brown Mustard
Sweet Baby Ray's BBQ Sauce
Swiss Cheese, Slice
Tartar Sauce
Tomato, Slice
Yellow Mustard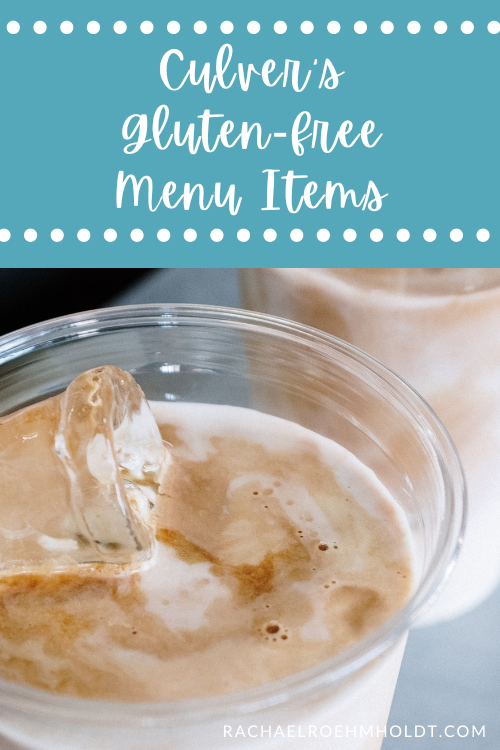 Cones & Dishes
Chocolate Dish
Vanilla Dish
Drinks
Culver's Diet Root Beer
Culver's Root Beer
Diet Dr Pepper
Diet Mountain Dew
Diet Pepsi
Dr Pepper
Fresh Brewed Sweet Tea
Mountain Dew
Pepsi
Sierra Mist
Tropicana Fruit Punch
Tropicana Pink Lemonade
Wild Cherry Pepsi
Featured Items
Pumpkin Spice Shake
Salted Caramel Pumpkin Concrete Mixer
Flavor of the Day
Andes Mint Avalanche
Butter Pecan
Caramel Cashew
Caramel Chocolate Pecan
Caramel Peanut Buttercup
Caramel Pecan
Caramel Turtle
Chocolate Caramel Twist
Chocolate Covered Strawberry
Chocolate Heath Crunch
Dark Chocolate Decadence
Double Strawberry
Georgia Peach
Midnight Toffee
Really Reese's
Red Raspberry
Salted Double Caramel Pecan
Snickers Swirl
Turtle
Turtle Dove
Fresh Frozen Custard To Go
Chocolate Frozen Custard – Pints
Vanilla Frozen Custard – Pints
Fresh Salads
Chicken Cashew Salad with Grilled Chicken
Cranberry Bacon Bleu Salad with Grilled Chicken
Salad Dressings
Buttermilk Ranch Dressing
Culver's Vinaigrette
Honey Mustard Dressing
Ken's Blue Cheese Dressing
Ken's Country French
Ken's Raspberry Vinaigrette
Handcrafted Beverages
Chocolate Shake
Culver's Root Beer Float
Culver's Root Beer Shake
Mint Shake
Peanut Butter Shake
Pumpkin Spice Shake
Raspberry Shake
Salted Caramel Shake
Strawberry Shake
Vanilla Shake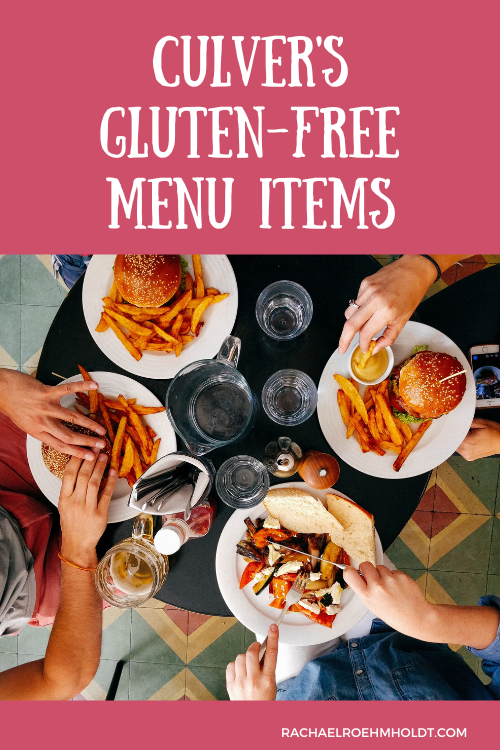 Homestyle Favorites
None of the Homestyle Favorites menu options from Culver's are safe for a gluten-free diet.
Kids' Meals
1% Low Fat Chocolate Milk
1% Low Fat Milk
Bottled Water
Mott's 100% Apple Juice
Mott's Applesauce
Mindful Choices
Culver's Diet Root Beer
Diet Pepsi
Fresh Brewed Tea
Steamed Broccoli
Mix-Ins & Toppings
Andes Creme De Menthe Thins
Banana
Blackberry
Blueberry
Butterfinger
Cashew
Culver's Chocolate Syrup
Culver's Creme de Menthe
Culver's Hot Caramel
Culver's Hot Fudge
Dove Chocolate Pieces
Espresso
Heath Toffee Bar Pieces
M&M Minis
Mango Fruit Infusion
Maraschino Cherry
Marshmallow Creme
Peach
Peanut Butter
Pecan Halves
Raspberry
Reese's Peanut Butter Cups
Salted Caramel Topping
Snickers Candy Bar Pieces
Sprinkles, Blue and White
Strawberry, Sliced
Whipped Topping, Extra Creamy
Wild Cherries
Premium Sides
None of the Premium Sides menu options from Culver's are safe for a gluten-free diet.
Sauces & Dressings
Buttermilk Ranch Dressing
Culver's Vinaigrette
Frank's RedHot Buffalo Dipping Sauce
Honey Mustard Dressing
Ken's Blue Cheese Dressing
Ken's Country French
Ken's Raspberry Vinaigrette
Sweet Baby Ray's BBQ Sauce
Seafood Sandwiches & Dinners
None of the Seafood Sandwiches & Dinners menu options from Culver's are safe for a gluten-free diet.
Signature Sides
George's Chili
George's Chili Supreme
Soups (Choices Vary At Restaurants)
Broccoli Cheese Soup
George's Chili
George's Chili Supreme
Sundaes
Banana Split
Caramel Cashew Sundae
Turtle Sundae
If you've been wondering if there are any options for you to order at Culver's while sticking with a gluten-free diet, I hope this information has been helpful for you.
While this restaurant shares that they are willing to make many of their menu options gluten-friendly, they still run the risk of cross contamination in the kitchen.
Use your best judgment based on what you know about how your body reacts to even small amounts of gluten from cross contact before choosing this restaurant and ordering from here.
Looking for more information on gluten-free restaurants?
Be sure to check out my Gluten-free Restaurants post or get all the information in one place with my Gluten-free Restaurant Guide!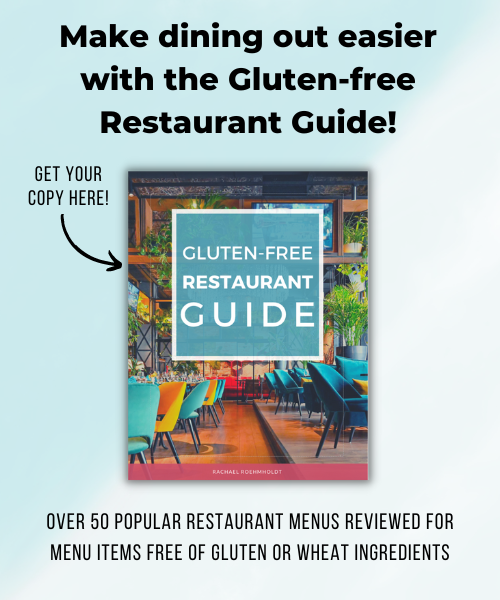 f you loved this post, I hope that you'll share it with your friends on Facebook and pin it for future reference on Pinterest.