Find out what menu items from Panera do not contain gluten and what you need to know about ordering gluten-free at this restaurant.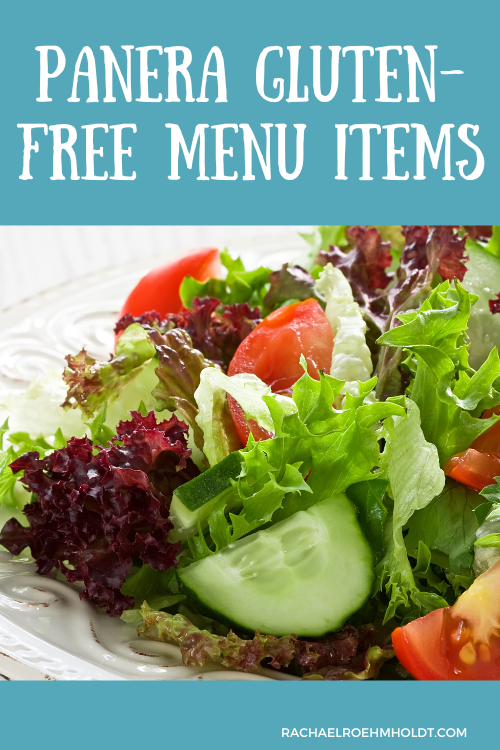 Note: I am a proud Amazon, Chomps, MunkPack, and Thrive Market affiliate and am happy to recommend their service and products to you. Please know that as an affiliate, I may receive a small commission on the products you purchase after clicking through my links. For more info, please see my disclosure policy here.
If you find yourself out of the house for lunch sometimes, whether on a work day or weekend, and have gone to a Panera at one time or another.
But if you're just getting started with a gluten-free diet or are wanting to visit a Panera for the first time while avoiding gluten, you may decide you need to do a little research into what menu items will be safe for you.
With Panera being so bread-centric, are there even any options for folks who avoid regular bread altogether?
In this post, we're going to dig into the Panera menu and find out which items are safe for folks who are gluten-free.
We'll also review the Panera allergen statement, so we know what the brand itself has to say on serving gluten-free folks like us.
I'll take you line by line of the Panera menu and give you a few thoughts on ordering from this restaurant while sticking to a gluten-free diet.
If you've been wanting to know once and for all what (if anything) you can order from this restaurant when you're gluten-free, you're in the right place. Keep reading!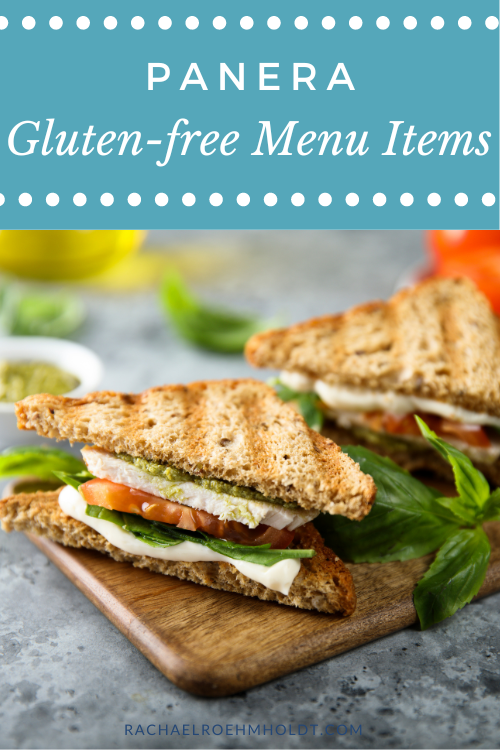 What is gluten?
Gluten is a protein found in most wheat products, and acts as the "glue" that helps to hold wheat, barley, kamut, spelt, farro, durum, bulgur, rye, and semolina together to maintain their shape.
Gluten is naturally occurring, and therefore is impossible to strip away from the grain. If a grain naturally has gluten in it, there's no way to make that food gluten-free.
Where can you find gluten in food?
Gluten can be found in the form of wheat and grain products, like bread of flour in the more obvious places.
You can also find gluten as a binding ingredient, an ingredient added for texture like to make a food more crispy, or as a thickening agent.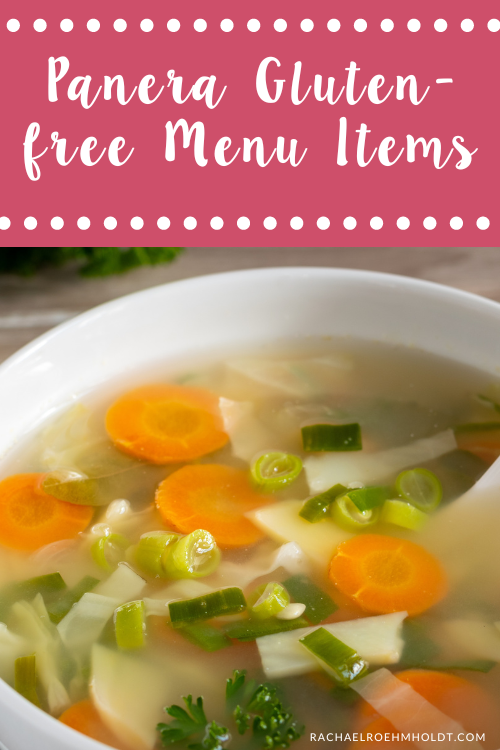 Where can you find gluten in many restaurants?
Depending on the restaurant you're visiting, you may find gluten in a variety of places.
At fast food restaurants, there will be gluten in hamburger buns, the breading of crispy chicken sandwiches or chicken nuggets, some French fries, salad dressings, croutons on salad, and chili or soup options.
At other restaurants, you'll find gluten in flour in sauces, in pizza or other pastry dough, and as a thickener in some soups.
Where gluten is found in the menu items will vary from restaurant to restaurant. That's why it's always a good idea to review menus from home, and see if you can find any allergen information before you get to the restaurant itself.
Being able to review nutritional information and allergen statements before visiting a fast food restaurant can be the difference between ordering something that you think is safe for your gluten-free diet and getting sick.
Being knowledgeable about what specific menu items you'll be able to eat without any worries of later reactions is crucial to sticking with your gluten-free diet.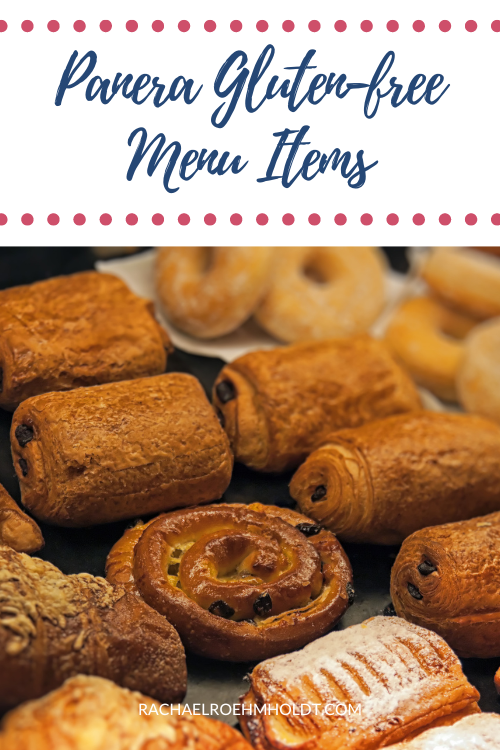 Panera allergen statement
According to the Panera website, this is what they have to say about allergens in their bakery-cafes:
"Many of our products contain or may come into contact with common allergens, including wheat, peanuts, soy, tree nuts, milk, eggs, fish, shellfish and sesame.
Our bakery-cafe and catering menus vary by location due to, among other things, market tests and local requirements. If you have an allergy concern, please ask a manager at your bakery-cafe to check the ingredient listing for specific menu items.
Please note that we cannot guarantee that any of our menu items are free of allergens because we use shared equipment and handle common allergens throughout our supply chain and bakery-cafe."
Panera is very clear that while some of their menu items may not contain wheat or gluten ingredients, there is still a likelihood that cross contamination will occur because other menu items contain gluten.
Keep this in mind when deciding whether to visit this restaurant and what you choose to order.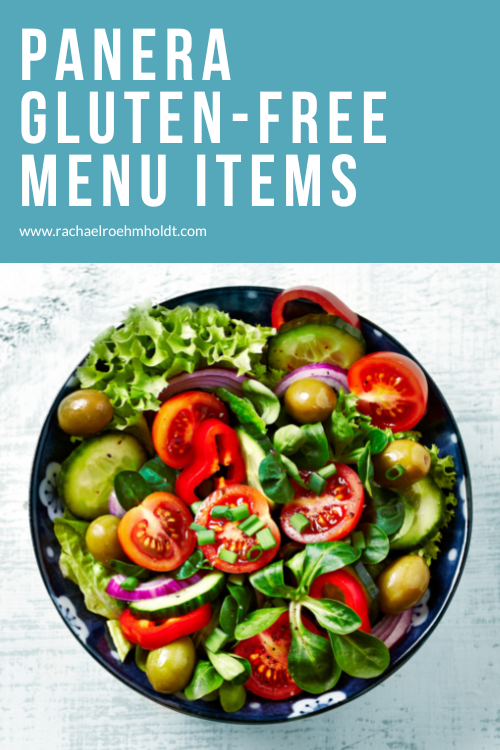 What to know about cross contamination at restaurants
Most fast food and carryout restaurants are not considered gluten-free establishments so it's useful to keep this in mind when making decisions about where to go and what to order.
It's important to know that even if a restaurant claims that their menu items do not contain gluten, that the possibility and probability of gluten in their products is going to be high if there is even one menu item with gluten available.
Depending on your level of sensitivity to gluten, this can be make or break information for you.
If you are Celiac and are allergic to trace amounts of gluten, you'll likely want to avoid most fast food restaurants that offer any bread products or French fries that are cooked in a shared fryer with other gluten-containing ingredients.
If you are not sensitive to gluten at the trace level and have adverse reactions to gluten due to a food intolerance, you may decide that these trace amounts of gluten from cross contamination are worth risking for a quick, easy, and convenient food option.
Being aware of how you have reacted to gluten in your diet in the past and how much gluten it takes for your body to react is useful knowledge when it comes to situations like these.
Use your best judgment about what you know about your body, how you react to gluten, and what the risks are for you specifically.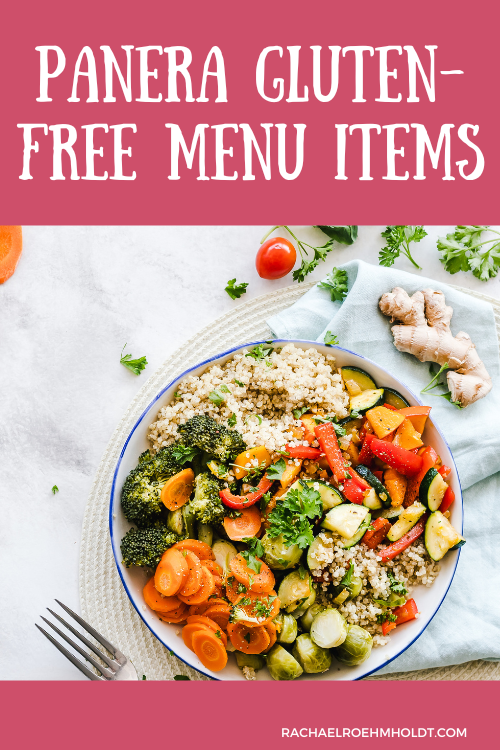 Panera Gluten-free Menu Items
There are a few options from the Panera menu that do not contain wheat or gluten ingredients. You can find these listed below in the sections of their menu to help you determine what to best order next time you're at this restaurant.
I've also noted any gluten-free items that are also dairy-free with an asterisk (*), in case you follow a dairy-free diet like I do as well as avoiding gluten.
Bagels
None of the Bagel options from Panera are considered gluten-free.
Breads
None of the Bread options from Panera are considered gluten-free.
Cream Cheese Spreads
Reduced Fat Chive & Onion
Reduced Fat Honey Walnut
Plain
Baked Goods
None of the Baked Goods options from Panera are considered gluten-free.
Souffle
None of the Souffle options from Panera are considered gluten-free.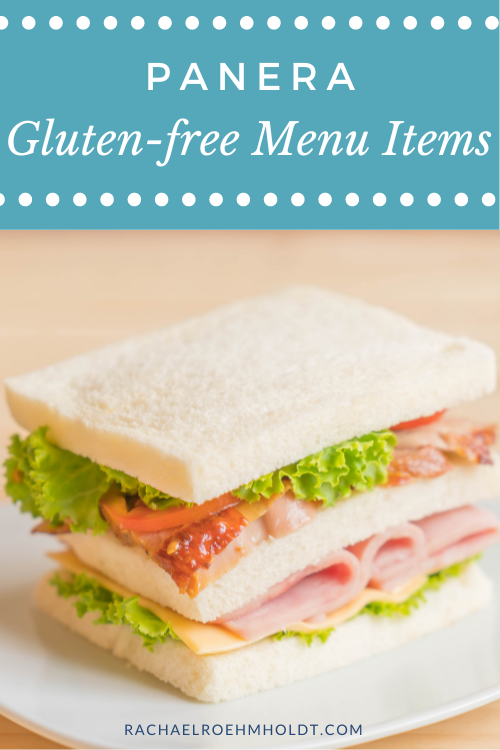 Breakfast Sandwiches
None of the Breakfast Sandwiches themselves are considered wheat-free, however the eggs on their own are. Over Easy Eggs*, Scrambled Eggs*, or Egg Whites* are all wheat-free.
The Garlic Aioli* and Chipotle Aioli* are also considered wheat free by the Panera brand.
Breakfast Favorites
Two of the Breakfast Favorites from Panera are considered to "may contain" wheat ingredients. These are their Mixed Berries with Greek Yogurt and the Steel Cut Oatmeal with Strawberries & Pecans*.
The Seasonal or Summer Fruit Cup* as well as their Hard Boiled Eggs* are considered wheat-free and therefore gluten-free.
Sandwiches
None of the Sandwich options from Panera are considered gluten-free, except their pickle spear.
Panera Kids
None of the Panera Kids menu options from Panera are considered gluten-free.
Salads
Green Goddess Cobb Salad with Chicken
Catering Seasonal Greens with & without Chicken*
Fuji Apple Salad with & without Chicken
Greek Salad with & without Chicken
Dressings & Sauces
BBQ Ranch
Caesar*
Greek*
Asian Sesame*
Green Goddess
White Balsamic Apple Flavored*
Chipotle Sauce
Apple Cider BBQ Sauce*
Mayonnaise*
Horseradish Sauce*
Signature Sauce*
Spicy Mustard*
Hummus*
Garlic Aioli*
Salsa Verde*
Lemon Tahini Dressing*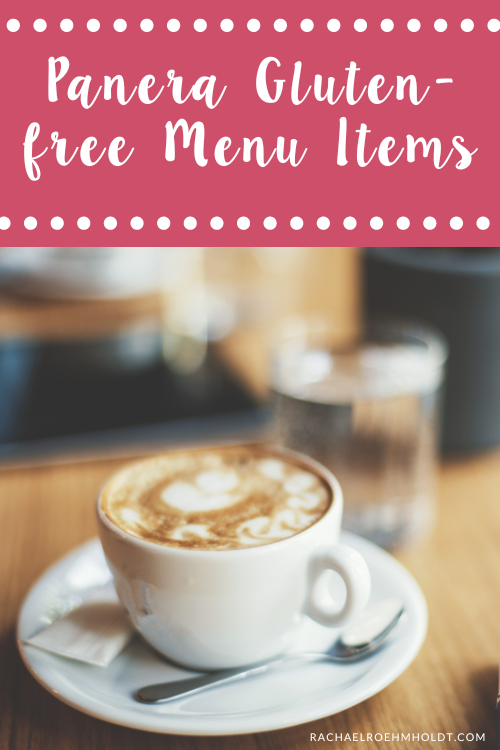 Drinks
Americano*
Cafe Latte (espresso – hot or iced)
Cappuccino (espresso)
Caramel Latte (espresso – hot or iced)
Madagascar Vanilla Latte (espresso – hot or iced)
Chai Tea Latte (hot or iced)
Cinnamon Crunch Latte (hot or iced)
Chocolate Latte (espresso – hot or iced)
Hot Chocolate
Frozen Chocolate Cold Brew
Frozen Caramel Cold Brew
Regular Cold Brew*
Madagascar Vanilla Cream Cold Brew
Passion Papaya Green Tea (iced)*
Coffee/Decaf Coffee (hot or iced)*
Seasonal Iced Teas – Black Tea / Sweet Black Tea*
Hot Tea Bags*
Additional Shot of Bittersweet Chocolate Syrup or Caramel Syrup
Additional Shot of Madagascar Vanilla Syrup or Cane Sugar Syrup*
Strawberry Smoothie with Greek Yogurt (frozen)
Mango Smoothie with Greek Yogurt (frozen)
Strawberry Banana Smoothie with Greek Yogurt (frozen)
Peach & Blueberry Smoothie with Almond MIlk (frozen)*
Green Passion Smoothie (frozen)*
Agave Lemonade*
Strawberry Lemon Mint Flavored Energy Lemonade*
Fuji Apple Cranberry Flavored Energy Lemonade*
Mango Yuzu Citrus Flavored Energy Lemonade*
Soups
Thai Chicken*
Turkey Chili with Beans*
Vegetarian Autumn Squash Soup
Pasta
None of the Pasta menu options from Panera are considered gluten-free.
Warm Bowls
Two of the Warm Bowls from Panera indicate they "may contain" wheat ingredients, so these may or may not be gluten-free.
Baja Bowl (with or without Chicken)
Mediterranean Bowl (with or without Chicken)
Side Add ons
The Tomato Basil Cucumber is considered wheat-free by Panera.
Flatbread Pizzas
None of the Flatbread Pizza options from Panera are considered gluten-free.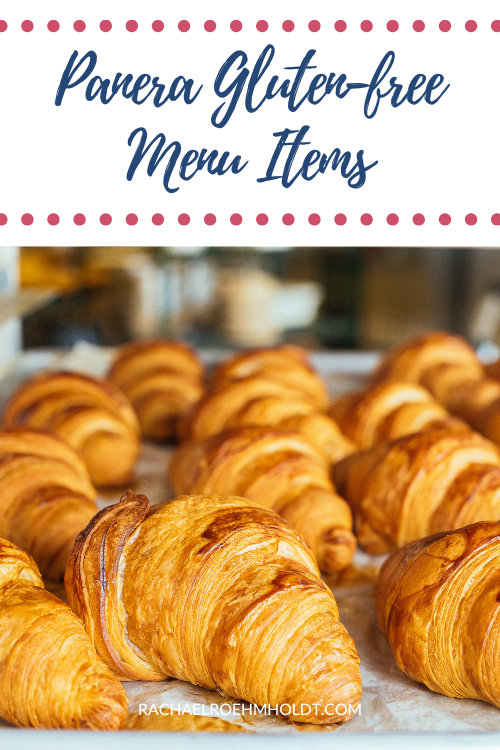 Does Panera have gluten-free bread?
Panera does not offer any gluten-free bread options. It is likely too difficult for them to have a gluten-free line when everything else in their restaurants center around bread with gluten.
Keeping these ingredients separate in their kitchens and using separate utensils would be a safe gluten-free environment. Panera just doesn't offer this for folks who are trying to follow a gluten-free diet.
Read on: Does Panera have gluten-free bread?
What you need to know about the gluten-free items from Panera
It's clear that there aren't too many wheat-free or gluten-free options from Panera. The important thing to note is that many of their menu items are customizable.
For example, a salad that may contain gluten may be that way because of the croutons or wontons that are added and mixed into the salad. You can choose to have these omitted from your order and you could technically have a wheat-free salad.
Of course, there's no way to ensure any items from Panera are gluten-free as the brand states in their allergen statement that cross contamination risk is high.
Another menu item may contain gluten that can't be omitted, like in the form of a sandwich or a soup. In this case, you'll have no choice but to skip these menu items.
If you avoid gluten due to an intolerance, you may be able to navigate this menu, assuming you're not so sensitive to gluten that the general cross contamination amounts will affect you.
If you are celiac, I'd be sure to steer clear of this restaurant as the chances of ordering something here and getting a meal with even trace amounts of gluten are high.
You know your body best, so use your best judgment based on how you have reacted to gluten in the past and what seems like your level of sensitivity permits before committing to eating at Panera once or regularly.
If you love Panera for a quick lunch and have been wondering what menu items you can safely order while on a gluten-free diet, I hope this post has helped you get clear on what you can order.
Of course, be aware that this restaurant specializes in bread, and therefore there is a ton of gluten around the kitchen.
Choose wisely based on what you have read in this post to determine if this is a restaurant that will work best for you and your body while trying to stick with a gluten-free diet.
Looking for more information on gluten-free restaurants?
Be sure to check out my Gluten-free Restaurants post or get all the information in one place with my Gluten-free Restaurant Guide!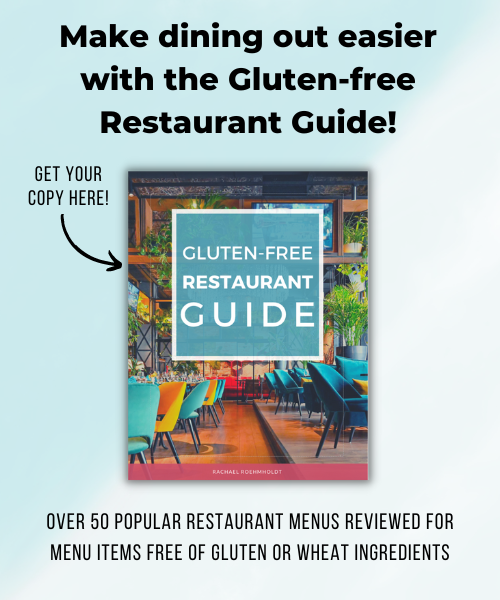 If you loved this post, I hope that you'll share it with your friends on Facebook and pin it for future reference on Pinterest.