Find out what menu items from Ruby Tuesday do not contain gluten and what you need to know about their gluten-free options.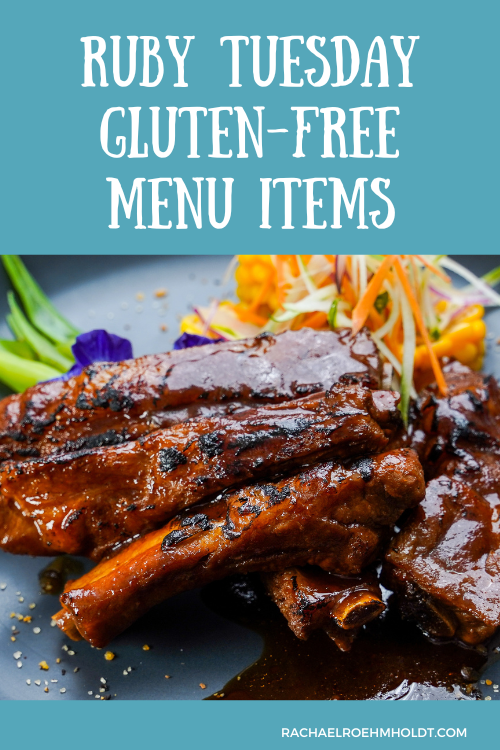 Note: I am a proud Amazon, Chomps, MunkPack, and Thrive Market affiliate and am happy to recommend their service and products to you. Please know that as an affiliate, I may receive a small commission on the products you purchase after clicking through my links. For more info, please see my disclosure policy here.
Ruby Tuesday is a popular restaurant serving classic American food, like burgers, pasta, chicken, steak, and ribs.
If you've found yourself deciding between restaurants and curious if Ruby Tuesday has anything to offer you on a gluten-free diet, this post is for you.
In this post, we're going to dive into the Ruby Tuesday menu and discuss what this restaurant is doing to help you make an informed choice with their menu options.
We'll also go over some basics on gluten, where you'll find gluten in many different foods, and most importantly where gluten is often hidden in restaurants and other sandwich shops.
What is gluten?
Gluten is a protein found in most wheat products, and acts as the "glue" that helps to hold wheat, barley, kamut, spelt, farro, durum, bulgur, rye, and semolina together to maintain their shape.
Gluten is naturally occurring, and therefore is impossible to strip away from the grain. If a grain naturally has gluten in it, there's no way to make that food gluten-free.
Where can you find gluten in food?
Gluten can be found in the form of wheat and grain products, like bread or flour in the more obvious places.
You can also find gluten as a binding ingredient, an ingredient added for texture like to make a food more crispy, or as a thickening agent.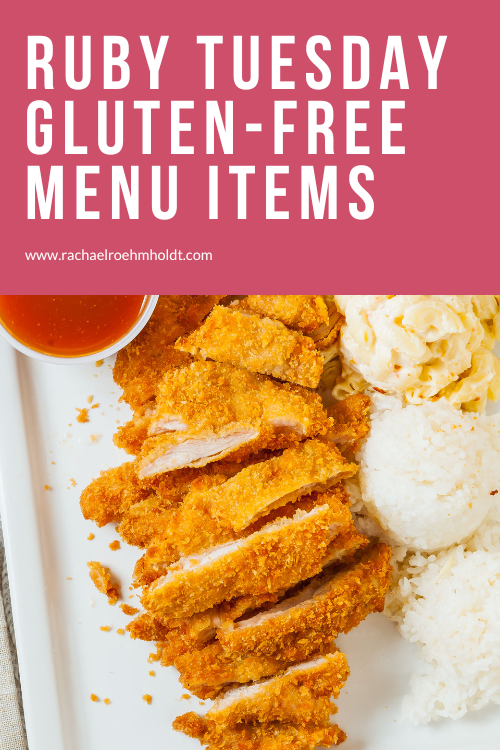 Where can you find gluten in restaurants?
Depending on the restaurant you're visiting, you may find gluten in a variety of places.
At fast food restaurants, there will be gluten in hamburger buns, the breading of crispy chicken sandwiches or chicken nuggets, some French fries, salad dressings, croutons on salad, and chili or soup options.
At other restaurants, you'll find gluten in flour in sauces, in pizza or other pastry dough, pasta, and as a thickener in some soups.
Where gluten is found in the menu items will vary from restaurant to restaurant. That's why it's always a good idea to review menus from home, and see if you can find any allergen information before you get to the restaurant itself.
Being able to review nutritional information and allergen statements before visiting a fast food restaurant can be the difference between ordering something that you think is safe for your gluten-free diet and getting sick.
Being knowledgeable about what specific menu items you'll be able to eat without any worries of later reactions is crucial to sticking with your gluten-free diet.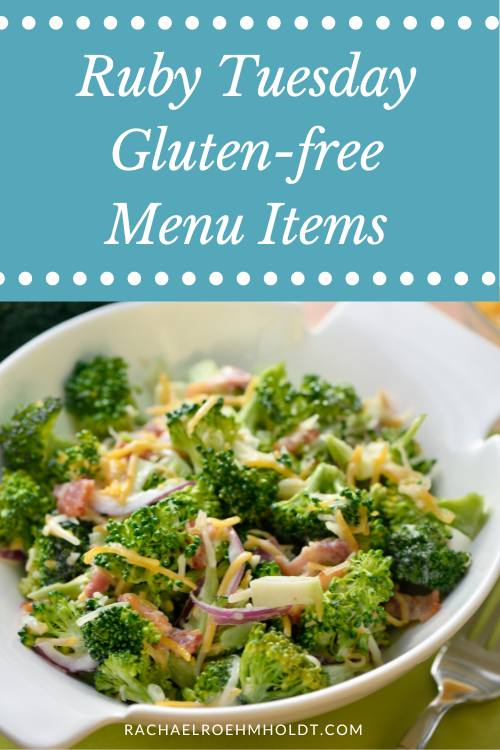 Ruby Tuesday allergen statement
Ruby Tuesday does not offer an official allergen statement, though they do have this note on their Interactive Allergen & Nutritional Menus:
"Ruby Tuesday strives to ensure that every guest has a great dining experience, and that includes those with special dietary needs and medical requirements. For this reason, we have prepared the following menu options based on information obtained from our food suppliers.
Every effort is made to keep this information current and accurate. However, ingredient changes may occur due to substitutions, preparation variation, and regional availability of products. We encourage you to use these menu options as a tool to help you make your dining choices.
These options are not intended to supersede professional medical advice that you have received. We will update these online menus as our menu selections, ingredients, and/or preparation techniques change.
Please visit our website upon each visit for the most current allergen/sensitivity and nutritional information available. Limited time offers and specials have not been included in these menu options. Please refer to the main menu available in restaurants or online for full menu item descriptions and pricing,
Please be advised that food prepared in our kitchens may contain these ingredients: milk, eggs, wheat, soybean, peanuts, tree nuts, fish and shellfish. While every effort is made to minimize the risk of cross contamination, we cannot guarantee that our food products are free of any of these allergens or are gluten-free, vegetarian or vegan."
What you need to know about the gluten-free options at Ruby Tuesday
With the Interactive Allergen & Nutritional Menus on the Ruby Tuesday website, you can choose which food allergies and restrictions you have to narrow the menu down to items that work for your diet. You can choose from milk, eggs, gluten, wheat, soy, peanuts, tree nuts, fish, and shellfish.
The menu comes up with "OK to eat with modifications" for menu items that you may consider ordering. With each of the menu items, you can click in for more details and it will show you with a red font and a line through it telling you what modifications or omissions you need to make to your order to make it free of gluten ingredients.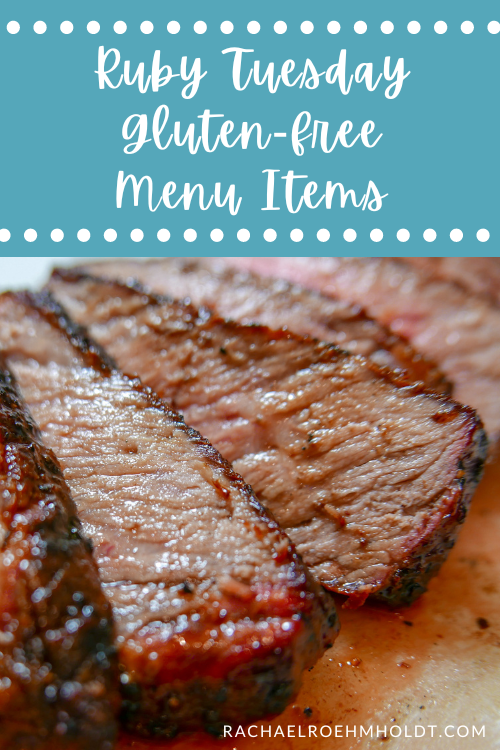 What to know about cross contamination at restaurants
Most fast food and carryout restaurants are not considered gluten-free establishments so it's useful to keep this in mind when making decisions about where to go and what to order.
It's important to know that even if a fast food restaurant claims that their menu items do not contain gluten, that the possibility and probability of gluten in their products is going to be high if there is even one menu item with gluten available.
Depending on your level of sensitivity to gluten, this can be make or break information for you.
If you are Celiac and are allergic to trace amounts of gluten, you'll likely want to avoid most fast food restaurants that offer any bread products or French fries that are cooked in a shared fryer with other gluten-containing ingredients.
If you are not sensitive to gluten at the trace level and have adverse reactions to gluten due to a food intolerance, you may decide that these trace amounts of gluten from cross contamination are worth risking for a quick, easy, and convenient food option.
Being aware of how you have reacted to gluten in your diet in the past and how much gluten it takes for your body to react is useful knowledge when it comes to situations like these.
Use your best judgment about what you know about your body, how you react to gluten, and what the risks are for you specifically.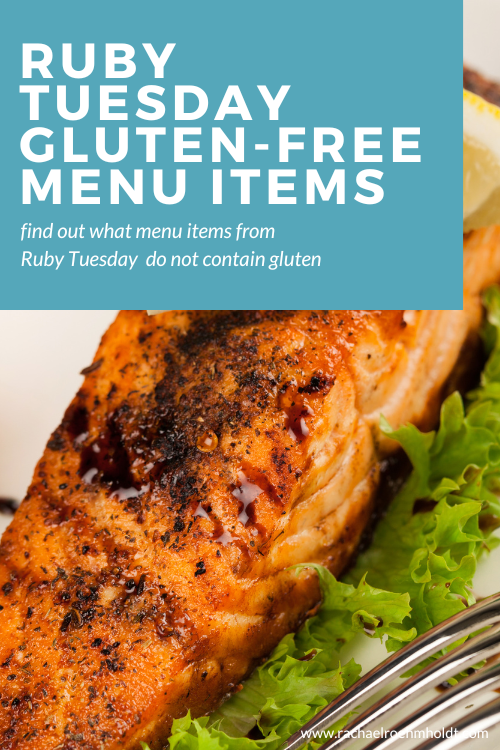 Ruby Tuesday Gluten-free Menu Items
Using the Interactive Allergen & Nutritional Menu, the menu items below are from choosing the Gluten and Wheat as allergens.
All menu items come up in the Interactive Menu up with either "OK to Eat," "OK to Eat with Modifications," or "Not OK To Eat." I've included those with "OK to Eat" and "OK to Eat with Modifications" in my list.
Those listed on the Ruby Tuesday website with "OK to Eat with Modifications" will be listed with their specific modifications in parentheses below.
Appetizers
Cheddar Queso & Chips (queso has no gluten, the tortilla chips do)
Crisp Fresh Salads
Ambrosia Salad
Phillipsburg Broccoli Salad
Quinoa Salad
Cucumber Salad
Potato Salad
Chicken Corn Chowder Soup
Endless Garden Bar (skip crispy onions, cucumbers, crispy jalapenos, croutons, and seasoned lavash crackers)
Honey-Glazed Salmon Salad (skip honey garlic sauce)
Ruby's Chicken Caesar (choose grilled chicken, skip croutons)
Chicken & Seafood
Asiago Bacon Chicken (skip parmesan cream sauce)
Grilled Salmon
Hickory Bourbon Salmon
New Orleans Seafood (skip parmesan cream sauce)
Hickory Bourbon Chicken
Saucy Tender Ribs & Combos
Half-Rack Baby-Back Ribs – Classic Barbecue
Half-Rack Baby-Back Ribs – Texas Dusted
Half-Rack Baby-Back Ribs – Hickory Bourbon
Half-Rack Baby-Back Ribs – Nashville Hot
Full-Rack Baby-Back Ribs – Classic Barbecue
Full-Rack Baby-Back Ribs – Texas Dusted
Full-Rack Baby-Back Ribs – Hickory Bourbon
Full-Rack Baby-Back Ribs – Nashville Hot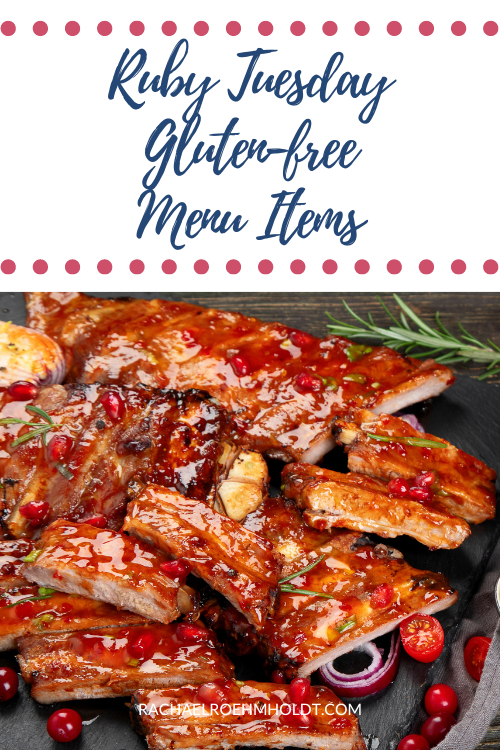 Robust Pasta Americana Favorites
None of the Robust Pasta American Favorites menu items are safe for a gluten-free diet.
Flavorful Steaks
Rib Eye
Rib Eye & ½ Rack Ribs (BBQ)
Rib Eye & Grilled Shrimp
Rib Eye & Hickory Bourbon Chicken
Top Sirloin
Top Sirloin & ½ Rack Ribs (BBQ)
Top Sirloin & Grilled Shrimp
Top Sirloin & Hickory Bourbon Chicken
Add Baby Bellas
Juicy Burgers & Melty Sandwiches
Bacon Cheeseburger (choose gluten-free bun)
Ruby's Cheeseburger (choose gluten-free bun)
Grilled Chicken Sandwich (choose gluten-free bun)
Smokehouse Cheeseburger (choose gluten-free bun)
Sides
Steamed Broccoli
Mashed Potatoes
Roasted Baby Bellas
Grilled Zucchini
Roasted Corn
Rice Pilaf
Baked Potato
Loaded Baked Potato
Coleslaw
Chicken Corn Chowder Soup
Desserts
None of the Dessert menu items are safe for a gluten-free diet.
Kids
Kids Grilled Chicken
Kids Chocolate Sundae
Kids Strawberry Sundae
Kids Mashed Potatoes
Kids Grapes
Kids Steamed Broccoli
Grilled Zucchini
Breads & Buns
Gluten-free Bun – Buttered
Gluten-free Bun – Unbuttered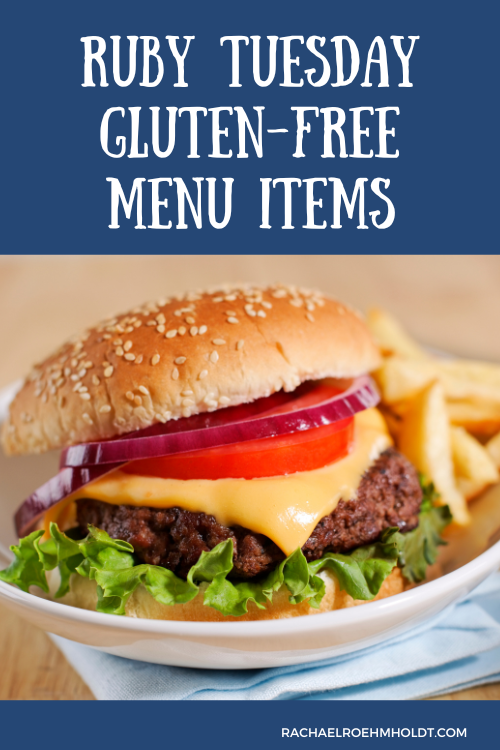 Toppings
Bacon Pieces
Ham
Banana Peppers
Beets
Black Olives
Corn
Diced Eggs
Dried Cranberries
Edamame
Garbanzo Beans
Green Peas
Jalapeno Peppers
Pepperoncini
Sunflower Seeds
Pumpkin Seeds
Pico de Gallo
Mandarin Oranges
Grapes
Salad Dressings
Balsamic Vinaigrette
Balsamic Vinegar
Extra Virgin Olive Oil
Buttermilk Blue Cheese
Cilantro Lime Vinaigrette
Caesar Dressing
French Dressing
Golden Italian
Honey Mustard Dressing
Lite Ranch Dressing
Ranch Dressing
Thousand Island
Croutons & More
Cheeses
Shredded Parmesan Cheese
Shredded Cheddar Cheese
Shredded Mozzarella Blend
If you've been looking for a list of options that may work for you from Ruby Tuesday, I hope this information takes some of the guesswork out for you. That said, none of the items listed here in this post are considered truly gluten-free.
All ingredients and menu items from Ruby Tuesday are susceptible to cross contamination in the kitchens and prep areas.
Even if there are no gluten-containing ingredients in the dish, it doesn't mean there is no gluten in it after being prepared. Keep this in mind when deciding on a restaurant and when choosing from their menu.
Looking for more information on gluten-free restaurants?
Be sure to check out my Gluten-free Restaurants post or get all the information in one place with my Gluten-free Restaurant Guide!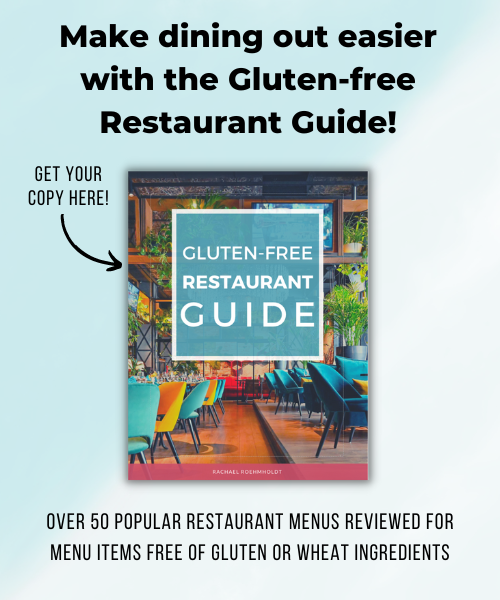 If you loved this post, I hope that you'll share it with your friends on Facebook and pin it for future reference on Pinterest.