Find out what menu items from Sonic do not contain gluten and what you need to know about their gluten-free options.
Note: I am a proud Amazon, Chomps, MunkPack, and Thrive Market affiliate and am happy to recommend their service and products to you. Please know that as an affiliate, I may receive a small commission on the products you purchase after clicking through my links. For more info, please see my disclosure policy here.
Do you love the food from Sonic? The burgers, fries, and popular drinks are well known for many folks who love the experience of this drive thru fast food restaurant.
So many people love this fast food option for their unique drinks and slushes, as well as their 2 for $5 menu.
If you follow a gluten-free diet, you know that finding fast food options can be tricky – and frankly, impossible – sometimes.
That's why we're doing a deep dive into the menu of this popular fast food chain to find out what you can enjoy on a gluten-free diet from Sonic.
We'll also talk about what you need to know about how they handle allergens in their kitchens, as well as specific menu items that don't contain any gluten or wheat ingredients.
Plus we'll review where you can find gluten in many other restaurants as well as what you should know about cross contamination.
What is gluten?
Gluten is a protein found in most wheat products, and acts as the "glue" that helps to hold wheat, barley, kamut, spelt, farro, durum, bulgur, rye, and semolina together to maintain their shape.
Gluten is naturally occurring, and therefore is impossible to strip away from the grain. If a grain naturally has gluten in it, there's no way to make that food gluten-free.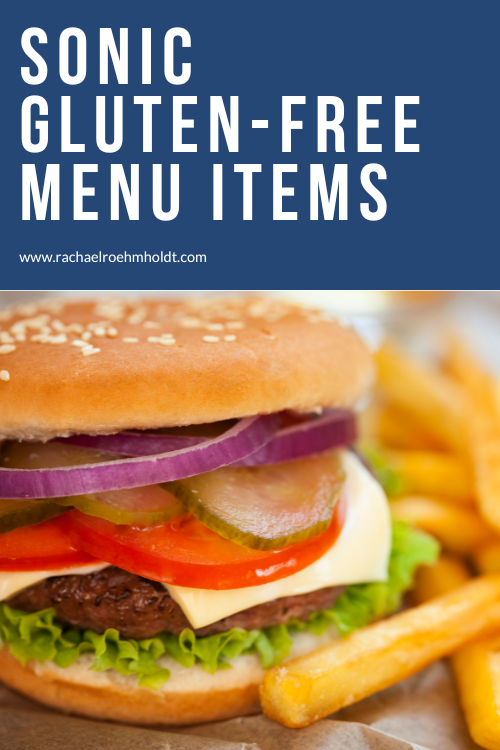 Where can you find gluten in food?
Gluten can be found in the form of wheat and grain products, like bread or flour in the more obvious places.
You can also find gluten as a binding ingredient, an ingredient added for texture like to make a food more crispy, or as a thickening agent.
Where can you find gluten in restaurants?
Depending on the restaurant you're visiting, you may find gluten in a variety of places.
At fast food restaurants, there will be gluten in hamburger buns, the breading of crispy chicken sandwiches or chicken nuggets, some French fries, salad dressings, croutons on salad, and chili or soup options.
At other restaurants, you'll find gluten in flour in sauces, in pizza or other pastry dough, pasta, and as a thickener in some soups.
Where gluten is found in the menu items will vary from restaurant to restaurant. That's why it's always a good idea to review menus from home, and see if you can find any allergen information before you get to the restaurant itself.
Being able to review nutritional information and allergen statements before visiting a fast food restaurant can be the difference between ordering something that you think is safe for your gluten-free diet and getting sick.
Being knowledgeable about what specific menu items you'll be able to eat without any worries of later reactions is crucial to sticking with your gluten-free diet.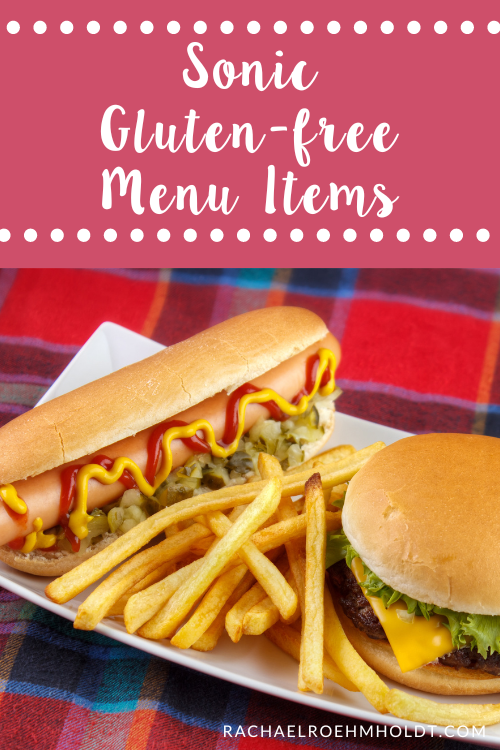 Sonic allergen statement
According to the Sonic website on their Allergen Information PDF available from their website, here is what they have to say about allergens, including gluten, in their restaurants.
"(…) Persons who are allergic to certain food substances are warned not to rely upon this allergen guide as a medical guide for allergens. Products containing allergens (e.g., peanuts, fish, eggs, milk, soy, wheat, tree nuts, shellfish, etc.) are used in the restaurants and may come in contact with other foods and drinks.
Fried foods may be exposed to gluten and allergens. Because all products may have come in contact with a trace amount of animal-derived ingredients, no menu items have been certified as vegetarian.
Allergen information was current at the time of publication but may change without notice when product formulations, ingredients or suppliers change."
There is another note on this document stating the following:
"Certain Sonic fresh bread products may have different ingredients because Sonic Drive-Ins purchase from local bakeries whose ingredients and allergens may vary. Ingredients in the following bread products include wheat, milk or egg in any combination and other allergens: hamburger buns, wheat buns, hot dog buns and Texas toast."
There is also this warning for folks who are gluten-free:
"Warning: Fried foods may be exposed to gluten and allergens. Fryer oil may come in contact with items containing milk, egg, fish, shellfish, soy, wheat and gluten because fried items are not always fried in designated stations.
Blended/Mixed drinks and frozen desserts may come in contact with milk, egg, soy, wheat, gluten, peanuts and tree nuts. Bun oil is added in toasting or cooking hamburger buns, wheat buns, Texas toast, eggs, grilled onions and grilled peppers. All grilled items may come in contact with bun oil."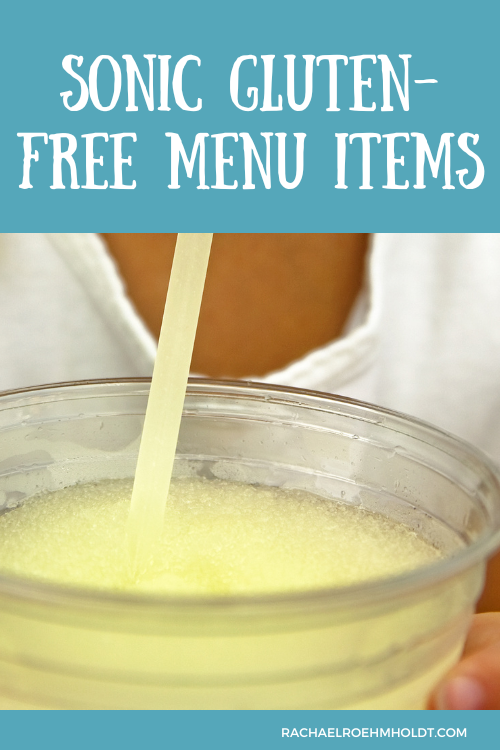 What you need to know about the gluten-free options at Sonic
Sonic makes it clear in their allergen statement that the ingredients used may vary from location to location, but some things do remain consistent.
The biggest takeaway is that they do not follow any protocols to keep foods that contain gluten away from foods that do not.
This means that if you're ordering from a Sonic and want to make sure what you order is gluten-free, the chances are going to be quite slim as almost everything is susceptible to cross contamination.
With a shared kitchen, utensils, and fryer oil, it's almost a guarantee that anything you order from the Sonic menu will contain at least some gluten from cross contamination.
The safest options will likely be fountain drinks, so use your best judgment when ordering from this fast food restaurant.
What to know about cross contamination at restaurants
Most fast food and carryout restaurants are not considered gluten-free establishments so it's useful to keep this in mind when making decisions about where to go and what to order.
It's important to know that even if a fast food restaurant claims that their menu items do not contain gluten, that the possibility and probability of gluten in their products is going to be high if there is even one menu item with gluten available.
Depending on your level of sensitivity to gluten, this can be make or break information for you.
If you are Celiac and are allergic to trace amounts of gluten, you'll likely want to avoid most fast food restaurants that offer any bread products or French fries that are cooked in a shared fryer with other gluten-containing ingredients.
If you are not sensitive to gluten at the trace level and have adverse reactions to gluten due to a food intolerance, you may decide that these trace amounts of gluten from cross contamination are worth risking for a quick, easy, and convenient food option.
Being aware of how you have reacted to gluten in your diet in the past and how much gluten it takes for your body to react is useful knowledge when it comes to situations like these.
Use your best judgment about what you know about your body, how you react to gluten, and what the risks are for you specifically.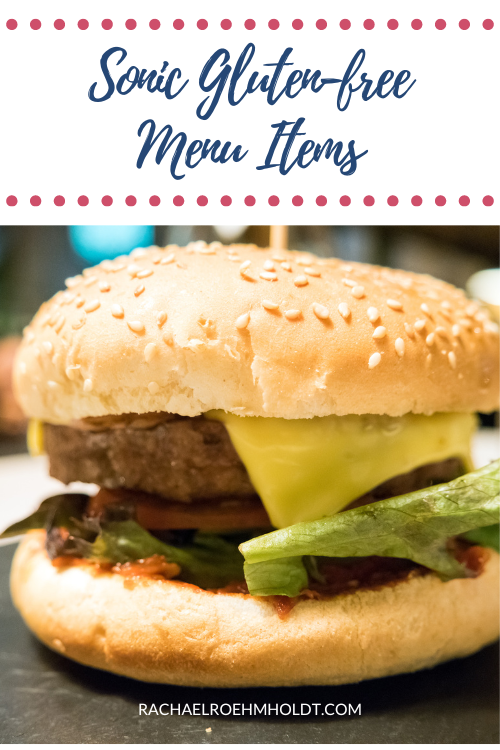 Sonic Gluten-free Menu Items
There aren't very many options from Sonic that do not contain gluten. The menu items listed here are not considered gluten-free by the company, as they are quite likely to have some kind of gluten cross contamination from other ingredients in the kitchen.
These menu items are listed by Sonic on their website as not containing any gluten or wheat ingredients.
Use your best judgment to decide if any of these menu items will work for you based on what you know about your level of sensitivity to gluten and how your body reacts.
Bread Items
None of the Bread Items menu options from Sonic are considered gluten-free.
Cheese
American Cheese (Sliced)
Cheddar Cheese (Shredded)
Cheddar Cheese Sauce
White American Cheese (Shredded)
Zesty Cheese Sauce
Condiments
Buffalo Sauce
Celery Salt
Hickory BBQ
Honey BBQ Sauce
Ketchup
Mayonnaise
Mustard
Ranch Dressing
Salt/Pepper Blend
Tartar Sauce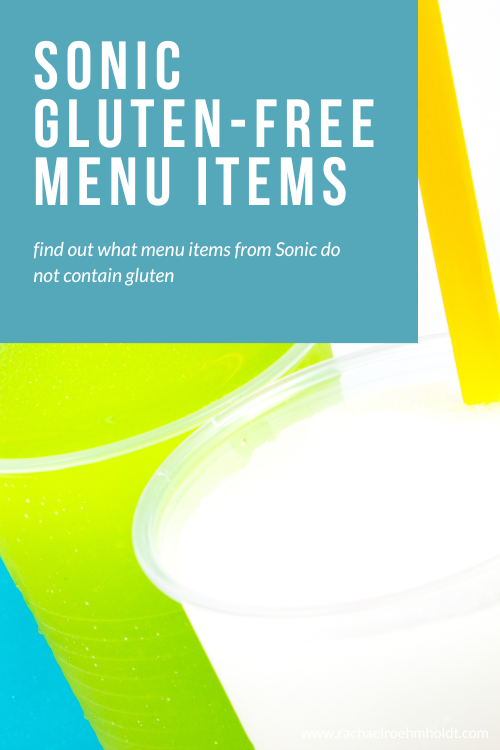 Condiment Packets
BBQ Sauce
Coffee Creamer
Cream Cheese Frosting
Grape Jelly
Honey Mustard
Ketchup
Lemon Juice
Light Mayonnaise
Marinara
Mustard
Pepper
Ranch
Salsa de Sonic
Salt
Signature Cheese Sauce
Signature Sauce
Strawberry Jam
Sugar
Sugar Substitute
Sweet and Sour Sauce
Sweet Relish
Syrup
Drinks
1% Milk
Barq's Root Beer
Big Red
Canada Dry Ginger Ale
Coca-Cola
Coca-Cola Zero Sugar
Cold Brew Iced Coffee
Diet Coke
Diet Dr Pepper
Dr Pepper
Fanta Orange
Fresh Brewed Sweet Tea
Green Mountain Coffee Roasters Hot Coffee
Hi-C Fruit Punch
Hot Chocolate
Lemonade
Mello Yello
Minute Maid Apple Juice Box
Minute Maid Orange Juice
Powerade
Sonic Wave Bottled Water
Sprite
Sprite Zero
Sun Drop
Flavor Add-ins & Syrups
Blackberry Sugar-Free Syrup
Blue Coconut Syrup
Blue Raspberry Syrup
Cherry Syrup
Diet Cherry Sugar-Free Syrup
French Vanilla Syrup
Grape Syrup
Mango Sugar-Free Syrup
Peach Sugar-Free Syrup
Raspberry Sugar-Free Syrup
Fried Items
Frozen & Ice Cream Items
Ice Cream (Vanilla)
Lemonade Slush
Limeade Slush
Plain Slush Base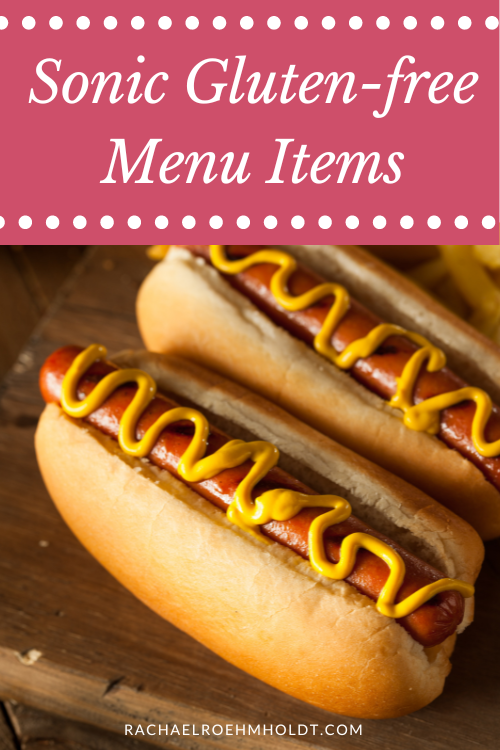 Grill Items
6″ Halal Hot Dog
6″ Hot Dog (All Beef)
12″Hot Dog (Pork & Beef)
Bacon
Breakfast Sausage Crumbles
Breakfast Sausage Patty
Egg
Grilled Chicken Breast
Grilled Onions
Halal Hamburger Patty (2 oz)
Halal Hamburger Patty (4 oz)
Ham
Hamburger Patty (2 oz)
Hamburger Patty (4 oz)
Sirloin Steak
Veggie Burger Patty
Oil & Shortening
Bun Oil
Fryer Shortening
Liquid Margarine
Other
Fritos Corn Chips
Mint
Slaw
Tree Top Applesauce
Sandwich Toppings
Avocado
Dill Pickle Chips
Dill Pickle Spears
Hatch Green Chiles
Jalapenos
Lettuce
Diced Onion
Sauerkraut
Sport Peppers
Sweet Pickle Relish
Tomato
Toppings & Add-Ins
Butterfinger Pieces
Fresh Banana
Lemon
Lime
M&M's Minis Chocolate Candies
Maraschino Cherries
Peanut Butter Topping
Reese's Peanut Butter Cups
Snickers Bars
Strawberry Topping
Whipped Topping
If you enjoy eating at Sonic and have wondered if this is going to continue to be a good choice for you while you're on a gluten-free diet, I hope this information has been helpful for you.
Most menu items contain gluten or are susceptible to cross contamination with other gluten-containing ingredients in the kitchens.
Use your best judgment based on what you know about how you can handle trace amounts of gluten to decide if this is a good fast food restaurant for you – and what options you can safely order.
Looking for more information on gluten-free restaurants?
Be sure to check out my Gluten-free Restaurants post or get all the information in one place with my Gluten-free Restaurant Guide!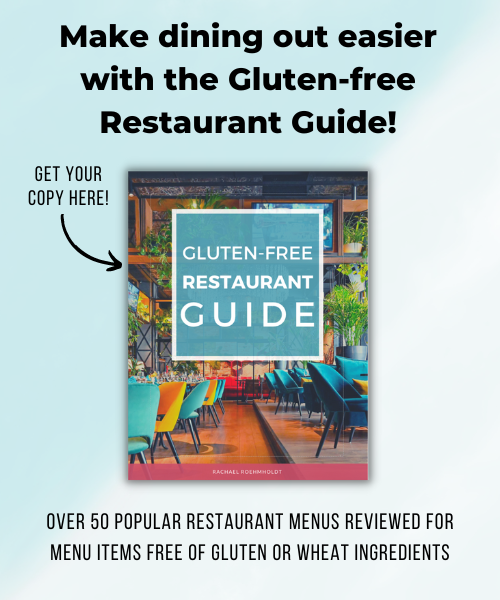 If you loved this post, I hope that you'll share it with your friends on Facebook and pin it for future reference on Pinterest.