Find out what menu items from KFC do not contain gluten and what you need to know about their gluten-free options.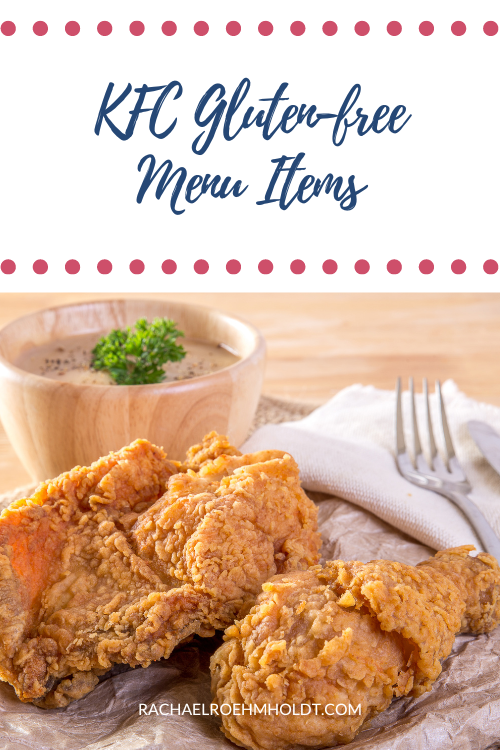 Note: I am a proud Amazon, Chomps, MunkPack, and Thrive Market affiliate and am happy to recommend their service and products to you. Please know that as an affiliate, I may receive a small commission on the products you purchase after clicking through my links. For more info, please see my disclosure policy here.
If you like to find a quick meal while out and about, you may have been through the drive thru at KFC a time or two.
But if you're just getting started with a gluten-free diet or simply looking to find out what fast food options you can consider on this diet, you're probably wondering if KFC is a safe place for you to visit.
In this post, we're going to discuss KFC restaurants and dig into how the company handles allergens, what menu items may be safe if you avoid gluten, and what you need to know about cross contamination at KFC.
We'll also talk about gluten and cross contamination at other restaurants so you know what to expect when you go out for a meal at a fast food restaurant or other restaurant, and you can be prepared.
But first, let's cover the basics of gluten and where you can find it in many foods.
What is gluten?
Gluten is a protein found in most wheat products, and acts as the "glue" that helps to hold wheat, barley, kamut, spelt, farro, durum, bulgur, rye, and semolina together to maintain their shape.
Gluten is naturally occurring, and therefore is impossible to strip away from the grain. If a grain naturally has gluten in it, there's no way to make that food gluten-free.
Where can you find gluten in food?
Gluten can be found in the form of wheat and grain products, like bread or flour in the more obvious places.
You can also find gluten as a binding ingredient, an ingredient added for texture like to make a food more crispy, or as a thickening agent.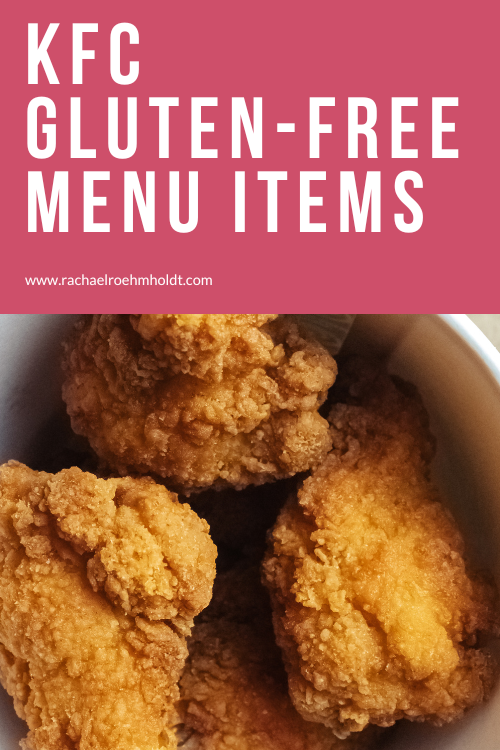 Where can you find gluten in restaurants?
Depending on the restaurant you're visiting, you may find gluten in a variety of places.
At fast food restaurants, there will be gluten in hamburger buns, the breading of crispy chicken sandwiches or chicken nuggets, some French fries, salad dressings, croutons on salad, and chili or soup options.
At other restaurants, you'll find gluten in flour in sauces, in pizza or other pastry dough, pasta, and as a thickener in some soups.
Where gluten is found in the menu items will vary from restaurant to restaurant. That's why it's always a good idea to review menus from home, and see if you can find any allergen information before you get to the restaurant itself.
Being able to review nutritional information and allergen statements before visiting a fast food restaurant can be the difference between ordering something that you think is safe for your gluten-free diet and getting sick.
Being knowledgeable about what specific menu items you'll be able to eat without any worries of later reactions is crucial to sticking with your gluten-free diet.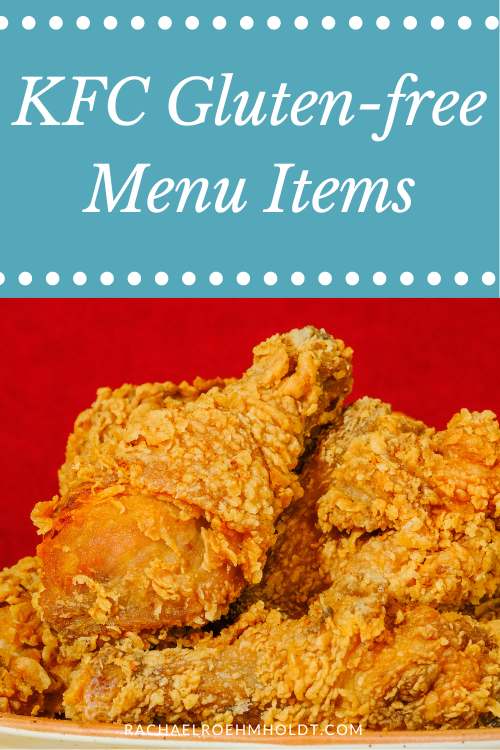 KFC allergen statement
According to the KFC website, here is what they have to say about how they handle food allergies and sensitivities in their kitchens:
"Like most restaurants, we prepare and serve products that may contain egg, milk, soy, wheat or other allergens. While a particular ingredient may not contain one of these allergens, our products may be prepared on the same equipment and in the same kitchen area as those that do.
We cannot guarantee that cross contact with allergens will not occur and neither KFC, our employees, or our franchisees assume any responsibility for a person's sensitivity or allergy to any food item provided in our restaurants.
The allergen information displayed on this site is based on standard product formulations and is current as of last update to this site. Variations may occur due to differences in suppliers, ingredient substitutions, recipe revisions, and/or product production at the restaurant."
This allergen disclaimer goes on to say:
"No allergen or nutritional information on our website should be considered a guarantee, but simply a good faith effort to serve our customers."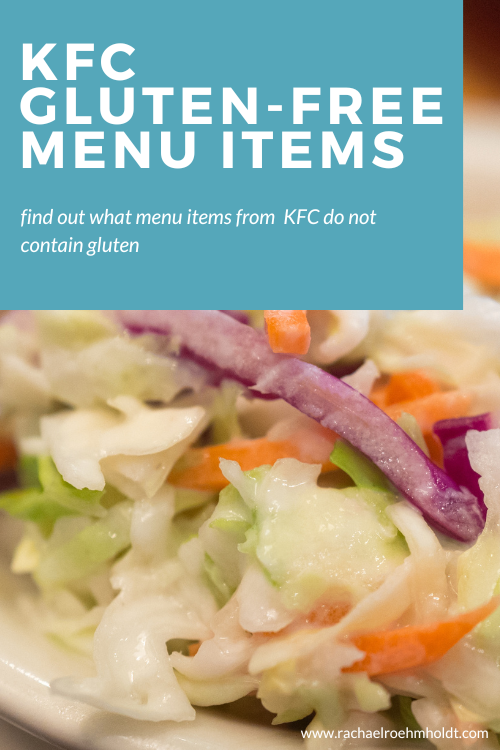 What you need to know about the gluten-free options at KFC
One useful thing about the KFC website is that they have an interactive menu with allergens for you to choose from to help you customize the menu to only include options that work for you and your diet.
The options are eggs, fish, gluten, milk, MSG, peanuts, shellfish, soy, tree nuts, and wheat. This is particularly useful if you have more than one allergy or food intolerance to customize their menu items to your specific needs.
In terms of the menu itself, none of the chicken options from KFC are considered free of gluten or wheat ingredients.
In fact, none of the menu items from KFC at all are considered gluten-free, but instead free of wheat or gluten ingredients.
The company makes it clear that cross contamination is highly likely and they do not make any efforts to keep ingredients with gluten separate from ingredients without gluten. Keep this in mind before ordering anything from KFC if you are gluten intolerant or have celiac disease.
If you feel okay about consuming gluten at the amount that might be possible from cross contamination, a few of the menu items that you may consider are a few of the side dishes, like coleslaw, corn on the cob, and mashed potatoes.
Two of their salads are okay: the Caesar side salad and the house side salad, as well as a few salad dressing options. All of their fountain drinks and beverages contain no gluten and are probably the safest things on the menu.
What to know about cross contamination at restaurants
Most fast food and carryout restaurants are not considered gluten-free establishments so it's useful to keep this in mind when making decisions about where to go and what to order.
It's important to know that even if a fast food restaurant claims that their menu items do not contain gluten, that the possibility and probability of gluten in their products is going to be high if there is even one menu item with gluten available.
Depending on your level of sensitivity to gluten, this can be make or break information for you.
If you are Celiac and are allergic to trace amounts of gluten, you'll likely want to avoid most fast food restaurants that offer any bread products or French fries that are cooked in a shared fryer with other gluten-containing ingredients.
If you are not sensitive to gluten at the trace level and have adverse reactions to gluten due to a food intolerance, you may decide that these trace amounts of gluten from cross contamination are worth risking for a quick, easy, and convenient food option.
Being aware of how you have reacted to gluten in your diet in the past and how much gluten it takes for your body to react is useful knowledge when it comes to situations like these.
Use your best judgment about what you know about your body, how you react to gluten, and what the risks are for you specifically.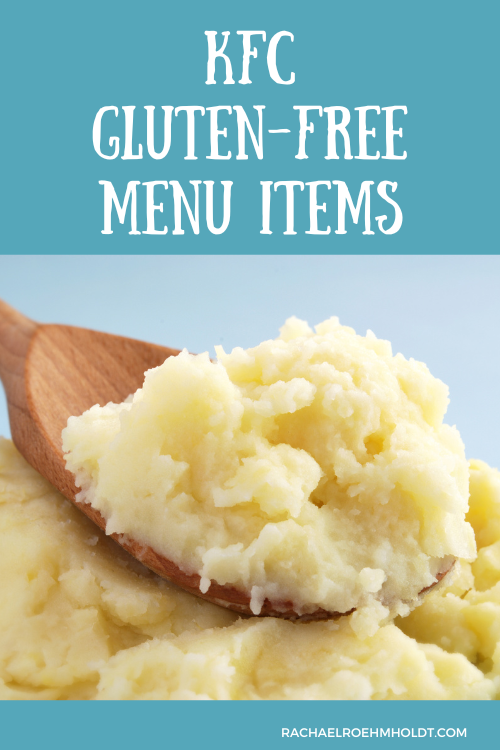 KFC Gluten-free Menu Items
Using the Special Diets Menu and the interactive allergen wizard on the KFC website, I chose wheat and gluten as allergens for the menu items listed here.
Homestyle Sides (Individual)
Coleslaw
Corn on the Cob
Green Beans
Mashed Potatoes
Potato Salad
Sweet Kernel Corn
Homestyle Sides (Family)
Coleslaw (Family)
Corn on the Cob (Family)
Green Beans (Family)
Mashed Potatoes (Family)
Potato Salad (Family)
Sweet Kernel Corn (Family)
Salads
The salads listed here do not include dressing or croutons.
Caesar Side Salad
House Side Salad
Dressing and Croutons
Heinz Buttermilk Dressing
Hidden Valley The Original Ranch Fat Free Dressing
KFC Creamy Parmesan Caesar Dressing
Marzetti Light Italian Dressing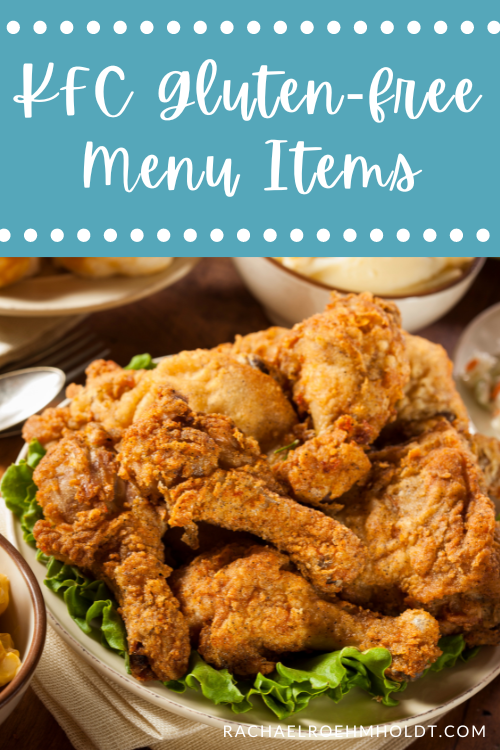 Dipping Sauces & Condiments
BBQ – Dipping Sauce Cup
Colonel's Buttery Spread
Grape Jelly Packet
Honey Mustard – Dipping Sauce Cup
Honey Sauce Packet
Ketchup
KFC Sauce – Dipping Sauce Cup
Lemon Juice Packet
Ranch – Dipping Sauce Cup
Strawberry Jam Packet
Kids Drinks
Capri Sun 100% Juice Fruit Punch
Chocolate Milk 1%
Milk 1%
Kids Meal Applesauce
Beverages
7Up
Classic Lemonade
Code Red Mountain Dew
Diet Dr Pepper
Diet Mist Twist
Diet Mountain Dew
Diet Pepsi
Diet Pepsi Wild Cherry Pepsi
Dr Pepper
Lipton Brisk Lemon Tea
Lipton Brisk No Calorie Peach Iced Green Tea
Lipton Brisk Raspberry Tea
Lipton Brisk Sweet Iced Tea
Lipton Brisk Unsweetened No Lemon Iced Tea
Manzanita Sol
Miranda Strawberry
Mist Twist
Mountain Dew Sweet Lightning
Mountain Dew
Mug Root Beer
Pepsi
Pepsi Zero Sugar
Sobe Lifewater Yumberry Pomegranate
Strawberry Lemonade
Tropicana Fruit Punch
Tropicana Light Lemonade
Tropicana Pink Lemonade
Tropicana Twister Orange
Wild Cherry Pepsi
If you enjoy KFC food, I hope this information will give you a quick answer as to which ingredients and menu items will work best for you and your gluten-free diet.
Looking for more information on gluten-free restaurants?
Be sure to check out my Gluten-free Restaurants post or get all the information in one place with my Gluten-free Restaurant Guide!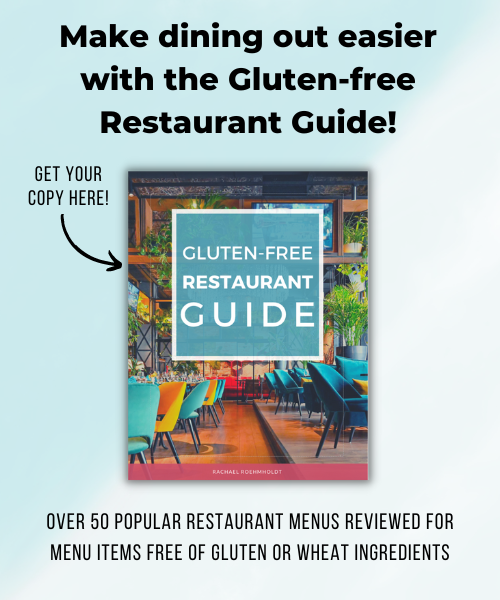 If you loved this post, I hope that you'll share it with your friends on Facebook and pin it for future reference on Pinterest.