Find out what options popular fast food chains offer for people following a gluten-free diet, including Burger King, McDonalds, and Wendy's.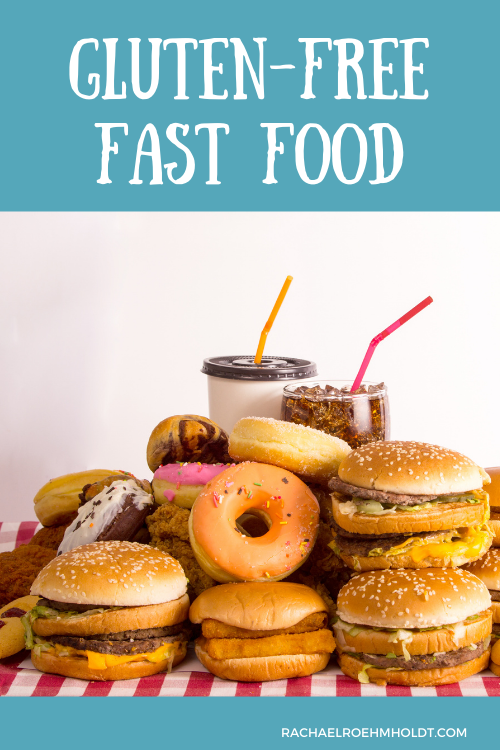 Note: I am a proud Amazon, Chomps, MunkPack, and Thrive Market affiliate and am happy to recommend their service and products to you. Please know that as an affiliate, I may receive a small commission on the products you purchase after clicking through my links. For more info, please see my disclosure policy here.
If you love eating out or going through a drive through on your way home from work on a busy evening but find it practically impossible to find gluten-free options, you're not alone.
There are so many great fast food chains out there, but without scouring every single restaurant's menu and website, it can be hard to know what menu options are safe for your while sticking with your gluten-free diet.
I've been rounding up menu items from some of the most popular fast food chains, like Burger King, McDonald's, Chick-fil-A, and Taco Bell. My goal is to not only have a good understanding of what each fast food restaurant offers in terms of gluten-free items, but what their stance is on allergens in their kitchens.
As we all know, being gluten-free isn't just about not including gluten ingredients in your food, it's about the cleanliness of the preparation area and separation from foods with gluten.
In this post, we're going to talk about some popular fast food restaurants, as well as go over some of the major things you'll want to know about eating at fast food restaurants on a gluten-free diet.
Before we dig in, let's go over some of the basics of a gluten-free diet so that we know we're on the same page with our understanding of what this diet entails.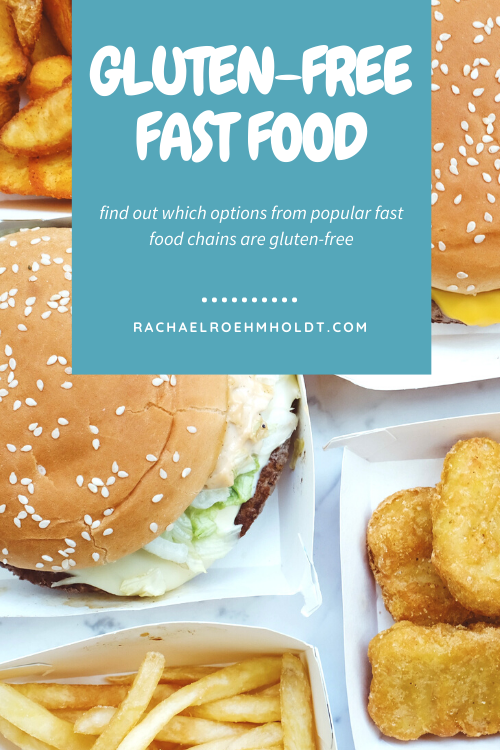 What is gluten?
Gluten is a protein found in most wheat products, and acts as the "glue" that helps to hold wheat, barley, kamut, spelt, farro, durum, bulgur, rye, and semolina together to maintain their shape.
Gluten is naturally occurring, and therefore is impossible to strip away from the grain. If a grain naturally has gluten in it, there's no way to make that food gluten-free.
Where can you find gluten in food?
Gluten is often found in the form of wheat and grain products, like bread, flour, or crackers. It can also be found as a binding ingredient, an ingredient added for texture like to make a food more crispy, or as a thickening agent.
Now that we know what gluten is and where it's often found in foods, let's talk a bit more specifically about gluten in fast food restaurants.
Where can you find gluten in many fast food restaurants?
Depending on the fast food restaurant you're visiting, you may find gluten in a variety of places. Hamburger buns, the breading of crispy chicken sandwiches or chicken nuggets, some French fries, salad dressings, croutons on salad, and chili or soup options.
At some fast food restaurants, gluten can be found in dessert menu items as well. Cookie or candy bites in ice cream contain gluten, as well as ice cream cones.
Where gluten is found in the menu items will vary from restaurant to restaurant. That's why it's always a good idea to review menus from home, and see if you can find any allergen information before you get to the restaurant itself.
Being able to review nutritional information and allergen statements before visiting a fast food restaurant can be the difference between ordering something that you think is safe for your gluten-free diet and getting sick, and being knowledgeable about what specific menu items you'll be able to eat without any worries of later reactions.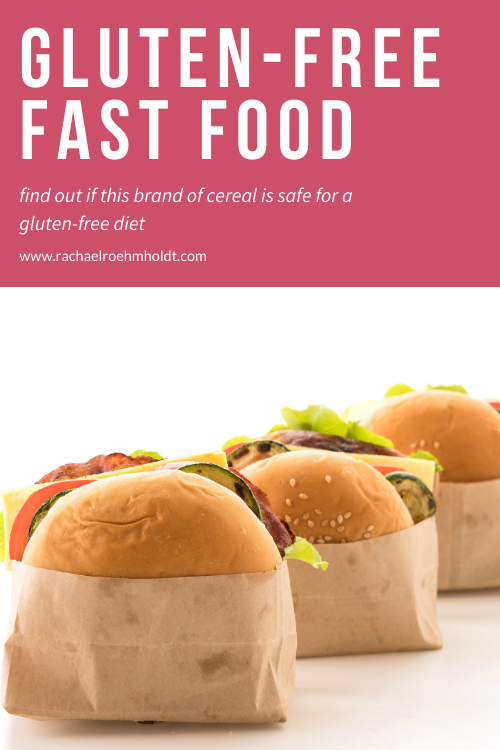 How to find out information about a fast food chain's allergen statement and information
When you're at a drive through or standing in line at a fast food restaurant, it can seem like this information isn't anywhere in sight.
You may need to ask about how the restaurant or chain handles allergens and specifically gluten. There may be a pamphlet on a bulletin board or a binder or folder that someone who works there can pull out from behind the counter for you.
What you're looking for is to understand how this specific fast food chain handles allergens and if anything is done to ensure that foods with gluten or other allergens aren't subjected to cross contamination.
The big spoiler here is that most fast food restaurants will likely have some cross contamination and that's just the nature of visiting one of these places for a convenient meal.
You have to know what your body's level of gluten sensitivity is and what your comfort level is knowing that gluten may be on the food that you order even if there's no gluten in that particular menu item.
If you can't find any allergen information in the fast food restaurant itself, you can look online. Most websites have some way of helping you to identify whether foods are made in shared fryers or what the ingredients in a menu item are.
If there's no obvious allergen statement online, you can assume that there is no question about cross contamination at this fast food chain, and that it for sure happens at this set of restaurants.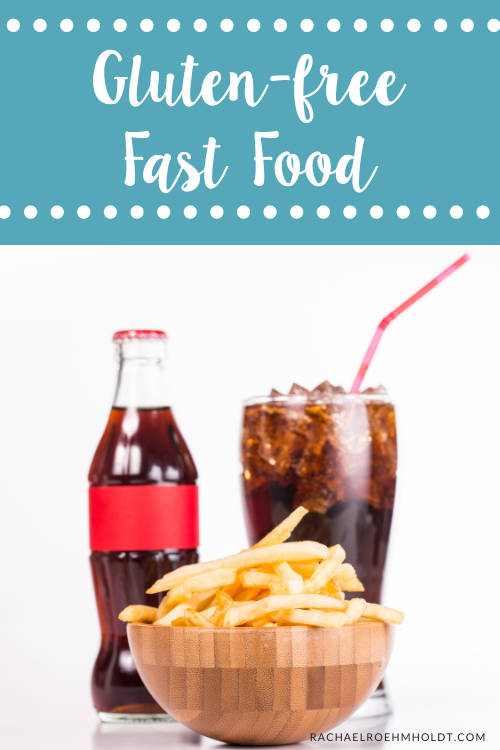 How to find out which fast food menu items are gluten-free
The easiest way to determine what the fast food chain offers in terms of gluten-free menu items after looking for an allergen statement is to see if they offer nutritional information on their website.
Many websites will have a section on their website that calls out the allergens and/or nutritional information. You can look through ingredients lists or some websites will offer filtering of their menu items to help you rule out the options that contain gluten ingredients.
Depending on the chain, the amount of information available may vary. Do your research, or check out the posts that I've done the work for you to help decide what you'd like to order from these restaurants.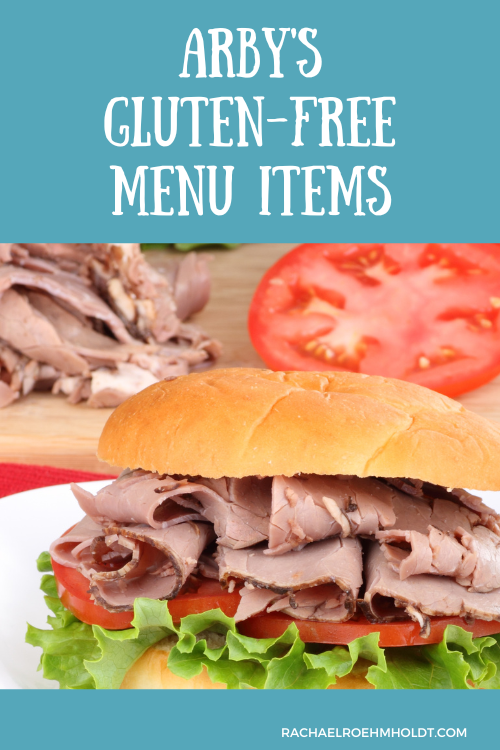 Arby's allergen statement makes its clear that there are no specific menu items that are gluten-free at any of their restaurants due to the cross contamination that is likely to occur in their kitchens.
Most menu items at this fast food chain have buns, sandwich bread, and/or are fried in a shared fryer with other gluten-containing ingredients.
That said, the few menu items you may consider ordering from Arby's if you have a gluten sensitivity and can tolerate gluten from cross contamination in your diet are:
Shakes (jamocha, chocolate, and vanilla)
Beverages
Read on: Are Arby's fries gluten-free?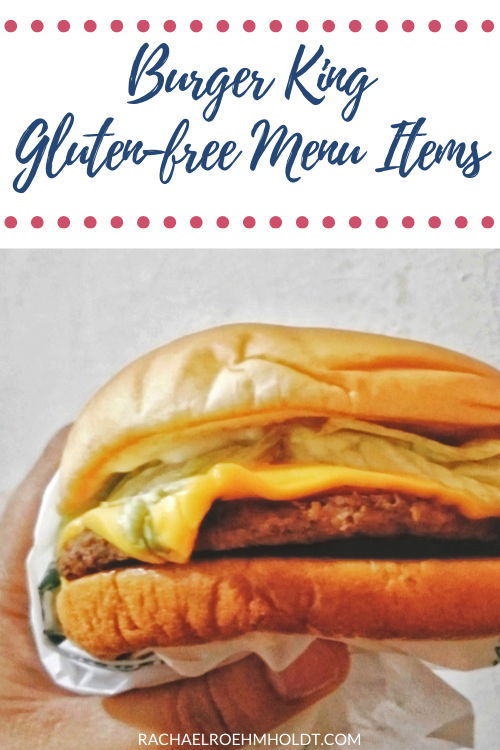 Burger King is clear that there is likely cross contamination in their chain restaurants. Most of their burgers have buns, their fries are made in a shared fryer, and the preparation areas in the kitchen are shared with gluten and gluten-free menu items.
That said, if you're still looking for something to order here that doesn't contain any gluten ingredients, here are a few options you may want to consider:
Garden Side Salad with one of their three gluten-free salad dressing options
Soft serve cup, vanilla shake, or chocolate shake
A beverage, like coffee, iced coffee, soda, orange juice, or iced tea
The options here are extremely limited unfortunately.
Read on: Are Burger King fries gluten-free?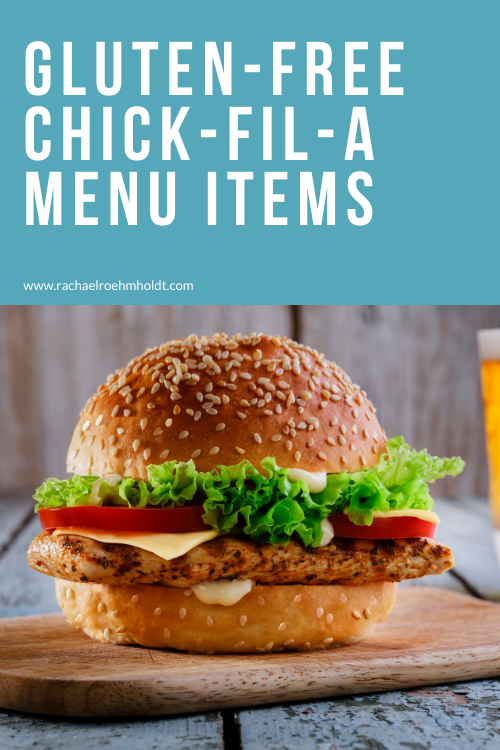 Chick-Fil-A is great about being transparent about what ingredients they use in their menu items, though they make it clear that their restaurants very likely will have cross contamination with gluten in every area of their kitchens.
If you're interested in ordering something from Chick-Fil-A knowing this information about cross contamination, here are some menu items without any gluten ingredients specifically added to them:
Grilled Nuggets
Spicy Southwest Salad
Market Salad
Waffle Potato Fries (they're cooked in canola oil rather than a shared fryer)
Most of their beverages
Frosted lemonade or coffee
Chocolate, strawberry, or vanilla milkshake
Read on: Are Chick-fil-A fries gluten-free?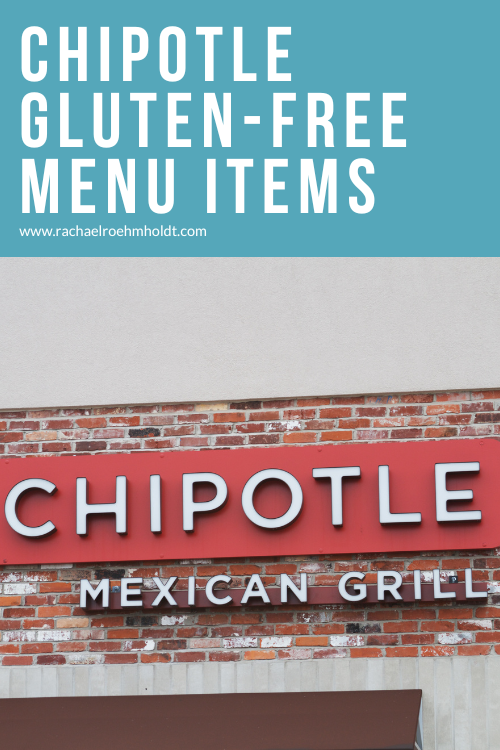 There is no specific "gluten-free" claim from Chipotle as this restaurant does offer ingredients that contain gluten. Their flour tortillas used for tacos and burritos are made with wheat flour and should be avoided.
Chipotle cares about transparency with the food they serve. You can review ingredients in all their different foods on their website, which is handy if you have questions about what a menu item contains.
Cross contamination is a possibility at Chipotle and the level of attention to keep the risk of cross contact will vary from one restaurant to another. 
These are the menu items from Chipotle that do not contain gluten or wheat ingredients but still may have these from cross contamination:
Proteins (barbacoa, carnitas, chicken, sofritas, steak)
Rice (brown and white)
Beans (black and pinto)
Salsa (fresh tomato, roasted chili-corn, tomatillo green-chili, tomatillo red-chili)
Corn tortillas
Fajita vegetables
Tortilla chips
Some toppings (guacamole, Monterey jack cheese, queso blanco, romaine lettuce, sour cream, supergreens lettuce blend, chipotle honey vinaigrette)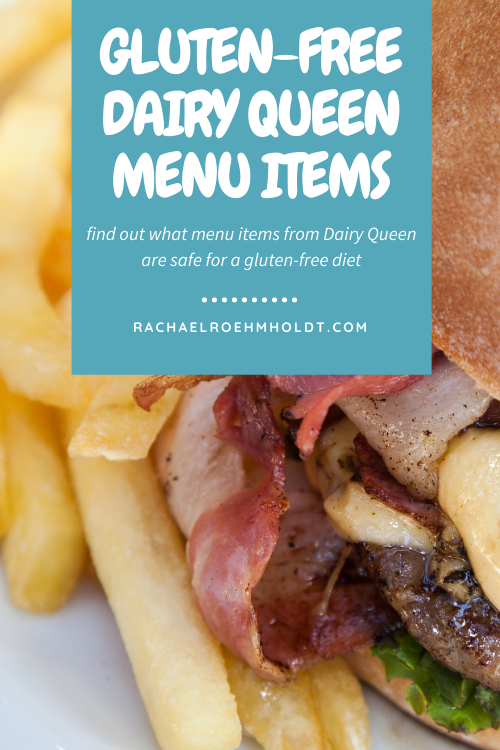 Dairy Queen has an official statement for folks who are gluten-sensitive, which states that many of their menu items will have cross contamination. The safest options are those that come in clear plastic packaging, like their manufactured novelties: Dilly® Bars, Buster Bar® Treats, Fudge Bars, Vanilla Orange Bars, or Starkiss® Bars.
If you are looking for other options knowing that there is still a likelihood of cross contamination, choose one of these menu items that have no gluten ingredients:
Rotisserie-style Chicken Bites or Salad Bowl
Four Blizzard options: Cotton Candy, Snickers, Turtle Pecan Cluster, Very Cherry Chip
One their shakes
One of their sundaes
A premium fruit smoothie
A Julius Original
Read on: Is Dairy Queen ice cream gluten-free?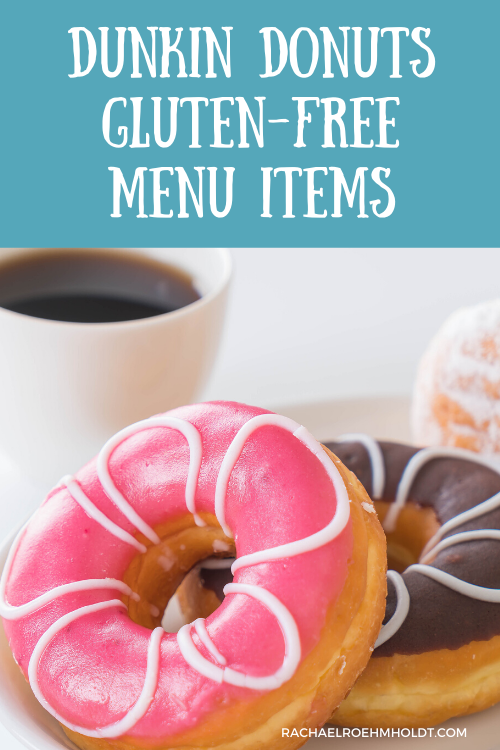 Dunkin Donuts has an Allergen and Ingredient Guide that states clearly that there is a high chance of gluten cross contamination with most of their food and drinks.
If you are still interested in ordering something from Dunkin Donuts with the knowledge that there is likely to be cross contamination, choose one of these options:
Bacon & Cheddar or Egg White & Veggie Omelet Bites
Many of their drinks
Many of their packaged drinks
Review this Dunkin Donuts Gluten-free Menu Items post for a full detailed list of the drink options – there are simply too many to list in this post!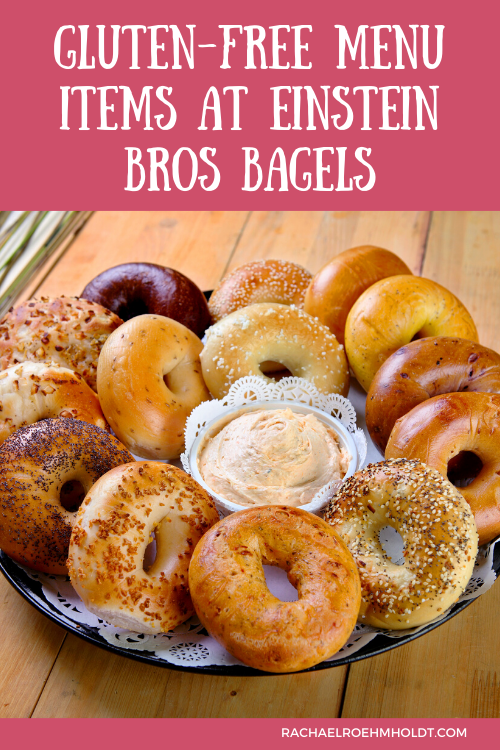 Einstein Bros Bagels states in their allergen statement that "there is a possibility of food touching, allergens like wheat becoming airborne or common equipment being utilized to handle foods containing any of the major allergens."
Keep this in mind before ordering from this fast food restaurant. If you still want to find something without gluten ingredients, here are your options:
Broccoli Cheese Soup
Beverages
Some of the ingredients that are sold to go on their bagels don't contain gluten ingredients, but they don't sell them individually.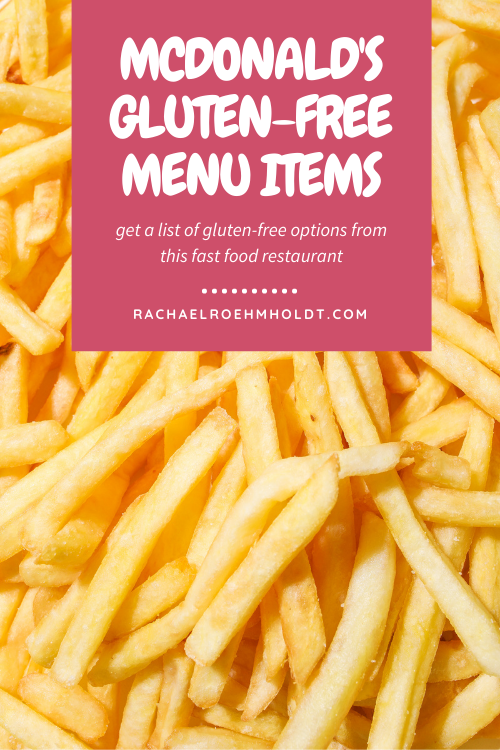 McDonald's like many other fast food chains are run as franchises, meaning one restaurant could vary from another down the road.
The McDonald's company states in their allergen statement that "despite taking precautions, normal kitchen operations may involve some shared cooking and preparation areas, equipment and utensils, and the possibility exists for your food items to come in contact with other food products, including allergens."
Knowing that there is likely some gluten cross contamination with most menu items, you can decide for yourself if you'll order from this fast food restaurant. If you still want to find something to order, choose an option that has no gluten ingredients, including these menu items:
All their beverage options
McFlurry with M&M's
Chocolate, Vanilla, or Strawberry Shake
Hot Fudge or Hot Caramel Sundae
All McCafe drinks
Read on: Are McDonald's fries gluten-free?
Read on: Are McDonald's hash browns gluten-free?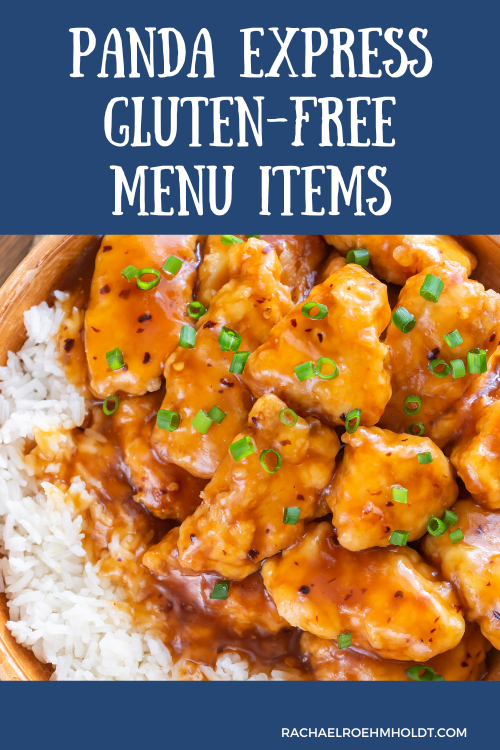 Panda Express makes it known that they do not offer any gluten-free dishes whatsoever in their restaurants.
They are clear in their allergen statement that they use ingredients with wheat and gluten and these ingredients are used in their kitchens. It seems as though no effort is made to accommodate folks who are celiac or have a gluten sensitivity or intolerance.
To keep up with your gluten-free diet, your best bet is to stick with their fountain drinks and other beverage options.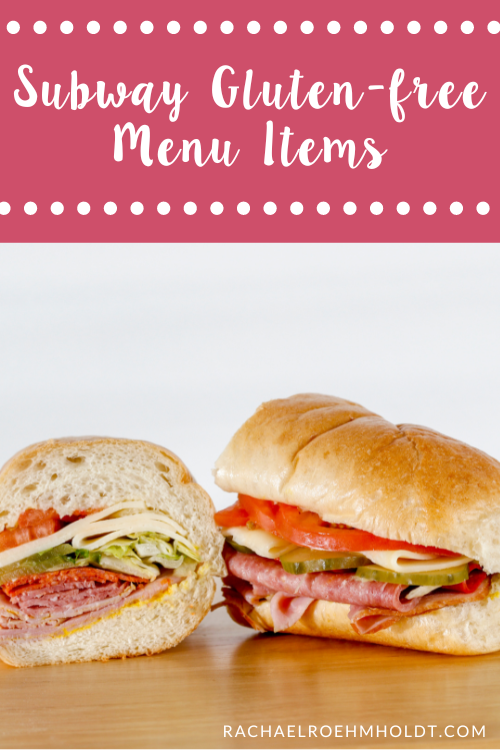 Some Subway restaurants offer gluten-free bread, but not all. Check with your local Subway before visiting to make sure they have a gluten-free bread option for you.
Though they offer gluten-free bread, you'll want to be aware of cross contamination throughout the kitchen and prep areas. Since they do serve bread with gluten, the chances of cross contact are high.
If you are gluten sensitive and not celiac, you may make the choice to visit this fast food restaurant. In this case, these are the toppings and options that Subway states do not contain gluten or wheat-containing ingredients:
Many protein options, like bacon, grilled chicken, cold cut combo meats, black forest ham, Italian BMT, pepperoni, steak, oven-roasted turkey breast, and more
Cheese (American, fresh mozzarella, Monterey cheese blend, parmesan, pepperjack, provolone)
Many of their condiment & dressing options (Caesar, chipotle southwest, honey mustard, mayonnaise, oil, ranch, and more)
All vegetable options
Broccoli & Cheddar soup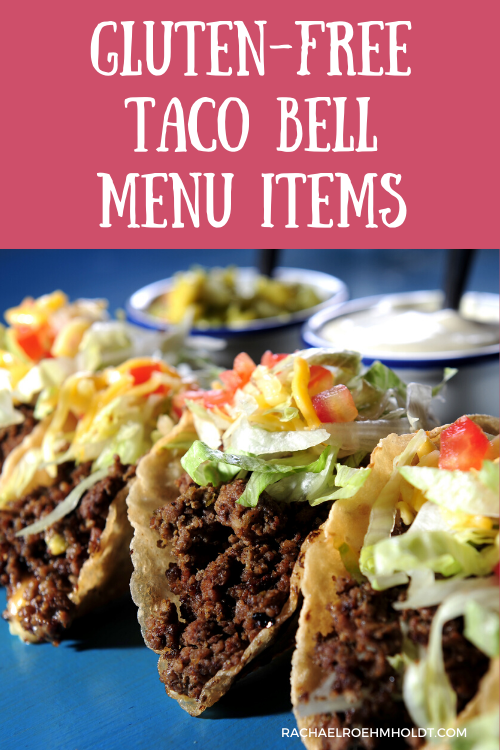 Taco Bell's allergen statement states that they don't claim any of their food is "gluten-free." They go on to say "Some Taco Bell® items are made without gluten containing ingredients but are prepared in common kitchen areas, including common fryer oil, risking gluten exposure. Taco Bell® does not recommend products for customers with celiac disease. Customers with gluten sensitivities should exercise judgment when ordering."
If you are still looking for options from Taco Bell, choose one of the following menu items that they say have no gluten ingredients included:
Crunchy Taco or Supreme version
Nacho Cheese Doritos Locos Taco or Supreme version
Power Menu Bowls with chicken, steak, or veggies
Black Beans or Black Beans & Rice
Many of their drinks and fountain beverages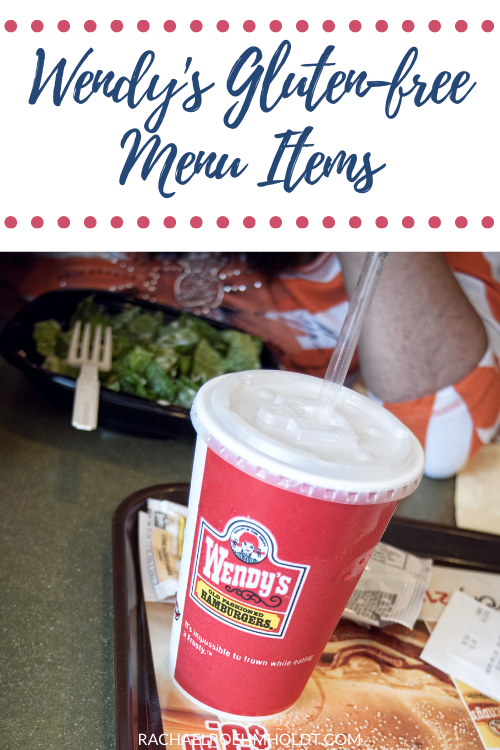 Wendy's makes it clear on their website that cross contact is possible in the handling and preparation of all food made in their restaurants. They don't guarantee any menu item is completely free of allergens and customers with allergies and sensitivities should exercise judgment when ordering.
Even so, if you'd like to find an option from the Wendy's menu that has no gluten ingredients, choose from the following:
Grilled Asiago Ranch Chicken Club, Parmesan Caesar Salad, Southwest Avocado Salad, and Apple Pecan Salad – though all have a note that a shared cutting board is used for the grilled chicken in these salads
Taco Salad
Chili
Baked Potatoes (all varieties)
Many of their beverages and fountain drinks
Classic Chocolate or Vanilla Frosty
Read on: Is Wendy's chili gluten-free?
If you've been wondering what your gluten-free options are for fast food, I hope this post has given you some insight as to what you can order. As you can see, there are rarely options that won't have the caveat of potential cross contamination.
If you absolutely have to choose something at one of these fast food restaurants on a gluten-free diet, your best bet is to stick to beverages or foods that come in clear plastic packaging that have been manufactured away from the restaurant's kitchen.
Have other fast food restaurants you want me to add to the list? Share them in the comments below!
If you loved this post, I hope that you'll share it with your friends on Facebook and pin it for future reference on Pinterest.
More Gluten-free Restaurant Menu Items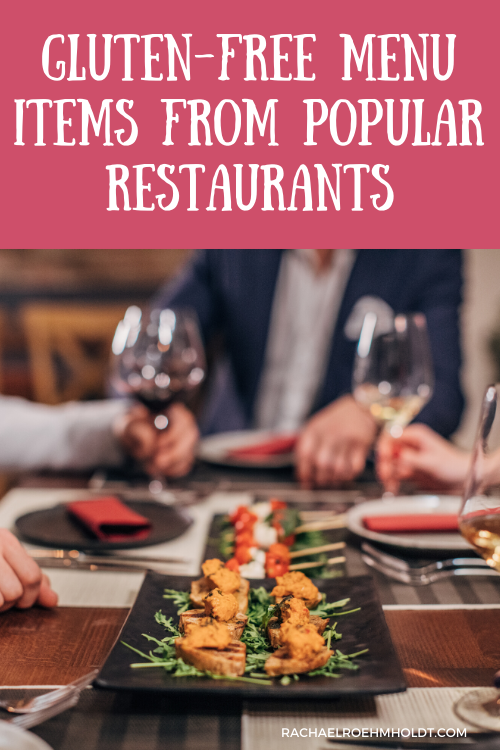 If you're looking at other popular restaurants and wondering what gluten-free menu items they offer, be sure to check out some of these posts. I've outlined all the gluten-free options from each of the following places, plus tips on cross contamination.