Find out what menu items from Papa Murphy's do not contain gluten and what you need to know about their gluten-free crusts.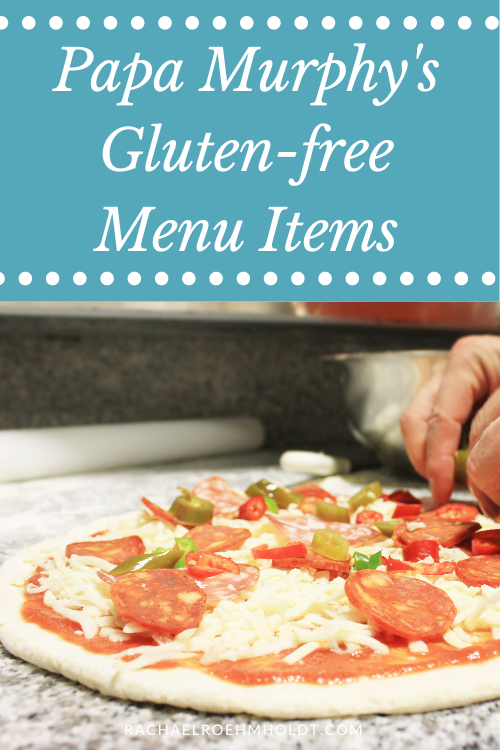 Note: I am a proud Amazon, Chomps, MunkPack, and Thrive Market affiliate and am happy to recommend their service and products to you. Please know that as an affiliate, I may receive a small commission on the products you purchase after clicking through my links. For more info, please see my disclosure policy here.
If you love pizza and have found yourself wanting to make pizza for a family movie night or get together with friends, but didn't want to be bothered with making it from scratch or having it delivered, you may have opted to buy from Papa Murphy's.
Papa Murphy's is a popular pizza restaurant where you buy the pizza and take it home to finish cooking it. Their "take and bake" idea isn't revolutionary – you can buy prepared pizzas to bake at home from any grocery store. But the idea that it's freshly prepared and not frozen is what people love about it.
If you have just started on a gluten-free diet and are looking for which restaurants will work for you, you may have questions about the menu at Papa Murphy's. If I'm speaking right to you, you're in the right place and keep on reading!
In this post, we're going to talk about the basics of a gluten-free diet as well as where you can find gluten in many foods and restaurants. We'll also do a deep dive into the menu at Papa Murphy's and discuss everything you need to know about their gluten-free crusts.
What is gluten?
Gluten is a protein found in most wheat products, and acts as the "glue" that helps to hold wheat, barley, kamut, spelt, farro, durum, bulgur, rye, and semolina together to maintain their shape.
Gluten is naturally occurring, and therefore is impossible to strip away from the grain. If a grain naturally has gluten in it, there's no way to make that food gluten-free.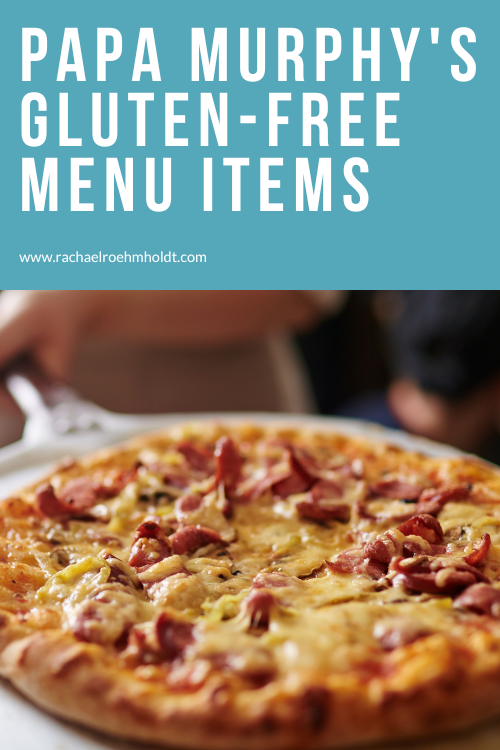 Where can you find gluten in food?
Gluten can be found in the form of wheat and grain products, like bread or flour in the more obvious places.
You can also find gluten as a binding ingredient, an ingredient added for texture like to make a food more crispy, or as a thickening agent.
Where can you find gluten in restaurants?
Depending on the restaurant you're visiting, you may find gluten in a variety of places.
At most restaurants, there will be gluten in hamburger buns, the breading of crispy chicken sandwiches or chicken nuggets, some French fries, salad dressings, croutons on salad, and chili or soup options.
At other restaurants, you'll find gluten in flour in sauces, in pizza or other pastry dough, pasta, and as a thickener in some soups.
Where gluten is found in the menu items will vary from restaurant to restaurant. That's why it's always a good idea to review menus from home, and see if you can find any allergen information before you get to the restaurant itself.
Being able to review nutritional information and allergen statements before visiting a restaurant can be the difference between ordering something that you think is safe for your gluten-free diet and getting sick.
Being knowledgeable about what specific menu items you'll be able to eat without any worries of later reactions is crucial to sticking with your gluten-free diet.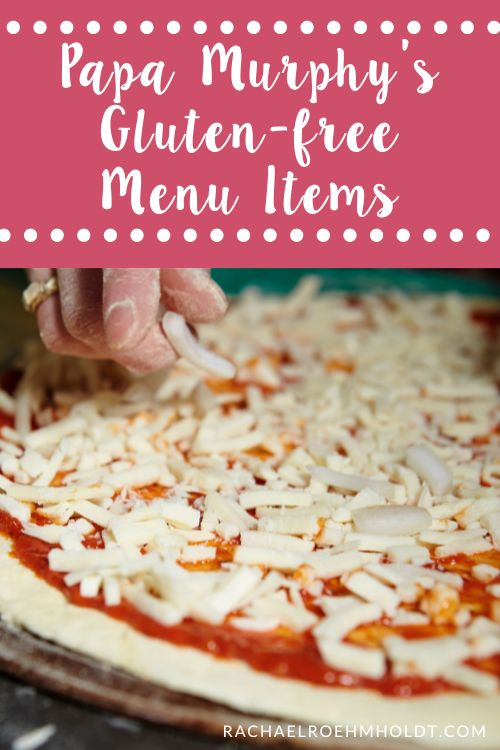 Papa Murphy's allergen statement
The Papa Murphy's website shares on their FAQ page how they handle gluten and other allergens:
"Our lifestyle-friendly options include: Udi's certified gluten-free crust, Violife dairy-free cheese, and crustless keto-friendly pizzas – all available online and in-store at Papa Murphy's locations.
Gluten-free crust (available in medium size only) is topped in a shared kitchen that also handles gluten-containing ingredients; dairy-free cheese options are prepared in the same shared kitchen areas as options containing dairy. Detailed ingredient information can be found here. We do not assume responsibility for any sensitivity or allergy caused by our products."
What you need to know about the gluten-free crust at Papa Murphy's
Papa Murphy's offers a gluten-free crust that's made by the Udi's brand. Udi's is a well-known and reputable manufacturer of many gluten-free products, like bread, pizza crust, and bagels.
Papa Murphy's has gluten-free pizza crusts, but their pizzas are all prepared in a shared kitchen with ingredients used to make traditional pizza crusts containing gluten. The probability of cross contamination with gluten in the kitchen is high.
The gluten-free crust may work for folks who are intolerant to gluten or can handle trace amounts of gluten from cross contamination, but this is not a safe place to order pizza from if you are celiac.
The Papa Murphy's website also has a full list of ingredients that do not contain gluten or wheat ingredients on their website. That information is what I've used to outline the gluten-free options later on in the post.
If you are following a gluten-free diet, you may consider telling the staff when you order ahead that you're intolerant to gluten so they have a heads up to be careful of reusing gloves and utensils when preparing your items.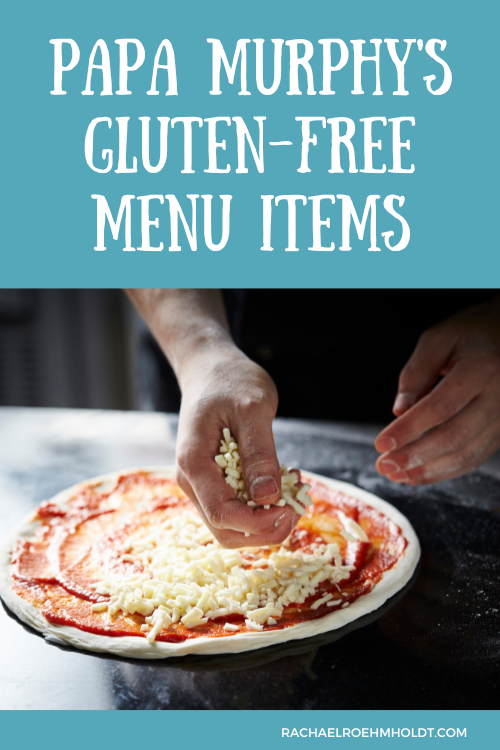 What to know about cross contamination at restaurants
Most fast food and carryout restaurants are not considered gluten-free establishments so it's useful to keep this in mind when making decisions about where to go and what to order.
It's important to know that even if a restaurant claims that their menu items do not contain gluten, that the possibility and probability of gluten in their products is going to be high if there is even one menu item with gluten available.
Depending on your level of sensitivity to gluten, this can be make or break information for you.
If you are Celiac and are allergic to trace amounts of gluten, you'll likely want to avoid most fast food or carryout restaurants that offer any bread products or French fries that are cooked in a shared fryer with other gluten-containing ingredients.
If you are not sensitive to gluten at the trace level and have adverse reactions to gluten due to a food intolerance, you may decide that these trace amounts of gluten from cross contamination are worth risking for a quick, easy, and convenient food option.
Being aware of how you have reacted to gluten in your diet in the past and how much gluten it takes for your body to react is useful knowledge when it comes to situations like these.
Use your best judgment about what you know about your body, how you react to gluten, and what the risks are for you specifically.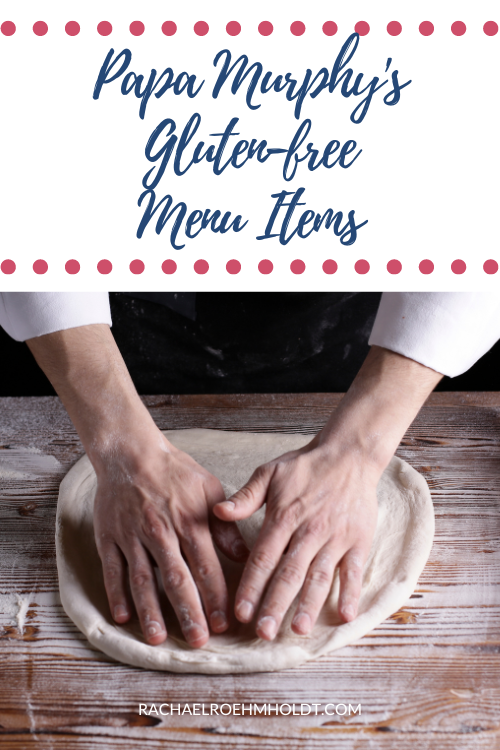 Papa Murphy's Gluten-free Menu Items
Papa Murphy's has a gluten-free pizza crust option, though the company makes it clear that they cannot say their pizza is gluten-free since there is likely cross contamination in the kitchens during preparation. Keep this in mind before you decide on ordering from this takeout restaurant.
The menu items listed below are those that Papa Murphy's has noted on their website as not containing any wheat or gluten ingredients. Know that there is still a risk of cross contact even if the ingredients in these foods do not have gluten or wheat.
You can use the Diet Filter on their Nutrition page on their website to filter for any food intolerances or allergies you may have to make decisions about what to order easier.
Pizza Crust
Sauces
Traditional Red
BBQ Sauce
Creamy Garlic
Olive Oil & Garlic
Sweet Chili
Cheese
Feta
Mozzarella
Parmesan
Topping Cheese
Meat Toppings
Bacon
Canadian Bacon
Chicken
Giant Pepperoni
Ground Beef
Ground Sausage
Italian Sausage
Mini Cup Pepperoni
Pepperoni
Salami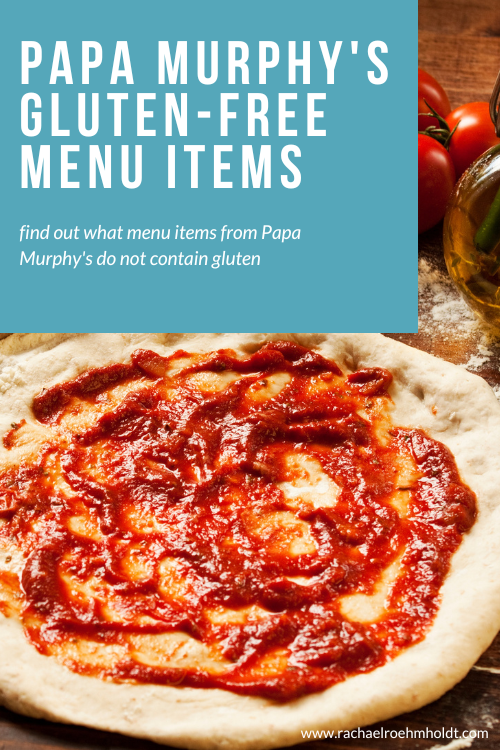 Veggies & More Toppings
Artichoke Hearts
Black Olives
Chopped Garlic
Crushed Red Pepper
Green Onions
Green Peppers
Herb & Cheese Blend
Jalapenos
Mixed Onions
Mushrooms
Pineapple
Roma Tomatoes
Spinach
Sun-Dried Tomatoes
Zesty Herbs
Zucchini
Crustless Pizza Slices
All Meat – Crustless Slice
BBQ Chicken – Crustless Slice
Chicken Bacon Artichoke – Crustless Slice
Chicken Garlic – Crustless Slice
Cowboy – Crustless Slice
Garden Veggie – Crustless Slice
Gourmet Vegetarian – Crustless Slice
Hawaiian – Crustless Slice
Herb Chicken Mediterranean – Crustless Slice
Murphy's Combo – Crustless Slice
Papa's Favorite – Crustless Slice
Pepperoni – Crustless Slice
Rancher – Crustless Slice
Thai Chicken – Crustless Slice
Triple Pepperoni – Crustless Slice
Dipping Sauces
Buttermilk Ranch Dipping Sauce
Garlic Dipping Sauce
Marinara Dipping Sauce
Appetizers
Salads
The salads do not include salad dressing or croutons, so be sure to ask for no croutons and choose a salad dressing that is listed under the gluten-free salad dressings below.
Caesar Salad
Chicken Bacon Artichoke Salad
Chicken Caesar Salad
Club Salad
Garden Salad
Italian Salad
Mediterranean Salad
Salad Dressings
1000 Island Dressing
Balsamic Vinaigrette
Bleu Cheese Dressing
Buttermilk Ranch Dressing
Caesar Salad Dressing
Low Calorie Italian Dressing
Desserts
If you like to order pizza from Papa Murphy's so you can have hot pizza made on your own time and in your own oven, I hope this post has been helpful for you to make choices that will suit your gluten-free diet.
There is a gluten-free pizza crust option available at Papa Murphy's, but there is still gluten present throughout the kitchen and restaurant. Keep this in mind before ordering from here if you are extremely sensitive to gluten or celiac.
Looking for more information on gluten-free restaurants?
Be sure to check out my Gluten-free Restaurants post or get all the information in one place with my Gluten-free Restaurant Guide!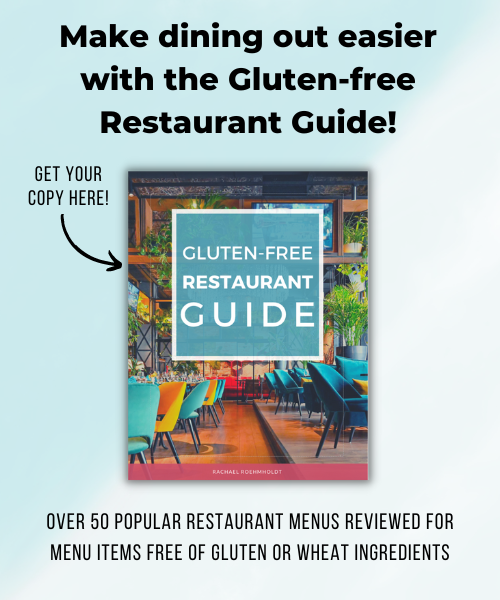 If you loved this post, I hope that you'll share it with your friends on Facebook and pin it for future reference on Pinterest.