Get 15 gluten-free breakfast sandwich recipes, including dairy-free swaps, vegan options and make-ahead freezer recipes!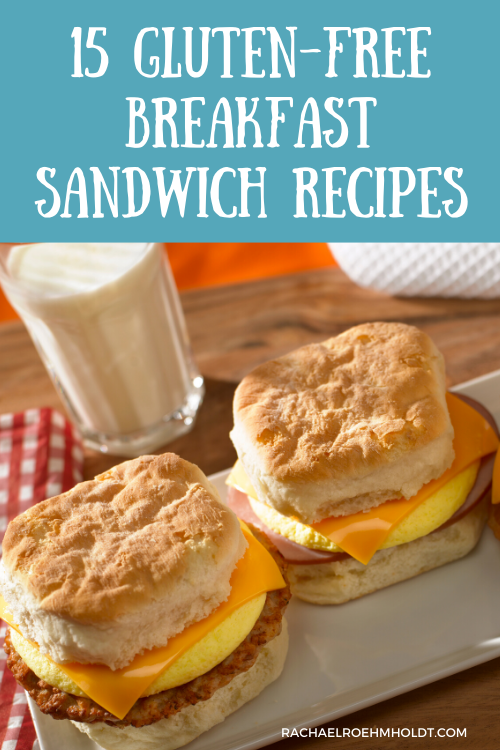 Note: I am a proud Amazon, Chomps, MunkPack, and Thrive Market affiliate and am happy to recommend their service and products to you. Please know that as an affiliate, I may receive a small commission on the products you purchase after clicking through my links. For more info, please see my disclosure policy here.
If you love a hearty breakfast, you may enjoy piling high some of your favorite breakfast foods on bread and calling it a breakfast sandwich. These popular breakfast items can be bought at restaurants, cafes, and even coffee shops these days.
But if you follow a gluten-free diet, you're more likely to have luck making your own gluten-free breakfast sandwiches at home than finding an option out of the house.
Get inspiration for a delicious breakfast with these 15 gluten-free breakfast sandwich recipes. I've included three sections of sandwiches: classic breakfast sandwiches, make-ahead and freezer breakfast sandwiches, and vegan gluten-free breakfast sandwiches for folks who avoid dairy and eggs too.
Before we get into the recipes, let's talk about how to make a delicious breakfast sandwich, what ingredients you can use, and some ways to get creative with your own ideas at home.
What should I use for bread in my gluten-free breakfast sandwiches?
Whatever you love to use for sandwiches, you can use it to make a gluten-free breakfast sandwich. These are some of the most popular foods to use in sandwiches, but feel free to get creative with other ingredients if you can think of something more delicious!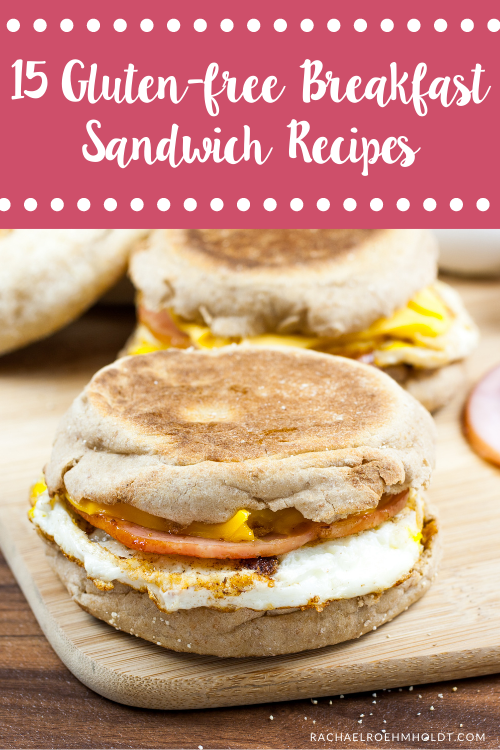 Gluten-free Classic Breakfast Sandwich Recipes
Many breakfast sandwiches are fairly straightforward and basic, but that doesn't make them boring. Try one of these five classic recipes for gluten-free breakfast sandwiches.
Enjoy this breakfast sandwich with eggs, bacon, spinach, sriracha sauce, and cheddar cheese on a gluten-free english muffin. To make this dairy-free, swap the half and half for coconut milk and swap the cheddar cheese for a vegan cheese option instead.
Read on: Is Sriracha gluten-free?
Make up some easy breakfast sandwiches with gluten-free English muffins that you toast on a pan in butter (or vegan butter) before loading up with eggs and cheese (opt for dairy-free cheese if you're on a dairy-free diet).
This fun gluten-free breakfast sandwich comes together with a gluten-free pancake mix that's based into a Whoopie pie pan. With baked eggs and any other toppings you wish, you have perfectly portioned gluten-free breakfast sandwiches ready for eating!
These Mexican inspired gluten-free breakfast sandwiches use gluten-free bread, chorizo patties, eggs, refried beans, salsa, avocados, and cheese (omit or use dairy-free for a dairy-free diet). You'll love this flavorful twist on breakfast!
A simple but healthy breakfast sandwich comes together with eggs, bacon, and avocados on gluten-free bread. Use cheddar cheese or dairy-free cheese for a dairy-free diet, along with tomatoes and mustard and and mayo if you want some extra flavor.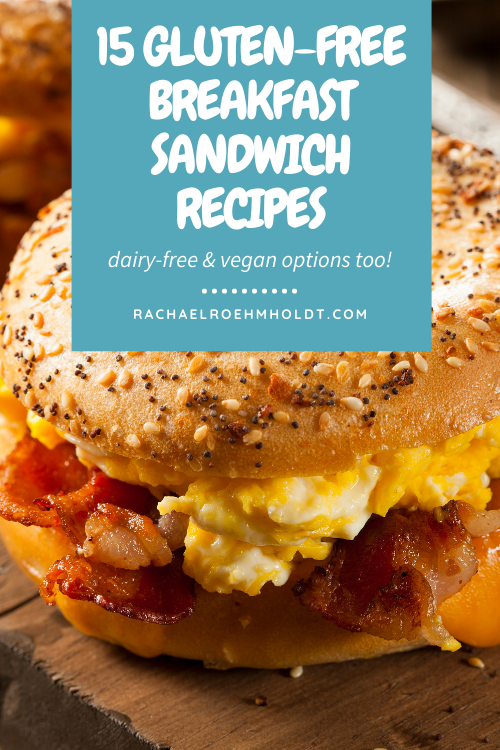 Gluten-free Make-Ahead Breakfast Sandwich Recipes
If you love to get ahead, freezer breakfast sandwiches and make-ahead options are a huge time saver. Enjoy one of these five delicious recipes!
These freezer breakfast sandwiches are simple, gluten-free, and easy to prep. You simply make a homemade frittata with canned roasted peppers, spinach, and eggs. Then add slices of this along with frozen sausage and sliced cheese (choose dairy-free cheese if on a dairy-free diet) to gluten-free english muffins.
To make these gluten-free breakfast sandwiches, you'll season up some eggs with garlic powder, pepper, onion, and spinach. Then you'll layer this mixture on an english muffin with cheddar or dairy-free cheese.
Another easy freezer option! Try these simple breakfast sandwiches with eggs, bacon, cheese (or omit for dairy-free), all on gluten-free english muffins.
Freezer breakfast sandwiches can come together with the right ingredients. Enjoy these gluten-free flaxseed english muffins piled high with cheddar cheese (swap for dairy-free cheese if on a dairy-free diet) and eggs. Wrap them in plastic wrap, then freezer for whenever you need them.
Freeze up some of these gluten-free breakfast sandwiches that have some delicious ingredients, like gluten-free english muffins, eggs, a protein of your choice (ham, bacon, or sausage), and American cheese or cream cheese. Omit the cheese or use a dairy-free alternative for a dairy-free diet.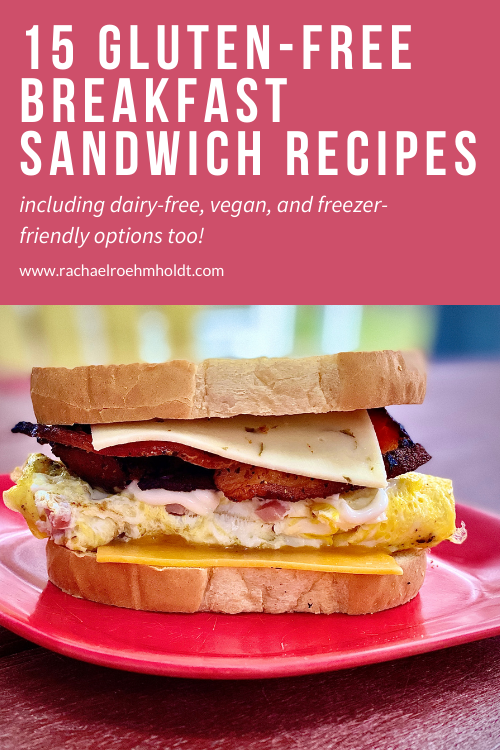 Gluten-free Vegan Breakfast Sandwich Recipes
If you avoid eggs and dairy in your diet, you might love one of these five recipes. They leverage vegan cheese, tofu, and egg replacers.
This easy breakfast sandwich piles high homemade Romesco sauce, spinach, avocado, tomato, and tofu. Start your day off right with this vegan and gluten-free option.
Enjoy homemade breakfast sandwiches that are both gluten-free and vegan. This recipe uses homemade biscuits and piles them high with gluten-free sausage and tofu.
If you're avoiding dairy and eggs, you might love these gluten-free breakfast sandwiches. They're made with tofu, gluten-free rolls, vegan cheese, and tomatoes.
Enjoy this vegan breakfast sandwich that piles high a tofu scramble with english muffins (use a gluten-free option!), roasted red peppers, and sprouts.
This vegan and gluten-free breakfast sandwich uses tofu, fresh spinach, and avocado piled onto gluten-free bagels for a delicious way to start your morning.
If you've been looking for a gluten-free breakfast sandwich, I hope you've found some inspiration for getting into your kitchen and making one of these tasty recipes. Or use them as a jumping off point for mixing and matching your favorite gluten-free ingredients and get creative!
If you loved this post, I hope that you'll share it with your friends on Facebook and pin it for future reference on Pinterest.
Love this post? You might also want to check out more of my recipe roundups here!
Find some delicious gluten and dairy-free recipes in these popular recipe roundup posts!
Want more? Check out all my Gluten-free Dairy-free Recipes!