Find out what menu items from Outback Steakhouse do not contain gluten and what you need to know about their gluten-free menu.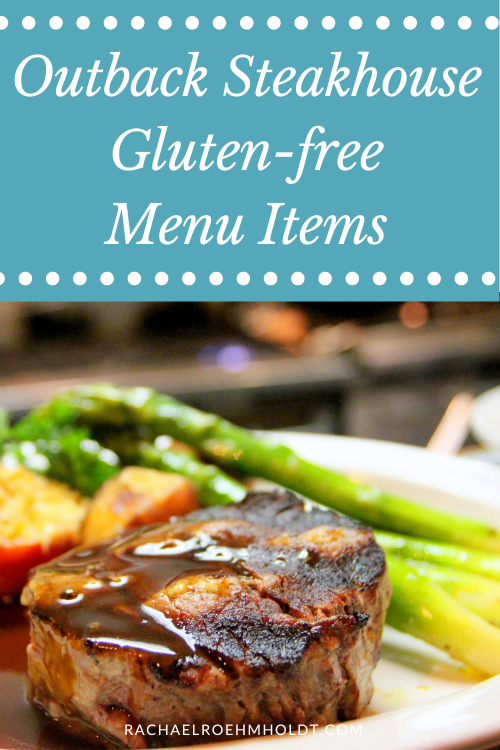 Note: I am a proud Amazon, Chomps, MunkPack, and Thrive Market affiliate and am happy to recommend their service and products to you. Please know that as an affiliate, I may receive a small commission on the products you purchase after clicking through my links. For more info, please see my disclosure policy here.
If you have an Outback Steakhouse near you, you may have wondered what items on their menu are safe to enjoy on a gluten-free diet.
This restaurant is known for steak, chicken, baked potatoes, and bloomin' onions. While I can't say how "authentic" they are when it comes to Australian food, and I'd venture to guess not very, what we can do is do a deep dive into this restaurant and their menu.
In this post, we're going to talk about Outback Steakhouse and find out how they handle gluten in their kitchens, what their allergen statement is, and what specific menu items they report as being options for folks on a gluten-free diet.
Before we dive in, let's make sure that we're all on the same page as it relates to what gluten is, where you can find it, and where you're most likely to encounter it at a restaurant.
What is gluten?
Gluten is a protein found in most wheat products, and acts as the "glue" that helps to hold wheat, barley, kamut, spelt, farro, durum, bulgur, rye, and semolina together to maintain their shape.
Gluten is naturally occurring, and therefore is impossible to strip away from the grain. If a grain naturally has gluten in it, there's no way to make that food gluten-free.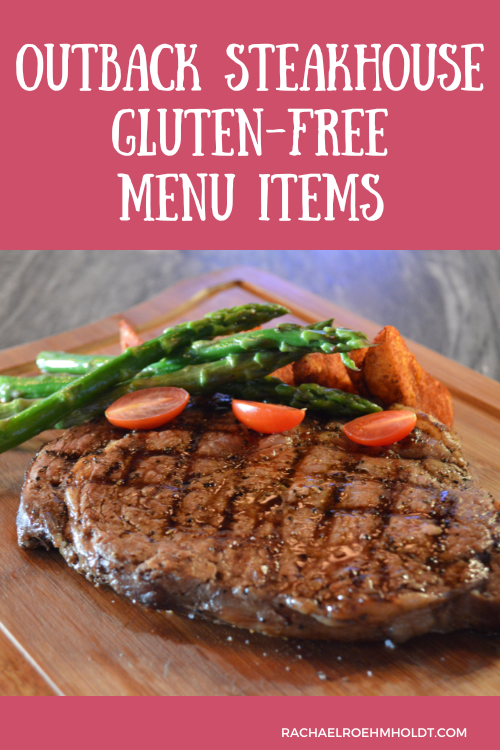 Where can you find gluten in food?
Gluten can be found in the form of wheat and grain products, like bread or flour in the more obvious places.
You can also find gluten as a binding ingredient, an ingredient added for texture like to make a food more crispy, or as a thickening agent.
Where can you find gluten in restaurants?
Depending on the restaurant you're visiting, you may find gluten in a variety of places.
At many restaurants, there will be gluten in hamburger buns, the breading of crispy chicken sandwiches or chicken nuggets, some French fries, salad dressings, croutons on salad, and chili or soup options.
At other restaurants, you'll find gluten in flour in sauces, in pizza or other pastry dough, pasta, and as a thickener in some soups.
Where gluten is found in the menu items will vary from restaurant to restaurant. That's why it's always a good idea to review menus from home, and see if you can find any allergen information before you get to the restaurant itself.
Being able to review nutritional information and allergen statements before visiting a restaurant can be the difference between ordering something that you think is safe for your gluten-free diet and getting sick.
Being knowledgeable about what specific menu items you'll be able to eat without any worries of later reactions is crucial to sticking with your gluten-free diet.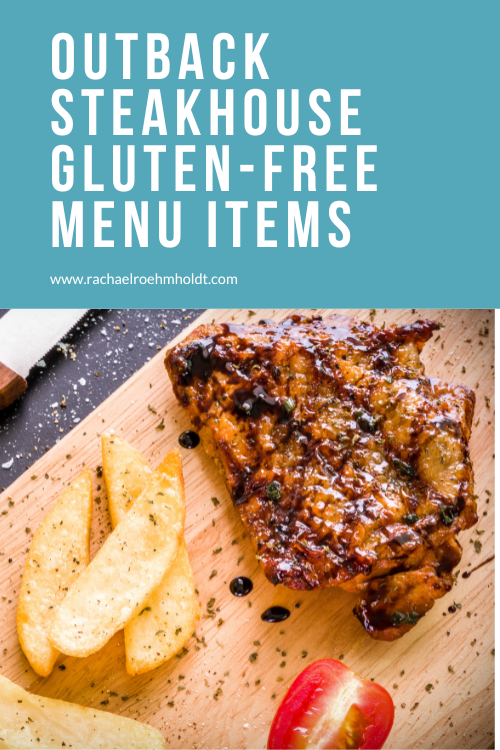 Outback allergen statement
On the Outback website, they have a dedicated page all about helping folks on a gluten-free diet navigate their menu.
Here is what they have to say the gluten-free options at their restaurants:
"Outback Steakhouse is serious about gluten-free. For over a decade we've designed gluten-free options for those who need and chose to eat gluten-free.
Our Registered Dietitians work closely with our chefs to create a variety of gluten-free options including – salads, steaks, chicken, seafood, ribs, fresh vegetables and our famous gluten-free dessert the Thunder from Down Under – with the same care and quality as every menu item we create."
What you need to know about the gluten-free menu at Outback
Outback Steakhouse takes their gluten-free customers' health and safety seriously. They have an entire menu for folks on a gluten-free diet.
Their website also lists some very helpful information about how the restaurant handles gluten in their kitchens.
"Because our dishes are prepared-to-order, during normal kitchen operations, individual foods may come into contact with one another due to shared cooking and preparation areas. Thus, we cannot guarantee that cross-contact with foods containing gluten will not occur; however, we take every step possible to prevent this."
In relation to cross contact with gluten in their kitchens, this is what they have to say:
"Outback provides gluten-free education to all of its employees and has a protocol for each time a gluten-free menu item is ordered. This includes: hand washing, glove changing, using clean cooking equipment and utensils, and special ordering instructions for our chefs."
This is the note about cross contamination listed on their gluten-free menu:
"Food is prepared in a common kitchen with the risk of gluten exposure. We cannot guarantee any menu item is completely free of gluten. When placing your order, please let your server know you are ordering a gluten-free menu item."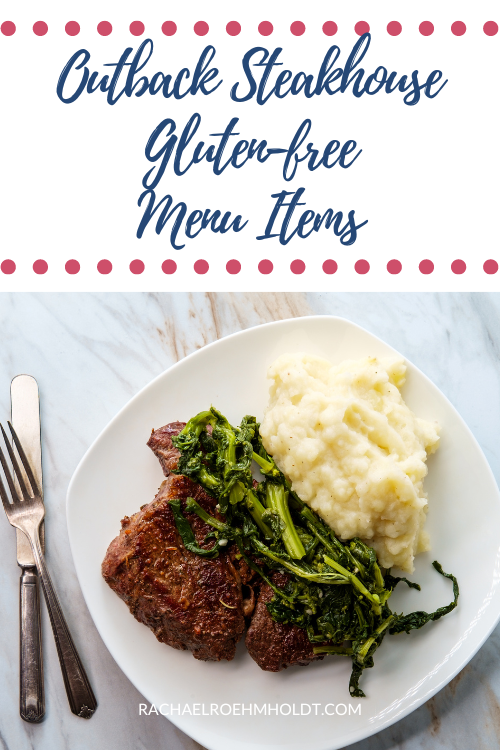 What to know about cross contamination at restaurants
Most restaurants are not considered gluten-free establishments so it's useful to keep this in mind when making decisions about where to go and what to order.
It's important to know that even if a restaurant claims that their menu items do not contain gluten, that the possibility and probability of gluten in their products is going to be high if there is even one menu item with gluten available.
Depending on your level of sensitivity to gluten, this can be make or break information for you.
If you are Celiac and are allergic to trace amounts of gluten, you'll likely want to avoid most restaurants that offer any bread products or French fries that are cooked in a shared fryer with other gluten-containing ingredients.
If you are not sensitive to gluten at the trace level and have adverse reactions to gluten due to a food intolerance, you may decide that these trace amounts of gluten from cross contamination are worth risking for a quick, easy, and convenient food option.
Being aware of how you have reacted to gluten in your diet in the past and how much gluten it takes for your body to react is useful knowledge when it comes to situations like these.
Use your best judgment about what you know about your body, how you react to gluten, and what the risks are for you specifically.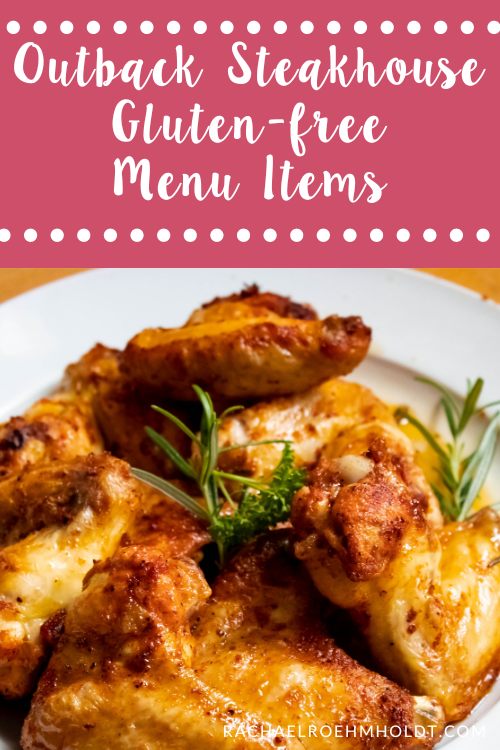 Outback Gluten-free Menu Items
Looking at the dedicated Outback gluten-free menu, these are the menu items listed that do not contain gluten. Though they are touted as gluten-free by the restaurant, there is still a chance for cross contamination, so keep this in mind before ordering.
You may also want to share with your server of your food allergies or intolerance so they can change gloves and be extra careful when handling your order.
Aussie-tizers
Grilled Shrimp On The Barbie
Big Bowl Salads
Aussie Cobb Salad – without croutons
Brisbane Caesar Salad – without croutons
Gluten-free Dressings
Ranch
Caesar
Honey Mustard
Tangy Tomato
Creamy Blue Cheese
Light Balsamic Vinaigrette
So Many Ways To Steak
Victoria's Filet Mignon
Outback Center-Cut Sirloin
Ribeye
Bone-In Ribeye
Bone-In New York Strip
Melbourne Porterhouse
Plus It Up
Grilled Onions
Roasted Garlic Butter
Grilled Shrimp
Steamed Lobster Tail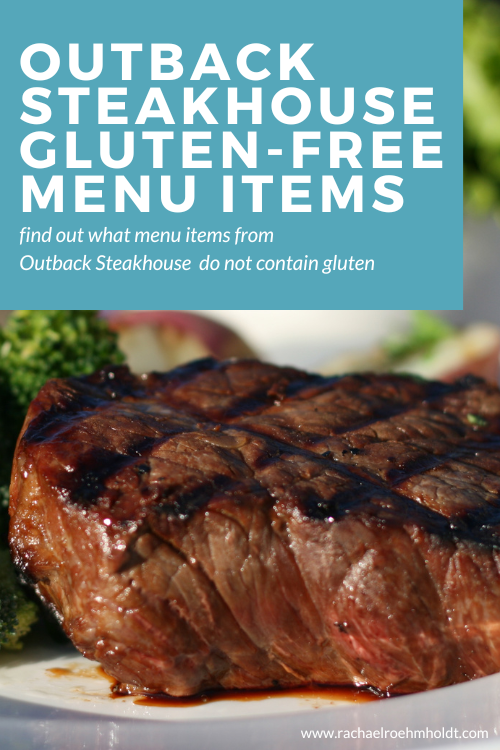 Steak 'N Mate Combos
Sirloin & Grilled Shrimp
Sirloin & Grilled Chicken
Ribeye & Grilled Shrimp
Filet Mignon & Lobster
The "Not" Steaks
Drover's Ribs & Chicken Platter
Grilled Chicken On The Barbie
Alice Springs Chicken
Pineapple & Pork Medallions
Baby Back Ribs
From The Sea
Perfectly Grilled Salmon
Lobster Tails
Botany Bay Tilapia
Steakhouse Potatoes & Sides
Homestyle Mashed Potatoes
Baked Potato
Sweet Potato
Fresh Seasonal Veggie
Fresh Mixed Veggies
House Salad
Caesar Salad
Sweet Finish
Chocolate Thunder From Down Under
Beverages
Soft Drinks
Distilled Spirits
Wines
If you love to go out to eat with your family and friends, you may have found yourself at an Outback and wondered if there was possibly anything gluten-free that you might be able to enjoy while avoiding gluten.
I hope this information has helped you get an idea of what you can order, while also keeping in mind that cross contamination is a real possibility at this and most other restaurants.
Looking for more information on gluten-free restaurants?
Be sure to check out my Gluten-free Restaurants post or get all the information in one place with my Gluten-free Restaurant Guide!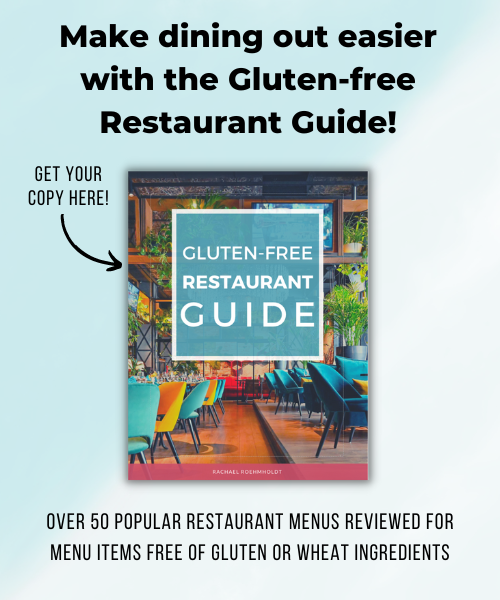 If you loved this post, I hope that you'll share it with your friends on Facebook and pin it for future reference on Pinterest.