Find out what menu items from Qdoba do not contain gluten and what you need to know about their gluten-free options.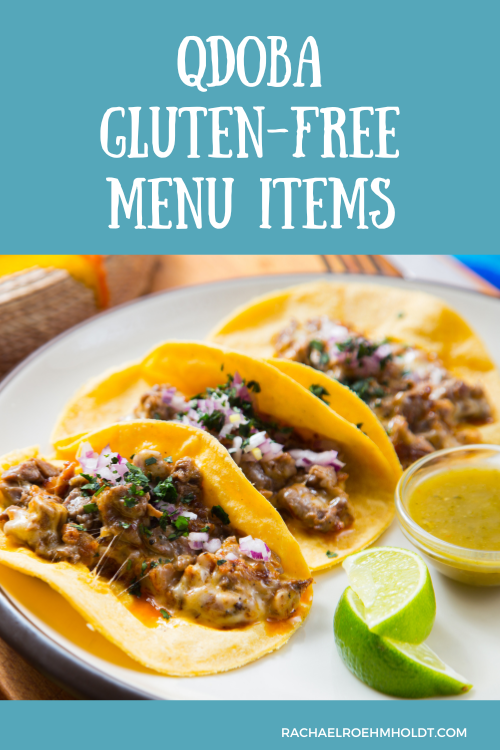 If you're like me, all the Mexican restaurants in my area are on my radar. My family can't get enough tacos, burritos, burrito bowls, quesadillas, and fajitas.
Qdoba offers all of these options, making them a great place to visit when the craving strikes for Mexican food.
If you follow a gluten-free diet, you likely know that Mexican food is often a good option when certain ingredients are omitted and there's no opportunity for gluten to make its way into prepared foods.
In this post, we're going to discuss Qdoba restaurants and dig into how the company handles allergens, what menu items may be safe if you avoid gluten, and what you need to know about cross contamination at Qdoba.
We'll also talk about gluten and cross contamination at other restaurants so you know what to expect when you go out for a meal at a fast food restaurant or other restaurant, and you can be prepared.
But first, let's cover the basics of gluten and where you can find it in many foods.
What is gluten?
Gluten is a protein found in most wheat products, and acts as the "glue" that helps to hold wheat, barley, kamut, spelt, farro, durum, bulgur, rye, and semolina together to maintain their shape.
Gluten is naturally occurring, and therefore is impossible to strip away from the grain. If a grain naturally has gluten in it, there's no way to make that food gluten-free.
Where can you find gluten in food?
Gluten can be found in the form of wheat and grain products, like bread or flour in the more obvious places.
You can also find gluten as a binding ingredient, an ingredient added for texture like to make a food more crispy, or as a thickening agent.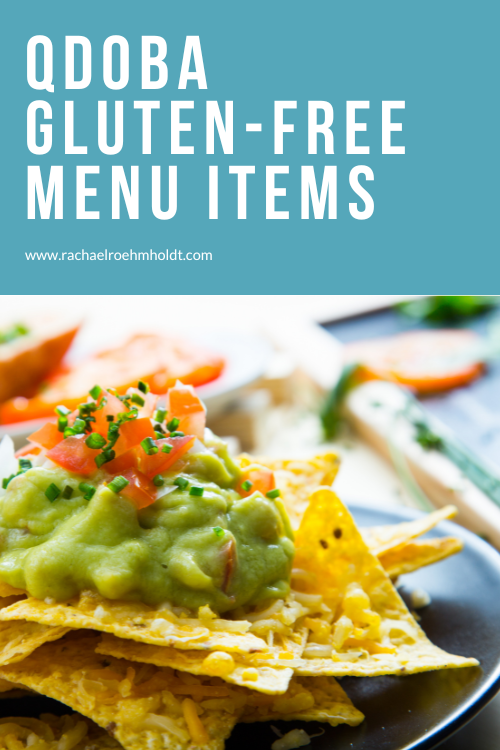 Where can you find gluten in restaurants?
Depending on the restaurant you're visiting, you may find gluten in a variety of places.
At fast food restaurants, there will be gluten in hamburger buns, the breading of crispy chicken sandwiches or chicken nuggets, some French fries, salad dressings, croutons on salad, and chili or soup options.
At other restaurants, you'll find gluten in flour in sauces, in pizza or other pastry dough, pasta, and as a thickener in some soups.
Where gluten is found in the menu items will vary from restaurant to restaurant. That's why it's always a good idea to review menus from home, and see if you can find any allergen information before you get to the restaurant itself.
Being able to review nutritional information and allergen statements before visiting a fast food restaurant can be the difference between ordering something that you think is safe for your gluten-free diet and getting sick.
Being knowledgeable about what specific menu items you'll be able to eat without any worries of later reactions is crucial to sticking with your gluten-free diet.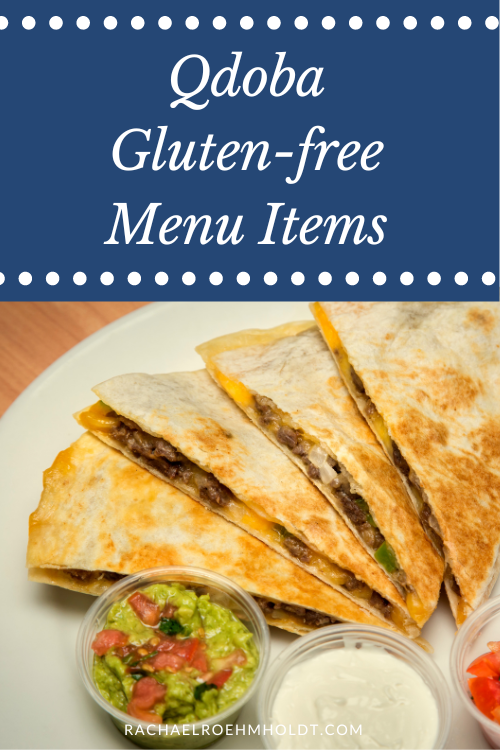 Qdoba allergen statement
There isn't a current allergen statement on the Qdoba website. However, the Allergen menu from 2020 has this statement:
"Foods prepared at Qdoba may contain or may have come in contact with eggs, dairy, wheat, soy, peanuts, tree nuts, fish, and shellfish. Please request to speak to management if you have any questions or concerns."
The updated Allergen Information document doesn't have this statement, however we can assume the same information is true for all Qdoba restaurants.
What you need to know about the gluten-free options at Qdoba
Qdoba, like many other Mexican restaurants, has a number of ingredients that do not contain gluten, in their corn tortillas, meat, cheese, and toppings.
The easiest way to find out which menu options and ingredients are safe for you and your diet is to look at the Dietary Preferences section of their website. This document outlines which menu items will work for different diets, like Vegan, Vegetarian, Gluten-Friendly, Keto-Friendly, and Low Carb.
This is also the document I've used to create the updated list of menu items that may be safe for folks on a gluten-free diet later on in this post.
The best options from Qdoba if you're following a gluten-free diet are their bowls and salads.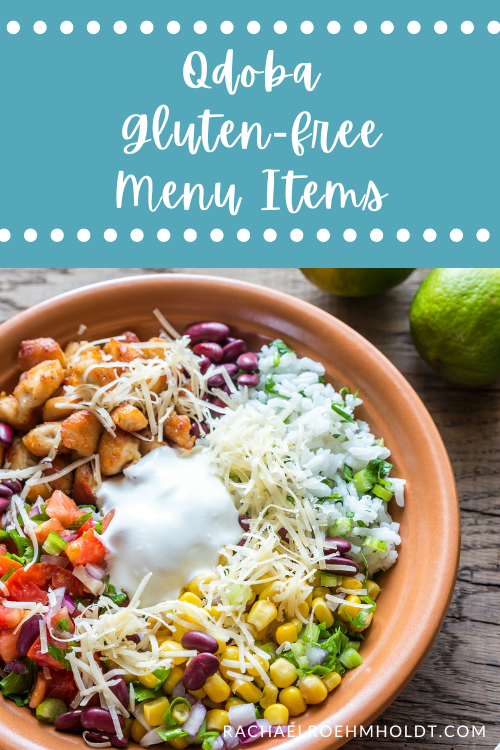 What to know about cross contamination at restaurants
Most fast food and carryout restaurants are not considered gluten-free establishments so it's useful to keep this in mind when making decisions about where to go and what to order.
It's important to know that even if a fast food restaurant claims that their menu items do not contain gluten, that the possibility and probability of gluten in their products is going to be high if there is even one menu item with gluten available.
Depending on your level of sensitivity to gluten, this can be make or break information for you.
If you are Celiac and are allergic to trace amounts of gluten, you'll likely want to avoid most fast food restaurants that offer any bread products or French fries that are cooked in a shared fryer with other gluten-containing ingredients.
If you are not sensitive to gluten at the trace level and have adverse reactions to gluten due to a food intolerance, you may decide that these trace amounts of gluten from cross contamination are worth risking for a quick, easy, and convenient food option.
Being aware of how you have reacted to gluten in your diet in the past and how much gluten it takes for your body to react is useful knowledge when it comes to situations like these.
Use your best judgment about what you know about your body, how you react to gluten, and what the risks are for you specifically.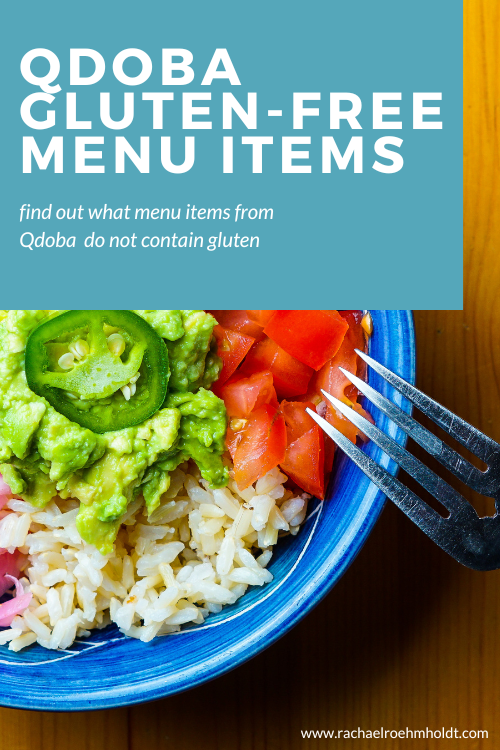 Qdoba Gluten-free Menu Items
The information listed here is from the Current Qdoba Menu from their website that lists which ingredients work for different dietary preferences.
Signature Eats
Chicken Fresca Bowl
Chicken Protein Bowl
Chicken Queso Bowl
Cholula Hot & Sweet Chicken Bowl
Citrus Lime Chicken Salad
Fajita Vegan Bowl
Impossible Fajita Bowl
Low-Cal Chicken Grain Bowl
Paleo Chicken Salad
Smoke Brisket (Keto) Bowl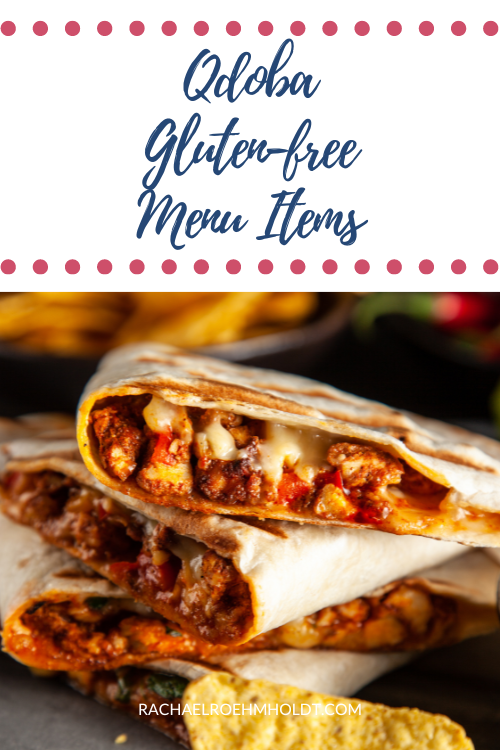 Ingredients
Apple Sauce, Natural
Bacon
Black Beans
Brisket Birria
Chile Corn Salsa
Chile Crema
Cholula Hot & Sweet Chicken
Chopped Cilantro
Chorizo
Cilantro Lime Rice
Citrus Lime Vinaigrette
Cotija Cheese
Eggs
Fajita Veggies
Grilled Adobo Chicken
Ground Beef
Grilled Steak
Habanero Salsa
Hand Crafted Guacamole
Jalapeno Verde
Picante Ranch Dressing
Pickled Jalapenos
Pickled Red Onion
PIco de Gallo
Pinto Beans
Plant-Based Impossible
Pulled Pork
Queso Diablo
Ranch Dressing
Roasted Tomato Salsa
Romaine Lettuce
Salsa Roja
Salsa Verde
Seasoned Brown Rice
Shredded Cheese
Soft Corn Tortillas (may contain gluten)
Sour Cream
Soybean Oil
Smoked Brisket
3-Cheese Queso
Tortilla Chips (may contain gluten)
Tortilla Strips (may contain gluten)
If you enjoy Qdoba food, I hope this information will give you a quick answer as to which ingredients and menu items will work best for you and your gluten-free diet.
Looking for more information on gluten-free restaurants?
Be sure to check out my Gluten-free Restaurants post or get all the information in one place with my Gluten-free Restaurant Guide!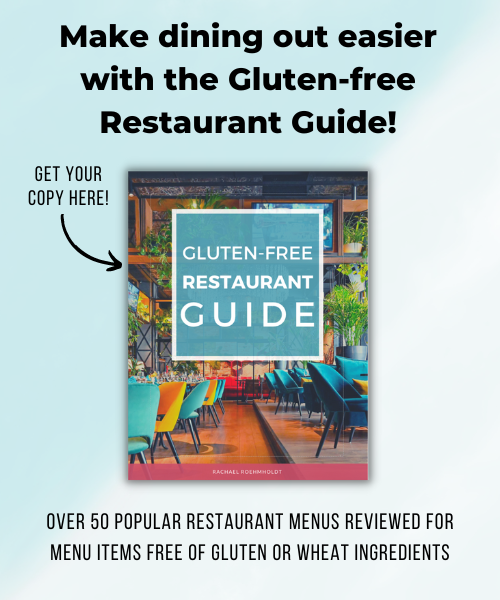 If you loved this post, I hope that you'll share it with your friends on Facebook and pin it for future reference on Pinterest.