Find out what menu items from Red Lobster do not contain gluten and what you need to know about their gluten-free options.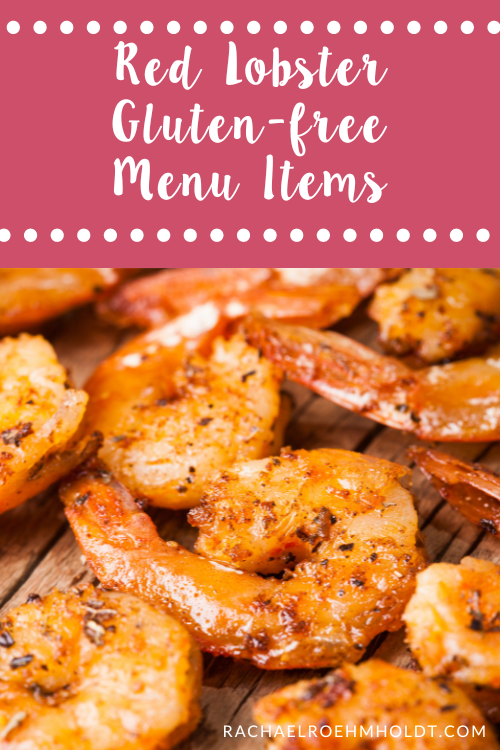 Note: I am a proud Amazon, Chomps, MunkPack, and Thrive Market affiliate and am happy to recommend their service and products to you. Please know that as an affiliate, I may receive a small commission on the products you purchase after clicking through my links. For more info, please see my disclosure policy here.
If you enjoy seafood and going out to a restaurant with consistent menus no matter where you find yourself, you have likely been to a Red Lobster before.
This restaurant is known for their lobster, shrimp scampi, and even some cheddar biscuits. But if you follow a gluten-free diet, you may have wondered if those biscuits – and other menu items – are actually safe for folks who avoid gluten.
In this post, we're going to answer that question and a few more. Let's do a deep dive into the Red Lobster menu, plus talk about how they handle allergens in their kitchens, and what you can expect as a customer of this restaurant while avoiding gluten.
Before we dive in, let's make sure that we're all on the same page as it relates to what gluten is, where you can find it, and where you're most likely to encounter it at any restaurant.
What is gluten?
Gluten is a protein found in most wheat products, and acts as the "glue" that helps to hold wheat, barley, kamut, spelt, farro, durum, bulgur, rye, and semolina together to maintain their shape.
Gluten is naturally occurring, and therefore is impossible to strip away from the grain. If a grain naturally has gluten in it, there's no way to make that food gluten-free.
Where can you find gluten in food?
Gluten can be found in the form of wheat and grain products, like bread or flour in the more obvious places.
You can also find gluten as a binding ingredient, an ingredient added for texture like to make a food more crispy, or as a thickening agent.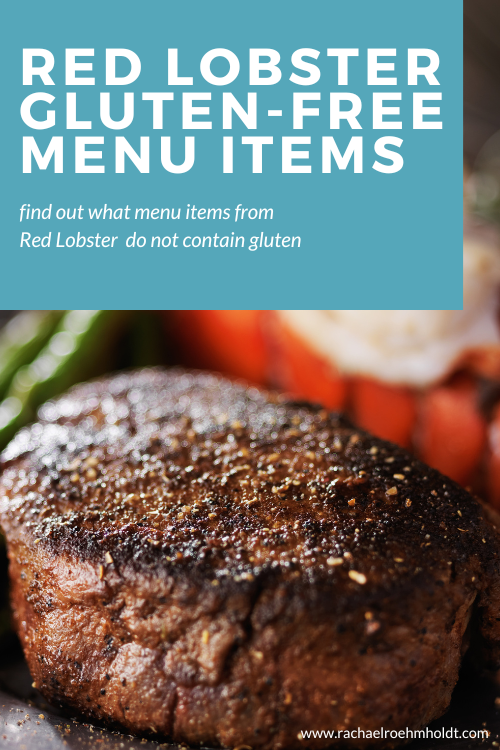 Where can you find gluten in restaurants?
Depending on the restaurant you're visiting, you may find gluten in a variety of places.
At many restaurants, there will be gluten in hamburger buns, the breading of crispy chicken sandwiches or chicken nuggets, some French fries, salad dressings, croutons on salad, and chili or soup options.
At other restaurants, you'll find gluten in flour in sauces, in pizza or other pastry dough, pasta, and as a thickener in some soups.
Where gluten is found in the menu items will vary from restaurant to restaurant. That's why it's always a good idea to review menus from home, and see if you can find any allergen information before you get to the restaurant itself.
Being able to review nutritional information and allergen statements before visiting a restaurant can be the difference between ordering something that you think is safe for your gluten-free diet and getting sick.
Being knowledgeable about what specific menu items you'll be able to eat without any worries of later reactions is crucial to sticking with your gluten-free diet.
Red Lobster allergen statement
According to the Red Lobster website, this is what the restaurant has to say about how they handle allergens:
"Due to the risk of cross-contact in our kitchens, we cannot guarantee that any item is free of any allergen. Because items cooked in our fryer or on our grill may come in contact with all allergens, we have identified those for you.
Information below does not include accompaniments, dressings and dipping sauces unless specified."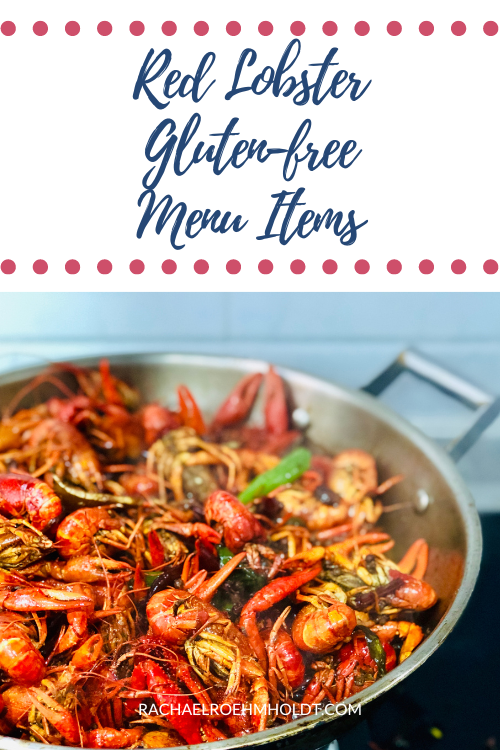 What you need to know about the gluten-free options at Red Lobster
Red Lobster offers a food allergy wizard on their website that allows you to choose the allergens that you avoid to help you narrow down the menu items to only those that will work for you.
You can choose from the following options: crustacean shellfish, eggs, fish, gluten, milk, molluscan shellfish, peanuts, soy, sulfites, tree nuts, and wheat.
This type of tool is especially useful if you have more than one food intolerance or allergy in addition to avoiding gluten.
Red Lobster makes it clear that none of the items on their menu are considered truly gluten-free, just without gluten.
The difference here is that they are aware that there is a high chance for cross contamination with gluten in the kitchens, with the use of shared spaces, equipment, and utensils.
Keep this in mind before visiting this restaurant and before making a choice from their menu.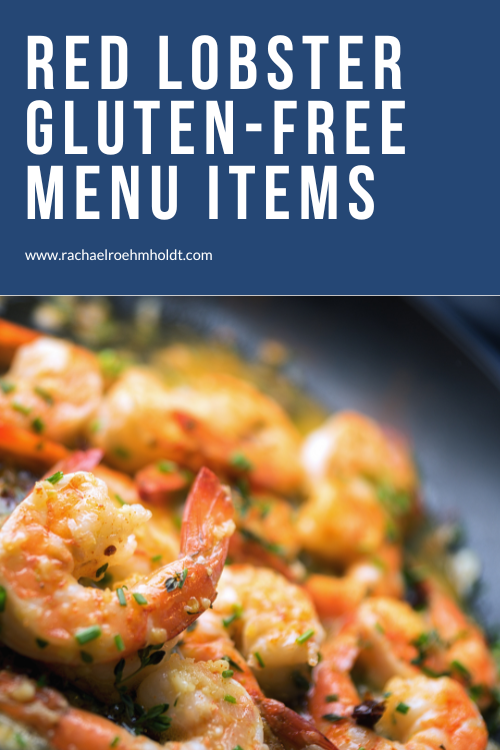 What to know about cross contamination at restaurants
Most restaurants are not considered gluten-free establishments so it's useful to keep this in mind when making decisions about where to go and what to order.
It's important to know that even if a restaurant claims that their menu items do not contain gluten, that the possibility and probability of gluten in their products is going to be high if there is even one menu item with gluten available.
Depending on your level of sensitivity to gluten, this can be make or break information for you.
If you are Celiac and are allergic to trace amounts of gluten, you'll likely want to avoid most restaurants that offer any bread products or French fries that are cooked in a shared fryer with other gluten-containing ingredients.
If you are not sensitive to gluten at the trace level and have adverse reactions to gluten due to a food intolerance, you may decide that these trace amounts of gluten from cross contamination are worth risking for a quick, easy, and convenient food option.
Being aware of how you have reacted to gluten in your diet in the past and how much gluten it takes for your body to react is useful knowledge when it comes to situations like these.
Use your best judgment about what you know about your body, how you react to gluten, and what the risks are for you specifically.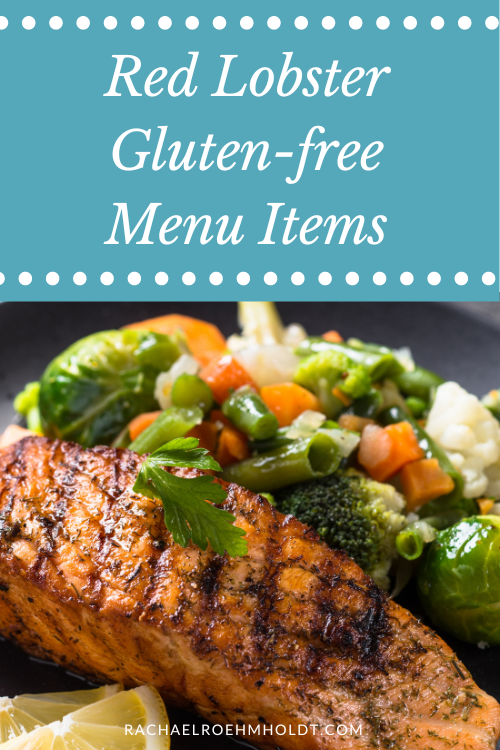 Red Lobster Gluten-free Menu Items
Red Lobster's website has a Food Allergy Wizard that allows you to check the allergens you're looking to avoid, then provides a list of menu items that may work for your diet.
The items listed here are those that the restaurant claims to have no gluten ingredients, but do have the chance for cross contamination.
The food allergy wizard on the Red Lobster website shows the menu items that have the potential for cross contamination with gluten.
Those will be marked below with an asterisk (*) so you have the most information possible to make a choice about what to order from this restaurant.
Lobsterfest
Live Maine Lobster*
Lobster & Shrimp Topped Sirloin*
Maine Lobster Tail Duo*
From The Sea
Live Maine Lobster (1 ¼ lb Steamed)*
Perfectly Grilled Fish – Atlantic Salmon*
Perfectly Grilled Fish – Rainbow Trout*
Salmon New Orleans*
Wild-Caught Snow Crab Legs*
Land
Steak: Filet Mignon*
Steak: Sirloin*
Steak: NY Strip*
Seafood Combinations
Surf & Turf: Maine Lobster Tail & 7 oz Sirloin*
Create Your Own Combination
Wood-Grilled Salmon*
Atlantic Salmon (Blackened)*
Atlantic Salmon (Grilled)*
Atlantic Salmon (Oven-Broiled)*
Bay Scallops (Broiled)*
Garlic Shrimp Scampi*
Wild-Caught Flounder (Broiled)*
Daily Deals
Steak-and-Lobster Wednesday*
Ultimate Endless Shrimp Monday – Garlic Shrimp Scampi
Ultimate Endless Shrimp Monday – Grilled Shrimp
Add to Any Entree
Garlic Shrimp Scampi Add-On*
Maine Lobster Tail Add-On*
Classic Sides
Baked Potato
Coleslaw
Loaded Baked Potato
Mashed Potatoes
Sea-Salted Fries*
Weekday Lunch Specials
Garlic Shrimp Scampi – Lunch*
Grilled Atlantic Salmon – Lunch*
Salmon New Orleans (Half)*
Wild-Caught Flounder – Lunch*
Kids Menu
Casco Bay Cooler – Cherry Wave Slushy
Casco Bay Cooler – Peachy Breezy Smoothie
Casco Bay Cooler – Raspberry Bay Smoothie
Casco Bay Cooler – Sunset Strawberry Smoothie
Kids Fruit
Kids Garlic-Grilled Shrimp*
Kids Juice
Kids Lemonade
Kids Milk 1%
Kids Petite Maine Lobster Tail*
Kids Raspberry Lemonade
Kids Surf's Up Sundae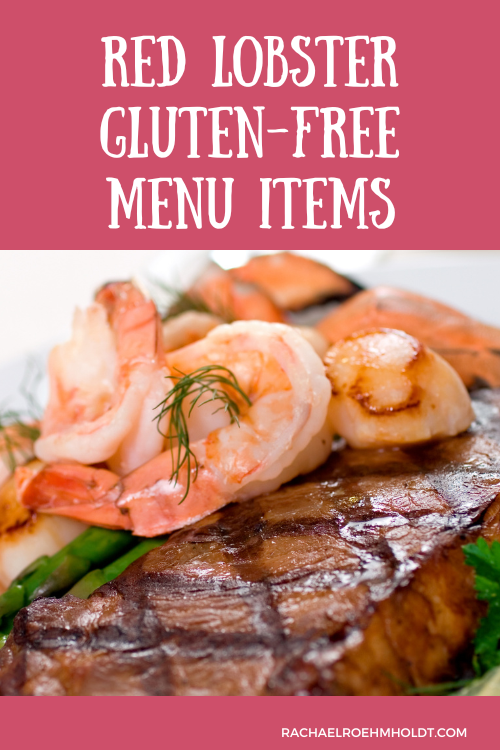 Dressings & Condiments
100% Pure Melted Butter
Add Butter to Baked Potato
Add Sour Cream to Baked Potato
BBQ Sauce
Blue Cheese Sauce
Caesar Dressing
Cocktail Sauce
French Dressing
Honey Mustard Dressing
Ketchup
Pico de Gallo
Pina Colada Sauce
Ranch Dressing
Tartar Sauce
Thousand Island Dressing
Beverages – Cocktails
Peach Margarita – Frozen or Rocks
Raspberry Margarita – Frozen or Rocks
Beverages – Nonalcoholic
Boston Iced Tea – Classic Cranberry
Boston Iced Tea – Peach
Boston Iced Tea – Raspberry
Coffee
Dr Pepper
Fruit Smoothie – Peach
Fruit Smoothie – Raspberry
Fruit Smoothie – Strawberry
Hand-Crafted Lemonade – Classic Lemonade
Hand-Crafted Lemonade – Strawberry
Iced Tea
Family Meals & Platters
Create Your Own Family Feast – Shrimp Scampi*
Family Baked Potatoes with Butter and Sour Cream
Family French Fries*
Family Mashed Potatoes
Family Seasoned Broccoli
Shrimp Scampi Family Meal*
If you're looking for a restaurant to visit for dinner tonight or for an upcoming get together with friends and family, you may find a few options at Red Lobster that don't have any gluten ingredients in them.
That said, the restaurant is very clear that most of their dishes have the potential for cross contamination in their kitchens, so keep this in mind before visiting and ordering.
Do what's best for your body, knowing what your reactions are to gluten even at trace amounts from cross contact.
Looking for more information on gluten-free restaurants?
Be sure to check out my Gluten-free Restaurants post or get all the information in one place with my Gluten-free Restaurant Guide!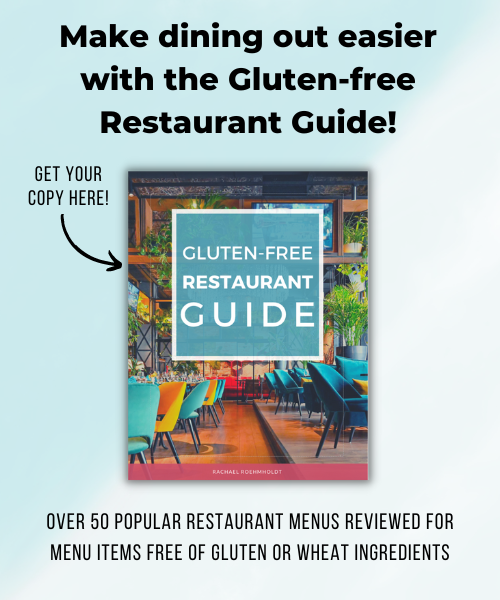 If you loved this post, I hope that you'll share it with your friends on Facebook and pin it for future reference on Pinterest.