Find out what Crumbl Cookies are, what their main ingredients are, and if this name brand cookie is safe for folks on a gluten-free diet.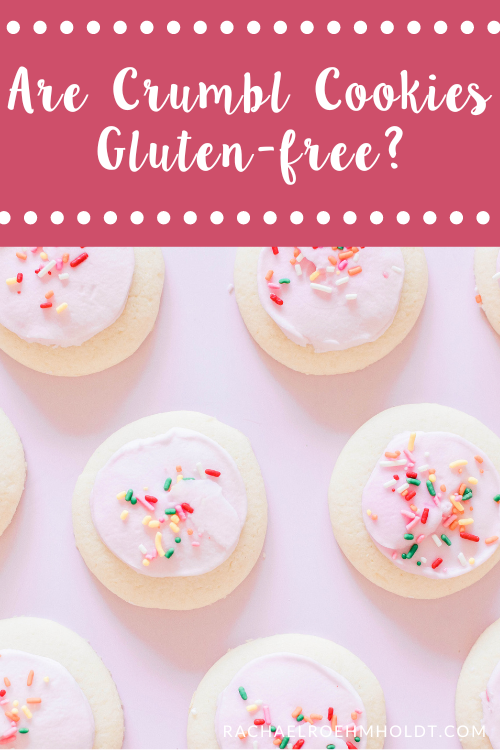 Note: I am a proud Amazon, Chomps, MunkPack, and Thrive Market affiliate and am happy to recommend their service and products to you. Please know that as an affiliate, I may receive a small commission on the products you purchase after clicking through my links. For more info, please see my disclosure policy here.
If you love to try new and popular restaurants and bakeries, you very likely have heard the buzz over Crumbl Cookies in the past few years. This franchised restaurant and bakery has been popping up just about everywhere!
If you haven't heard about them online or had a shop open up near you, let me tell you they are everywhere! These cookies don't seem to be anything special, but they have such a big following due to their business model of only offering certain flavors each week.
With Crumbl Cookies everywhere, you're probably wondering if you can enjoy them if you're following a gluten-free diet. I was too!
That's why I dug into this post with excitement to find out what Crumbl Cookies are, what main ingredients are used in their popular cookies, and if they are gluten-free or offer any gluten-free options.
Find out in this post if you can feel okay about ordering a Crumbl Cookie while trying to stick to your gluten-free diet. And if not, what to do instead.
Let's talk about Crumbl Cookies!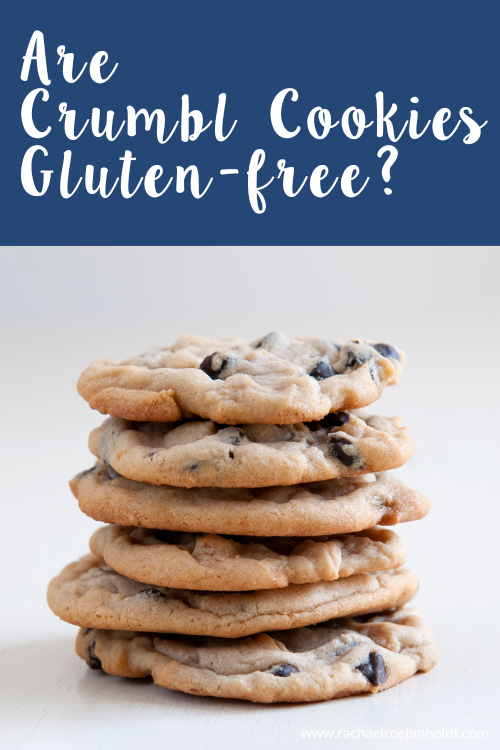 What are Crumbl Cookies?
Crumbl Cookies is a chain of bakeries that sells large sized cookies and ice cream. This restaurant has become widely popular in the past few years due to their rotating weekly menu.
Folks love that their cookie menu changes week to week, so they can try new flavors and come back for new options when they come available. They even have a weekly subscription so you can come back and get the flavors you want when they become available.
Crumbl Cookies sells oversized cookies, some with a layer of rich frosting and toppings, others with mix-ins. You'll find flavors like confetti cake, milk chocolate chip, peanut butter cup, lemon cheesecake, and rocky road, among many other flavors at Crumbl.
You can also find ice cream for sale at Crumbl Cookies, and just a few of their rotating flavors are: brownie fudge, cookie dough crunch, peanut butter brittle, raspberry cheesecake, snickerdoodle, and vanilla bean.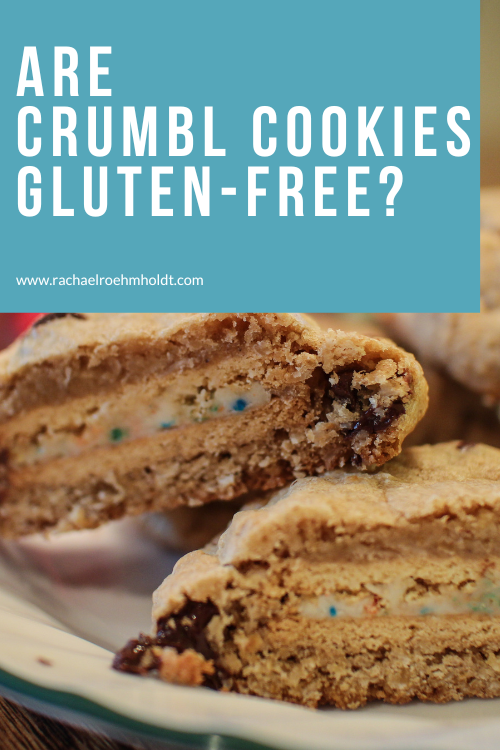 What are Crumbl Cookies made from?
Let's take a look at some of the ingredients in two of the most popular Crumbl Cookies options you can find to help determine what the most common ingredients are in this brand's cookies. Let's look at the ingredients for Confetti Cake and Milk Chocolate Chip from the Crumbl Cookie website.
Ingredients in Crumbl Cookie Confetti Cake Cookie
"All purpose flour (bleached wheat flour, malted barley flour, niacin, iron, thiamin mononitrate, riboflavin, folic acid, butter (pasteurized cream, salt), sugar, powdered sugar (sugar, corn starch), cream cheese (pasteurized milk and cream, cheese culture, salt, guar gum, carob bean gum, xanthan gum), egg, confetti sprinkles (sugar, rice flour, vegetable oil (palm kernel oil/palm oil), corn starch, cellulose gum, carrageenan, soy lecithin, titanium dioxide (color), yellow 5, red 3, yellow 6, artificial flavor, blue 1), salt, baking soda, corn starch, flavoring (water, sugar, glycerin, vanilla extract (water, alcohol, extractive of vanilla beans), natural flavors, fruit juice (color).), red color (water, high fructose corn syrup, glycerine, sugar, fd&c red 40, modified food starch, fd&c red 3, fd & c yellow 5, carrageenan gum, potassium sorbate and sodium benzoate, xanthan gum, citric acid)."
Ingredients in Crumbl Cookie Milk Chocolate Chip
"All purpose flour (bleached wheat flour, malted barley flour, niacin, iron, thiamin mononitrate, riboflavin, folic acid), milk chocolate chips (milk chocolate (sugar, milk, cocoa butter, unsweetened chocolate), sunflower/soy lecithin and vanilla), butter (pasteurized cream, salt), brown sugar, sugar, egg, baking soda, salt."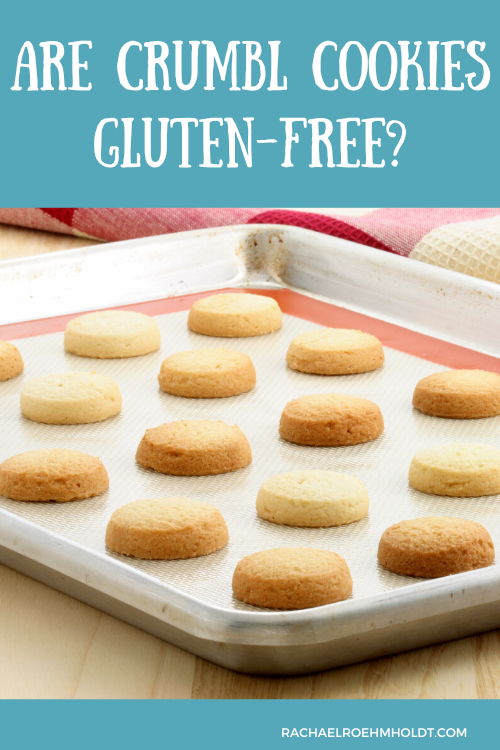 What is gluten?
Gluten is a protein found in most wheat products, and acts as the "glue" that helps to hold wheat, barley, kamut, spelt, farro, durum, bulgur, rye, and semolina together to maintain their shape.
Gluten is naturally occurring, and therefore is impossible to strip away from the grain. If a grain naturally has gluten in it, there's no way to make that food gluten-free.
Are Crumbl Cookies gluten-free?
According to the Crumbl Cookies website, they offer the following Food Allergy Warning:
"Our cookies are made onsite and may come into contact with different allergens during production.
Please be advised that any of our products may contain allergens including peanuts, tree nuts, milk, eggs, wheat, soy, and sesame."
After reviewing their website, it appears that none of their products use gluten-free flours or aim to be marketed to a gluten-free audience.
All Crumbl Cookies use all purpose flour, which includes bleached wheat flour and malted barley flour. Both of these ingredients contain gluten, and should be avoided on a gluten-free diet.
If you follow a gluten-free diet, Crumbl Cookies is a bakery and restaurant that you'll want to avoid. Sadly, there are no options for gluten-free folks to enjoy.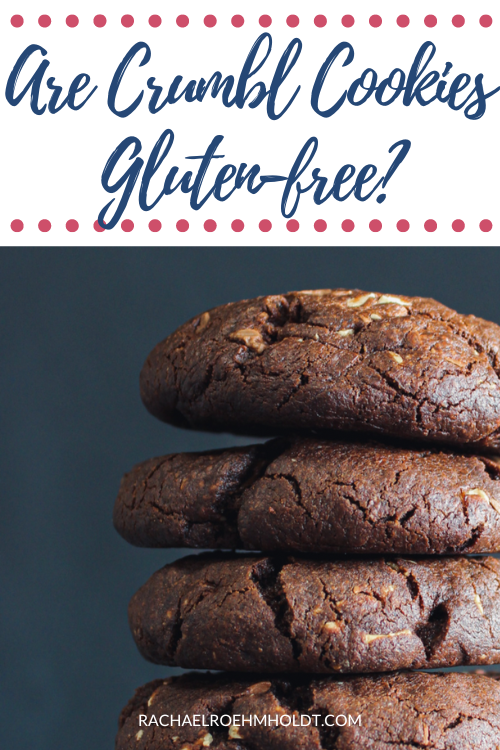 Is Crumbl Cookies ice cream gluten-free?
Some of the flavors of ice cream that Crumbl Cookies sells do not contain wheat ingredients, like their Crumbl Peanut Butter Brittle and Crumbl Vanilla Bean.
Other flavors may not contain wheat ingredients as well, so if you are looking for options at this restaurant, you may consider asking for the nutritional information before ordering from Crumbl.
That said, the restaurant is very forthright about the fact that they use wheat ingredients in most of their menu items and they know there is a chance of cross contamination in their kitchens.
Even if there are some ice cream options that have no wheat ingredients, keep in mind that nothing on the menu at Crumbl Cookies is truly gluten-free.
Don't be surprised if you order ice cream from here that has gluten from shared tools or proximity to other gluten-containing ingredients in the kitchen.
Are Crumbl Cookies dairy-free?
While looking through the Crumbl Cookie website, it's pretty safe to say that most of their products contain dairy. They use heavy cream and butter in most of their products, especially thoes with a frosting on top of the cookies.
Other cookies use chocolate that has milk and dairy products included in them, like their milk chocolate chips.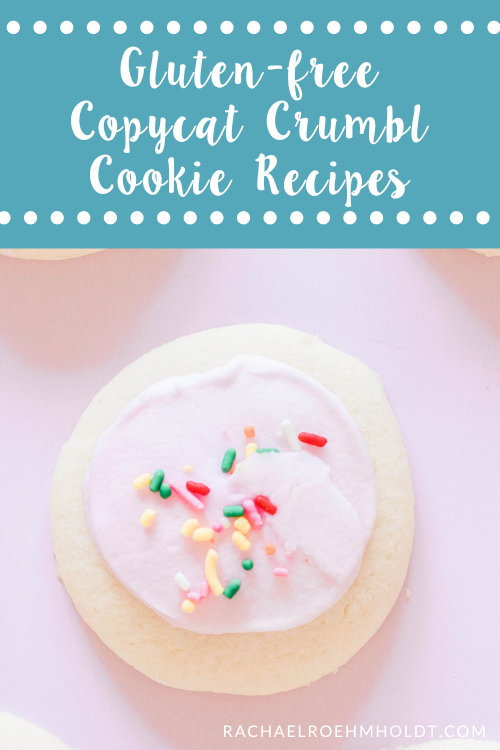 Can I make my own gluten-free Crumbl Cookies at home? Crumbl Copycat Recipes
Of course! Well, they won't really be Crumbl Cookies, but they can certainly Crumbl Cookie-inspired.
Check out some of these recipes to make a gluten-free version of your favorite Crumbl Cookie variety at home.
I hope if you've been looking for answers on whether or not you can enjoy Crumbl Cookies while sticking with a gluten-free diet, that the information in this post has been helpful for you.
While Crumbl Cookies doesn't offer any gluten-free options, you can easily make your own copycat versions at home to get the same great taste and fun treat any time you want!
f you loved this post, I hope that you'll share it with your friends on Facebook and pin it for future reference on Pinterest.