Find out what donuts are made of and if donuts generally have gluten. Plus get a few recipes for gluten-free donuts to try at home.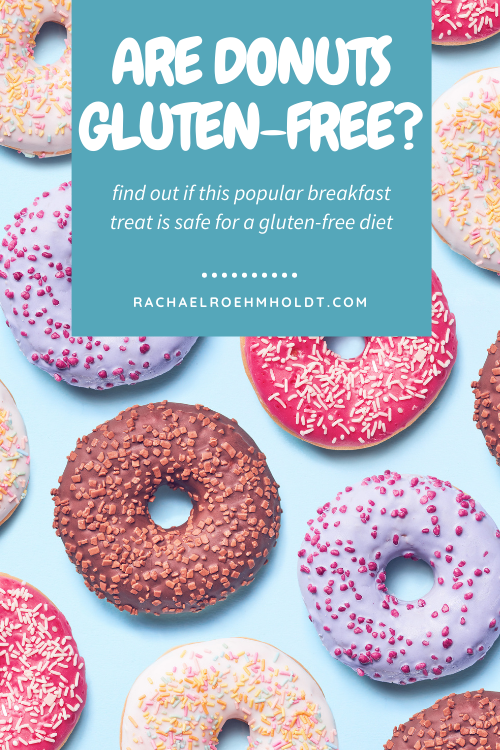 Note: I am a proud Amazon, Chomps, MunkPack, and Thrive Market affiliate and am happy to recommend their service and products to you. Please know that as an affiliate, I may receive a small commission on the products you purchase after clicking through my links. For more info, please see my disclosure policy here.
If you are a big time donut lover and often enjoy getting a box of donuts on the weekend for a treat or grabbing one from the staff room at work on special days, I bet you're here wondering if these are habits you can keep up with while on a gluten-free diet.
If you're like me, you love donuts and taking gluten out of your diet for health reasons isn't going to stop your cravings. It didn't for me anyway.
You're probably wondering how donuts can fit into your regular diet – even if it's just a once in a while food – if you're steering clear of gluten.
Whether you're just getting started with eating gluten-free or you've been at it for a while and are trying to add some of your favorite foods back in while being safe and cautious of ingredients, I'm here to help you today.
In this post, find out what donuts are made of, what gluten is, and get the answer to your big question today, "Are donuts gluten-free?"
We'll talk more about donuts from bigger name donut and coffee shops handle gluten-free or offer gluten-free options, and I'll give you some ideas for making your own gluten-free donuts at home.
There's even a brand of gluten-free donuts that you can buy online or look for locally at grocery stores or health food stores to help you satisfy this craving without having to turn on the oven.
Ready to see what your gluten-free donut options are? Let's get to it!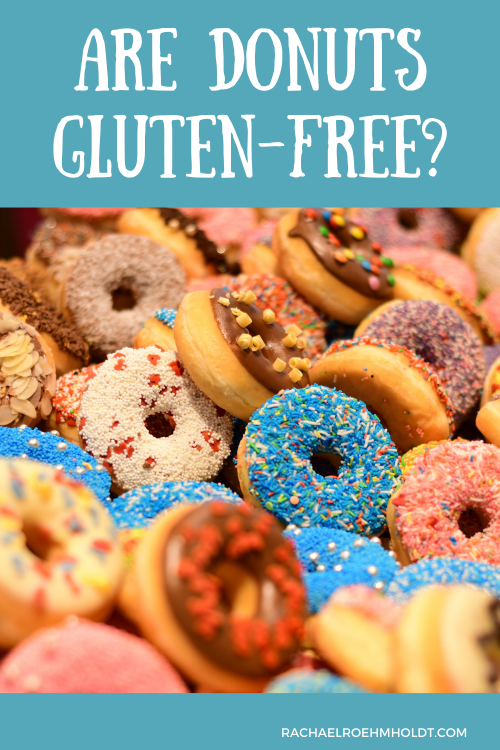 What are donuts made of?
The main ingredients in a traditional donut recipe includes milk, sugar, active dry yeast, eggs or egg whites, unsalted butter or shortening, vanilla extract, salt, all-purpose flour, and vegetable oil. Sometimes yogurt or sour cream can be used in some donut recipes.
A typical glaze that doesn't have any flavoring added will include milk, powdered sugar, and vanilla extract.
Other ingredients may be added to a standard donut batter to give it flavor or for preservatives, depending on the type of donut and where you buy it.
Locally made or bigger donut restaurants may have different ingredients than a box of donuts that are shelf stable from a grocery store.
What is gluten?
Gluten is a protein found in most wheat products, and acts as the "glue" that helps to hold wheat, barley, kamut, spelt, farro, durum, bulgur, rye, and semolina together to maintain their shape.
Gluten is naturally occurring, and therefore is impossible to strip away from the grain. If a grain naturally has gluten in it, there's no way to make that food gluten-free.
Read on: What is gluten?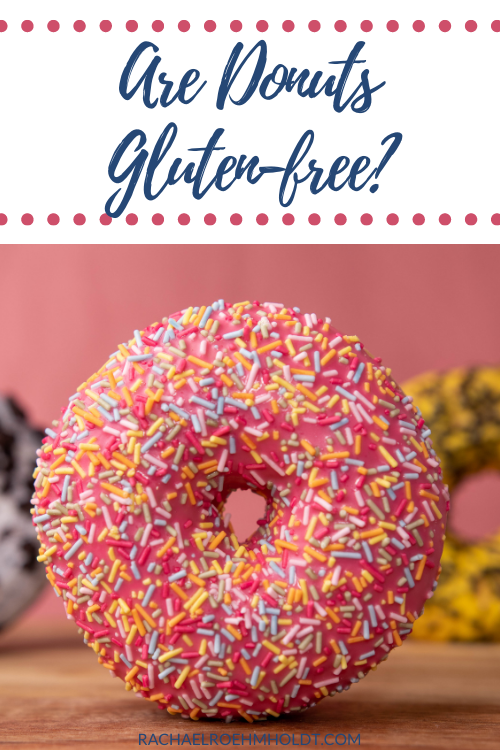 Are donuts gluten-free?
Most donuts you can buy at stores and bakeries contain gluten in the form of all-purpose flour or enriched flour, or a blend of flours suited for baking.
There are definitely places that you can buy gluten-free donuts at but they likely won't be the larger manufacturers or restaurants with big name brands.
If you follow a gluten-free diet and love donuts, one brand you may consider looking into is Katz. This brand offers both gluten-free donuts and donut holes in a variety of flavors, like strawberry, cinnamon apple, mini jelly, plain, sea salt caramel, and of course chocolate donuts.
Another option is to find a gluten-free donut mix. King Arthur brand offers a gluten-free doughnut mix that has all the dry ingredients to make your own donuts at home. A few other brands to check out are Stonewall Kitchen, Gluten-free Heaven, and Mom's Place Gluten-free.
Read on: Do donuts have dairy?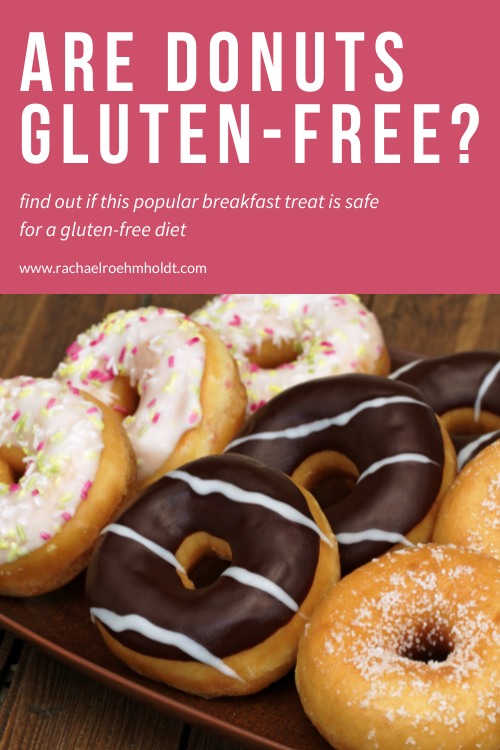 Do donuts from popular coffee and donut restaurants have gluten?
Most big coffee and donut shops like Krispy Kreme or Dunkin' Donuts use ingredients that contain gluten in the form of all-purpose flour or enriched flour.
You can look around locally for a donut shop and find out what ingredients are used in them. You may have better luck finding a donut place that caters to food allergies and sensitivities in a local setting than a bigger store.
Even the place that I live, which generally doesn't cater much to food allergies or intolerances, has a few businesses that make gluten-free donuts. They're out there, but you need to go looking for them and ask questions about ingredients before buying.
Read on: Dunkin Donuts Gluten-free Menu Items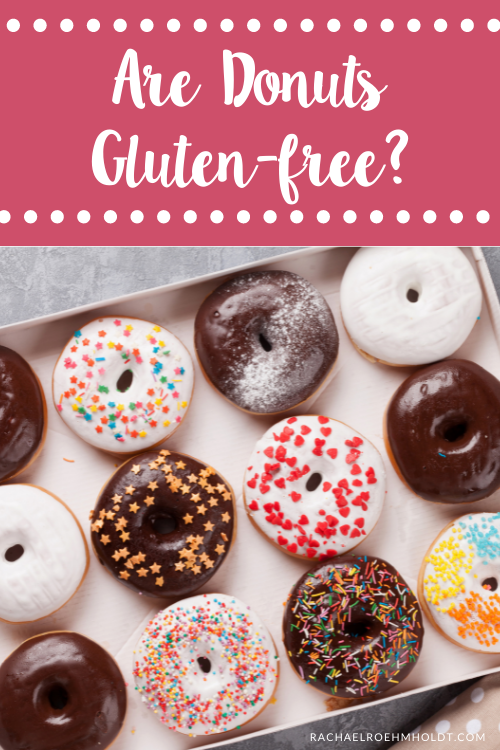 Can I make gluten-free donuts at home?
Absolutely! I love to make my own gluten-free donuts at home, because I can control the ingredients and make sure that only the foods I know I can tolerate make it into the finished product.
Since I don't eat gluten, eggs, or dairy products, it can be hard to find donuts pre-made or at a bakery, so making them at home on my own isn't much of a problem for me.
I'd rather be able to make a batch of any flavor of donut I love and enjoy it than risk getting sick from a product I'm having to compromise my health for.
To make gluten-free donuts at home, all you really need is a good recipe and a donut pan. A donut pan is simply a baking pan that has the cutouts of donuts.
What's great about homemade gluten-free donuts is that they're baked, not fried, which means they might be slightly healthier for you.
Of course there's sugar and gluten-free flour, but you get to control the ingredients of what you include, and deep frying donuts is what makes them that much more unhealthy for you due to all the saturated fat.
Best of all, you can make substitutions for whatever foods you avoid and make them customized for you. If you avoid eggs, you can find a recipe that omits or substitutes them. If you can't eat chocolate, find a recipe that doesn't use that ingredient. You can get creative and make them exactly as you like them.
To make gluten-free donuts, you can substitute gluten-free flour blend for any all-purpose flour that's called for in a traditional donut recipe.
Try one of these 25 gluten-free donut recipes.
I'd encourage you to use a gluten-free flour blend over one specific type of flour, like brown rice flour or oat flour, because manufacturers of these flour blends already take into account the texture of different baked goods and that can help you not wind up with a too crumbly or too gummy donut as a final product.
For my two favorite gluten-free donut recipes, click the links below:
You can even freeze gluten-free donuts if you bake them at home. Wrap any uneaten unglazed donuts in plastic wrap and put them in a freezer safe bag, then directly into the freezer. They keep just like muffins would, for up to 3 months. Thaw on the counter or in the fridge when ready to eat them, then glaze right before serving.
If you love donuts and are trying to find a way to enjoy them while sticking with a gluten-free diet, I hope this post has helped you get the answers you've been looking for. Most donuts contain gluten unless otherwise noted by the baker or manufacturer.
It's always a good idea to check ingredients on packaged products or check in with who is making the donuts at a restaurant to get a full understanding of what is used and the facility that donuts are baked in to minimize potential for cross contamination as well.
If you loved this post, I hope that you'll share it with your friends on Facebook and pin it for future reference on Pinterest.
Love this post? Be sure to check out some of my other great breakfast posts!
Not sure what to make for breakfast on a gluten and dairy-free diet? These posts will give you loads of ideas!