Find out what types of Thai food are gluten-free, how to order at Thai restaurants, and what to look for on menus.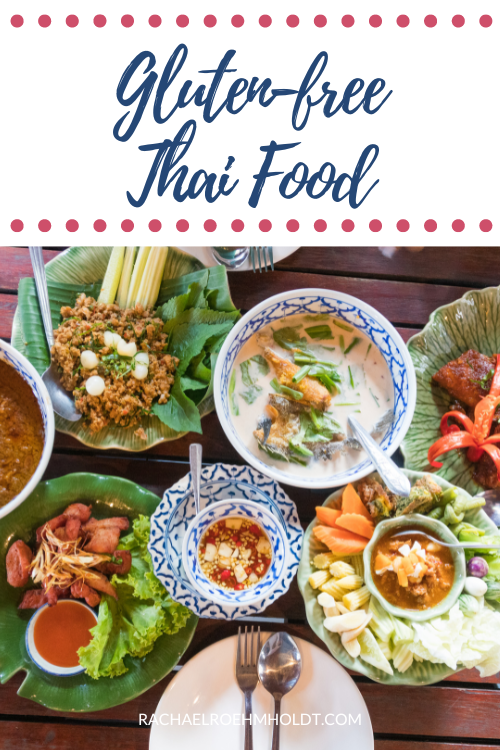 Note: I am a proud Amazon, Chomps, MunkPack, and Thrive Market affiliate and am happy to recommend their service and products to you. Please know that as an affiliate, I may receive a small commission on the products you purchase after clicking through my links. For more info, please see my disclosure policy here.
If you love going out to eat at restaurants, you've probably dined in or gotten takeout from a Thai restaurant before. Thai food is full of vibrant, bright flavors, saucy stir-fried noodle dishes, and loads of fresh veggies and savory proteins.
My personal favorite thing to order from Thai restaurants is red curry. It's the most mild of them, but it's full of veggies, some heat, and I like to get it with chicken. The place I go uses a curry paste that's gluten-free so I can confidently order from this restaurant.
If you're new to a gluten-free diet, you may have wondered if Thai cuisine will work for you and your diet. In this post, we're going to do a deep dive into Thai food and discuss what types of gluten-free options you might find at Thai restaurants, as well what dishes and ingredients you'll want to avoid.
Of course, we'll also go over some tips for dining out at Thai restaurants, and how to navigate ordering gluten-free options Thai food from restaurants.
Is Thai Food Gluten-free? Does Thai Food Have Gluten?
While it's not possible to say that all Thai food is gluten-free or doesn't contain gluten, we can say with certainty that some Thai dishes are safe for folks who follow a gluten-free diet.
There are plenty of places where gluten can show up in Thai cuisine, like in breading on fried foods, soy sauce, all dark colored sauces, and in some noodles.
You'll also want to be aware of cross contamination between ingredients that contain gluten and those that don't, as well as the pots that they're cooked in.
However, that doesn't mean that there are no options for a gluten-free diet. Let's go over some tips on what and how to order.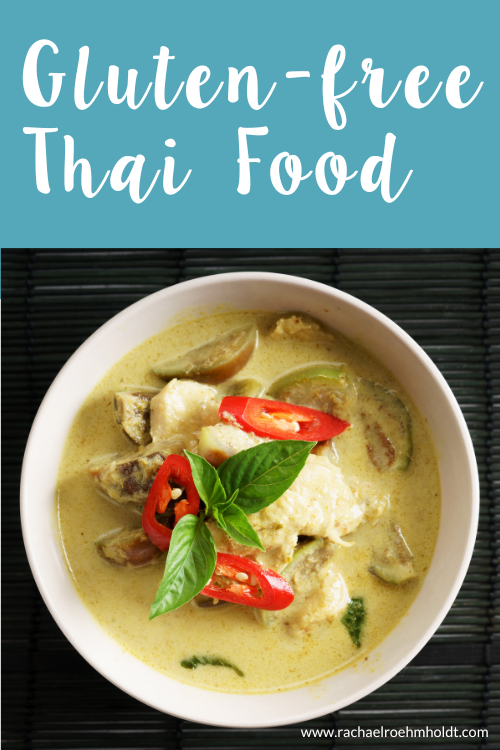 Tips for Ordering Gluten-free Thai Food
The best thing to know about ordering gluten-free options at Thai restaurants is to communicate and be aware of the ingredients that you'll want to avoid. In order to share with servers and cooks what ingredients aren't safe for you on your gluten-free diet, you need to know what they are.
Understand the names of gluten and where they hide most
There are so many places that gluten can show up in different food items. In Thai cuisine, the most common are in noodles, battered and fried foods, and sauces.
Get a list of the hidden sources of gluten by entering your information below.
Research and choose Thai restaurants with gluten-free options
While many Thai restaurants might not accommodate a gluten-free diet, there are plenty out there that will. Look around in your area to find out if the Thai restaurants near you will accommodate a gluten-free diet.
You might use Yelp and read reviews online, an app like Find Me Gluten-free to help see what others have said, or even call around and talk to the folks who work at these restaurants to see if they have a gluten-free menu or if they're willing to make substitutions or modifications to dishes for folks who are avoiding gluten.
Ask if the restaurant offers any gluten-free modifications or substitutions
Before heading to a Thai restaurant, you might consider calling them or looking them up online to find out if they offer any modifications or substitutions for folks on a gluten-free diet.
This might mean swapping out soy sauce for a gluten-free version. Or using a fresh pot of boiling water to cook noodles instead of a shared pot of water that might also cook wheat-based noodles.
Consider your level of gluten sensitivity and decide if a restaurant's efforts to meet your gluten-free needs are worth it. If extensive modifications are required, it may be easier to find a different restaurant that you can confidently order from or prepare Thai dishes at home so you know what ingredients are being used and that there will be no cross contamination.
While some restaurants might be accommodating, it's not always easy to find ones that meet these requirements. It's important to communicate your needs and ask questions about their options for modifications or substitutions for folks on a gluten-free diet.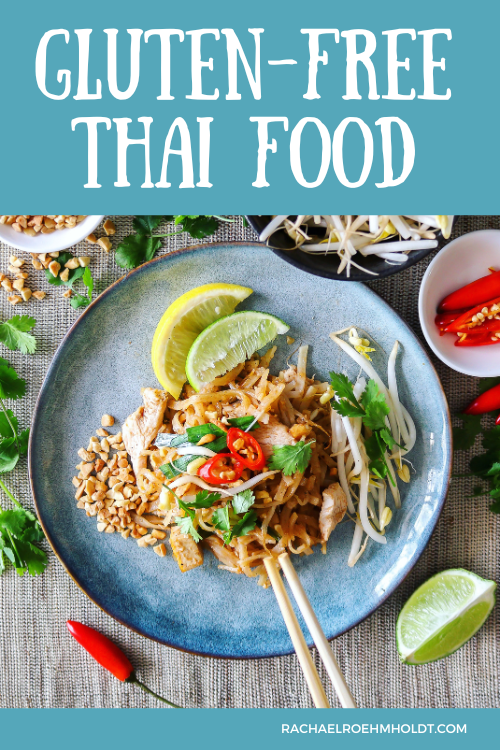 Consider the likelihood of cross contamination before ordering
When it comes to Thai restaurants and gluten-free options, it's important to know that the chances of cross contamination are high. Even if you request gluten-free dishes, there's a risk of cross-contamination in the kitchen.
Shared woks, cooking utensils, and even water that cooks noodles for noodle dishes might have gluten that can spread from one dish to another.
If you have a high sensitivity to gluten or want a guaranteed gluten-free experience, your best bet might be to whip up delicious Thai dishes at home. T
hat way, you have full control over the ingredients and cooking process. But if you do decide to dine out, do your research, look for restaurants known for their gluten-free options, and always communicate your needs clearly.
Just keep in mind that everyone's sensitivity to gluten varies, so consider your own level of risk tolerance when dining at Thai restaurants.
Consider bringing your own gluten-free tamari soy sauce
Since most Thai restaurants use soy sauce that contains gluten, usually a traditional Chinese soy sauce, you might decide to bring your own gluten-free tamari soy sauce from home.
Tamari soy sauce is made with the same ingredients as normal Chinese soy sauce, but without the wheat. If the restaurant you're visiting allows you to bring in outside ingredients, find out if you can bring your own gluten-free soy sauce to have your dish prepared with this instead of what they use.
Be wary of sharing dishes at the table
If you're the only one at the table who needs to eat gluten-free, be aware of the other dishes at the table. It's fun to share dishes among the table when enjoying Thai food, but be sure to use dedicated spoons for each bowl or dish if others want to share.
This will help prevent gluten from going from one dish into your gluten-free dish, cutting down the opportunity of cross contamination.
Talk to your server about your dietary needs
Of course, the best way to navigate ordering gluten-free options from a restaurant is to find out what your options are. A conversation with a server will be an easy way for you to get the information you need about what menu items are safe for you before ordering.
Let's go over in the next section how to talk to servers about what your gluten-free needs are.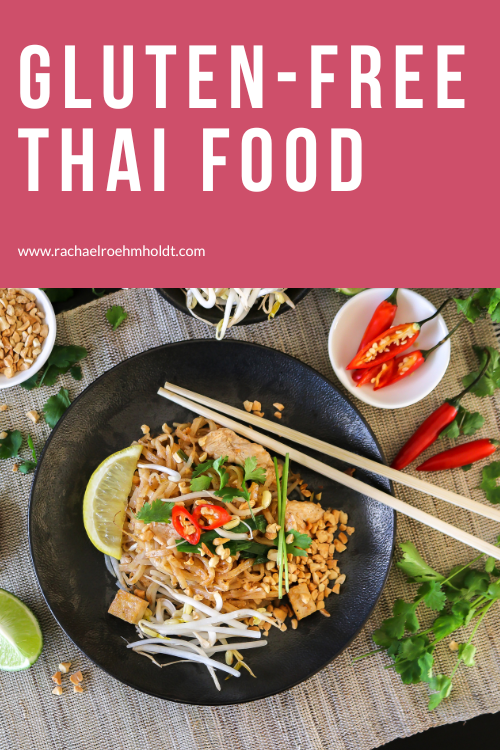 How to talk to a server about your gluten-free needs
The best way to discuss your gluten-free needs with a waiter or server is to try to speak with someone who speaks your language fluently and understands your requests.
When you're sure you can communicate effectively, explain that you need to find gluten-free options and ask for a gluten-free menu.
If there isn't one available, you may want to ask them to point out on the menu which dishes use rice or rice noodles and no soy or dark colored sauces.
Another great way to communicate with your server is to bring a gluten-free restaurant card with you.
I found some great ones from Celiac Travel and they even have an app called Gluten Free Restaurant Cards to help you share your needs in different languages. You can show it to them so they can speak with the cooks about your options.
One other strategy I use is to look at menus online before I head out to a restaurant. This feels important to me, so I have time to review what my options are and take my time figuring out if there's a possibility that I can make it work.
I know it doesn't sound very spontaneous, and it's quite boring to know exactly what you will order before you even step foot in a restaurant, but when you have dietary restrictions, that's the name of the game.
Look ahead to be prepared or find another restaurant to go to.
Read on: Gluten-free restaurants and menu items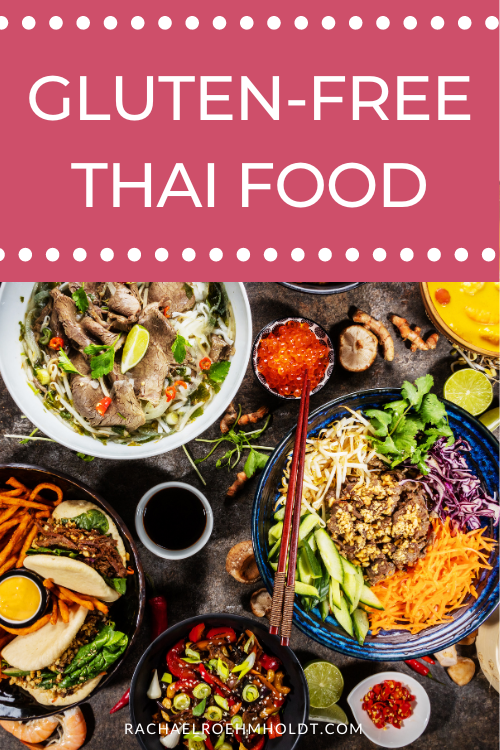 Gluten-free Thai food
While it's important to know that cross contamination can happen at any restaurant, many Thai dishes are made without gluten ingredients.
Assuming you can find out what ingredients are used in some of these dishes and can confirm that they don't contain gluten ingredients, these are some options to consider ordering from a Thai restaurant.
If you love Thai curries, be sure to specifically ask about ingredients in curry pastes to help you make sure there's no potential for gluten in curry dishes at a Thai restaurant.
Tom Kha Soup
Tom Yum Soup
Miso Soup
Pad Thai / Phad Thai
Green Papaya Salad (Som Tum)
Thai Green Salad
Grilled Meat, Tofu, or Seafood Skewers (Satay)
Massaman Curry
Thai Curry
Green Curry
Red Curry
Yellow Curry
Thai Larb
Yum Woon Sen Talay
Thai Fried Rice (make sure it's made with gluten-free soy sauce)
Thai Mango Sticky Rice
Coconut or Green Tea Ice Cream
Plain white jasmine rice or brown rice
Rice noodles
Read on: Are rice noodles gluten-free?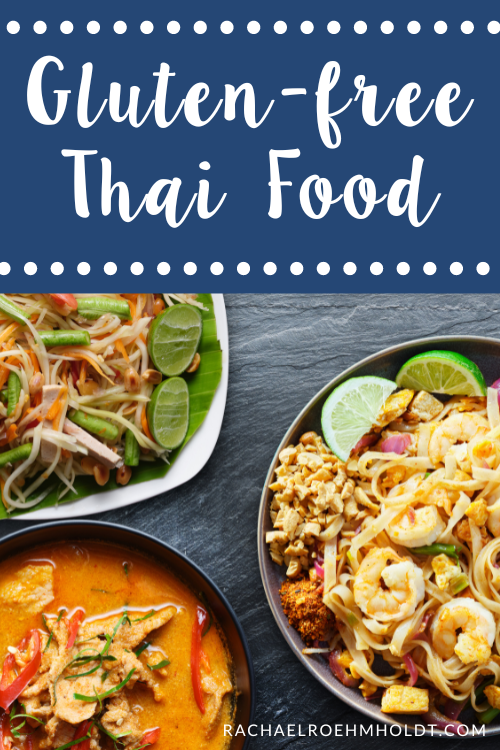 Thai Dishes and Ingredients that Contain Gluten
While there might be some dishes in Thai cuisine that work for a gluten-free diet, it's equally important to know which ones you will want to avoid.
Let's go through some categories of Thai restaurant menu items that you'll want to avoid or at least have a conversation with a server about before ordering.
Noodle dishes that contain wheat-based noodles
Any wheat-based noodles or egg noodles will likely contain gluten. You may be able to ask for a substitution of the type of noodle used in a dish. If not, opt for plain steamed white or brown rice.
Even noodles that are cooked for stir-fried noodle dishes may be cooked in a place where cross contamination is possible.
Ask your server to confirm that the noodles haven't been cross contaminated during the cooking process, especially if they're cooked in the same water as wheat-based noodles.
Battered and fried dishes
Most fried foods have been battered before deep frying. This batter almost always contains gluten, so it's best to avoid any food that's been fried when trying to follow a gluten-free diet at a Thai restaurant.
Another reason to avoid fried dishes at Thai restaurants is that even if the menu item doesn't contain gluten, other foods that have been fried in the same oil likely will contain gluten.
This creates an opportunity for cross contamination making it not safe for someone on a gluten-free diet.
Dishes that contain soy sauce
Many Thai dishes use soy sauce as an ingredient in their sauces. Most of them use Chinese soy sauce rather than Japanese soy sauce (tamari).
While tamari is naturally gluten-free without any wheat ingredients, Chinese soy sauce does contain wheat, making it not safe for folks who need to avoid gluten in their diets.
Opt to avoid any dishes that may contain soy sauce or ask your server if there is an option to use gluten-free tamari soy sauce in its place.
If they don't provide it, you may call ahead and find out if they'll use your tamari soy sauce in their kitchen just for your specific dish.
Teriyaki
While teriyaki is traditionally from Japanese cuisine, some Thai restaurants may still serve this on their menus. Know that teriyaki sauce contains soy sauce and it will contain gluten, unless otherwise noted as gluten-free.
Other ingredients used in Thai dishes that may contain gluten
Fish sauce
Oyster sauce
Brown gravy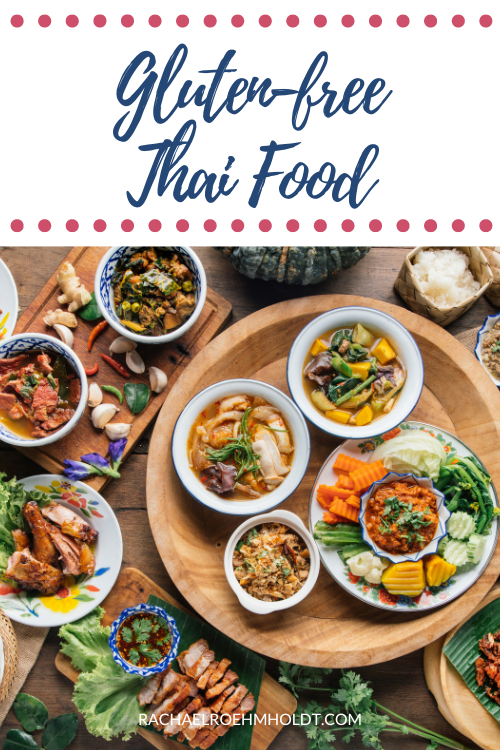 Are my favorite Thai dishes gluten-free?
With so many Thai dishes available on any one restaurant menu, let's go through a few popular menu options to get answers as to whether or not you'll want to consider ordering them.
Is pad thai gluten-free?
Pad Thai can be made to be gluten-free, but it isn't always. Though rice noodles are gluten-free, some Pad Thai sauces may be made with gluten ingredients in their fish sauce, oyster sauce, or soy sauce. If you're making your own Pad Thai at home, be sure to use gluten-free versions of these sauces.
There's also a possibility of cross contamination at restaurants while using the same wok as dishes that contain gluten ingredients. Ask the server at the restaurant you're visiting if there is gluten in their Pad Thai sauce and if they use dedicated woks and cooking tools for gluten-free orders.
Read on: Is pad thai gluten-free?
Is fried rice gluten-free?
Fried rice is usually not gluten-free, because most recipes call for soy sauce. Most soy sauce brands contain wheat in their ingredients, making this dish not usually a safe option for gluten-free folks when dining out at restaurants.
If you go to a restaurant that is committed to serving gluten-free food, you may find they use gluten-free tamari soy sauce in place of Chinese soy sauce. This is going to be a better option, however these places are somewhat hard to come by in my experience.
That said, it's not just about the soy sauce when it comes to fried rice and gluten, you'll also want to be aware of the potential for cross contamination in the kitchen if you're eating at a restaurant.
You'll need to know if the wok used for fried rice is also used for other ingredients that contain gluten, like breaded meat or ingredients that call for a flour mixture. If you eat at a restaurant, keep in mind where cross contamination may take place and if those trace amounts of gluten could affect you and your body.
Read on: Is fried rice gluten-free?
As you can see, there's a lot to think about when it comes to enjoying Thai food on a gluten-free diet. It is possible to eat Thai food while avoiding gluten with the right precautions and conversations to know what is safe for you and what you'll want to avoid.
When dining out, take the time to communicate with your server, carefully review menus, and ask for modifications to avoid gluten-containing ingredients if the restaurant you're visiting offers this.
The best way to guarantee that the Thai food you're eating is gluten-free is to prepare it yourself at home. Sure, it's not as convenient as ordering takeout or going to a Thai restaurant, but it gives you full control over what ingredients are used and you'll know for certain that it works with your gluten-free diet.
If you have any great tips on ordering Thai food at restaurants, be sure to share them in the comments section!
If you loved this post, I hope that you'll share it with your friends on Facebook and pin it for future reference on Pinterest.