Love pho? Find out if this popular Vietnamese dish is safe for a gluten-free diet and what you'll want to be aware of.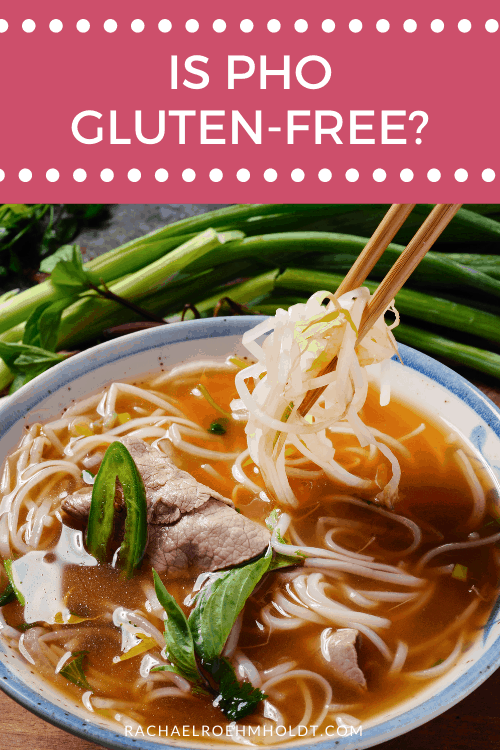 Note: I am a proud Amazon, Chomps, MunkPack, and Thrive Market affiliate and am happy to recommend their service and products to you. Please know that as an affiliate, I may receive a small commission on the products you purchase after clicking through my links. For more info, please see my disclosure policy here.
If you're a big fan of pho soup, the ever popular Vietnamese noodle soup, you may be wondering if this delicious dish is safe for your gluten-free diet.
After all, any dish with multiple ingredients opens up the potential for gluten to show up in one place or another. With meat, noodles, vegetables, and broth, you'll want to look at each of these ingredients individually and collectively to make sure this dish is gluten-free.
In this post, let's answer the question "Is pho gluten-free?" so you can have confidence in what you order next time you're choosing restaurants and deciding if pho is right for you and your diet.
Since there are multiple ingredients in each bowl of pho, let's go through the details of each "layer" of this dish and discuss whether or not it's safe for a gluten-free diet.
What is gluten?
Gluten is a protein found in most wheat products, and acts as the "glue" that helps to hold wheat, barley, kamut, spelt, farro, durum, bulgur, rye, and semolina together to maintain their shape.
You can find gluten in whole grains, but also in many processed foods as well. Many processed foods have hidden gluten in them in the form or gluten or wheat derivatives. These are also in the form of flavorings, binders to keep ingredients together, or other additives.
Read on: What is gluten in food? The basics of a gluten-free diet
Are pho noodles gluten-free?
Pho noodles are flat noodles made from rice flour. The noodles on their own are gluten-free and safe to enjoy on a gluten-free diet.
Read on: Are Rice Noodles Gluten-free?
Read on: Gluten-free Ramen Noodles: Brands and Alternatives
Read on: Gluten-free Chinese Food
Read on: Is rice flour gluten-free?
Are vegetables in pho gluten-free?
All fruits and vegetables are naturally gluten-free, as long as they are plain and are not coated in a sauce, breading, or seasoning. When you introduce these extra ingredients, this is where you'll want to be more cautious when avoiding gluten.
Breading often contains wheat flour, sauces, marinades, and seasonings can sometimes have hidden sources of gluten from different flavorings. Be aware of what you're ordering or cooking with and request plain vegetables.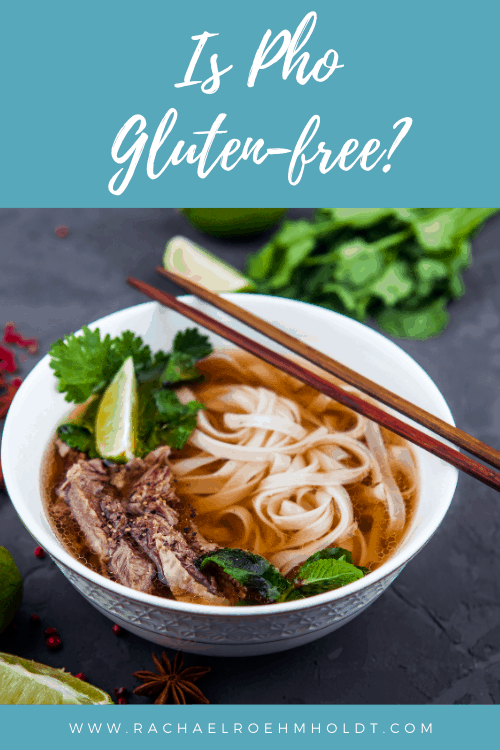 Is meat in pho gluten-free?
Meat, when used as close to the natural source as possible, is gluten-free.
All chicken, beef, pork, fish and seafood is all naturally gluten-free, as long as it hasn't been marinated, breaded, or cooked with a sauce which contains. Plain meat and eggs are safe to enjoy with pho.
Read on: What foods are naturally gluten and dairy-free?
Is pho broth gluten-free?
The broth in pho is where things get tricky. Traditionally, pho is made with beef broth and fish sauce, which can both contain hidden sources of gluten.
However, it IS possible to enjoy a gluten-free pho if the restaurant you're visiting is committed to using dedicated pots and utensils in a specific part of the kitchen. And if they can accommodate a gluten-free diet with gluten-free broth and fish sauce.
Is pho gluten-free?
Pho can be made gluten-free, however most restaurants serve pho that contains gluten in the broth from beef stock and fish sauce.
It is possible to go out to restaurants and get a gluten-free bowl of pho, however it's a little risky. You don't know what the setup is like in the kitchen, and you won't know if there is gluten in the soup (regardless of whether or not you ask) unless you've eaten it.
The safest way to get a gluten-free bowl of pho is to make your own version at home using entirely gluten-free ingredients.
Read on: Gluten-free noodles: options & brands
Read on: Gluten-free restaurants and menu items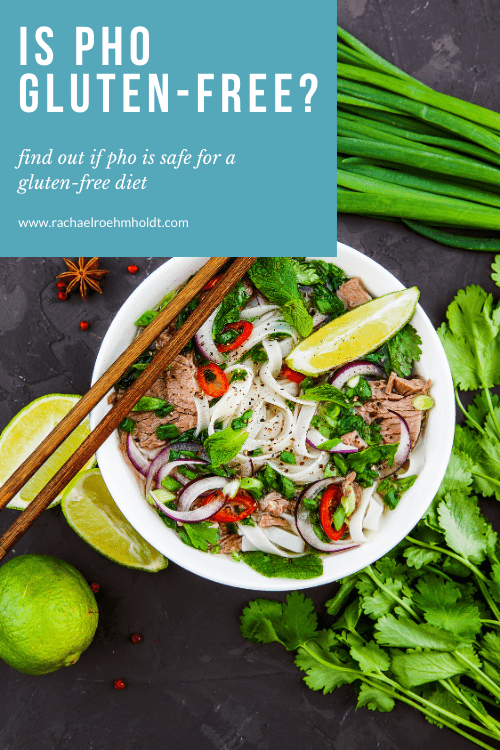 Make your own gluten-free pho
If you're interested in making your own gluten-free pho at home, there are a number of recipes online that will help you do just that!
Here are a few great gluten-free pho recipes!
If you love pho and you've been looking for the answer as to whether it's a good dish to order out or seek out a pho restaurant, I hope this post has been informative for you.
Be sure that you're looking for a dedicated gluten-free option if you go out, and your best bet is to get comfy making it at home if you're on a gluten-free diet.
If you loved this post, I hope that you'll share it with your friends on Facebook and pin it for future reference on Pinterest.
Love this post? You might also want to check out these!
Find out if your favorite foods and ingredients contain gluten with these posts!