Find out what types of Chinese food are gluten-free, how to order at Chinese restaurants, and what to look for on menus.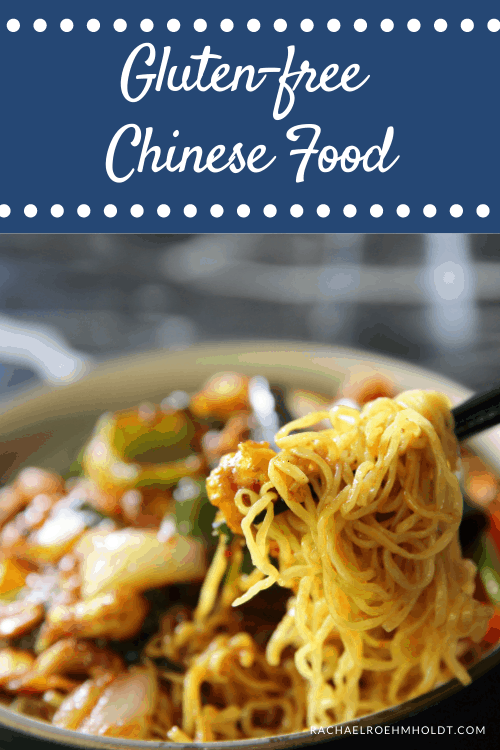 Note: I am a proud Amazon, Chomps, MunkPack, and Thrive Market affiliate and am happy to recommend their service and products to you. Please know that as an affiliate, I may receive a small commission on the products you purchase after clicking through my links. For more info, please see my disclosure policy here.
Do you love Chinese food or enjoy going out to Chinese restaurants? If so, you may be wondering if you're following a gluten-free diet how you enjoy Chinese food while staying away from gluten.
It can be tricky to find Chinese dishes from restaurants that are gluten-free, but with these tips and strategies, I hope to help you make decisions next time you're ordering to help you stick with your gluten-free diet.
In this post, we're going to dive into some tips on finding gluten-free dishes, how to talk to your waiter about your gluten-free needs, and some generally gluten-free safe options.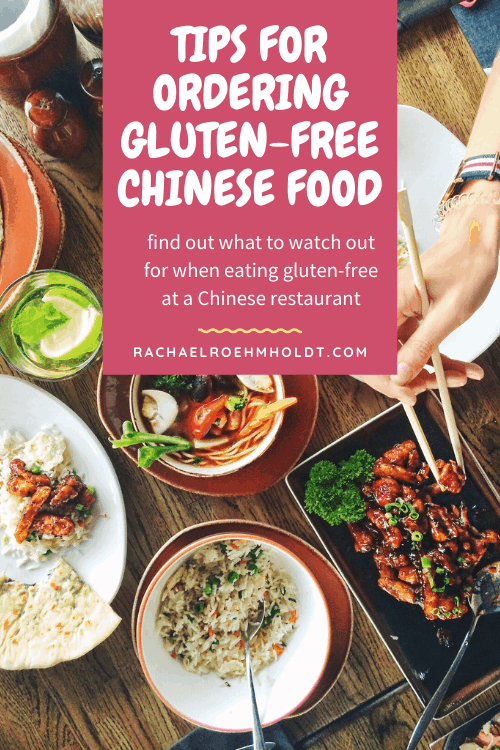 Is Chinese Food Gluten-free? Does Chinese Food Have Gluten?
For a quick and simple answer, a lot of Chinese dishes are not gluten-free.
There are plenty of places that gluten can show up in many Chinese food dishes, like breading on meats, soy sauce, and all dark-colored sauces like teriyaki, fish sauce, or duck sauce, etc.
You'll also want to be aware of cross contamination between ingredients that contain gluten and those that don't, as well as the pots that they're cooked in.
However, that doesn't mean that there are no options for a gluten-free diet. Let's go over some tips on what and how to order.
Tips for Ordering Gluten-free Chinese Food
Chinese restaurants are not going to be a gluten-free eater's best friend – let's get that out of the way right away.
However, there are some things you can do and things to be aware of to make it not a total disaster.
Here are some things to keep in mind next time you find yourself at a Chinese restaurant.
Bring your own soy sauce
Most Chinese restaurants use a traditional soy sauce made with wheat. You'll want to avoid dishes made with soy sauce and other dark sauces.
You can bring along a bottle of gluten-free tamari soy sauce to add to the dish after it's been cooked.
Or offer it to the cooks and ask if they will use this in place of the traditional soy sauce they normally use to make it gluten-free.
Sriracha sauce is gluten-free and combined with gluten-free tamari soy sauce is an excellent sauce on many dishes.
Read on: Is tamari gluten-free?
Read on: Is soy sauce gluten-free?
Read on: Is soy gluten-free?
Read on: Top 5 Gluten-free Soy Sauce Brands
Read on: Is Sriracha gluten-free?
Be aware of dark sauces
Avoid dark sauces on most Chinese dishes, as these often contain gluten and wheat. Fish sauce, duck sauce, oyster sauce, teriyaki sauce, hoisin sauce, etc all contain gluten, unless specific gluten-free brands are used.
Instead ask for simply cooked meat and vegetables or rice and rice noodles or a dish with a "white sauce" made from cornstarch, but no soy or dark sauces.
Read on: Gluten-free Teriyaki Sauce
Read on: Is teriyaki sauce gluten-free?
Read on: Is hoisin sauce gluten-free?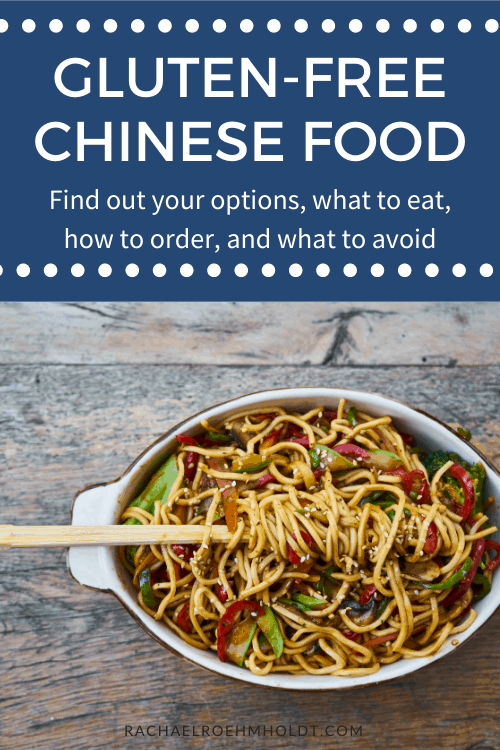 Be wary of sharing dishes at the table
If you're the only one at the table who needs to eat gluten-free, be aware of the other dishes at the table.
It's traditional to share dishes among the table when enjoying Chinese food, but be sure to use dedicated spoons for each bowl or dish if others want to share.
This will help prevent gluten from going from one dish into your gluten-free dish, cutting down the opportunity of cross contamination.
Cross Contamination is Almost Guaranteed
I hate to be a Debbie Downer, but the truth of ordering Chinese food is that you're more than likely going to encounter cross contamination of gluten somewhere along the way.
Even if you can get a dish ordered without soy sauce or dark sauces, and you choose all the right ingredients, cross contamination will likely still happen.
For a dish to be completely gluten-free, you're going to need a dedicated wok and cooking utensils that haven't come in contact with other gluten-containing ingredients.
At home, this isn't a big deal, but when you're at a restaurant, it can be pretty tricky to convince a cook who isn't used to cooking this way to make an exception just for you.
You may be lucky and have a restaurant near you that's very attentive to people with gluten-free needs, and that's great!
For the rest of us, be aware that it's quite likely that you will come into contact with gluten at some point while eating at a Chinese restaurant, unless you eat only plain rice.
If you'd like to learn more about taking on a gluten and dairy-free diet, I highly recommend checking out The Gluten and Dairy-free Diet: A Beginner's Guide. You can find more information on that here or below.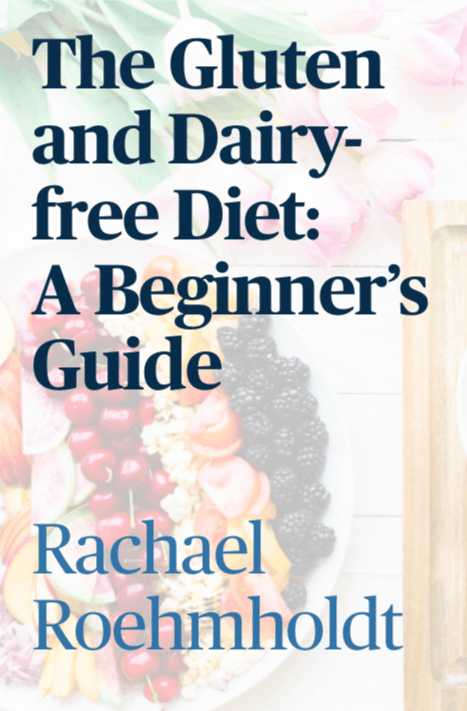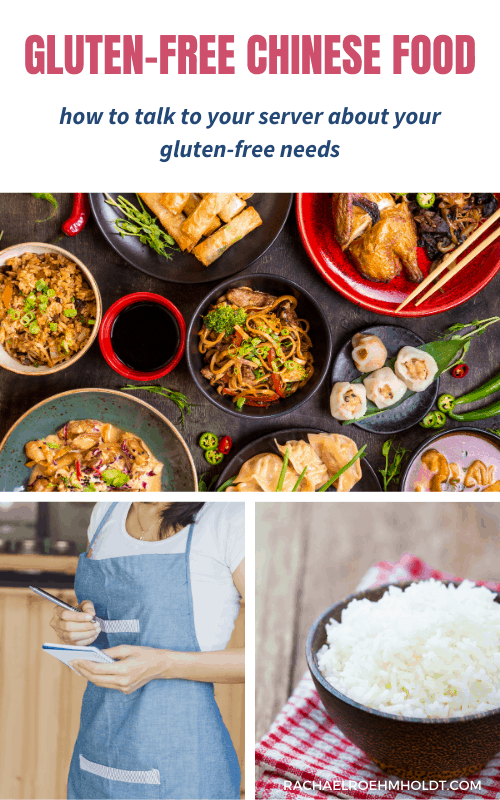 How to talk to a server about your gluten-free needs
The best way to discuss your gluten-free needs with a waiter or server is to try to speak with someone who speaks your language fluently and understands your requests.
When you're sure you can communicate effectively, explain that you need to find gluten-free options and ask for a gluten-free menu.
If there isn't one available, you may want to ask them to point out on the menu which dishes use rice or rice noodles and no soy or dark colored sauces.
Read on: Is white rice gluten-free?
Another great way to communicate with your server is to bring a gluten-free restaurant card with you.
I found some great ones from Celiac Travel and they even have an app called Gluten Free Restaurant Cards to help you share your needs in different languages. You can show it to them so they can speak with the cooks about your options.
One other strategy I use is to look at menus online before I head out to a restaurant. This feels important to me, so I have time to review what my options are and take my time figuring out if there's a possibility that I can make it work.
I know it doesn't sound very spontaneous, and it's quite boring to know exactly what you will order before you even step foot in a restaurant, but when you have dietary restrictions, that's the name of the game.
Look ahead to be prepared or find another restaurant to go to.
Read on: Gluten-free restaurants and menu items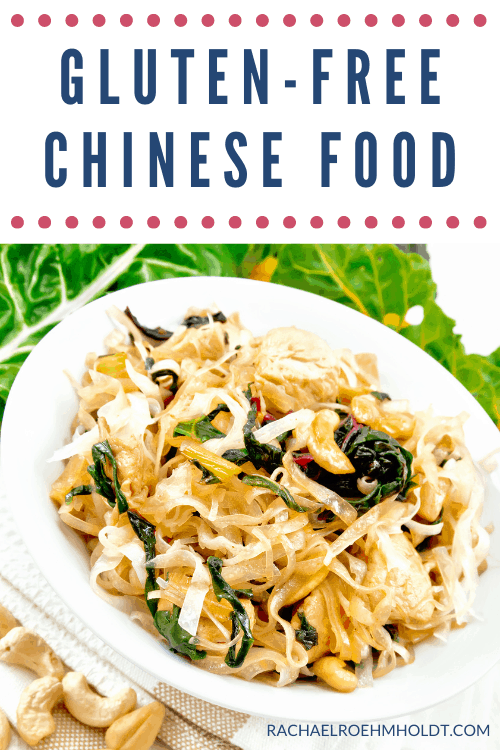 Gluten-free Chinese food
While these dishes aren't always considered gluten-free (it will depend on where you go and what ingredients are used), these are some options that you can review on a menu and determine if they will be gluten-free.
As always, ask your server for details before ordering.
Rice and Rice Noodles
Dishes made with rice (plain white or brown) or rice noodles are generally safe, as rice is naturally gluten-free.
Chow fun (wide noodles) and mei fun (thin noodles) are both great options. Assuming the dish doesn't contain any dark sauces or soy sauce, rice and rice noodles are safe.
Read on: Are Rice Noodles Gluten-free?
Read on: Is Rice Gluten-free?
Read on: Gluten-free Ramen Noodles
Soba or Glass Noodles
Soba noodles (made from buckwheat) and glass noodles (made from mung beans or starches like potato, tapioca, or green pea) are generally considered to be gluten-free.
Read on: Is buckwheat gluten-free?
Read on: Is buckwheat flour gluten-free?
Read on: Are soba noodles gluten-free?
Read on: Are glass noodles gluten-free?
Simply Prepared Meats and Vegetables with Tamari Soy Sauce
Dishes that come with plain meat or vegetables are also generally gluten-free. Look out for dishes with dark sauces, as they often contain gluten.
You may consider ordering simply prepared noodles, vegetables, and meat, then adding your own gluten-free tamari soy sauce or sriracha sauce to the meal.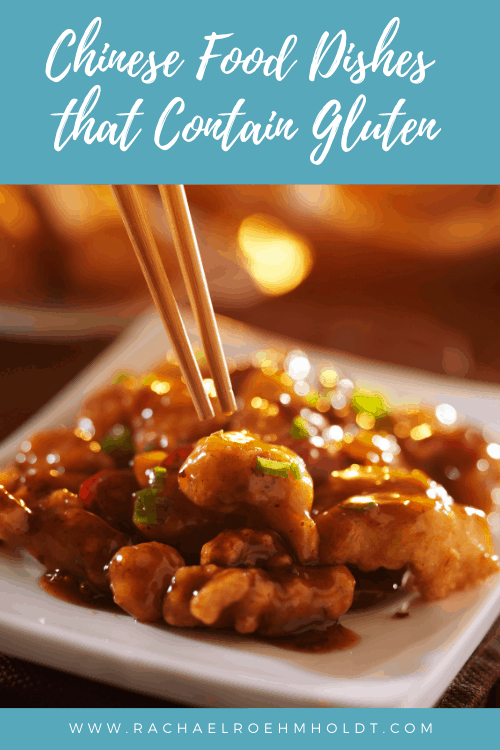 Chinese Dishes that Contain Gluten
When you're trying to avoid gluten, be on the lookout for these different types of dishes on the menu as they very likely contain gluten or wheat.
Anything with soy sauce, unless made with gluten-free tamari soy sauce
Anything with dark brown sauces (fish sauce, oyster sauces, teriyaki sauce, duck sauce, etc)
Chow mein noodles
Fried rice made with soy sauce
Breaded meats or other breaded food
Noodles made from wheat (ramen, udon, mein)
Dishes made with broth
Egg rolls and dumplings
Egg drop soup
Read on: Are egg rolls gluten-free?
Read on: Are udon noodles gluten-free?
Read on: Is fried rice gluten-free?
Read on: Is egg drop soup gluten-free?
Read on: Are spring rolls gluten-free?
Read on: Is chow mein gluten-free?
Read on: Is lo mein gluten-free?
As you can see, eating gluten-free Chinese food isn't impossible, but it certainly comes with a lot to think about.
There are options for you, and you'll want to do your due diligence in talking to your server, reviewing menus, and asking for dishes to be made without soy sauce.
The very best way to make sure the Chinese food that you are eating is gluten-free is to make your own at home.
No, it's not as easy as picking up the phone for takeout or walking into a restaurant, but it's the simplest way to be sure you can eat something delicious that suits your body's needs.
If you have any great tips on ordering Chinese food at restaurants, be sure to share them in the comments section!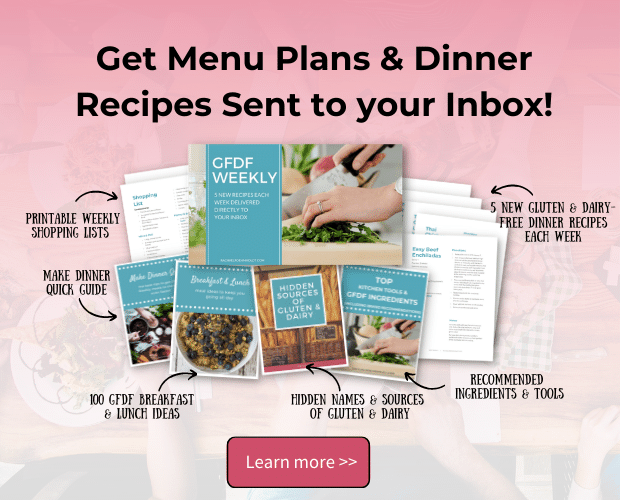 Love this post? You might also want to check these out!
Looking to learn more about a gluten and dairy-free diet? Check out these posts!