Find out what menu items from Dairy Queen do not contain gluten and what to know about gluten-free options from fast food restaurants.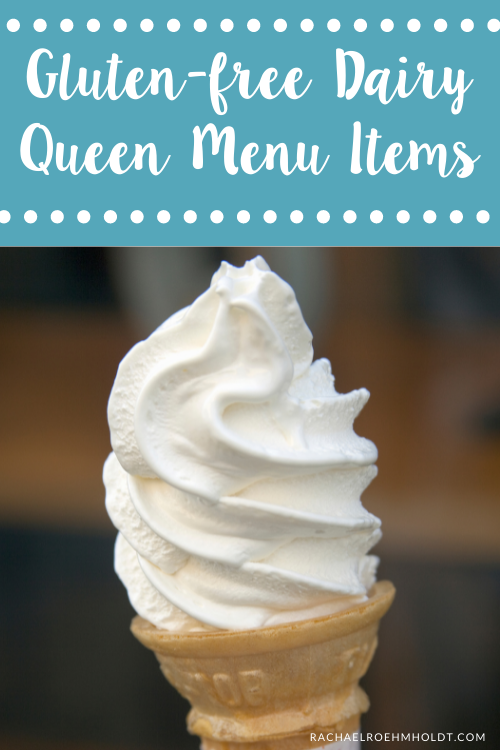 Note: I am a proud Amazon, Chomps, MunkPack, and Thrive Market affiliate and am happy to recommend their service and products to you. Please know that as an affiliate, I may receive a small commission on the products you purchase after clicking through my links. For more info, please see my disclosure policy here.
If you enjoy getting a quick dinner on a busy work night or like to pop by for an ice cream treat during the warmer months, you may have been to a Dairy Queen in your lifetime.
This fast food restaurant is known for its burgers and sandwiches, cold sweet drinks, and most importantly – their ice cream. Blizzards, sundaes, and shakes are Dairy Queen's biggest claim to fame.
If you follow a gluten-free diet or are just getting started with one, you may have been curious if you can still go through the drive-thru of Dairy Queen for a quick burger or Blizzard. My family loves to get ice cream at Dairy Queen in the summer, so I thought it would be worthwhile to put together a post in case yours does too.
Find out what menu items you can find at Dairy Queen that have no wheat ingredients, what the company's stance is on allergens, and what you can expect to find for gluten-free options. We'll also go through what to be aware of as it relates to ordering from any fast food restaurant when you're avoiding gluten.
Before we get into it, let's be sure we're on the same page as it relates to the basics of gluten and where you can find it in different foods, as well as what you'll want to know about Dairy Queen's view on allergens in their restaurants.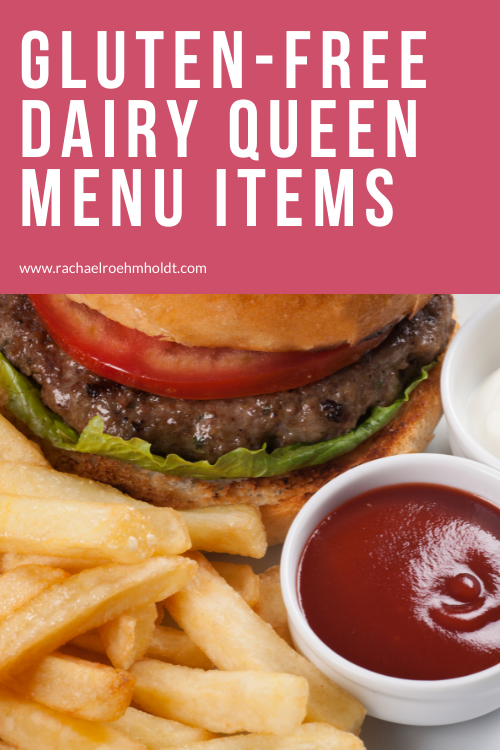 What is gluten?
Gluten is a protein found in most wheat products, and acts as the "glue" that helps to hold wheat, barley, kamut, spelt, farro, durum, bulgur, rye, and semolina together to maintain their shape.
Gluten is naturally occurring, and therefore is impossible to strip away from the grain. If a grain naturally has gluten in it, there's no way to make that food gluten-free.
Where can you find gluten in food?
Gluten is often found in the form of wheat and grain products, like bread, flour, or crackers. It can also be found as a binding ingredient, an ingredient added for texture like to make a food more crispy, or as a thickening agent.
Where can you find gluten in many fast food restaurants?
Depending on the fast food restaurant you're visiting, you may find gluten in a variety of places. Hamburger buns, the breading of crispy chicken sandwiches or chicken nuggets, some French fries, salad dressings, croutons on salad, and chili or soup options.
At some fast food restaurants, gluten can be found in dessert menu items as well. Cookie or candy bites in ice cream contain gluten, as well as ice cream cones.
Where gluten is found in the menu items will vary from restaurant to restaurant. That's why it's always a good idea to review menus from home, and see if you can find any allergen information before you get to the restaurant itself.
Being able to review nutritional information and allergen statements before visiting a fast food restaurant can be the difference between ordering something that you think is safe for your gluten-free diet and getting sick, and being knowledgeable about what specific menu items you'll be able to eat without any worries of later reactions.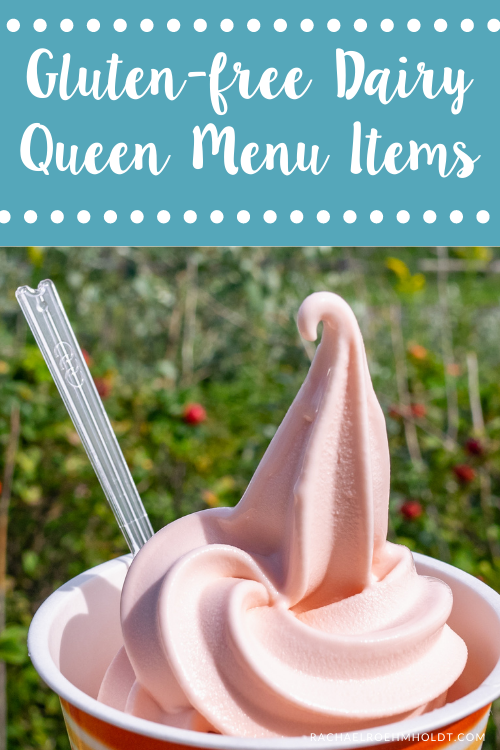 Dairy Queen allergen statement
Dairy Queen's allergen statement as of Q3 in 2022 states the following:
"DQ locations contain allergens that may come into contact with your food. Since allergens are present in every DQ location and cross-contact can easily occur, we cannot guarantee any item to be allergen free or the accuracy of the data as it relates to prepared menu items at a location.
We suggest you inform the restaurant of any allergies prior to ordering and ask to see the ingredient listing on the packaging for the product you would like to purchase"
The Allergen statement goes on with notes about fish/shellfish, soybean oil, as well as a specific note for folks who are gluten sensitive:
"Gluten Sensitive: Gluten is in many DQ products and cross contact may easily occur during product preparation. For those with gluten sensitivity, we recommend trying one of our manufactured novelties: Dilly® Bars, Buster Bar® Treats, Fudge Bars, Vanilla Orange Bars, or Starkiss® Bars, which can be found in clear, sealed plastic wrappers.
These products are made without wheat, rye, oats, or barley in a facility that has limited cross contact risk. This does not include Dilly Bars or Buster Bar Treats in paper bags, which are made on the store premises and are subject to potential cross contact."
Dairy Queen is very obvious that there is a possibility that cross contamination will occur in their restaurants and to anticipate this.
With a chat with the staff at your local Dairy Queen, they may be able to provide you with a slightly more cautious approach when dealing with your food, but even then you can assume there will be some cross contact with gluten.
Dairy Queen offers some specific products that are manufactured off site and can be bought in sealed plastic packaging. These frozen novelties are made on a dedicated line with limited cross contact risk to wheat, rye, oats, or barley.
These are still not considered "gluten-free," but they are as close as you can get at this restaurant.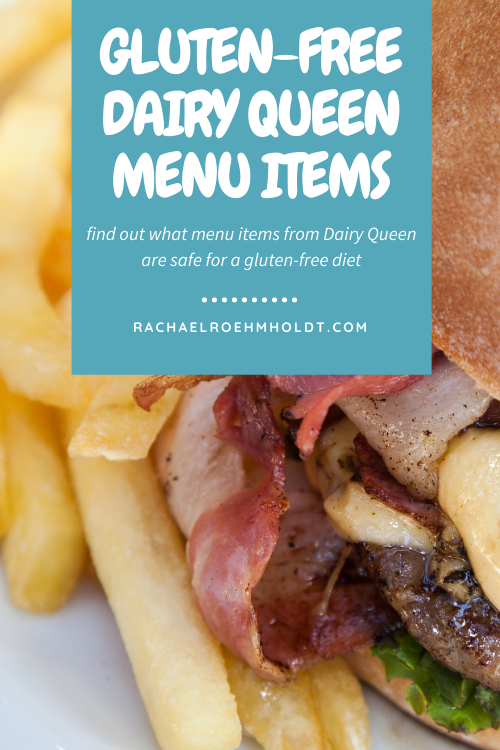 What to know about cross contamination at fast food restaurants
Most fast food restaurants are not considered gluten free establishments so it's useful to keep this in mind when making decisions about where to go and what to order.
It's important to know that even if a fast food restaurant claims that their menu items do not contain gluten, that the possibility and probability of gluten in their products is going to be high if there is even one menu item with gluten available.
Depending on your level of sensitivity to gluten, this can be make or break information for you. If you are Celiac and are allergic to trace amounts of gluten, you'll likely want to avoid most fast food restaurants that offer any bread products or French fries that are cooked in a shared fryer with other gluten-containing ingredients.
If you are not sensitive to gluten at the trace level and have adverse reactions to gluten due to a food intolerance, you may decide that these trace amounts of gluten from cross contamination are worth risking for a quick, easy, and convenient food option.
Being aware of how you have reacted to gluten in your diet in the past and how much gluten it takes for your body to react is useful knowledge when it comes to situations like these. Use your best judgment about what you know about your body, how you react to gluten, and what the risks are for you specifically.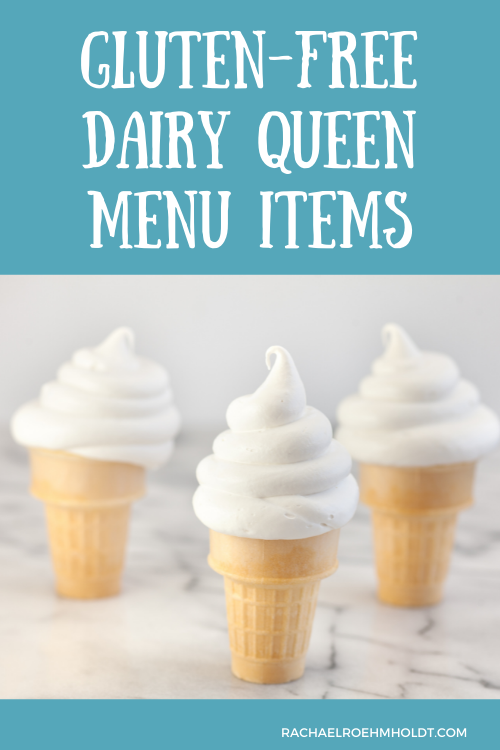 Gluten-free Dairy Queen Menu Items
Many menu items from Dairy Queen are made with gluten ingredients, like buns for burgers and hot dogs, and chicken burgers. The probability of cross contamination is high in these restaurants.
Since this is the case, Dairy Queen doesn't claim that any of their food is 100% safe for a gluten-free diet, but they do share the allergen information of all their menu items.
Wheat is listed as an allergen for many of their menu items, so we'll go through a list of those that do NOT contain wheat ingredients in this post. It's up to you to decide if you will eat these, knowing what the company shares about cross contamination in their restaurants.
Use your best judgment based on what you know about your level of sensitivity to gluten to help you decide what to eat.
Since I also follow a dairy-free diet and you might too, I've noted those without milk ingredients in this list as well. These items are marked with an asterisk (*) and are both without wheat or milk ingredients.
All information about Dairy Queen's allergens was found on their website.
Limited Time Offers
Pink Punch Misty Freeze
Pink Punch Misty Slush*
Pink Punch Twisty Misty*
Poolside Punch Misty Freeze*
Poolside Punch Misty Slush*
Poolside Punch Twisty Misty*
Breakfast
Bacon*
Breakfast Bowl – Salsa
Coffee*
Eggs
Ham*
Hash Browns*
Milk
Orange Juice Bottle*
Sausages
Read on: Are hash browns gluten-free?
Mobile Add Ons
American Cheese
Pepper Jack Cheese
Shredded Cheese
Swiss Cheese
Signature Stackburgers
All Signature Stackburgers from Dairy Queen contain gluten as they all come with a bun.
Chicken & Salads
Rotisserie-style Chicken Bites*
Rotisserie-style Chicken Bites Salad Bowl
Side Salad*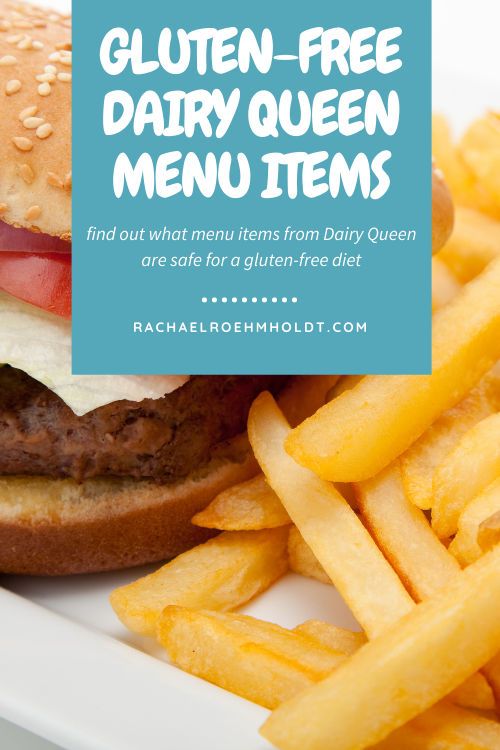 Hot Dogs
All Hot Dogs from Dairy Queen contain gluten as they all come with a bun.
Read on: Are hot dogs gluten-free?
Kids' Meals
Applesauce*
Banana*
Kids' Fries*
Milk
Snacks and Sides
Doritos Nacho Cheese Tortilla Chips
Fries*
Lay's BBQ Potato Chips
Lay's Original Potato Chips*
Oven Baked Lay's Original Potato Crisps
Dressing, Sauces, and Dips
BBQ Dipping Sauce Cup*
Honey Mustard Dipping Sauce Cup*
House Made Hidden Valley Ranch Dipping Sauce Cup
Kraft Fat Free Italian Dressing
Kraft Honey Mustard Dressing*
Marzetti Dijon Honey Mustard*
Marzetti Light Italian Dressing*
Wild Buffalo Dipping Sauce Cup*
Zesto Queso Dipping Sauce
Blizzard Treats
Cotton Candy Blizzard
Snickers Blizzard
Turtle Pecan Cluster Blizzard
Very Cherry Chip Blizzard
Shakes
Banana Shake
Caramel Shake
Chocolate Shake
Hot Fudge Shake
Peanut Butter Shake
Strawberry Shake
Vanilla Shake
MooLatte
Caramel MooLatte
Mocha MooLatte
Vanilla MooLatte
Misty Slush
Mango Misty Freeze
Mango Misty Slush*
Misty Freeze
Misty Slush*
Curl on Top Treats
Banana Split
Peanut Buster Parfait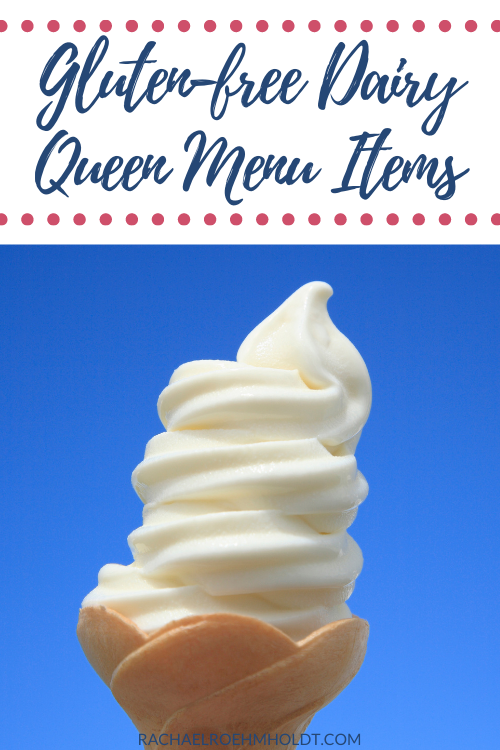 Sundaes
Add DQ Sprinkles*
Caramel Sundae
Chocolate Sundae
Hot Fudge Sundae
Peanut Butter Sundae
Pineapple Sundae
Strawberry Sundae
Cones
All Cones from Dairy Queen contain wheat ingredients.
Cupcakes and DQ Treatzza Pizza
All Cupcakes and DQ Treatzza Pizza from Dairy Queen contain wheat ingredients.
Premium Fruit Smoothies
Blueberry Mango Twist Premium Fruit Smoothie
Mango Pineapple Smoothie
Strawberry Banana Smoothie
Tripleberry Smoothie
Julius Originals
Blueberry Mango Twist Julius Original
Orange Julius
Strawberry Banana Julius
Tripleberry Julius
Add a Banana*
Antioxidant Boost*
Energy Boost*
Protein Boost*
Is Dairy Queen ice cream gluten-free?
The ice cream from Dairy Queen does not have any wheat ingredients, however the company does not specifically state that any of their menu items are gluten-free. This is due to the high probability of cross contamination with other ingredients in the restaurant.
Many of the ice cream menu items from Dairy Queen don't have any wheat ingredients, like their sundaes, a few of their Blizzards, and shakes. Be aware of any of their products that have cookies or brownies mixed in, as these will contain gluten.
You can find a list of these ice cream options in the list above in this post. Dairy Queen also offers some packaged ice cream products that are produced on machinery with minimal potential for cross contamination. Since these are sealed, the chances of coming into contact with gluten in the restaurant setting is low.
Dairy Queen states these packaged items are their Dilly Bars, Buster Bar Treats, Fudge Bars, Vanilla Orange Bars, and Starkiss Bars.
Some locations of Dairy Queen also serve non-dairy Dilly Bars, which are also gluten-free.
Read on: Is Dairy Queen ice cream gluten-free?
Read on: Is ice cream gluten-free?
Are Dairy Queen Blizzards gluten-free?
There are a few options of Blizzards at Dairy Queen that contain no gluten ingredients. The company still makes it known that there is a chance for cross contamination with gluten in their kitchens and prep areas.
If you can handle trace amounts of gluten, these are the Blizzard options that contain no wheat ingredients:
Cotton Candy Blizzard
Snickers Blizzard
Turtle Pecan Cluster Blizzard
Very Cherry Chip Blizzard
Are Dairy Queen fries gluten-free?
Dairy Queen does not list their fries as containing wheat ingredients on their allergen brochure. That said, their fries are made in a shared fryer with other food that contains gluten, like their crispy chicken for sandwiches.
There is a high likelihood of cross contamination with gluten in these shared fryers. Keep this in mind before ordering and consider what you know about your body and your level of sensitivity to gluten before deciding on this side.
Read on: Are French fries gluten-free?
Are Dairy Queen Dilly Bars gluten-free?
The Dilly Bars from Dairy Queen are one of the only safe options that contain no gluten ingredients. They still aren't considered completely "gluten-free," though.
This is because they are sold in packages and produced on machinery where there is minimal opportunity for cross contamination. Since the packages are sealed in the kitchen and prep areas, these are among the best choices at Dairy Queen if you're trying to stick with a gluten-free diet.
If you've been wondering if you can order anything from the menu at Dairy Queen on a gluten-free diet, I hope a rundown of their menu has helped you get the information you've been looking for.
While even the items listed in this post may not contain wheat ingredients, they're also not considered "gluten-free" by Dairy Queen themselves.
There is a very clear chance for cross contamination, so keep this in mind when ordering anything from this fast food restaurant and trying to stay away from gluten.
Looking for more information on gluten-free restaurants?
Be sure to check out my Gluten-free Restaurants post or get all the information in one place with my Gluten-free Restaurant Guide!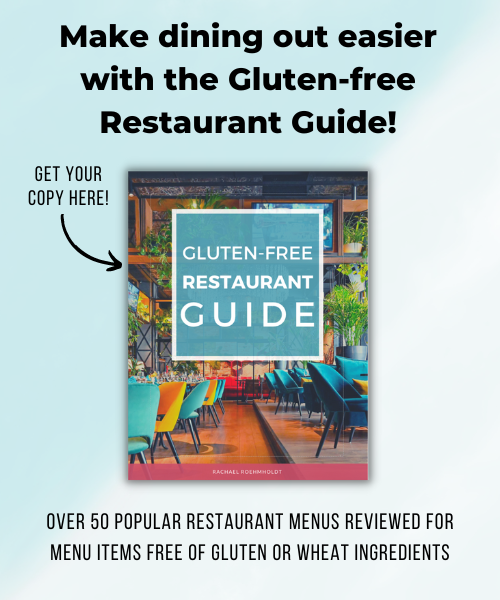 If you loved this post, I hope that you'll share it with your friends on Facebook and pin it for future reference on Pinterest.