Are you an ice cream lover? Find out if ice cream is gluten-free, which brands are safe for a gluten-free diet, and how to order ice cream out.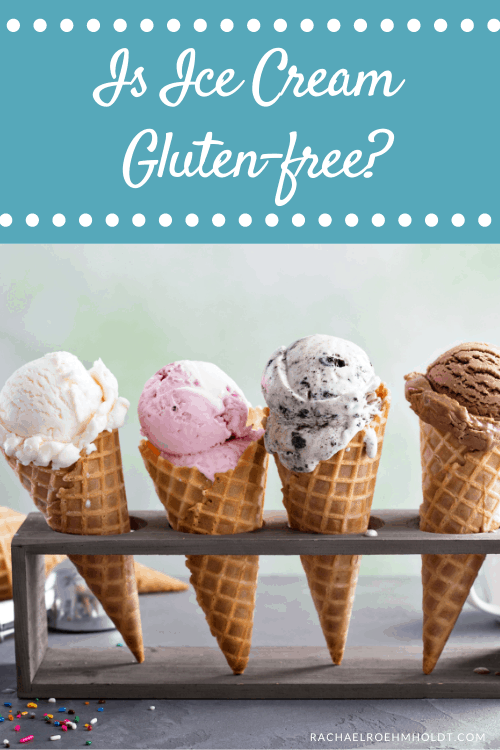 Note: I am a proud Amazon, Chomps, MunkPack, and Thrive Market affiliate and am happy to recommend their service and products to you. Please know that as an affiliate, I may receive a small commission on the products you purchase after clicking through my links. For more info, please see my disclosure policy here.
There's nothing better than a scoop or two of ice cream on a warm day. But if you follow a gluten-free diet, you know that it's not as simple as picking up a container from the store or popping down to the ice cream shop.
You have to know each and every ingredient that goes into your body so you don't risk having a reaction to gluten.
In this post, we're going to do a deep dive into the world of ice cream and talk about what ice cream is made of, if it's gluten-free, and what to look for in ice cream to make sure what you choose is safe for your diet.
We'll also go over a big list of well-known popular brands and their flavors of gluten-free ice cream, as well as review some tips for going out to an ice cream shop.
If you love ice cream, this post is for you!
What is ice cream made of?
Ice cream is generally made of a mixture of milk, cream, sugar and other flavorings. You might also find some preservatives in store bought ice cream.
What is gluten?
Gluten is a protein found in most wheat products, and acts as the "glue" that helps to hold wheat, barley, kamut, spelt, farro, durum, bulgur, rye, and semolina together to maintain their shape.
You can find gluten in whole grains, but also in many processed foods as well. If you purchase wheat bread, there will be gluten in it, because wheat by nature has gluten.
Many processed foods have hidden gluten in them in the form or gluten or wheat derivatives. These are also in the form of flavorings, binders to keep ingredients together, or other additives.
Read on: What is Gluten in Food? The Basics of a Gluten-free Diet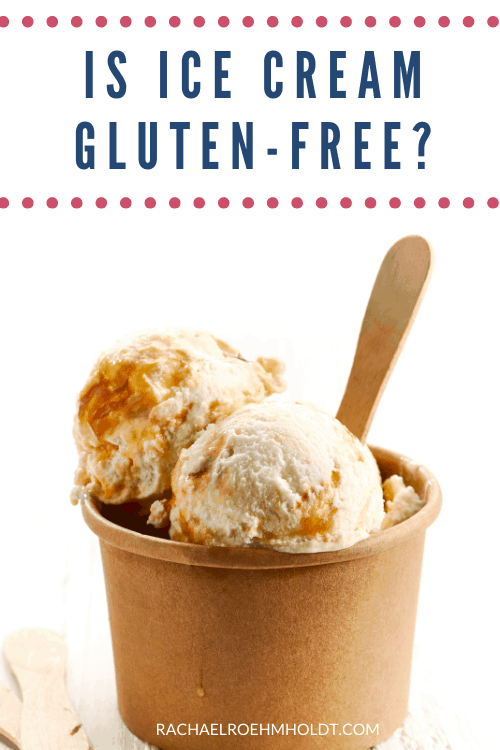 Is ice cream gluten-free?
A lot of ice cream is gluten-free when it is made using dairy or dairy-free ingredients and no additional gluten ingredients.
For the most part, you'll find gluten in ice cream where there have been mix-ins added in, like cookie pieces, graham crackers, cookie dough, or brownie bites. You might also find gluten hidden in additives, starches, or other flavorings.
Ice cream on its own as a single flavor is almost always gluten-free. Those with multiple flavors, you'll want to look a little more closely at.
It never hurts to look at ingredients lists and check for a gluten-free label if it's available. Look for hidden sources of gluten in the ingredients so that you can avoid any ice cream with hidden gluten.
Some ice cream flavors that come to mind that are not gluten-free are: cookie dough, cheesecake, brownie batter, or birthday cake. Although there may be gluten-free alternatives, so don't rule them out entirely.
Anything with chocolate cookies or cookie crumbs will also be an indicator to you that the ice cream very likely contains gluten.
Looking for an edible cookie dough or one you can add to homemade ice cream? Try my gluten-free cookie dough that's also dairy-free, egg-free, and vegan!
Is ice cream dairy free?
Ice cream is generally not dairy-free, as it is made with milk and cream which are animal products.
There are loads of dairy-free ice cream options on the market these days. These are made from different dairy-free milk alternatives, like cashew milk, coconut milk, soy milk, rice milk, and just about any other plant-based milk you could think of.
There are plenty of dairy-free ice cream brands available at the grocery store, however they tend to be on the expensive side compared to dairy ice creams.
I personally prefer to make my own dairy-free ice cream at home so that I can control the ingredients as well as keep the cost down.
I've actually found that I can make about double the amount of dairy-free ice cream for half the cost of it would to buy a pint of the same flavor at the grocery store.
What to look for in ice cream
Check ingredients lists for any obvious or hidden sources of gluten, such as wheat flour, wheat, barley malt, cookie crumbs, malt syrup, or malt flavoring.
One of my little secrets is that I carry around a copy of my GFDF Take Along Cards so that I always have a point of reference when I can sneak a peek at the ingredient list of a food.
>> Get your copy of the GFDF Take-Along Cards to make this easy on you.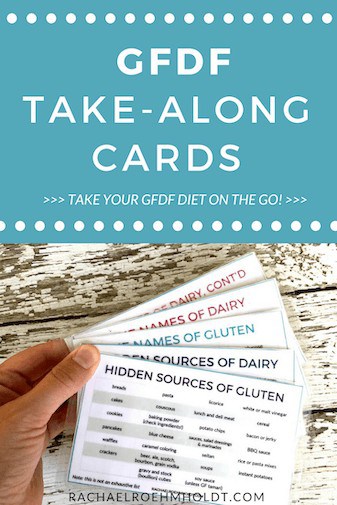 Gluten-free ice cream brands
There are a ton of gluten-free ice cream brands on the market. Many of them are quite popular and many are a little bit harder to find.
Know that if you are following a gluten-free diet and you're looking for an ice cream option, that there are plenty of different brands and flavors for you available.
By doing a little bit of research before purchasing a product or even standing in the grocery store aisle checking ingredients lists, you can save yourself the heartache of buying an ice cream you find out later has gluten.
Let's go over some of these very popular gluten-free ice cream brands, as well as some of the flavors that you can look for that don't contain gluten.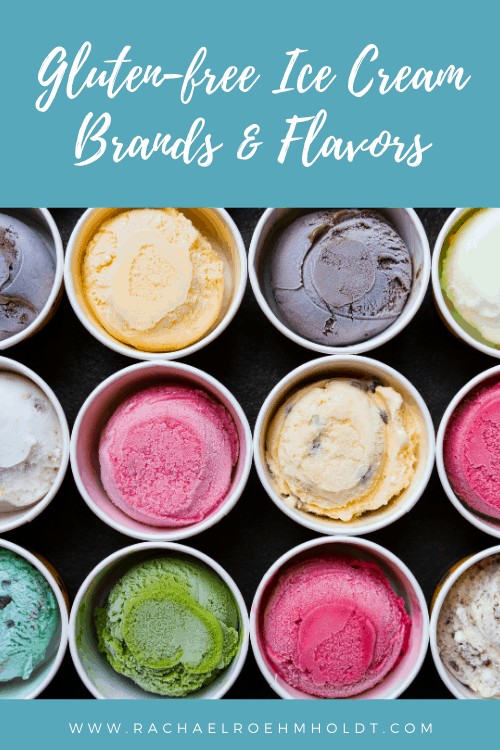 This isn't an exhaustive list as there are tons of ice cream brands out there, but I hope this list will give you a starting point to find some popular easy-to-find brands at your local grocery store.
For the sake of ease, I'm only going to talk about gluten-free ice creams that are made with dairy and I will create a post for dairy-free ice cream brands that are also gluten-free separately.
The brands and flavors listed with an asterisk (*) are labeled as certified gluten-free. Everything with a gluten-free label listed contains no gluten-containing ingredients and no more than 20ppm of gluten in the product.
The brands and flavors on the list with no annotations are gluten-free only, because they don't have any gluten-containing ingredients in the ingredients list. This means they haven't been tested for gluten or can be verified as gluten-free.
Baskin Robbins
These are not certified gluten-free, but the flavors that Baskin Robbins notes as "gluten-conscious." There is a real chance for cross contamination at the ice cream shop due to shared ice cream scoops and other tools.
Peppermint
Winter While Chocolate
Rocky Road
Cherries Jubilee
Baseball Nut
No Sugar Added Caramel Turtle Truffle
Chocolate
Chocolate Chip
Chocolate Fudge
Cotton Candy
Daiquiri Ice
Gold Medal Ribbon
Jamoca
Jamoca Almond Fudge
Mint Chocolate Chip
Nutty Coconut
Peanut Butter 'n Chocolate
No Sugar Added Pineapple Coconut
Pink Bubblegum
Pralines 'n Cream
Rainbow Sherbet
Triple Mango
Vanilla
Fat-free Vanilla Frozen Yogurt
Very Berry Strawberry
Wild 'n Reckless Sherbet
World Class Chocolate
Ben & Jerry's
Cherry Garcia*
Cherry Garcia FroYo*
Phish Food*
Chunky Monkey*
Vanilla Caramel Fudge*
Karamel Sutra Core*
New York Super Fudge Chunk*
Coffee Coffee BuzzBuzzBuzz*
Vanilla*
Pistachio Pistachio*
Banana Split
Butter Pecan
Cherry Garcia
Chocolate Macadamia nut
Chocolate Peanut Butter Swirl
Chunky Monkey
Coconut Almond Fudge Chip
Coffee
Coffee Coffee Buzz Buzz Buzz
Creme Brulee
Mint Chocolate Chunk
New York Super Fudge Chunk
Orange and Cream
Phish Food
Pistachio pistachio
Strawberry
Triple Caramel Chunk
Truffle Kerfuffle
Vanilla
Vanilla Heath Bar crunch
Read on: Is Ben & Jerry's gluten-free?
Blue Bell
Buttered Pecan
Dutch Chocolate
Homemade Vanilla
Mint Chocolate Chip
Moo-llennium Crunch
Natural Vanilla Bean
Pecan Pralines 'n Cream
Rocky Road
Strawberries & Homemade Vanilla
Strawberry
The Great Divide
Ultimate Neapolitan
Banana Split Sundae
Butter Crunch
Cotton Candy
French Vanilla
Happy Tracks
Mocha Almond Fudge
Orange Swirl
Peaches & Homemade Vanilla
Peppermint
Spiced Pumpkin Pecan
Banana Nut
Black Walnut
Cherry Vanilla
Chocolate Chip
Coffee
Creole Cream Cheese
Lemon
Milk Chocolate
Pistachio Almond
Rocky Mountain Road
Rum Raisin
Country Vanilla
Homemade Vanilla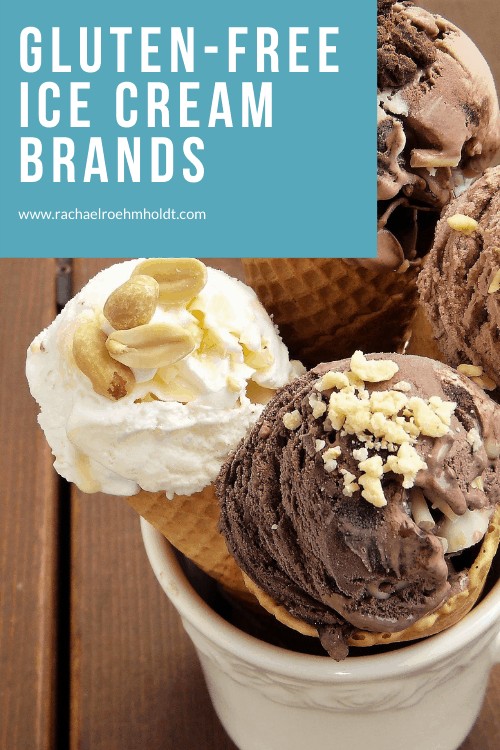 Breyers (all have Gluten-free labels)
Natural Vanilla
Homemade Vanilla
Extra Creamy Vanilla
Chocolate
Natural Strawberry
Mint Chocolate Chip
Vanilla Chocolate Strawberry
French Vanilla
CarbSmart Vanilla
Lactose Free Vanilla
No Sugar Added Vanilla
Vanilla Caramel
Peach
Vanilla Fudge Twirl
CarbSmart Chocolate
CarbSmart Peanut Butter
Lactose Free Chocolate
No Sugar Added Vanilla Chocolate Strawberry
Non-Dairy Vanilla Peanut Butter
No Sugar Added Caramel Swirl
No Sugar Added Butter Pecan
Butter Pecan
Creamsicle
Cherry Vanilla
Coffee Vanilla Chocolate
Chocolate Chip
Extra Creamy Chocolate
Black Raspberry Chocolate
Salted Caramel
Coconut Fudge
Chocolate Peanut Butter
Dove
All ice cream flavors are gluten-free, except for the Vanilla with Fudge Brownies
Haagen-Dazs (all have gluten-free labels)
Banana Peanut Butter Chip
Butter Pecan
Chocolate
Chocolate Peanut Butter
Chocolate Sea Salt Caramel Heaven Light
Coffee
Coffee Chip
Cold Brew Espresso Chip Heaven Light
Dulce de Leche
Green Tea
Lemon Sorbet
Mango
Mango Sorbet
Mint Chip
Peanut Butter Chip Heaven Light
Pistachio
Raspberry Sorbet
Peppermint Bark
Rocky Road
Rum Raisin
Strawberry
Strawberry Waffle Cone Heaven Light
Vanilla
Vanilla Bean
Vanilla Chocolate Chip
Vanilla Swiss Almond
White Chocolate Raspberry Truffle
Bars
Chocolate Dark Chocolate Ice Cream Bar
Coffee Almond Crunch Ice Cream Bar
Peppermint Bark Ice Cream Bar
Vanilla Milk Chocolate Ice Cream Bar
Read on: Dairy-free ice cream bars
Halo Top
Vanilla Caramel Milkshake
Birthday Cake*
Candy Bar*
Caramel Macchiato*
Chocolate*
Chocolate Almond Crunch*
Chocolate Mocha Chip*
Lemon Cake*
Mint Chip*
Oatmeal Cookie*
Peaches & Cream*
Peanut Butter Cup*
Pistachio*
Sea Salt Caramel*
Strawberry*
Vanilla Bean*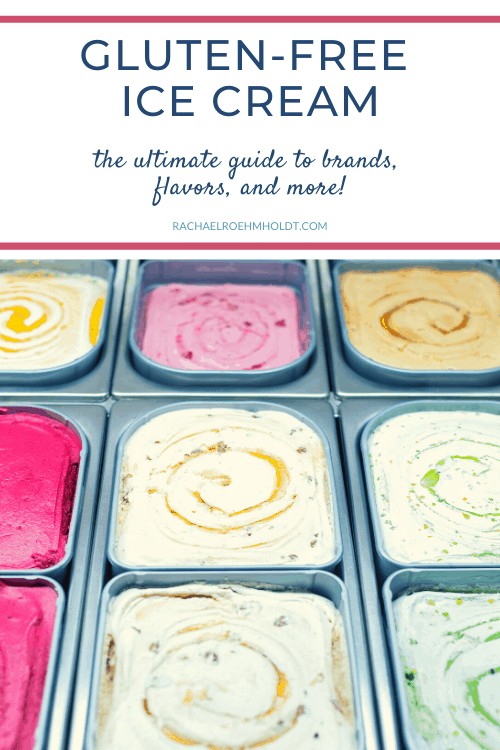 Talenti (gluten-free labels)
Alphonso Mango Sorbetto
Belgian Chocolate Gelato
Black Raspberry Chocolate Chip Gelato
Caribbean Coconut Gelato
Coconut Almond Chocolate Gelato
Coffee Chocolate Chip Gelato
Cold Brew Coffee Sorbetto
Dark Chocolate Sorbetto
Double Dark Chocolate Sorbetto
Hazelnut Chocolate Chip Gelato
Madagascan Vanilla Bean Gelato
Mediterranean Mint Gelato
Old World Eggnog Gelato
Organic Brown Butter Caramel
Organic Chocolate Mousse Gelato
Organic Ginger Matcha Gelato
Organic Oak-aged Vanilla Gelato
Pacific Coast Pistachio Gelato
Peanut Butter Fudge Sorbetto
Peppermint Bark Gelato
Roman Raspberry Sorbetto
Southern Butter Pecan Gelato
Strawberry Hibiscus Sorbetto
Vanilla Caramel Swirl Gelato
Turkey Hill (all have gluten-free labels)
American Dream Trio'politan
Banana Split
Belgian Style Chocolate
Black Cherry
Black Raspberry
Blackberry Swirl
Blueberry
Butter Almond & Chocolate
Butter Pecan
Caramel, Chocolate & Vanilla Trio'politan
Choco Mint Chip
Chocolate
Chocolate Chip
Chocolate Chocolate Chip
Chocolate Marshmallow
Chocolate Peanut Butter
Chocolate Peanut Butter Cup
Chocolate Raspberry Bliss Trio'politan
Chocolate Salted Caramel
Coco Loco Trio'politan
Colombian Coffee
Dutch Chocolate
Egg Nog
French Vanilla
Fruit Rainbow
Fudge Ripple
Gertrude Hawk Box of Chocolates
Homemade Vanilla
Milk Chocolate Fudge
Mint Chocolate Chip
Moose Tracks
Neapolitan
Orange Swirl Ice Cram
Original Vanilla
Peanut Butter Ripple
Peanut Butter Sundae
Pistachio Almond
Praline Pecan
Raspberry Chocolate Chip
Raspberry Cream Swirl
Rocky Road
Rum Raisin
Salted Caramel
Strawberries and Cream
Triple Chocolate Trio'politan
Vanilla & Chocolate
Vanilla Bean
Vanilla Bean & Chocolate
Vanilla Peanut Butter
Vanilla Salted Caramel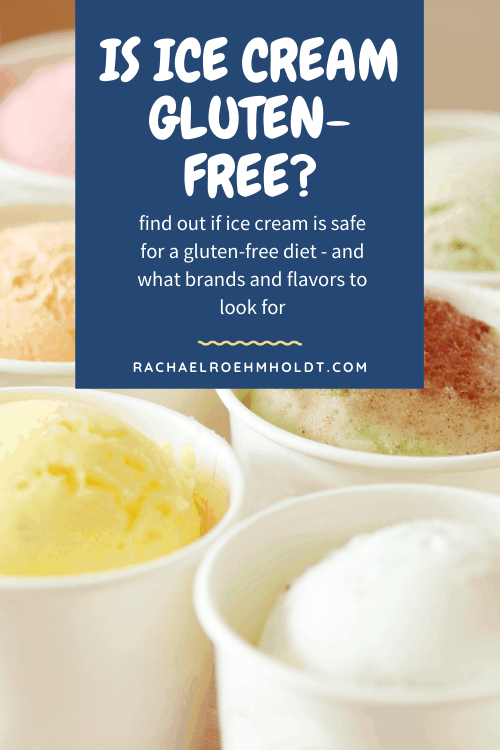 Are my favorite brands of ice cream are gluten-free?
If you have a specific brand or flavor of ice cream that you love, you may be wondering if it's gluten-free. I've rounded up some of these frequently asked questions to help you get the information you're looking for.
Is Baskin Robbins ice cream gluten-free?
None of the options from Baskin Robbins are specifically gluten-free. On their website, they have a list of "gluten-conscious" options.
This means they're calling out that there are no gluten ingredients in these ice cream options, but are still likely to have come into contact with gluten at the store or on machinery while it was being made.
Is Blue Bell ice cream gluten-free?
Many of the Blue Bell ice cream flavors are gluten-free. See the full list above for flavor options for your gluten-free diet.
Is Blue Bunny ice cream gluten-free?
Blue Bunny's website states that they don't test or label any of their products as gluten-free. Check the ingredients lists for some of their flavors to see if they are gluten-free, or simply skip this brand knowing that hidden gluten and cross contamination are likely.
Is Breyers ice cream gluten-free?
Breyers offers a number of gluten-free ice cream flavors, and these have gluten-free labels on them. Find a list of the flavors in the list above in this post.
Read on: Is Breyer's ice cream gluten-free?
Is Dairy Queen ice cream gluten-free?
The Dairy Queen website states that it's best for gluten sensitive folks to choose their products that are manufactured, such as their Dilly bars, Buster Bar Treats, Fudge Bars, Vanilla Orange Bars, or Starkiss Bars. These come in plastic packaging, so the opportunity for cross contamination is low.
Other ice creams from Dairy Queen may be gluten-free, but they state that the gluten is likely to come into contact with the ice cream during preparation. For the full allergen statement, click here.
Read on: Is Dairy Queen ice cream gluten-free?
Read on: Gluten-free Dairy Queen Menu Items
Is Halo Top gluten-free?
There are a number of Halo Top flavors that have a certified gluten-free label on their packaging. See the list above for which flavors the brand confidently labels as gluten-free.
Note that not all Halo Top flavors are gluten-free. Look for the gluten-free label every time you pick up this brand of ice cream.
Other flavors without this label on the package indicates either the brand didn't conduct testing on it, or they know there is gluten in the product either from ingredients or cross contact during manufacturing.
Is Peters ice cream gluten-free?
According to the Peters website, they offer some ice creams and ice cream products that are gluten-free. To see the full list, go to this page.
Is Turkey Hill ice cream gluten-free
Turkey Hill offers a number of gluten-free flavors. You can review the full list of flavors that are safe for a gluten-free diet above.
Is soft serve ice cream gluten-free?
As a general rule, soft service ice cream is gluten-free as long as it doesn't contain cookies or other gluten-containing ingredients.
Most soft serve ice cream is a single flavor, then later topped with ice cream toppings or loaded into ice cream cones. Both of these will either have gluten or the potential for cross contamination with gluten.
Assuming you stay away from gluten-containing toppings and cones, soft serve is generally safe for people on a gluten-free diet when enjoyed out of a cup.
Are Klondike Bars gluten-free?
According to the Klondike website, "Nope. Klondike products are not gluten-free. We do not operate allergen-free manufacturing sites, however we do have allergen management programs in all our facilities. The intent of these programs is to avoid unintentional cross-contamination of allergens between products."
Read on: Are Klondike Bars gluten-free?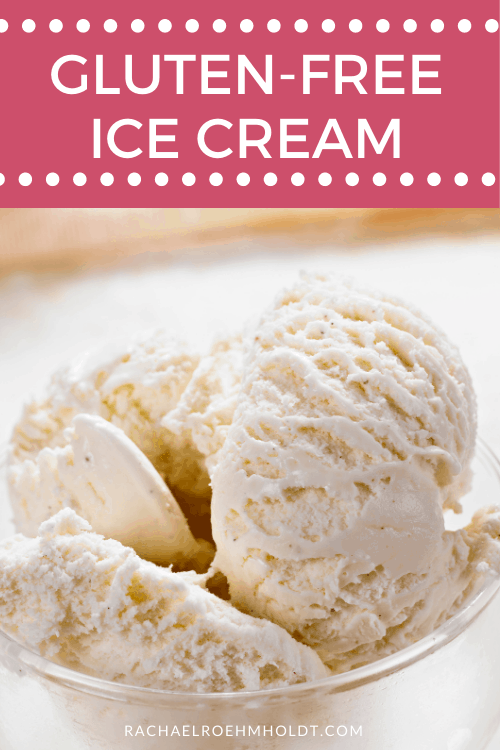 Choosing a gluten-free ice cream
When you're choosing an ice cream that is safe for your gluten-free diet, there a few things you'll want to keep in mind.
Choose ice creams that are a single flavor. The fewer ingredients, the less likely gluten will get slipped in under hidden names. You can definitely choose something with more than one flavor, but do your due diligence checking for gluten-free labels or ingredients lists.
Avoid any ice cream flavors that have cookies, brownies, graham cracker crumbs, or other crunchy mix-ins. These will be a very clear indicator that there's gluten in the product.
Be aware of brands that offer both gluten-free and gluten-containing flavors, as the risk for cross contamination will be higher if they use the same facility and processing lines.
The best way to know if your ice cream is gluten-free is to look for a gluten-free label. If there is a gluten-free label, you'll know that it has less than 20 parts per million of gluten in that product.
If there's no gluten-free label, you can look through the ingredients list to find out if there are gluten-containing ingredients.
If there aren't, you can be fairly sure it's gluten-free, but also aware that the potential of cross-contamination or other cross contact may have occurred without that gluten-free label.
Make your own gluten-free ice cream
As with any diet that's avoiding a food allergen, the best and easiest way to make sure that your ice cream is gluten-free is to make your own at home.
It's surprisingly easy to make ice cream at home if you have an ice cream maker, or even just a blender. There are tons of recipes online that you can make for both dairy and dairy-free ice cream.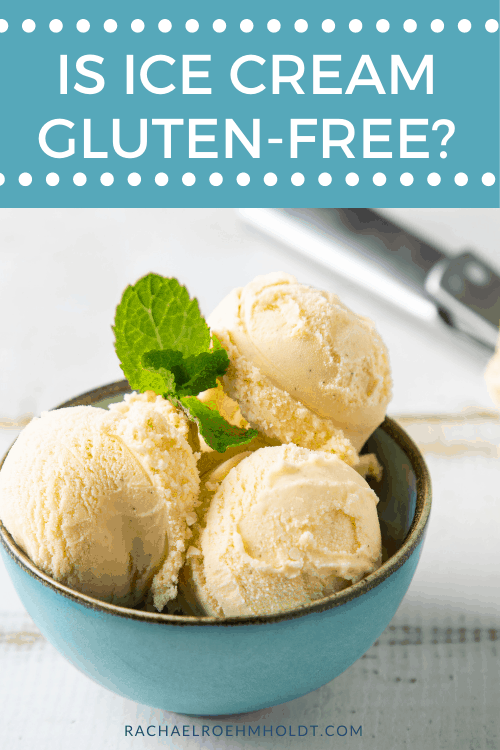 Ordering at ice cream shops on a gluten-free diet
Going out to an ice cream shop is one of the most fun things to do on warm days. So here are some tips for going out to ice cream with your family or friends and being sure that you're able to stick with your gluten-free diet.
Be aware of cross contamination
Check to see how the servers at the ice cream shop are cleaning their ice cream scoops between customers. Are they using the same ice cream scoop to dish up the gluten-containing ice cream as those that are single flavor without any gluten?
Be aware that most places aren't going to use separate gluten-free ice cream scoops, so you'll want to ask or be very diligent about watching before you order.
If small amounts of gluten don't bother you on your gluten-free diet, then this isn't really a concern. But you'll want to be aware if you have an allergy or you can't tolerate minimal amounts of gluten in your diet with your food intolerance.
Ask them to use a clean scoop out of a fresh container
Another option to ensure no cross contact with gluten is to ask your server to use a clean ice cream scoop and scoop out of a fresh container, and use clean gloves.
Of course, if you ask this of someone, my opinion is that it would be very generous to tip well for going to the effort of keeping you safe.
Get a cup over a cone, as most cones are made with gluten
Most cones are made using gluten, so if you're following a gluten-free diet choosing a cup over a cone is going to be your best bet.
Some ice cream shops offer gluten-free cones, however the issue of cross contact might be something that you want to be aware of before making this choice.
Avoid toppings as cross contamination risk is high
If you're at an ice cream shop where you can choose your own toppings or someone applies ice cream toppings for you, be sure that the spoons and scoops used aren't going into different bowls.
For example, if a scoop is used for fresh strawberries, then dipped into a container with cookie bits, both the fresh strawberries and the scoop now have gluten on them.
Be aware of how easy this happens. To be safe, consider forgoing ice cream toppings while out.
Read on: Are sprinkles gluten-free?
Look ahead at flavors online
Many larger ice cream chains have their gluten-free flavors listed online so you can make an informed decision before you go.
If you're going to a place that serves only ice cream (like Baskin Robbins), you might want to look at the places website to determine what flavors they have.
It can be nice to have the ability to look ahead and get a sense of what their options are, so you can do a little bit of research to find out what the ingredients are in each of these flavors.
Knowing before you go will help you narrow down your options, so you aren't overwhelmed and feel like you have to make a quick decision.
If you love ice cream and you are on a gluten-free diet, I hope that this post is helpful for you to make informed decisions as to what brands, what flavors, and what choices you have when you go out for ice cream.
There are so many great gluten-free ice cream options both at grocery stores and when out at ice cream shops. I hope you find a great flavor and brand you can come back to time and time again.
If you loved this post, I hope that you'll share it with your friends on Facebook and pin it for future reference on Pinterest.
Love this post? You might also want to check out these!
Find out if your favorite foods and ingredients contain gluten with these posts!