Do you follow a gluten-free diet and wonder if French fries are gluten-free? This post will give you all the information you need to know to make an informed decision on whether to enjoy these or not if you're gluten free.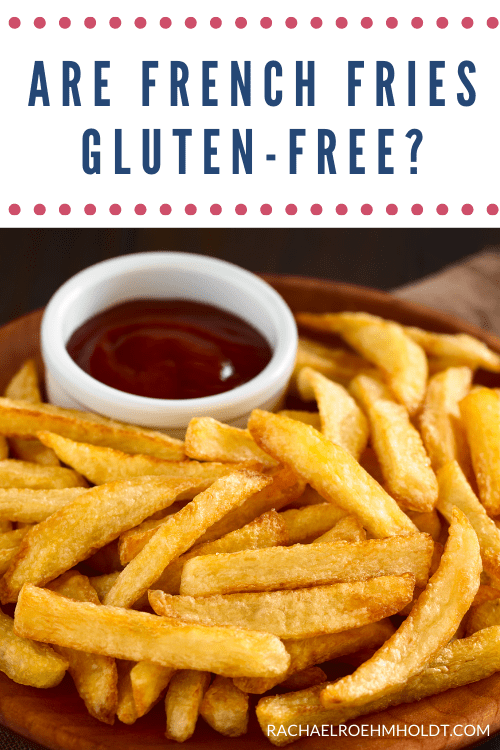 Note: I am a proud Amazon, Chomps, and Thrive Market affiliate and am happy to recommend their service and products to you. Please know that as an affiliate, I may receive a small commission on the products you purchase after clicking through my links. For more info, please see my disclosure policy here.
If you're a big French fry lover, you might be wondering if they're safe for a gluten-free diet. While in theory French fries are just potatoes, this topic is a little more tricky than you'd think at face value.
In this post, we're going to dig into the details of French fries, how they're made, when they are safe to eat on a gluten-free diet and when they aren't.
What are French fries made of?
In theory, you'd think French fries are only made of potatoes and the oil that is used to fry them. However, that's not always the case. Many French fries are made with extra flavorings, preservatives, and ingredients that help the fries to crisp up while being fried in hot oil.
It's important to do your research before eating any ingredient on a gluten-free diet, even when you're going to a restaurant. We'll talk more about which restaurants have gluten-free French fries below, and what options you have for frozen French fries from the frozen section of the grocery store.
Read on: Are Potatoes Gluten-free?
What is gluten?
Gluten is a protein found in most wheat products, and acts as the "glue" that helps to hold wheat, barley, kamut, spelt, farro, durum, bulgur, rye, and semolina together to maintain their shape.
Gluten is naturally occurring, and therefore is impossible to strip away from the grain. If a grain naturally has gluten in it, there's no way to make that food gluten-free.
Gluten is often added as a binding ingredient in many foods, and in French fries, it may be in a batter that is added to help get a French fry to be more crispy on the outside.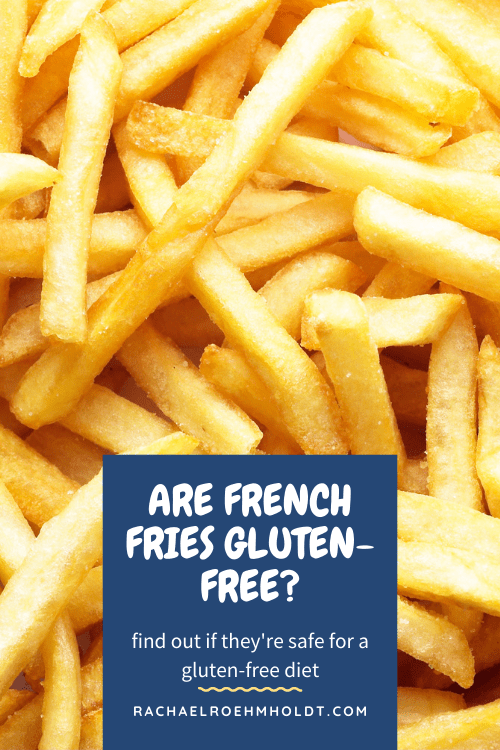 Can I eat French fries on a gluten-free diet?
French fries can be enjoyed on a gluten-free diet when (and only when), you have confirmed two things:
1. The French fries have not had any gluten ingredients added to them before the frying.
Many times, restaurants and frozen French fry brands will add gluten-containing ingredients, to help create a crispy texture in the fryer or give the fries more flavor.
2. The fryer the French fries go in to cook is not used for other gluten-containing foods.
At many restaurants, French fries are cooked in the same fryer as onion rings, fried chicken or chicken nuggets, or other battered foods – all of these contain gluten. In this case, let's say chicken nuggets are fried in the oil, then removed.
If a batch of fries goes into the same fryer, it's going to be swimming in the same oil where the gluten just came out of. The oil won't kill off gluten, so if you're sensitive to cross contamination, anywhere that has used a fryer for French fries (and most do) is very likely going to contain gluten.
Some restaurants might have a dedicated fryer for their gluten-free products, but you'll need to ask your server to have the chefs use this fryer for making your French fries. Know that just because a restaurant says they have a dedicated fryer doesn't mean they actually do and they actually use one.
Eating French fries at restaurants is something to be done "at your own risk." You'll want to do your research on those two points above before you go, or simply don't order French fries. Opt for a baked potato instead or another side dish that doesn't have the potential for cross-contamination.
Read on: Is Ketchup Gluten-free?
Are potatoes gluten-free?
Potatoes are naturally gluten-free, making them a great choice for anyone on a gluten-free diet. You can use potatoes in a number of ways to enjoy them for breakfast, brunch, lunch, or dinner.
Some delicious ways to enjoy potatoes are baked, mashed, as hash browns, in soup, in salads, and yes – as French fries.
Read on: Are tater tots gluten-free?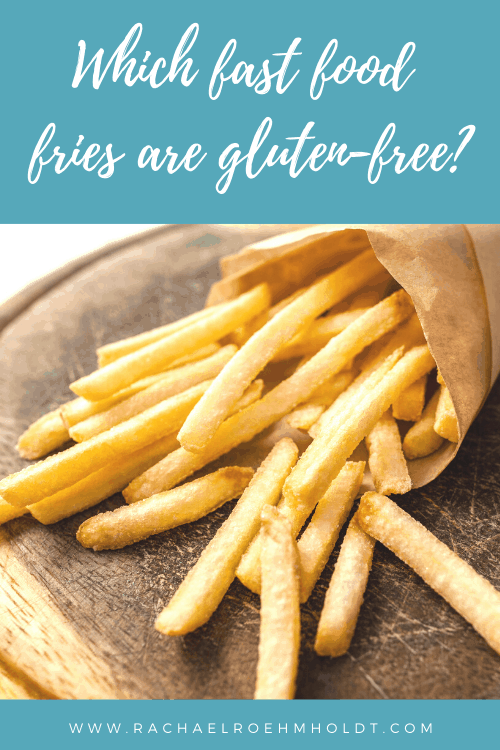 Which fast food French fries are gluten-free?
When we're thinking about eating French fries, most of us are likely thinking about getting them at fast food restaurants or other restaurants. Let's go through some of the most popular places people love to get French fries, so you can be informed next time a craving hits.
Are McDonald's French fries gluten-free?
According to the McDonald's website, their French fries are not gluten-free.
When listing their ingredients, they state that at one point in the processing of their fries, "Our suppliers add natural beef flavor, which includes hydrolyzed wheat and hydrolyzed milk, to the par-fry oil to contribute to that World Famous Fry taste."
If you follow a gluten-free diet, McDonald's French fries are not ones you'll want to order.
Read on: Are McDonald's fries gluten-free?
Are Burger King French fries gluten-free?
According to the Burger King website, their French fries do not contain gluten ingredients. However, they are made using a shared fryer as other foods that do contain gluten. Order at your own risk, knowing you may have symptoms after eating them if you are especially sensitive to gluten.
Read on: Are Burger King French fries gluten-free?
Are Arby's French fries gluten-free?
Arby's offers information on their website about which foods from their menu are gluten-free. They state that "Arby's® Potato Cakes and Homestyle Fries* may be cooked in the same oil as the following menu items, which contain a wheat allergen: Crispy Chicken Patty, Buttermilk Chicken Fillet, Prime-Cut™ Chicken Tenders*, Curly Fries, Fish Fillets*, Jalapeno Bites®*, Mozzarella Sticks, & Steakhouse Onion Rings."
They don't mention if the fries themselves contain gluten, but they are in fact, fried in the same fryer as other ingredients that contain gluten.
Are Sonic French fries gluten-free?
According to Sonic's website and allergen information, their French fries contain no gluten. However there is a note stating: "Fried foods may be exposed to gluten and allergens. Fryer oil may come in contact with items containing milk, egg, fish, shellfish, soy, wheat and gluten because fried items are not always fried in designated stations."
If you avoid gluten and are sensitive to cross contamination, you won't want to order their French fries.
Are Chick-Fil-A French fries gluten-free?
According to the Chick-Fil-A website, their French fries don't contain any gluten. Though their website didn't state anything about cross contamination in a fryer, I found an article by Gluten-free Living that says "The waffle fries are cooked in canola oil while the fried chicken is cooked in peanut oil. That's right—the French fries are safe at a fast-food restaurant!."
Yes, Chick-Fil-A has gluten-free French fries!
Are Dairy Queen French fries gluten-free?
The Dairy Queen website shows that their French fries do not contain gluten, however I wasn't able to find any information on whether or not they have dedicated fryers for their French fries.
In this case, the fries are gluten-free, but there still may be cross contamination from a shared fryer.
Are Wendy's French fries gluten-free?
Wendy's offers allergen information on their website, including their French fries. While the fries themselves are gluten-free, they are fried in a shared fryer with other gluten ingredients.
Eat at your own risk, especially if you are sensitive to even trace amounts of gluten.
Read on: Are Wendy's French fries gluten-free?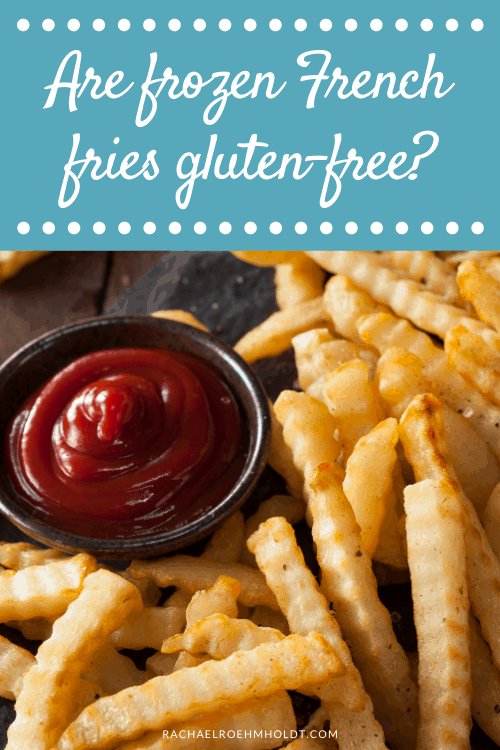 Are frozen French fries gluten-free?
When it comes to eating French fries, your best bet will be to make them at home rather than getting them at restaurants or fast food places. Let's go over some brands of frozen French fries you can buy at the store to make sure you're getting an option that's gluten-free.
Are Ore Ida French fries gluten-free?
While this brand doesn't offer a simple way to review their products' allergen information, I was able to find that many Ore Ida products are gluten-free from other sources, such as Verywell Fit and Gluten-free Homemaker.
In this case, it seems as though Ore Ida is a great option for gluten-free French fries you can make at home. Look for "gluten-free" on the packaging before buying.
Are Alexia French fries gluten-free?
According to the Alexia website, "Our products may contain gluten, if they do, it will be called out on the packaging after the ingredient list. If you have an allergy or sensitivity, we'd suggest checking the packaging each time you purchase it for the most recent list of ingredients and information."
From an article I found from Verywell Fit, they have conflicting information, stating "Their fries are produced in a shared facility, although they are produced on dedicated lines, according to a customer service representative. Therefore, the company does not label its fries "gluten-free," even though it states that none of its potato products use gluten ingredients. Always check the label, as Alexia will call out gluten-based ingredients on the label."
Either way, it looks like they will have their products labeled with some type of indication if there is gluten in the product.
Are Cascadian Farms French fries gluten-free?
According to the Cascadian Farms website, these French fries are made with potatoes and canola oil, making these the best I've found in my search so far! When made at home, you know these will be gluten-free.
The bottom line
When it comes to French fries, looks can be deceiving. While on the surface they are made with just potatoes, but after doing a little further research you find that most French fries are NOT gluten-free.
While that can feel like a bit of a bummer, two great options are to find some frozen French fries and make them at home. Another option is to make your own with JUST potatoes and oil. I promise it's not that hard – here's a recipe you might want to try out!
If you're like me, you sometimes need a little help deciphering ingredients lists while shopping and looking out for gluten.
One of my little secrets is that I carry around a copy of my GFDF Take Along Cards so that I always have a point of reference when I can sneak a peek at the ingredient list of a food.
>> Get your copy of the GFDF Take-Along Cards to make this easy on you.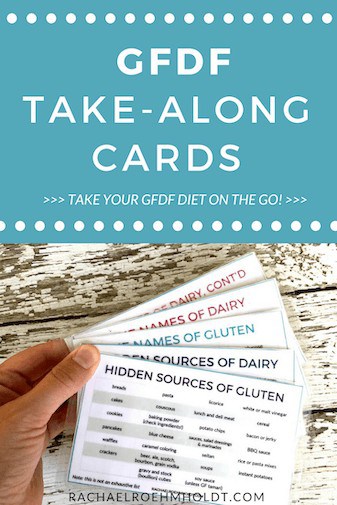 If you loved this post, I hope that you'll share it with your friends on Facebook and pin it for future reference on Pinterest.