Find out if soda is gluten-free, what it's made from, and which brands are safe for a gluten-free diet.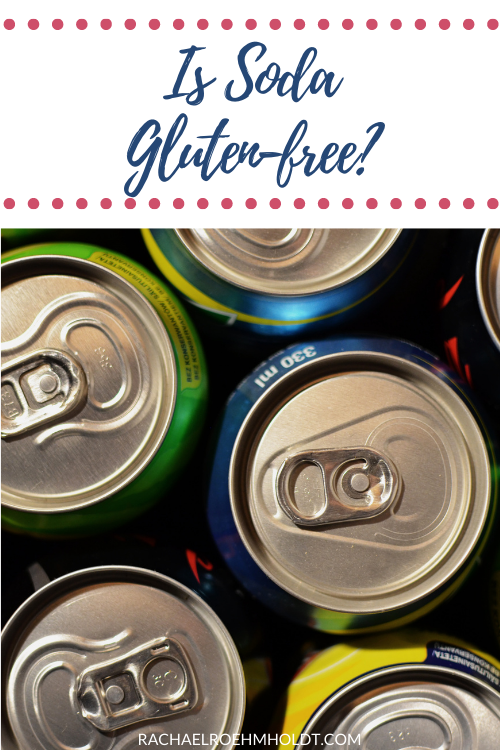 Note: I am a proud Amazon, Chomps, MunkPack, and Thrive Market affiliate and am happy to recommend their service and products to you. Please know that as an affiliate, I may receive a small commission on the products you purchase after clicking through my links. For more info, please see my disclosure policy here.
If you have been into any restaurant, grocery store, or cafe in your entire life, you've seen soda on a menu or store shelf I'm sure. Soda, pop, or soft drink – whatever you choose to call it, is a popular beverage that many folks enjoy drinking on occasion or regularly.
Soda has made its way into our culture (at least American culture) at every checkstand in the grocery store, movie theaters, gas station, restaurant menu, and even vending machines outside of your favorite big box stores.
If you follow a gluten-free diet or are just getting started with one, you may have wondered how this drink will fit in. Can you drink soda on a gluten-free diet? Is there gluten in some soda and not others?
In this post, we're going to talk about what soda is, what it's made from, and if it's generally considered gluten-free. We'll also go over a long list of gluten-free soda options for you to choose from, and answer some questions about popular soda brands.
If you enjoy drinking soda often or even occasionally and are trying to stick with a gluten-free diet, this post will give you some answers you've been looking for!
What is soda?
Soda is a common word used to describe carbonated water mixed with sweeteners and flavorings. This popular beverage, also known as a "soft drink" or "pop" is front and center at almost any restaurant, convenience store, grocery store, and cafe you walk into. It's almost expected that soda is on the menu in some form just about everywhere you go in the United States.
This sweet drink is bubbly and refreshing for many folks who enjoy it. Despite its popularity, it doesn't have a great reputation. With loads of sugar or sugar alcohols, soda has been linked to plenty of health conditions like diabetes, weight gain, heart disease, kidney disease, and gout.
While I'm not here to tell you what to do by any means, enjoying soda in moderation is a good idea for your overall health and you might consider only drinking it once in a while to keep your body in good shape for the long and short term.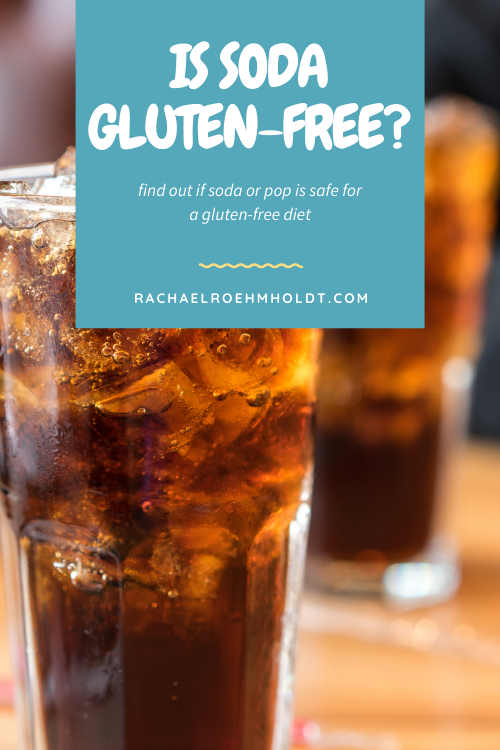 What is soda made from?
Soda is made from just a few ingredients, though it will vary based on the brand and flavor of what you're drinking. The most common ingredients in soda are carbonated water, high fructose corn syrup (sugar), caffeine, caramel color, citric acid, natural flavors, phosphoric acid, and carbon dioxide.
Different flavors of soda may have different additional ingredients and varying amounts of these other ingredients that I've just listed.
What is gluten?
Gluten is a protein found in most wheat products, and acts as the "glue" that helps to hold wheat, barley, kamut, spelt, farro, durum, bulgur, rye, and semolina together to maintain their shape.
Gluten is naturally occurring, and therefore is impossible to strip away from the grain. If a grain naturally has gluten in it, there's no way to make that food gluten-free.
Is soda gluten-free?
The most common brands and flavors of soda that you're likely to find in stores and restaurants in the United States (and North America as a whole) are gluten-free. This is because the ingredients that are added to soda and soft drinks do not contain any ingredients from gluten-containing grains.
As indicated by Healthline, generic or store-brand varieties of popular sodas could potentially contain gluten as they use a different set of ingredients than the major soda manufacturers like Coca-Cola, Pepsi, and Dr Pepper.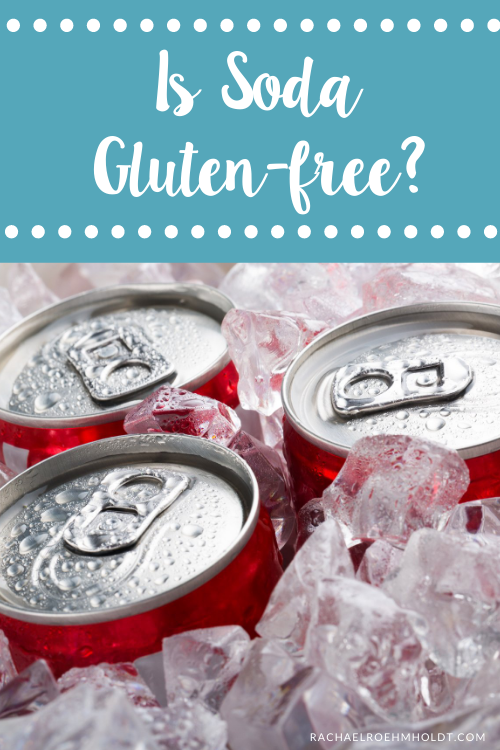 Gluten-free soda brands
Since most soda and soft drink brands don't contain any gluten ingredients, I thought it would be helpful to list off some popular brands that we know for sure are safe for a gluten-free diet.
This list can help you make some informed decisions next time you're ordering at a restaurant or picking up drinks for a barbecue or get together.
7UP
Original 7UP
7UP Zero Sugar
7UP Cherry Zero Sugar
Cherry 7UP
A&W Root Beer
A&W Root Beer
A&W Zero Sugar Root Beer
A&W Cream Soda
A&W Zero Sugar Cream Soda
Read on: Is root beer gluten-free?
Barq's
Root Beer
Diet Root Beer
Creme Soda
Red Creme Soda
Coca-Cola
Coca-Cola
Caffeine Free Coca-Cola
Coke Zero Sugar
Caffeine Free Coke Zero Sugar
Coca-Cola Cherry Vanilla Zero Sugar
Coca-Cola Cherry Zero Sugar
Coca-Cola Vanilla Zero Sugar
Coca-Cola Cherry
Coca-Cola Cherry Vanilla
Coca-Cola George Peach
Coca-Cola California Raspberry
Coca-Cola with Coffee Mocha
Coca-Cola with Coffee Vanilla
Coca-Cola with Coffee Dark Blend
Coca-Cola with Coffee Caramel
Coca-Cola with Coffee Vanilla Zero Sugar
Coca-Cola Starlight
Read on: Is Coke gluten-free?
Read on: Is Diet Coke gluten-free?
Dr Pepper
Dr. Pepper
Dr. Pepper & Cream Soda
Dr. Pepper Cherry
Dr. Pepper Zero Sugar
Dr. Pepper & Cream Soda Zero Sugar
Dr. Pepper Cherry Zero Sugar
Diet Dr. Pepper
Caffeine Free Dr. Pepper
Dr. Pepper Cherry Vanilla
Diet Dr. Pepper Cherry Vanilla
Diet Dr. Pepper Caffeine Free
Dr. Pepper Made with Sugar
Fanta
Fanta Pina Colada
Fanta Orange
Fanta Pineapple
Fanta Strawberry
Fanta Grape
Fanta Peach
Fanta Fruit Punch
Fanta Zero Sugar Orange
Fanta Berry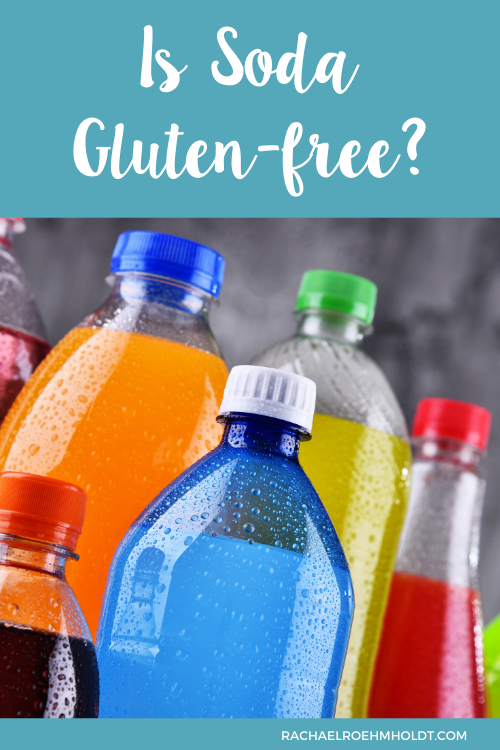 Fresca
Fresca Original Citrus
Fresca Peach Citrus
Fresca Black Cherry Citrus
Jarritos
Mandarin
Pineapple
Fruit Punch
Grapefruit
Guava
Passion Fruit
Strawberry
Tamarind
Lime
Jamaica
Mexican Cola
Watermelon
Mango
Jones Soda
Berry Lemonade
Blue Bubblegum
Cream Soda
Diet Black Cherry
Diet Cola
Fufu Berry
Green Apple
Lemon Lime
Orange & Cream
Root Beer
Strawberry Lime
Watermelon
Warheads Extreme Sour Black Cherry
Pineapple Cream Soda
LaCroix
This isn't exactly soda, but lots of folks replace their soda consumption with seltzer water these days, so it seemed worthwhile to include it.
Beach Plum
Guava Sao Paulo
Black Razzberry
Limoncello
Pasteque (Watermelon)
Hi-Biscus!
Key Lime
Tangerine
Apricot
Mango
Passionfruit
Coconut
Pamplemousse
Peach-Pear
Verry
Razz-Cranberry
Orange
Lemon
Lime
Pure
Mure Pepino
Kiwi Sandia
Melon Pomelo
Cerise Lemon
Pomme Baya
Pina Fraise
La Cola
Coconut Cola
Coffea Exotica
Cubana
Mello Yello
Mello Yello
Mello Yello Zero
Sierra Mist
Sierra Mist
Sierra Mist Zero Sugar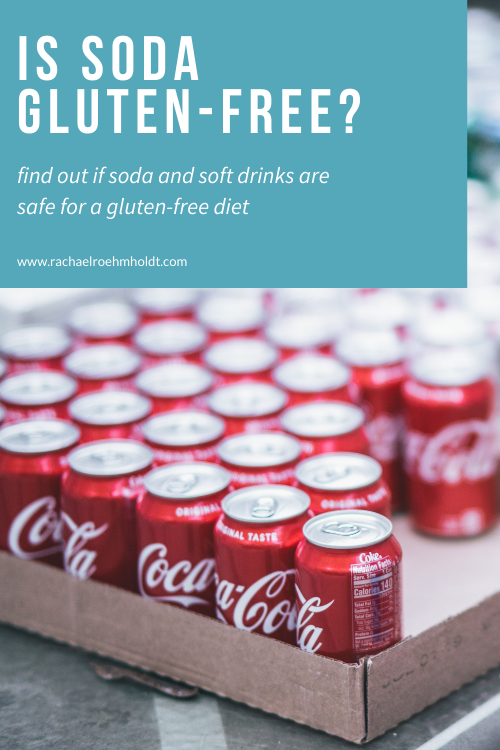 Mountain Dew
Mountain Dew
Major Melon Zero Sugar
Major Melon
Code Red
Live Wire
Mountain Dew Voltage
Mug Root Beer
Mug Root Beer
Mug Cream Root Beer
Pepsi
Pepsi
Pepsi Zero Sugar
Diet Pepsi
Pepsi Mango
Pepsi Zero Sugar Mango
Pepsi Wild Cherry
Diet Pepsi Wild Cherry
Pepsi Zero Sugar Wild Cherry
Pepsi Real Sugar
Pepsi Caffeine Free
Diet Pepsi Caffeine Free
Pibb
Schweppes
Original Sparkling Water
Orange Sparkling Water
Pomegranate Sparkling Water
Cranberry Lime Sparkling Water
Lime Lime Sparkling Water
Raspberry Lime Sparkling Water
Pink Grapefruit Sparkling Water
Black Cherry Sparkling Water
Ginger Ale
Diet Ginger Ale
Dark Ginger Ale
Raspberry Ginger Ale
Diet Raspberry Ginger Ale
Dry Grape Ginger Ale
Black Cherry Ginger Ale
Club Soda
Tonic Water
Diet Tonic Water
Shasta
Shasta Apple
Shasta Black Cherry
Shasta California Dreamin'
Shasta Cherry Cola
Shasta Club Soda
Shasta Cola
Shasta Creme Soda
Diet Shasta Cola
Diet Shasta Creme Soda
Diet Dr Shasta
Dr Shasta
Diet Shasta Ginger
Diet Shasta Grape
Diet Shasta Grapefruit
Diet Shasta Orange
Diet Shasta Root Beer
Diet Shasta Twist
Shasta Fiesta Punch
Shasta Ginger Ale
Shasta Grape
Shasta Zazz
Shasta Kiwi Strawberry
Shasta Mountain Rush
Shasta Orange
Shasta Pineapple
Shasta Raspberry Creme
Shasta Root Beer
Shasta Strawberry
Shasta Tiki Punch
Shasta Tonic Water
Shasta Twist
Shasta Very Cherry Twist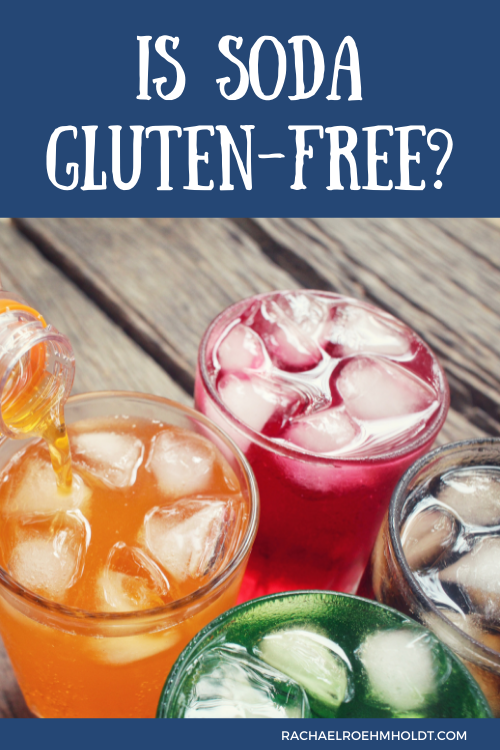 Sprite
Sprite Original
Sprite Cherry
Sprite Tropical Mix
Sprite Lymonade
Sprite Zero Original
Sprite Zero Cherry
Squirt
Squirt Grapefruit
Squirt Zero Sugar Grapefruit
Ruby Red Citrus Berry Squirt
Sunkist
Sunkist Strawberry Lemonade
Sunkist Berry Lemonade
Sunkist Zero Sugar Orange
Sunkist Orange
Sunkist Grape
Sunkist Strawberry
Sunkist Cherry Limeade
Sunkist Peach
Sunkist Fruit Punch
Virgil's
Handcrafted Root Beer
Handcrafted Vanilla Cream
Handcrafted Black Cherry
Handcrafted Orange
Zero Sugar Grapefruit
Zero Sugar Dr Better
Zero Sugar Ginger Ale
Zero Sugar Root Beer
Zero Sugar Vanilla Cream
Zero Sugar Black Cherry
Zero Sugar Lemon Lime
Zero Sugar Cola
Zero Sugar Orange Cream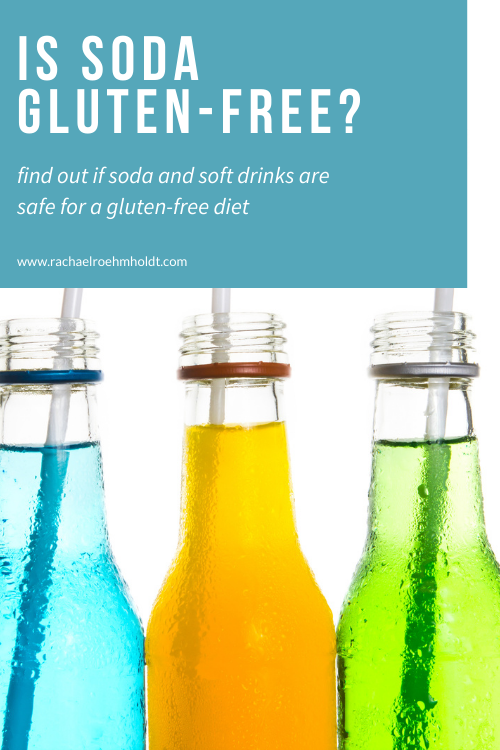 Are my favorite brands of soda gluten-free?
If you have a favorite soda, you may be wondering if the brand has made any official statement regarding gluten in their products. Find out with some of these Q&A's below.
Is Coca-Cola gluten-free?
Though there is no official statement from the Coca-Cola brand, there are no gluten containing ingredients in this product. It is generally accepted amount the gluten-free community that it is a good option for folks on a gluten-free diet.
Read on: Is Coke gluten-free?
Is Pepsi gluten-free?
Yes! According to the Pepsi website, most of their products contain no gluten ingredients. Here are the words directly from their site:
"While our company does not currently make gluten-free label claims, with the exception of 1893 Original Cola none of the ingredients in our products are derived from grains or flours that have been linked to malabsorption syndrome associated with gluten sensitivity."
Read on: Is Pepsi gluten-free?
Is 7UP gluten-free?
7UP contains no gluten containing ingredients and is considered gluten-free.
Is Sprite gluten-free?
There are no gluten ingredients in Sprite, and although the Coca-Cola brand doesn't make any official statements about gluten in their products, it is generally accepted as a gluten-free beverage among the gluten-free community.
Read on: Is Sprite gluten-free?
Is Dr Pepper gluten-free?
According to the Dr Pepper website, "All of our products are considered gluten-free. Note: All products, which contain High Fructose Corn Syrup, may contain trace amounts of corn gluten. According to the Celiac Sprue Association, corn gluten is not harmful to people with Celiac Sprue disease.
Read on: Is Dr Pepper gluten-free?
Is there any soda that is not gluten-free?
The 1893 Original soda line from PepsiCo contains gluten ingredients and they share this on their website.
If you enjoy drinking soda once in a while and have been wondering if it was safe, I hope this post has given you the information you've been looking for. Of course, most soda is full of sugar or sugar alcohols that can lead to other health issues down the road. So moderation is encouraged on any diet.
If you loved this post, I hope that you'll share it with your friends on Facebook and pin it for future reference on Pinterest.
Love this post? You might also want to check out these!
Find out if your favorite foods and ingredients contain gluten with these posts!