Making the switch to a gluten and dairy-free diet? Find out what to include in your pantry with this simple gluten and dairy-free pantry checklist.
Included are every single item I stock in my pantry with, and create a dairy and gluten-free food lists for regular grocery shopping. Scroll down for all the recommended gluten-free dairy-free foods and products.
Note: I am a proud Amazon and Thrive Market affiliate and am happy to recommend their service and products to you. Please know that as an affiliate, I may receive a small commission on the products you purchase after clicking through my links. For more info, please see my disclosure policy here.
I can't tell you how many times I've had the same conversation over and over again.
Me: Does this have gluten or wheat in it?
Other person: No, I don't think so. Do you really follow that whole gluten-free thing thats going around?
Me: Yes, and it's not going around. I have food sensitivities and I get sick and feel terrible if I eat gluten or dairy.
Other person: Oh wow, so what CAN you actually eat?
Me: Quite a few things actually. In fact you'd probably be surprised at what I can still enjoy!
The hardest part about eating a gluten-free and dairy-free diet is learning to cope with what you can't eat while focusing in on what you can.
It took me a very long time to not feel so easily frustrated and down when considering all the foods Im missing out on cinnamon rolls, real pancakes, garlic bread and pasta the list goes on and on.
As I've grown accustomed to this new way of life (because thats what major diet changes are a change in lifestyle), I've come to realize that instead of thinking about all the things I can't eat any longer, I now pay more attention to what I CAN eat.
This way of approaching a gluten and dairy-free diet and lifestyle makes my life so much easier. It's more of a glass half-full mentality instead of a glass half-empty one.
One of the easiest ways I've found to keep a positive attitude about my food limitations is by keeping a well-stocked pantry of foods that I can eat with my food sensitivities that don't make me feel deprived all the time.
Having plenty of foods on hand that are safe to eat on a gluten and dairy-free diet ensures I can make breakfasts, lunches, dinner, snacks, and even desserts any time I need or want to. Best of all with a stocked pantry, I'm WAY less likely to grab something that doesn't make my body feel good.
Can you imagine living in a house where 90% of the food isn't for you? It's really no fun having a kitchen full of food you can't eat and yes, Ive been there.
My secret weapon?
These days, we order a LOT of our non-perishable pantry foods from Amazon Prime and Thrive Market to save time hunting for things that at my local grocery store.
In my previous life (ahem, before moving from a major metro area and having a kid), I'd be able to go to a health food store and scour the aisles looking for new foods and products to try. But my time is more suited to in-and-out and stick-to-the-list visits.
Plus we've managed to get the most out of our Amazon Prime membership and we get a number of things regularly through their Subscribe & Save service. It's awesome we add a lot of our regular items to our cart and put in how often we want to receive them. Then every 6 or 8 weeks or whatever interval we need it it just shows up in a big box on our front porch.
It seems like magic, but its really just another way to keep this gluten and dairy-free diet and lifestyle consistent for me.
>> If you want to give Amazon Prime a try, click here to get a completely free and complimentary 30-day trial. I truly do swear by this service. Two-day shipping has been a life-changer but Subscribe & Save is like a god-send.
Thrive Market is also a really really great service to join, especially if you find yourself wanting to buy some of these ingredients not in bulk, but in individual portions. Amazon and Thrive Market are pretty comparable in price for most items – you can check out a review post I did on that here.
If you aren't familiar with Thrive Market, they have amazing gluten and dairy-free foods, as well as supplements and probiotics.
You can check out all the great things I have to say about this service, AND get a 30% off your first order AND a free gift (up to $24 value) when you sign up for either their monthly or annual plan.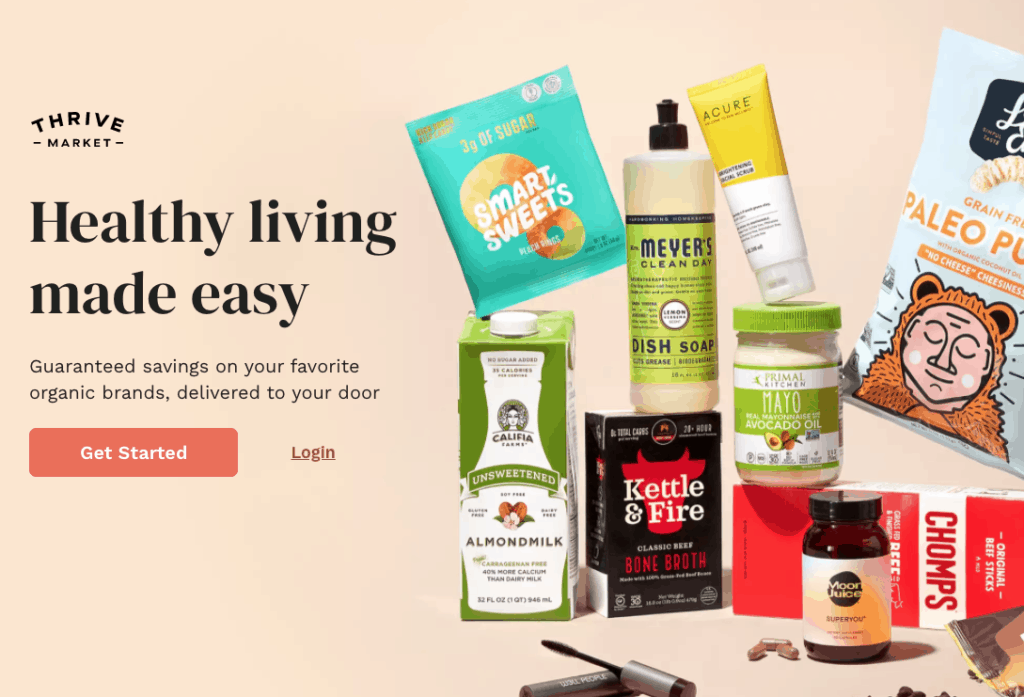 Even though I make it a point to have loads of gluten and dairy-free foods on hand, I do often have gluten and dairy-laden foods sitting around my house since my husband and son still eat both regularly.
I do my best to avoid these foods since I know they don't make me feel my absolute best. Id rather pass by the cheese crackers than eat them and be left with a week-long headache. Those crackers just aren't that important to me.
If you're looking to stock your gluten-free dairy-free pantry, heres a list of some of the foods that I keep on hand or on rotation in my kitchen.
These foods allow me to whip up tons of meals that are full of nutritional value and stay away from a lot of the processed gluten-free or dairy-free packaged foods that are less nutrient-dense and often leave you feeling hungry too quickly after eating.
UPDATE 2017: This post and list has been updated as of January 2017 to reflect my more current lifestyle as a mom who doesn't have a million hours to cook from scratch anymore. Eat as best you can as close to nature as you can but of course, be real. No one cooks from scratch every meal of every day. At least I don't.
UPDATE 2019: As I've been working through updating some of my older blog posts, I realized that while this resource was great – it could be even BETTER! As you may know, I run a weekly gluten and dairy-free recipe and menu planning service: GFDF Weekly.
After creating and testing almost a year's worth of new dinner recipes – my pantry is better stocked now than it ever has been with ingredients that we actually use and eat regularly.
I've gone through this post, updated with ALL the ingredients that I actually do have and keep on rotation in my pantry on a regular basis, and added descriptions for how I use each ingredient.
Know that even if something made this list, that I might not have it in my pantry every single day. I might run out, not buy it until I need it again, or only use it a couple times a year.
When you're building out your own gluten and dairy-free pantry, use this list to be inspired by, not feel like you have to completely buy an entire kitchen's worth of food.
If you don't know for certain if you'll use an ingredient, so don't buy it if you don't think you'll use it. There's nothing worse than spending $100 on gluten-free flours and having them expire if you never plan to bake (been there done that. ouch!).
If you're reading through the rest of this post, thinking "how in the world do I know what meals to make based on these ingredients?" Let me help you with that.
I run a weekly recipe and menu planning service to take just one more thing off your plate when you're taking this diet on. I send out 5 new recipes a week plus a shopping list to help make this diet and lifestyle change just a little bit easier. Sound interesting? Click here for more details on GFDF Weekly.
Gluten and Dairy-free Food List
There are a lot of foods that are naturally gluten-free and dairy-free, including:
Gluten-free whole grains (you can read more about these

here

)
Healthy fats like avocados and coconut
You can make a million different recipes using just these whole foods and since they don't have gluten or dairy, you don't have to worry about getting sick from them.
But if you're like me, you some extras to make dishes feel unique, tasty, and different. We eat a lot of chicken, rice, ground beef, and vegetables in our house – but without loads of condiments, spices, and other ingredients, we'd get really bored very quickly.
Check out this food list of gluten-free dairy-free pantry essentials – and start filling your pantry with easy ingredients to make some amazing dishes of your own on this GFDF diet.
Read on: Gluten-free dairy-free food list
Whole Grains
Whole grains are excellent for your gluten-free dairy-free diet. And yes, there really are grains that are gluten-free that are safe – and healthy!
Whole grains not only provide loads of vitamins, minerals, and plant-based protein, but they're high in fiber. Which can help move your digestion along in the very best way. Check out some of the whole grains I keep on hand in my gluten-free dairy-free pantry below.

Oatmeal doesn't contain gluten, but it's often cross-contaminated with glutenous grains. I like to be on the safe side and eat only Bob's Red Mill certified gluten-free oats.
Read on: Is oatmeal gluten-free?

Brown rice is a staple for many GFDF meals in our house. You can use it for breakfast, lunch, or dinner, in salads, soups, or sides. Use it in Mexican or Asian dishes – the possibilities are endless!
Read on: Is rice gluten-free?

Quinoa is another great whole grain to have on hand and can be used in a million ways – I like to use it as a base for healthy salads to cook once and eat many times throughout the week for lunches. I also use it in place of rice in soups or when I want that extra boost of protein in my meal.
Read on: Is quinoa gluten-free?

These are a great buy to keep on-hand for quick lunch or dinners. I like to keep them in the pantry in case life got in the way of making dinner that night. They only take 90 seconds in the microwave and you have an easy base for stir-fry or chili, or to add to a carton of soup for extra texture.

Kasha is a lesser known gluten-free whole grain, but is delightfully nutty and filling. If you haven't tried it before, pick some up and try it as a breakfast porridge bowl (like you would oatmeal), or as a swap for rice as a base for stir-fry. It's pretty versatile so try it out and get creative!
Read on: Is buckwheat gluten-free?
Read on: Is buckwheat flour gluten-free?

Amaranth is another great gluten-free whole grain that most people haven't heard of. It has a slight grassy flavor with a texture similar to couscous or quinoa. I've enjoyed it as a side dish, worked it into homemade veggie patties, and even had it as a breakfast bowl.

Teff is another great gluten-free whole grain to have on hand. It's a great source of protein (even more than quinoa!) and can be used in a variety of ways. I like to use it in my baking (just pulse it into flour first) or as a breakfast porridge with dried fruit, nuts and maple syrup.

Millet is a great gluten-free grain that's high in protein and extremely versatile. I like to add it into salads for an extra texture, use it in homemade veggie or black bean patties, and have even used it in place of breadcrumbs in my homemade meatloaf.
Read on: Is millet gluten-free?

This is our go-to movie popcorn. You can add your own flavorings like coconut oil and salt if you want or keep it plain. I like that it's a blank slate so I can add whatever I want and mix up the flavors every time.
Read on: Is popcorn gluten-free?

Sorghum is a gluten-free whole grain that is sweet and delicious! I love using sorghum flour in my baking, because it isn't as gritty as many other gluten-free flours. I like to use this whole grain variety as a base for chili or Mexican bowls or as a salad mix-in.

Wild rice is a wonderful addition to your gluten and dairy-free pantry, because it lends an earthy flavor I have yet to find in any other food.
I love this wild rice blend to add to hearty soups in the fall and winter and as a base for delicious and simple light rice and veggie cold salads in the spring and summer months.

Arborio rice is a super starchy gluten-free whole grain that is perfect for making homemade risotto (not nearly as hard as you may think!) and even rice pudding.
Read on: Is Risotto Gluten-free?

Jasmine rice is our go-to rice, aside from brown rice, that we keep on hand in our house for a side for stir-fries or curries or in one-pot meals. You can get it at Costco in a huge bag or a more reasonable sized bag at your local grocery store or online.
Read on: Is jasmine rice gluten-free?
Beans
Beans and legumes are such a super easy – and cheap – ingredient to include on your gluten and dairy-free diet. I try to keep a mixture of both canned and dry beans in my pantry.
Dry beans are the most nutrient dense and the most bang for your buck, but canned beans are much more convenient. When using canned beans, be sure to drain and rinse the extra liquid from the beans before using in your recipes.
Read on: Are beans gluten-free?

Black beans are great to keep on-hand in a GFDF pantry. I use both dried and canned in my cooking for soups and chili recipes.
Read on: Are black beans gluten-free?

These are delicious in salads or homemade hummus! I like to keep these on hand in both dried and canned varieties.

Lentils are one of my favorite ingredients because they're so easy to add flavor to (whatever way you want to take them, they'll go!) and because they cook up so fast. All colors of lentils are delicious, but these red lentils are my #1 pick for their cooking time.
Read on: Are Lentils Gluten-free?

Green lentils are a hearty ingredient to add to soups or stews when you're cutting back on meat, or to bulk up a dish. I like to add green lentils to ham soup and vegetarian chili.

Another great ingredient to have on hand for salads, soups or other recipes that call for any type of bean. These are actually one of the easier beans to digest, which is why I keep them around.

Another great bean to keep on hand for soups, stews, and salads.

If you're a big Mexican food fan like I am, keeping pinto beans on hand is a great idea. Enjoy them as a side or added to soups and chilis.

Refried beans are a handy ingredient to keep on hand for easy side dishes with Mexican meals. We heat up refried beans on taco night or to have with burrito bowls.

I use kidney beans in soup, chili, and one-pot meals throughout the year. They have a great flavor and I even though you can buy them dried, I prefer to keep the canned variety on hand.

Like most beans, fava beans are really versatile. Keep some on hand to bulk up a dish with some protein or when you want to make chicken or beef stretch a little further in a recipe.

Butter beans are unique in how big they are. I love using butter beans when I want the beans in my dish to make a big statement. These have a really smooth texture and flavor and are really tasty in salads.

I use a lot of Great Northern beans for soups and salads. They're easy to season and add to almost any recipe for more heartiness.

Mung beans are one of the few beans that don't need to be soaked beforehand if you cook them from scratch. They're great for you and you could even make your own sprouts from them if you wanted to.

Navy beans are another great bean staple for soups and chilis. I like adding navy beans to ham soup, vegetable soup, or three-bean chili for some added bulk to the dish.

Split peas are another great legume to have on hand. They're fairly quick cooking as far as beans go, and are really versatile in soups, curries, and can even be made into hummus.
Nuts & Seeds
Nuts & seeds are one of my favorite things to eat in my gluten and dairy-free diet. They're great on their own as snacks, but also great in homemade granolas, trail mixes, and added to baked goods or even on salads.
Keep an assortment of nuts on hand for healthy fats and protein that will fill you up without any gluten or dairy.

Almonds are a great snack raw or roasted – and like all nuts, are naturally gluten-free.

I always have walnuts on hand for snacking, adding to salads, or making raw desserts (my favorite way to enjoy healthy gluten-free dairy-free dessert).

Cashews are another tasty naturally gluten-free nut that are great to pack for snacks at home or on the go.

I love these pecans for making spiced pecans (with pumpkin pie spice and coconut oil). They are also a great snack and addition to raw desserts as a base for crust.

Peanuts are naturally gluten-free, and while many folks can't digest them very well – they're especially great for snacks since they're in just about every store and quite inexpensive.

If nuts aren't your thing, there are a number of tasty seeds you can enjoy as snacks. Raw or roasted, they're a great naturally gluten-free ingredient to keep on hand. I like them plain as snacks, in salads, and in my morning oatmeal.

Sunflower seeds are extremely healthy and naturally gluten-free. Enjoy them on their own, mix into your own snack mix blend with fresh fruit, or add to salads for extra crunch.

Peanut butter is notorious for having additives and excess sugar. I try to buy only the products with the least amount of ingredients in my nut butter… nuts and maybe a little oil if necessary. The organic Costco peanut butter delivers on all fronts. No sugar, no salt, no additives. Just peanuts.
Read on: Is peanut butter gluten-free?

A healthy option for snacks and a great alternative to peanut butter, almond butter is a must-have in my fridge these days. I love it in smoothies, on gluten-free toast, or with apple slices for a mid-day snack.

Chia seeds are a superfood that have loads of protein and loads of minerals that are great for you. Some people don't love the texture (it's similar to tapioca), but I love to add them to smoothies, make them into energizing drinks by mixing with water, tea or juice, and even making one of my favorite treats – chia pudding.

Hemp seeds are another great superfood to keep on hand. It's an amazing source of protein and is a great addition to smoothies or salads.

If you also avoid eggs along with gluten and dairy, flax seed meal is an ingredient you're going to want to keep in your pantry. I use "flax eggs" in most of my baking to replace regular eggs. I also like to add it to smoothies or my morning oats.
Stocks & Broths
I love keeping a few different stocks and broths on hand for soups and homemade sauces. I usually buy the chicken stock from Costco, but also try to keep on hand these other vegetable and beef broth and stocks from Pacific Foods.
What I love about this brand is that they aren't through the rood with sodium and are also organic. This is a brand that is committed to quality and I really appreciate that about them when I take care to know what kinds of ingredients are going into my body.

I like to keep chicken broth on hand for adding to homemade soups, adding flavor to rice or other whole grains, or making homemade sauces.
Read on: Gluten-free chicken broth

I use this for a variety of soups, stews, and to add flavor to rice or other whole grains.

Beef stock is a great ingredient to keep on hand for soups and chilis to add some extra depth of flavor. Be sure to look for a gluten-free beef stock in the natural section of your store or online to add the slow-cooked hearty flavor to any dish.
Tomato Products
Who knew tomatoes could be used in so many different ways? I keep a variety of tomato products on hand for all kinds of cooking.
From everything to soups to sauces to homemade chili, you'll find this list below of all the products I try to keep stocked up on in my gluten-free dairy-free pantry.

I like to keep these tomatoes stocked in the pantry for soups, pasta sauces, or chili recipes.

Crushed tomatoes are another great canned tomato to keep on hand for chili, curries, and soups. I like to keep the 28 oz versions on hand to make up my creamy tomato soup for any rainy or snowy day.

This tomato sauce is a great base for homemade pasta sauces or added to chili or soups.

Fire-roasted tomatoes are just a nice ingredient to have on hand for some added flavor to your standard canned diced tomatoes. Of course, you could easily add these to soup, chili or pasta sauce for some extra smoky flavor.

This product is awesome, because most tomato pastes come in a can and inevitably half winds up in the trash if I don't use it in time. I love the fact this is in a tube, so I can save the remaining amount for another recipe by tossing it in the fridge.

I do my best to have pizza in some capacity on our monthly meal rotation in our house, but it's very rarely actual "pizza" in the traditional sense. Pizza stuffed potatoes, pizza zucchini boats, pizza pasta are all fun ways to make pizza night a little more interesting and gluten and dairy-free friendly.

This is hands-down my favorite pasta sauce. I love the flavor, texture, and I don't find it too sweet or any ingredients overpowering one another.
Condiments
I learned about using condiments to my full advantage when I was training to become a health coach years ago.
You can take even the most blank slate foods and turn it into a completely different flavor profile by mixing and matching the condiments. These are the many different condiments I try to keep stocked up on in my pantry for a variety of different dishes.

This is a must-have in any gluten-free kitchen. Did you know that regular soy sauce actually contains gluten? This was a big surprise to me when I first started my gluten and dairy-free journey.
Although it's not hard to find at most grocery stores anymore (it's usually next to the regular soy sauce), you very likely won't find this in any restaurants.
You may want to take a small bottle along with you to a Chinese or Asian restaurant if you want to keep on track with your gluten-free diet.
Read on: Is soy gluten-free?
Read on: Is soy sauce gluten-free?

This is a really tasty BBQ sauce that is tangy and sweet. Perfect for chicken or any other BBQ dishes you love to make. It's gluten-free and organic, which makes it a thumbs-up in my book!
Read on: Gluten-free BBQ sauce for more brand recommendations

Enchilada sauce is a new addition to my pantry list, as I just started buying it and keeping it on hand.
I've found that making my own at home is just too many steps for me to take – and finding an insanely simple and delicious gluten-free enchilada sauce on hand is a no-brainer for my 3-ingredient enchiladas.

Thai red curry paste is the condiment that has won my heart this past year. I've made so many new recipes using this ingredient, as it offers so much flavor in such a small quantity. Enjoy it in stir-fries, curries, or ramen.

This is a great product to help you get a "cheesy" taste without having to use any dairy at all. Many dairy-free recipes that taste cheesy call for this ingredient. You can add it to pasta, soup, and even vegan and gluten-free dessert recipes.
Read on: Is yeast gluten-free?
Read on: Is nutritional yeast gluten-free?

I always keep stocked up on olives since my son loves to put them on his fingers and eat them off. I use these in salads, on gluten and dairy-free pizza, or on their own as a snack.

I keep kalamata olives on hand for snacks and for Mediterranean style dishes. We love the salty bite of kalamata olives – even my son loves them!

Worcestershire sauce is a really versatile ingredient and gives so much flavor to meat dishes. I add it to my meatloaf and even burgers in the summer.
Read on: Is Worcestershire sauce gluten-free?

I like to keep a variety of mustards on hand, dijon is one that gets used the most. I use it on sandwiches, mix it up with honey for honey mustard, and whisk it into homemade dressings.
Read on: Is mustard gluten-free?
Read on: Does honey mustard have dairy?

Stone ground mustard is great in dishes where you need big bold flavor. I like to serve it with ham or when I make sausages with sauerkraut.

We use an abundance of salsa in our house. I love that it can give just about anything a Mexican flavor – we eat it plain with chips, in crockpot chicken tacos, and as a condiment for most Mexican dishes we make.

I like to keep some salsa verde on hand to mix up our Mexican flavors. I use it in white chicken chili, with chips, and as a topping on tacos.

I don't feel like I need to say much about ketchup. This brand is gluten-free and one of the more 'healthy' options out there since it's lower in sugar than other brands.
Read on: Is Ketchup Gluten-free?

Roasted red peppers are a great addition to your pantry, because they can be used in so many ways. I have mixed them into homemade hummus, made them into pasta sauce, and used them as a flavor addition to chicken dishes.

I love artichoke hearts and usually buy a large container of them from Costco. I use them mainly in chicken dishes, but also in pasta and quinoa salads for an extra salty bite.

Capers aren't one of the ingredients I use too often, but when you need them – there's nothing that really compares. I use capers in chicken piccata and tuna puttenesca sauces.

Honey is a great condiment to keep on hand for a variety of gluten and dairy-free dishes. I use honey in homemade sauces, honey mustard, and on top of breakfast bowls of oatmeal or quinoa.
Read on: 17 condiments to stock your gluten and dairy-free kitchen
Canned & Packaged Products
While we all would like to think we can cook from scratch 100% of the time, the truth is that most of us just don't have the time – which is where these canned and packaged products come in handy.
I enjoy a good bit of help from the store to keep dinner quick and easy – and I hope you'll think about adding some of these products to your gluten-free dairy-free pantry too. Quick fix meals for the win!

I keep a stock of canned tuna handy in my pantry as it's a super easy way to add protein to your diet. Plus it's super convenient if you need a quick fix meal. Tuna usually goes into sandwiches, with crackers, or in a pasta in my house.

I love this canned chicken for it's convenience. It's the perfect size as it serves about 2 or 3 people on sandwiches. My hubby and I like to split a can and toss into salads for lunches too. I use this ingredient a million different ways and never get sick of it.

I've tried many gluten-free pastas and have even done tons of review and research standing in the aisles of my grocery store.
I've compared those in the "health food" section with those in the "normal" pasta section – and health wise, there's very little difference. Barilla is tasty and cheaper than the fancy healthy versions. I like this one best.
Read on: Top 5 Gluten-free Spaghetti Pasta Brands

I lived for many years without replacing the elbow macaroni with it's gluten-free counterpart. But once I sourced them through Amazon, they're an ingredient I use all the time. I use them with a lot of traditional pasta dishes, but also mix them into soups.

Gluten-free penne pasta is a great ingredient to have on hand when spaghetti noodles just aren't the shape that you're after in a dish you're making.
I make all kinds of different meals with this – and am thankful for the Barilla brand being so similar to the 'real' kind of pasta that I can't even tell the difference anymore.

I love these rice noodles for Asian dishes: veggies and noodles, in stir-fries, and have even added them to chicken soup as a replacement for regular pasta noodles.

Rice ramen noodles are a huge hit in my house. I've used them in homemade ramen soup (one of my son's favorites at the moment), as a base for stir-fries, and you could even replace normal spaghetti with them if you wanted.
They're a blank canvas but have great protein, so they're an easy choice.
Read on: Gluten-free Ramen Noodles: Brands and Alternatives

I just opened my eyes to polenta as a side dish within the last year when my meals started feeling repetitive with pasta and rice.
Polenta is a really great blank canvas for flavor if you make it from scratch. I like to make it with cashew milk and chicken stock for loads of flavor. You can also buy tubed polenta that is super quick and convenient to fry up for a tasty side dish.
Read on: Is polenta gluten-free?

I love this multi-grain gluten-free bread. Like most gluten and dairy-free friendly breads, it is a little on the crumbly side, but the flavor is delicious and a little nutty.
When buying the two-pack, I usually toss one in the freezer so I can get even longer "shelf-life" out of it.
Read on: 7 Best Gluten-free Dairy-free Bread Brands

Corn tortillas are something I have on hand at all times in my house.
We use them for all sorts of Mexican dishes. I like to warm them in a skillet before serving taco fillings, they're great in homemade enchiladas, and my son loves his 'pizzadillas' – you can make it dairy-free with just pepperoni and vegan cheese, such as Daiya.
Read on: Gluten-free Tortillas: Types, Gluten-free Options, and Brands

Coconut milk is a great alternative to any recipe calling for cream or whole milk.
While you do get some of the coconut flavor, I have come to really love it in my dishes. I use it in a million ways in my cooking: in smoothies, in curries, in creamy soups – there are so many uses for this healthy fat.
Baking Items
Many traditional baking items have gluten or dairy in their ingredients, to I've put together a comprehensive list of ingredients that I try to stay stocked up on in my own pantry.
These are all gluten and dairy-free – and have been tested out in my kitchen time and time again through various different types of cookies, cakes, and breakfast recipes.

There are a number of gluten-free flour blends – some are great, others taste like beans. This is the best one I've come across in my gluten-free journey that can be used for a variety of different recipes. I'd recommend trying a few different blends out to find your favorite!
Read on: 5 Best Gluten-free Flour Blends

While on the pricy side, these chocolate chips are the easiest to find in most grocery stores. They're worth the splurge if you plan to do a decent amount of baking while eating a GFDF diet.
Read on: Are chocolate chips dairy-free?

If you're a baker, yeast is a necessity to keep on -hand. This one from Bob's Red Mill is certified gluten-free so you can rest easy that there isn't any cross contamination.
Read on: Is yeast gluten-free?

This is the go-to pancake mix in our house. While I've tried making from scratch and many other brands, I keep coming back to this one for flavor, texture and ease.
The instructions on the back say to make it with dairy, but you can easily replace with non-dairy milk – and even make it egg-free using a flax egg substitute!
Read on: 5 Best Gluten-free Dairy-free Pancake Mixes
Read on: Homemade Gluten-free Pancake Mix and Gluten-free Pancake Recipe

Almonds are tasty and great for you! Almond flour offers healthy fats, fiber, protein, magnesium and vitamin E – and is an excellent flour to incorporate in any gluten-free baking.
Read on: Try these gluten-free sugar cookies made with almond flour
Read on: Is almond flour gluten-free?

Brown rice flour is one of my staple flours in my pantry. I use a blend of this and other gluten-free friendly flours to create all kinds of cookies, bars, rolls, and even pizza dough.

Essential for most baking, this Bob's Red Mill baking soda is certified gluten-free and is safe from cross-contamination with grains containing gluten.

Another baking essential, this baking powder is certified gluten-free.
Read on: Is baking powder gluten-free?

This is the best vanilla extract I've found. It's caramel flavor is excellent in baked goods – and my go-to ingredient for making anything taste more like "home."
Read on: Is vanilla extract gluten-free?

This isn't an essential for baking, but many recipes call for almond extract. This brand is gluten-free and I can vouch for the great flavor.

I use corn starch mainly as a thickening agent in soups, stews, or making my own sauces and gluten-free gravies. This brand is gluten-free which is why it's my go-to choice.
Read on: Is cornstarch gluten-free?

I keep raw cacao powder on hand for making raw desserts. You could also purchase cocoa powder, but the raw variation simply just has more health benefits that regular cocoa powder doesn't.
I love adding this to baked goods, raw cookies and brownies, and even to my morning smoothies.

Unsweetened coconut is an awesome ingredient to have on hand for making cookies or even mixing into smoothies. I also like to use it as a 'breading' for homemade chicken nuggets, chicken strips, and 'shake and bake' style chicken.

Dried cranberries are delicious in baked goods, but also in salads – where you'll find me use them the most in my cooking. They're tart and sweet and provide a unique flavor to a lot of different dishes.

Dates are extremely delicious and give such a sweet flavor to anything you add them to, without any refined sugar. I add mine to smoothies, use them in raw desserts, and slice them up and put them on my oatmeal.

There are a million dried fruits you can have on hand in your gluten-free dairy-free kitchen, but we eat – and bake with – raisins, dried blueberries, dates, cranberries, and mangoes the most.
Read on: Are raisins gluten-free?

White sugar is definitely not one of the healthiest things I have on my list, but sometimes you just need that one specific flavor that you can't replicate with a healthier alternative.

Brown sugar is the white sugar cousin with a little molasses added in. I use brown sugar once in a while in sauces and in baking. While you can definitely replace brown sugar with coconut sugar, sometimes you can't compromise on the flavor of the real thing.
Read on: Is brown sugar gluten-free?

Coconut sugar is the ingredient I try to use the most to sweeten my baked goods. It has more vitamins and minerals than brown or white sugar and has a similar sweetness level. It tastes great and doesn't leave you feeling like you have a major sugar high like the refined sugars.

Brown rice syrup has a butterscotch flavor that is a great sweetener in place of honey or maple syrup. If you're looking to change up the sweet liquid in a recipe, give this one a try. It has a lot of vitamins and minerals too!

We go through a lot of maple syrup in our house – hence the giant bottle pictured here.
Of course, we use it for the obvious like gluten and dairy-free pancakes and waffles, but we also use it in a lot of our baking and raw desserts as well. It's a healthier alternative than using refined white or brown sugar.
Read on: Is Maple Syrup Gluten-free?

Jam is a pretty straight-forward ingredient. I slather it on toast and even sometimes whisk it into salad dressings and in sauces for chicken.
Oils & Vinegars
Most meals I make start with at least one of these oils – they provide the backbone for so many dishes and the practicality of not burning your food as you cook it.
What I love about this collection of oils and vinegars is that they're not only gluten and dairy-free, but they're all healthier versions than so many of us grew up on. Whip up a homemade salad dressing, marinade, or just add some extra flavor with these tasty ingredients.

Coconut oil is my go-to oil for high heat cooking and I use a lot of it in my baking since going gluten and dairy-free.
I highly recommend switching to some coconut oil as it's loaded with health benefits like promoting healthy digestion, reducing inflammation, and being a great immune booster.

Olive oil is another go-to oil in my kitchen and I use it in most of my daily cooking. You can cook with it or add it to homemade salad dressings to get some of your healthy fats into your diet.

Sesame oil is an ingredient I use for cooking up a lot of my stir-fries and Asian inspired dishes. It isn't as strong of a flavor as coconut oil and it tastes great.

I use toasted sesame oil in some of my stir-fries and Asian inspired dishes, because it provides a really great nutty flavor that you can't get from really anything else.
Try it next time you're making stir fry by adding just a little bit and be amazed at what a difference it makes in the flavor profile of your dish!

Sunflower oil is another great oil to keep on hand for high heat cooking. I like to keep this on hand as an alternative to sesame oil and often use it in place of traditional vegetable oil in baking as well.

Balsamic vinegar provides a really tangy but sweet flavor to any dish. In my gluten-free dairy-free kitchen, this vinegar makes its way into marinades and salad dressings mostly.

I like to use red wine vinegar in my salad dressings, but also use it to make pickled onions for burgers or sandwiches once in a while.

White wine vinegar is tasty in homemade salad dressings – I like to make mine with a mixture of 1 part vinegar, 1 part olive oil, then add some seasonings like minced garlic and herbs to create some really unique flavors.

Rice vinegar is a light flavored vinegar that I really love for making sauces and marinades for Asian inspired dishes in my gluten-free dairy-free kitchen.

Apple cider vinegar is hands-down one of the best health foods I've been introduced to. Not only is it an excellent ingredient to add to all kinds of salad dressings, sauces, and marinades – but it's great for helping you kick colds and flu too.
Next time you're sick, heat up a mug of water, put a splash of apple cider vinegar in, and a tbsp of honey. Sip it, repeat a few times over a day or two, and see your cold symptoms lighten up in a day or two.
Of course, I also have plenty of snacks in my pantry as well, but with the length of this post, I'm going to cap it off here. If you'd love some ideas for gluten and dairy-free snacks, be sure to click here for my list of 101 ideas. Or this post has 21 gluten-free dairy-free snack ideas you can buy at the store – these are great for packable on-the-go snacks!
Want to know what I turn these ingredients into each week to make healthy meals for my family? Check out GFDF Weekly, my recipe and menu planning service by clicking here or the image below.
If you loved this post, I'd invite you to join my newsletter and get your FREE copy of this gluten-free dairy-free food list plus 5 simple recipes for making gluten-free dairy-free eating simple and easy. Enter your details below for instant access.