Learn if beans are safe for a gluten-free diet, plus what to shop for and avoid while shopping for beans at the grocery store.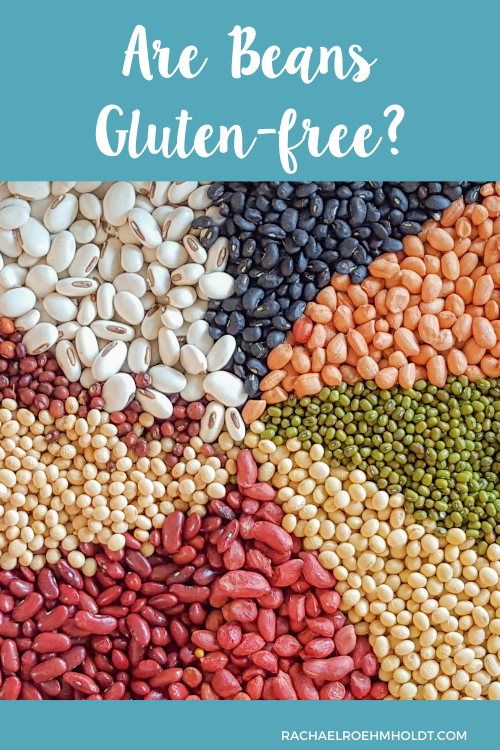 Note: I am a proud Amazon, Chomps, and Thrive Market affiliate and am happy to recommend their service and products to you. Please know that as an affiliate, I may receive a small commission on the products you purchase after clicking through my links. For more info, please see my disclosure policy here.
If you love chili, soups, or hearty stews in the fall, you are probably no stranger to enjoying beans regularly. Or if you eat salads with beans, Mexican food, or even hummus often in your diet, you know how versatile this food can be.
When following a gluten-free diet, you know that looking at each and every ingredient you put into your body is important as gluten can hide just about anywhere. That's why we want to take a careful look at this simple but popular ingredient.
What's so great about beans?
Beans are a filling food that are great to add to your diet. They're full of protein and healthy carbohydrates, so they will give you a natural energy boost.
Beans are versatile. They can be used in soups, stews, dips, salads, salsa, and I've even seen them added to brownie and other dessert recipes.
Beans are inexpensive. For just about $1 per pound for dry beans and $1 to $2 for canned beans, you can't really beat the price per volume of food.
The best part of beans is that they're healthy. They have a lot going for them already: filling, versatile, inexpensive and yes, healthy.
Beans are loaded with fiber, antioxidants, B vitamins, potassium, magnesium, and iron. All good stuff you want to get from your food on a regular basis.
What is gluten?
Gluten is a protein found in most wheat products, and acts as the "glue" that helps to hold wheat, barley, kamut, spelt, farro, durum, bulgur, rye, and semolina together to maintain their shape.
You can find gluten in whole grains, but also in many processed foods as well. Many processed foods have hidden gluten in them in the form or gluten or wheat derivatives.
These are also in the form of flavorings, binders to keep ingredients together, or other additives.
Read on: What is gluten in food? The basics of a gluten-free diet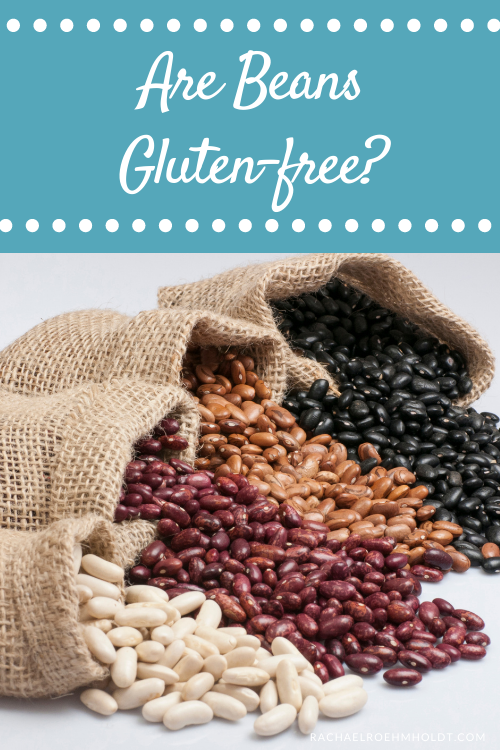 Are beans gluten-free?
Plain beans are naturally gluten-free. You can enjoy beans regularly on a gluten-free diet with a few things in mind.
Be aware that even if beans themselves are gluten-free, there are opportunities for the beans we can get at the store to not be considered gluten-free.
Read on: What foods are naturally gluten-free?
Beans that may have cross contamination
At the store, there are beans you'll find that may have come into contact with gluten during their manufacturing process.
Canned beans may have additional ingredients added to them that contain gluten. Look at ingredients lists for "wheat starch," "wheat flour," or other gluten-containing ingredients.
Dry beans may contain gluten after being processed on the same machinery as grains that contain gluten.
Beans from bulk bins in grocery stores may also contain gluten. The scoops used in this area of the store are not always cleaned properly and can be moved from one bin to another.
The best way to know for sure if the beans you're buying contain gluten is to review ingredients lists and look for a gluten-free label on the packaging.
One of my little secrets is that I carry around a copy of my GFDF Take Along Cards so that I always have a point of reference when I can sneak a peek at the ingredient list of a food.
>> Get your copy of the GFDF Take-Along Cards to make this easy on you.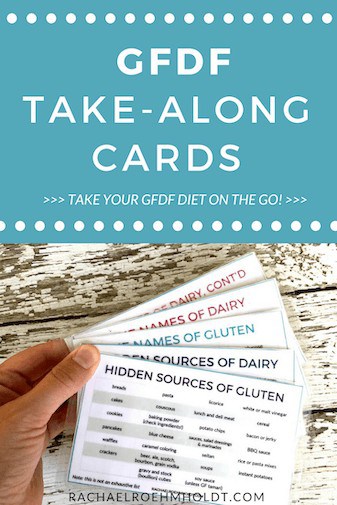 Beans that are most likely to be safe for a gluten-free diet
If you follow a strict gluten-free diet and cannot handle any amount of trace gluten in your diet from the potential of cross contamination, be sure to look for these two things when shopping for beans:
Gluten-free label
A gluten-free label will show you that this product contains less than 20ppm of gluten in the product as required by the FDA.
Processed in a gluten-free facility label
A label with a "manufactured in a gluten-free facility" or "processed on a dedicated gluten-free line" will tell you that this product is gluten-free and safe to buy.
Free from label
Many products these days have labels that say "free from" and then list all the different allergens they have not used in their processing or come into contact with. Look for one of these labels when ingredient lists or other labels can't be found.
Read on: Gluten and Dairy-free Diet: How to Stock your Pantry
Can I wash my beans to get rid of gluten?
No, you can't really wash all gluten away when trying to rinse them with water. This could work in theory if the beans were simply exposed to gluten, but the truth is you wouldn't know whether or not all the gluten had been removed or not.
If you follow a very strict gluten-free diet and trace amounts of gluten may hurt you, don't risk this please.
How do I know what precautions to take when it comes to buying beans?
Use your best judgement based on what you already know about your level of sensitivity to gluten. If you can tolerate small amounts of gluten or trace amounts of gluten in your diet, then use that same level of caution when it comes to purchasing beans.
I personally can buy beans that are plain and don't worry about looking for a gluten-free label, as long as there are no other ingredients added to the product.
If you have celiac disease or are extremely sensitive to even small amounts of trace gluten, do your due diligence here as you would anywhere else in your diet. Look for the gluten free labels and only buy brands that you know are dedicated to keeping their processing gluten-free.
How can I use beans in my gluten-free diet?
Gluten-free bean brands
This is a list of gluten-free brands of beans that contain no gluten-containing ingredients or have a gluten-free label. This list isn't exhaustive and there are likely many other brands that offer gluten-free beans, but these are just a jumping off point for you to start looking for.
It's important to note that not all products by these brands are necessarily gluten-free, but will help you see there are some options for you at the store to review in person.
A Dozen Cousins
Among Friends
Amy's
Bearito's
Bush's
Eden Foods
Edison Grainery
Goya
La Costeña
Nuts.com
Old El Paso
Omena Organics
Ortega
Rancho Gordo
Rosarita
TruRoots
Westbrae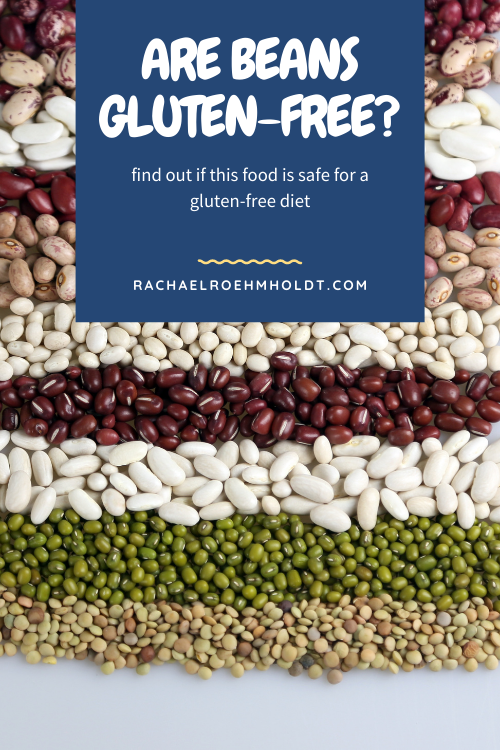 Common questions about beans and a gluten-free diet
Find out the answers to your questions related to buying and eating beans on a gluten-free diet.
Are canned beans gluten-free?
Plain canned beans are generally gluten-free, but it's best to review ingredients lists and labels for any added ingredients that gluten may hide under.
Canned beans that are seasoned in the packaging require a thorough review before purchasing, and you may want to skip these entirely and season your own at home just to be safe.
Are baked beans gluten-free?
Baked beans may or may not be gluten-free, depending on the brand and the recipe used. Look for gluten-containing ingredients before purchasing.
If you're making baked beans at home, make sure all the ingredients you add to your recipe are also gluten-free.
Some gluten-free baked bean brands are: Bush's Baked Beans, Heinz Baked Beans, and Amy's Kitchen.
Read on: Are baked beans gluten-free?
Read on: Are Bush's baked beans gluten-free?
Are red kidney beans gluten-free?
Plain red kidney beans are naturally gluten-free and safe to enjoy on a gluten-free diet.
Are red beans gluten-free?
Red beans are naturally gluten-free and can be used safely on a gluten-free diet.
Are cannellini beans gluten-free?
Cannellini beans are safe for a gluten-free diet and are naturally gluten-free.
Are black beans gluten-free?
Black beans on their own are naturally gluten-free and safe to eat on a gluten-free diet.
Are Heinz beans gluten-free?
Heinz beans are made with their gluten-free ketchup and are safe for a gluten-free diet.
If you are getting started with a gluten-free diet or have been following one for a while, you may have been wondering if beans are safe to eat. I hope this post has helped you get the information you're looking for in order to make an informed decision for you.
If you loved this post, I hope that you'll share it with your friends on Facebook and pin it for future reference on Pinterest.
Love this post? You might also want to check out these!
Find out if your favorite foods and ingredients contain gluten with these posts!