Find out if soy is safe for a gluten-free diet, what soy is made from, used for, and if you should include it in your regular diet.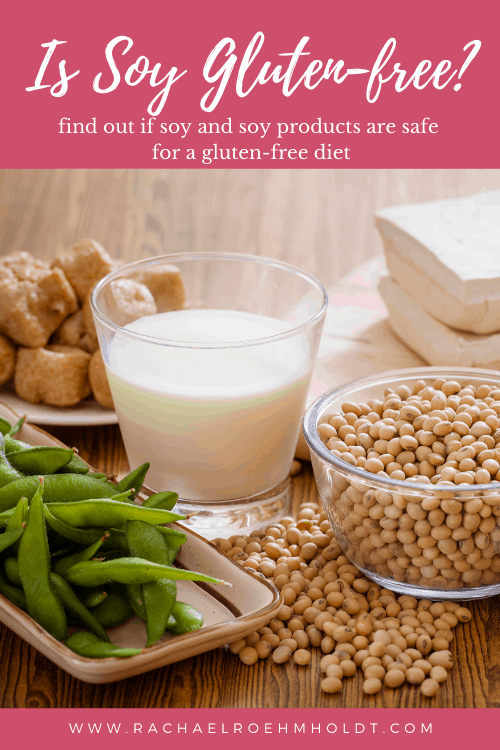 If you follow a gluten-free diet, you will know that every ingredient matters. You'll know that gluten can hide in just about any place and under a ton of different ingredient names.
Read on: The other names of gluten and where they hide most
If you avoid eating a lot of meat, you may have come into contact with many soy products. You may be wondering if it's safe to enjoy those soy-based meat alternatives on your gluten-free diet.
If you follow a dairy-free diet, you may be wondering if soy is also gluten-free, so you can enjoy soy milk or vegan butter with soy products in them.
In this post, we're going to talk about what soy is, what soy is used for, if soy is gluten free, and then go over some of the most popular soy-based products, and discuss whether those are also safe for your gluten-free diet.
Hopefully by the end of this post, you will have all the information you need to make a decision on whether you will want to include soy in your diet or not. Plus what types of products you can look for to maintain your gluten-free diet and not have any kinds of digestive issues or symptoms long after eating it.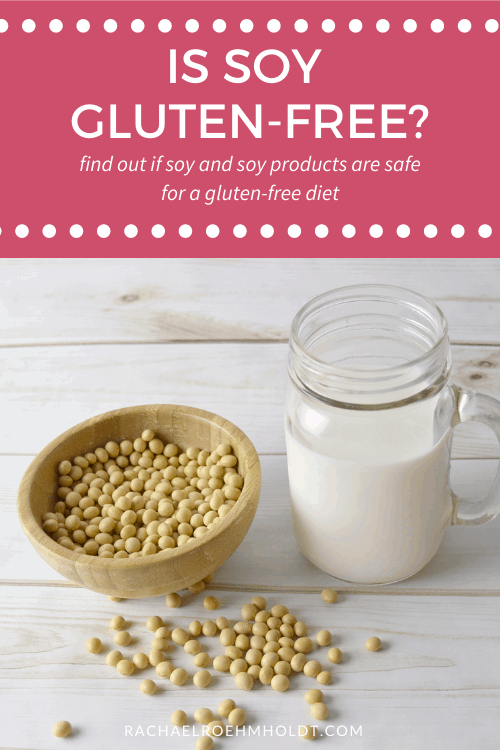 What is soy?
Soy is the general term used for any product or food that comes from soybeans or soya beans. These are a type of legume, or bean, that is used a lot in Asian style cooking.
Soy is also used in different forms in a lot of different dairy-free products, like dairy-free milk, cheese, and butter.
Read on: Are beans gluten-free?
What is soy used for?
Soy is a common ingredient for vegetarians. It is very high in protein and can easily be modified to create different food products that are great for a dairy-free diet. Since it is so high in protein, it's also a great plant-based protein option for those who avoid eating meat.
There's some controversy around the use of soy in a healthy diet, because it is said to have the ability to adjust your estrogen hormone levels. This is particularly a concern for those people who have thyroid conditions (one of the big reasons many people rely on a gluten and dairy-free diet to manage symptoms).
If you have a thyroid condition, be aware of the side effects of soy on estrogen and how it impacts your body. As with any food or diet and lifestyle option, you'll have to decide what's right for you and do some research to make an informed decision.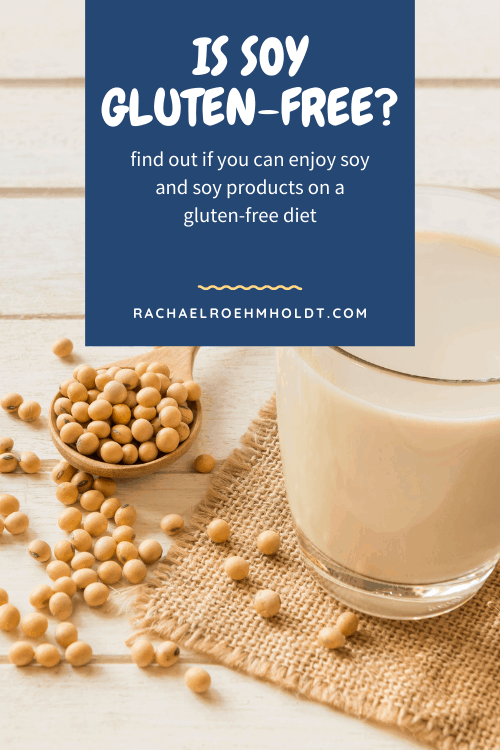 Is soy gluten-free?
Since the soy comes from a bean and not wheat or a relative of wheat, soy is gluten-free and safe for a gluten-free diet.
Can you have soy if you are gluten-free?
If you follow a gluten-free diet, yes you can enjoy soy and soy products as long as there are no other ingredients in the product that contain gluten.
Is soy healthy?
Yes, soy is gluten-free, however it's not the most natural food out there. Unless you're eating soy beans and making your own tempeh and tofu at home, soy is highly processed. Like most processed foods, you'll want to enjoy them in moderation, and not make them the main food source.
As with any food, you should listen to what your body needs and wants. If you love soy products and soy milk and you're relieved to see it's gluten-free, then include it in your diet and enjoy it. If the processing of this food bugs you, maybe only enjoy it once in a while or not at all.
Remember only YOU know what's right for you and your body, not what someone else tells you.
Read on: Is tempeh gluten-free?
Read on: Is tofu gluten-free?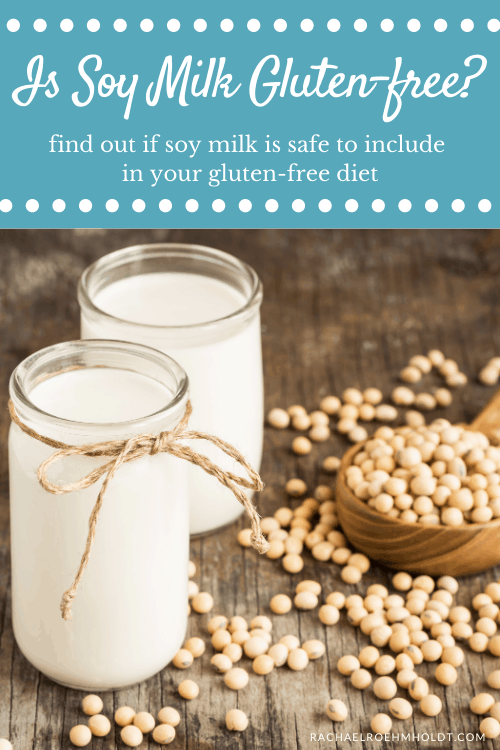 Is soy milk gluten-free? Is soy milk dairy-free?
Soy milk is gluten-free as well as dairy free, because it comes from the soybean plant. Since soy beans are not an animal product and do not come from a wheat plant, they do not have gluten. Soy milk is safe for a gluten-free diet.
You can use soy milk in any of your gluten-free baking or cooking. If you also avoid dairy, you can use soy milk as an alternative to regular dairy milk. It is very high in protein, like cow's milk, making it a good milk alternative for those who avoid dairy.
Sometimes coffee shops only have soy milk as a dairy-free alternative, and this is a good option if there are no other dairy-free milks to choose from or if it's your preferred milk alternative.
Does soy sauce have gluten?
Traditional Chinese soy sauce does contain gluten however you can find gluten free soy sauce that is Japanese called tamari soy sauce. you can find this at most grocery stores or health food stores because it's a great gluten-free option for those of us who want to enjoy soy sauce but have to avoid gluten.
Read on: Is Soy Sauce Gluten-free?
Read on: Top 5 Gluten-free Soy Sauce Brands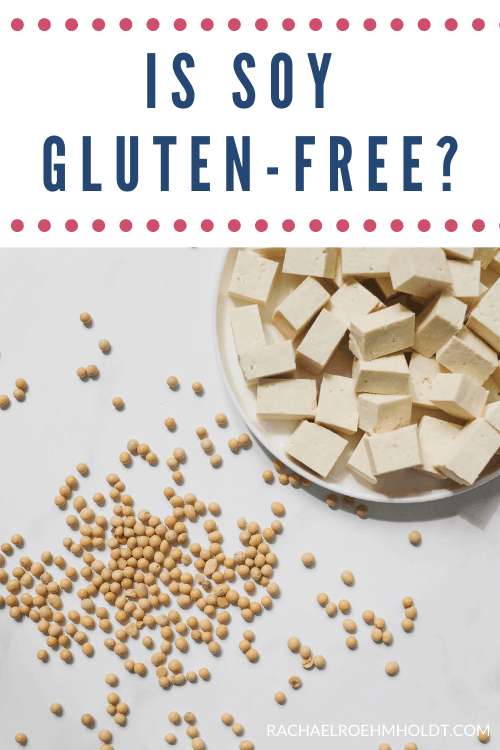 Is soy lecithin gluten-free?
Soy lecithin is a food additive that you can find in many food products and supplements. According to Healthline, "lecithin is used as an emulsifier or lubricant but also can be an antioxidant and flavor protector."
Soy lecithin comes from the soybean plant, soy is gluten free and safe to eat on a gluten-free diet. If you find this ingredient on packaged food products at the grocery store, know that it is gluten-free and okay to eat.
Is soy flour gluten-free?
Soy flour is made from raw soybeans that is milled into a flour and can be used in any baking recipes, or to thicken sauces or soups. You may find soy flour in bread recipes or other baked goods. It is safe for a gluten-free diet, as it contains no wheat products or derivatives.
I hope if you've been looking for the answers of "is soy gluten-free?" you now know that you can include it in your diet. Soy is a high protein plant source that is safe to eat if you're gluten-free or dairy-free. If you find soy in processed foods that you get from the store, know that it's okay to eat.
If you loved this post, I hope that you'll share it with your friends on Facebook and pin it for future reference on Pinterest.