Find out if millet is safe for a gluten-free diet, the health benefits, how to cook it, and how to serve it in this post.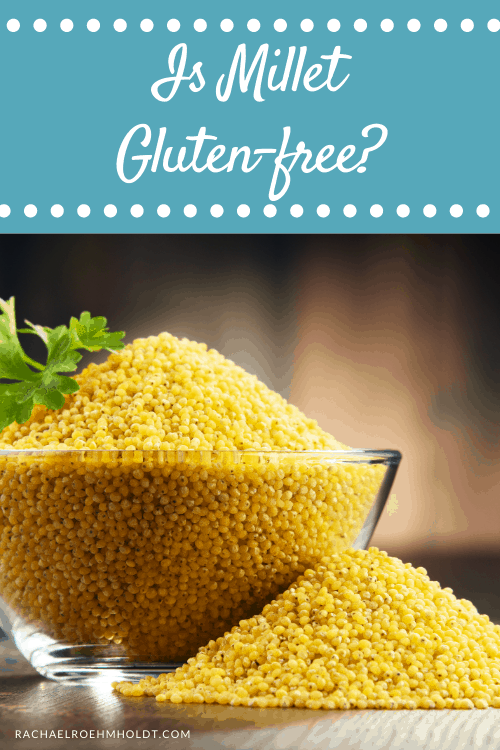 Note: I am a proud Amazon, Chomps, MunkPack, and Thrive Market affiliate and am happy to recommend their service and products to you. Please know that as an affiliate, I may receive a small commission on the products you purchase after clicking through my links. For more info, please see my disclosure policy here.
If you're following a gluten-free diet, you'll know that many grains contain gluten. It's important to know which ones are a good bet for you to keep in your diet and which ones you'll want to avoid.
In this post, we're going to talk about millet, a less popular grain than rice or quinoa, but one with real potential. We'll talk about what millet is, what gluten is, find out if millet is gluten-free, the health benefits of this grain, and how to enjoy millet in your cooking.
What is millet?
Millet is a seed (though it is known as a grain) with a nutty flavor that is high in protein and extremely versatile. It is a popular ingredient in Africa, Asia, and Europe, and is gaining popularity in the US in more recent years.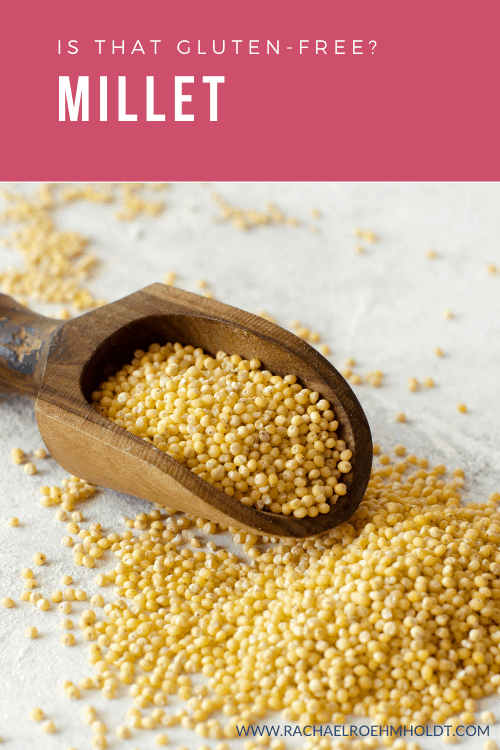 What is gluten?
Gluten is a protein found in most wheat products, and acts as the "glue" that helps to hold wheat, barley, kamut, spelt, farro, durum, bulgur, rye, and semolina together to maintain their shape.
Gluten is naturally occurring, and therefore is impossible to strip away from the grain. If a grain naturally has gluten in it, there's no way to make that food gluten-free.
Is millet gluten-free?
Millet is a gluten-free grain and is safe to enjoy on a gluten-free diet. Millet is often used as a whole grain (or seed) in salads, veggie burgers, in side dishes, and in breakfast porridge.
It is also ground into flour and used on its own or in gluten-free flour blends to create breads and baked goods that are safe for a gluten-free diet.
Is millet flour gluten-free?
Since millet flour is a gluten-free grain, we can ensure that millet flour by nature is gluten-free as well.
As with any grain that is processed, it's important to note where the processing takes place and if the millet is ground into a flour on a dedicated gluten-free line or shares the same equipment as other gluten-containing grains.
Your best option with millet flour is to look for a brand with a package that says "gluten-free" on it somewhere, or "produced in a gluten-free facility" near the ingredients list.
Bob's Red Mill, Anthony's, and Arrowhead Mills offer millet flour with gluten-free labels.
The health benefits of millet
Millet has some great health benefits, like being a good source of magnesium, antioxidants, tryptophan, niacin, protein, and phosphorus.
It is also said to help prevent diabetes and inflammation, constipation, migraines, and heart attacks.
You can expect 9 grams of fiber in just 100 grams, and expect it to help keep your gut happy with plenty of fiber to keep things moving.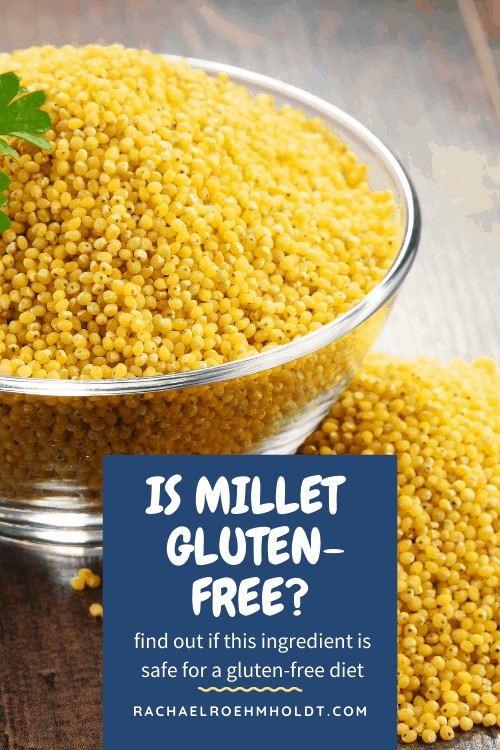 How to cook millet
Millet is a relatively quick-cooking grain, and can be cooked in much the same way as you would quinoa.
Yield: 3 cups
Basic Millet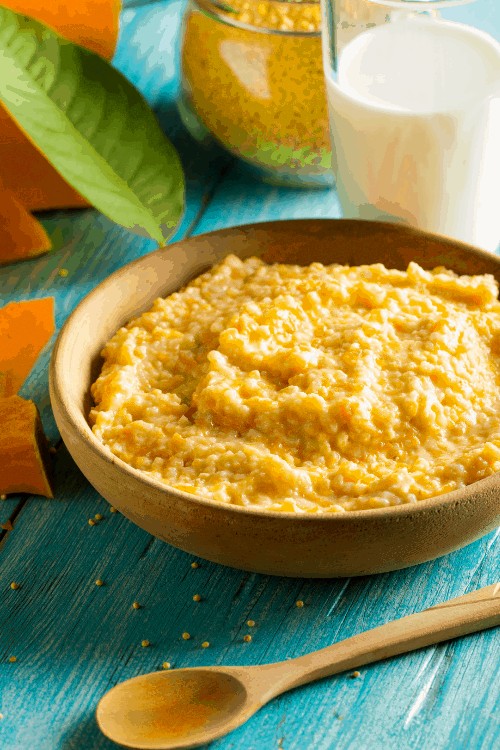 This basic millet recipe can be used in salads, as a side dish, or in place of rice in many dishes.
Additional Time
10 minutes
Ingredients
1 cup millet
2 cups water or broth
Instructions
In a large saucepan, toast the millet over medium heat for about 5 minutes, moving them in the pan to be careful not to burn,
Add water or broth to the pan, and stir.
Increase the heat to high or medium-high to bring the liquid up to a boil.
Lower the heat to low, cover, and simmer for about 15 minutes. Stir occasionally, but not too much or the millet will turn to mush.
Remove from the heat and let sit covered for about 10 minutes.
Fluff the millet with a fork. Add to your favorite millet recipes or season and serve as a side dish.
Recommended Products
As an Amazon Associate and member of other affiliate programs, I earn from qualifying purchases.
How to use millet
There are plenty of ways to use millet in your gluten-free cooking. Try a few delicious ways to make the most out of this ingredient!
As a side dish on its own or with herbs and vegetables
Add to salads for extra texture
Use it in homemade veggie or black bean burgers
Use in place of gluten-free breadcrumbs in meatloaf
In breakfast porridge, similar to how you'd enjoy oatmeal
In place of rice on a bed of stir-fry
In place of other grains in soups or grain bowls
As a stuffing for squash or zucchini
Use millet flour to make your own gluten-free bread or other baked goods
I hope if you've been looking at adding new grains to your gluten-free diet that you'll give millet a chance. If you've been looking through ingredients lists and come across millet, that you can feel confident that it is a safe choice for your gluten-free diet.
One of my little secrets is that I carry around a copy of my GFDF Take Along Cards so that I always have a point of reference when I can sneak a peek at the ingredient list of a food.
>> Get your copy of the GFDF Take-Along Cards to make this easy on you.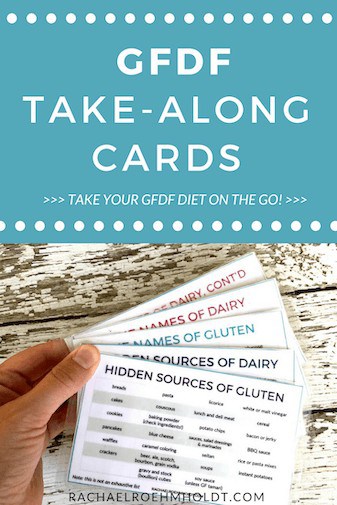 f you loved this post, I hope that you'll share it with your friends on Facebook and pin it for future reference on Pinterest.
Love this post? You might also want to check out these!
Find out if your favorite foods and ingredients contain gluten with these posts!