Find out if cornstarch is safe for a gluten-free diet, the health benefits, and discover some gluten-free cornstarch brands.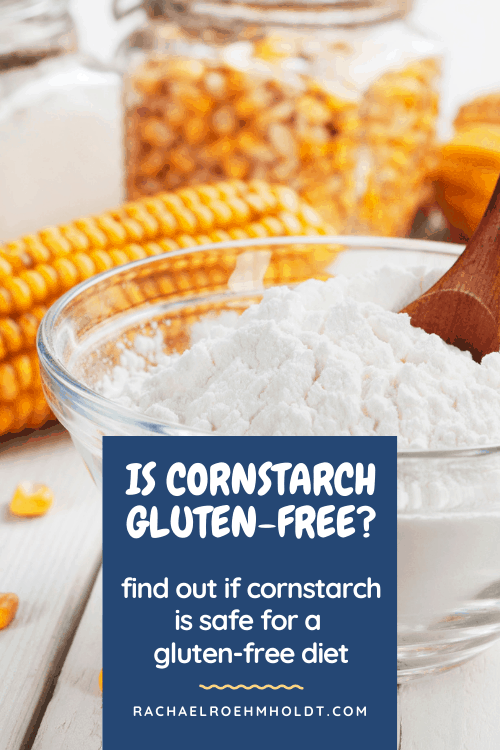 Cornstarch is a common ingredient in many cooking and baking recipes. It is often used as a thickener for sauces, soups, and even puddings.
If you follow a gluten-free diet, you may have wondered if this ingredient is safe to use if you've seen it on ingredient lists or called for in recipes.
In this post, we're going to answer the question "Is cornstarch gluten-free?" by diving into what cornstarch is made of, how it's made, and discussing if there's cause for concern about gluten hiding in this ingredient.
What is cornstarch?
Cornstarch is an ingredient that is most commonly used in baking or cooking. It is a natural thickener when added to liquid and heated.
Cornstarch works well for adding texture to soups, sauces, gravies, puddings, as well as baked goods.
What is cornstarch made of?
Cornstarch is the carbohydrate, or endosperm, extracted from corn kernels (source). Cornstarch comes from just one ingredient: corn.
In some parts of the world, cornstarch is called corn flour, and that name tends to make folks who are gluten-free cause to pause and think about if this ingredient is safe for them to use.
Though the term flour is often associated with wheat and gluten, cornstarch and cornflour are in fact, gluten-free as it is made from only corn.
Read on: Is corn gluten-free?
Read on: Is corn flour gluten-free?
How is cornstarch made?
Cornstarch is made by removing the hard shell of corn kernels to leave behind the starchy soft white parts of the inside of the kernel (think popcorn). This part of the corn kernel is called the endosperm and is the carbohydrate of the kernel.
With this starchy part of the kernel removed, it is then ground into a fine powder that can be used in cooking and baking.
What is cornstarch used for?
Cornstarch is used for a number of different tasks in the kitchen, such as:
Thickening sauces, marinades, stews, or soups
To make gravy
Making pudding
To thicken pie fillings
To help keep ingredients from sticking together in recipes or in manufacturing (such as shredded cheese)
Read on: Gluten-free gravy, gluten-free chicken gravy, and gluten-free turkey gravy
What is gluten?
Gluten is a protein found in most wheat products, and acts as the "glue" that helps to hold wheat, barley, kamut, spelt, farro, durum, bulgur, rye, and semolina together to maintain their shape.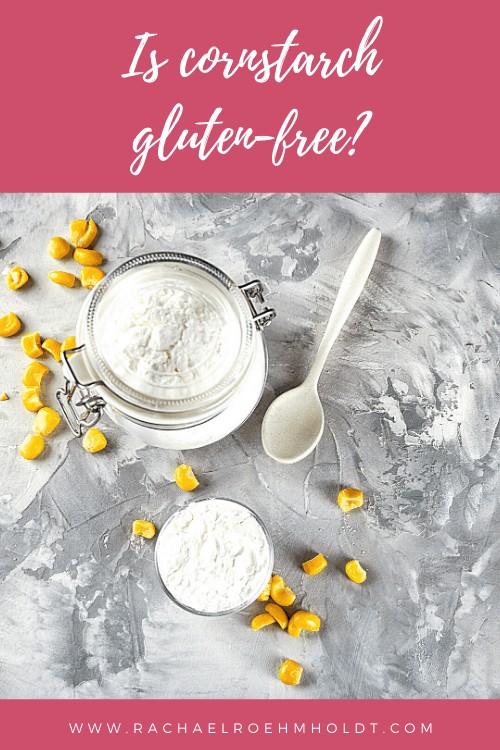 Is cornstarch gluten-free?
Since corn is not a gluten-containing grain and is naturally gluten-free, it is considered safe for a gluten-free diet.
You'll want to be sure that the brand you're using isn't processed on the same equipment as other gluten-containing grains. If they are shared equipment, the risk of cross contamination is higher and you may in fact be ingesting gluten without knowing.
You can look for a note on the packaging of the cornstarch you buy to have the words "gluten-free" on them.
Is modified corn starch gluten-free?
While modified food starch may give a person following a gluten-free diet some pause to wonder where it is derived, modified corn starch is safe for a gluten-free diet.
We know this, because corn starch is derived from corn, a gluten-free food. You can feel confident eating foods with modified corn starch on a gluten-free diet.
Read on: Is modified food starch gluten-free?
What can I substitute cornstarch with?
If you avoid cornstarch or don't have any on hand for your recipe, you can also substitute this ingredient with another starch or ingredient with a similar thickening property.
Try one of these gluten-free cornstarch substitute ideas:
Arrowroot starch
Tapioca starch
Potato starch
A gluten-free all-purpose flour blend
Rice flour
Cassava flour
Water chestnut starch
Ground flaxseed
Psyllium husk
Xanthan gum
Guar gum
These have the same properties as cornstarch and will give the similar results in your recipes.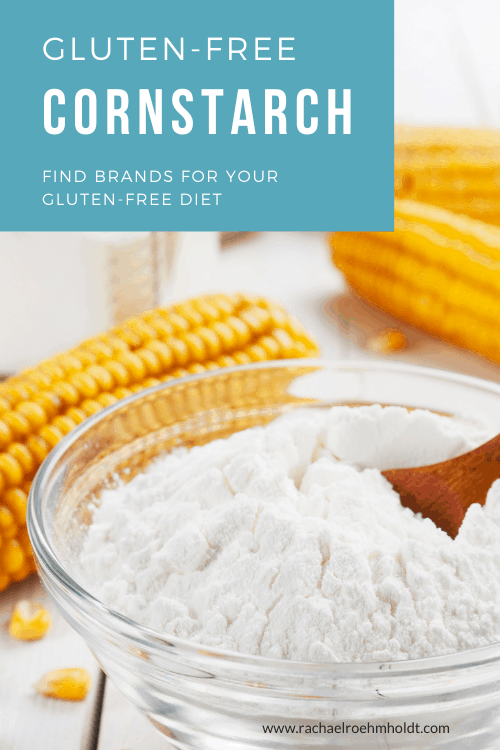 Gluten-free Cornstarch Brands
If you're looking for some brands you can count on to be gluten-free, look for some of these options next time you're at the store.
Is Argo cornstarch gluten-free?
According to the Argo website, this brand of cornstarch is gluten-free and safe for a gluten-free diet.
If you've been on the hunt for a gluten-free cornstarch, I hope this post has pointed you in the right direction. Feel free to add cornstarch to your gluten-free diet, as long as you've done your due diligence to make sure the brand you've chosen is gluten-free.
If you have more questions about what foods are gluten-free, please check out the FAQ's in my Gluten and Dairy-free Basics.
If you loved this post, I hope that you'll share it with your friends on Facebook and pin it for future reference on Pinterest.
Love this post? You might also want to check out these!
Find out if your favorite foods and ingredients contain gluten with these posts!