Find out if white rice is gluten-free, what it's used for, and what you need to know about cross contamination when it comes to white rice.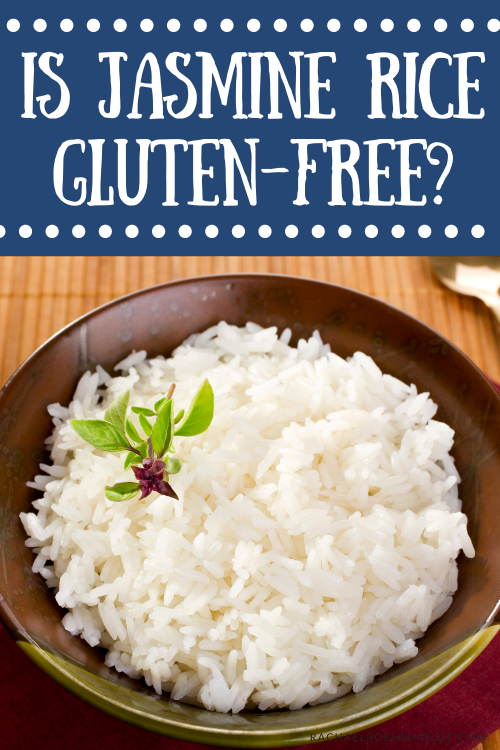 Note: I am a proud Amazon, Chomps, and Thrive Market affiliate and am happy to recommend their service and products to you. Please know that as an affiliate, I may receive a small commission on the products you purchase after clicking through my links. For more info, please see my disclosure policy here.
Jasmine rice is a staple in so many Asian dishes and recipes. While this rice is best known for its use in Thai dishes because that's where it originated, jasmine rice is an extremely versatile type of white rice.
If you love a big serving of jasmine rice when you go out to Chinese restaurants or grab Thai takeout, you're probably wondering how this rice fits into a gluten-free diet.
Can you eat jasmine rice on a gluten-free diet? If so, what is there to know about this rice in particular that makes it different than other types of rice?
In this post, we're going to talk about what jasmine rice is, what it's used for, and if it's gluten-free. We'll also go over some gluten-free jasmine rice brands so that you can feel confident choosing a product that works well for your gluten-free diet next time you're at the store.
What is jasmine rice?
Jasmine rice, also known as Thai fragrant rice, is a long-grain rice that's popular in Thai and other Asian cooking.
Jasmine rice is a type of white rice, which has the bran and germ removed, leaving the carbohydrate-rich endosperm behind.
Read on: Is white rice gluten-free?
According to Medical News Today, jasmine and white rice share similar nutritional values, with the fiber and protein being equal, but jasmine rice is slightly higher in calories and fat (129 calories per 100 grams of jasmine rice vs 114 calories per 100 grams of white rice.
The fat content varies slightly as well, with 0.46 g of fat per 100 grams of jasmine rice compared to 0 grams of fat per 100 grams of white rice. These two types of rice vary slightly, but not significantly enough to say one is healthier than the other.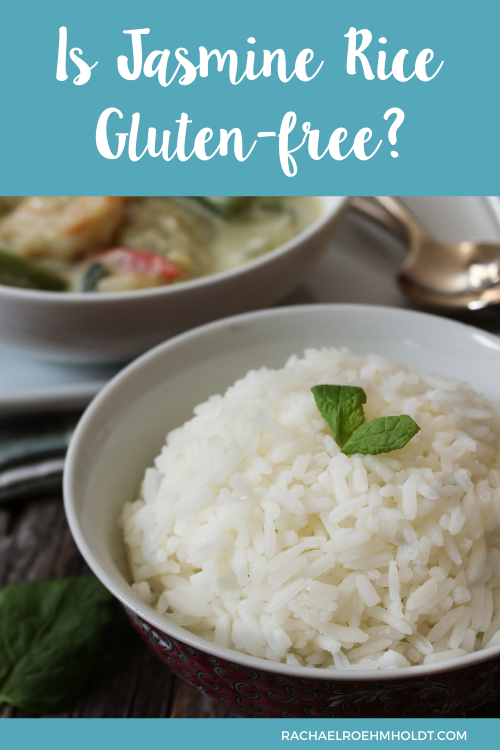 What is jasmine rice used for?
Jasmine rice is usually served steamed alongside stir-fries or other Asian dishes that have been fried, grilled, or braised. Jasmine rice is often served as a side dish at many Asian restaurants. It can also be added to fried rice dishes or turned into rice pudding.
Jasmine rice can be used in many recipes where white rice is called for. 
Read on: Find out what other foods I stock my kitchen with: Gluten and Dairy-free Diet: How to Stock your Pantry
What is gluten?
Gluten is a protein found in most wheat products, and acts as the "glue" that helps to hold wheat, barley, kamut, spelt, farro, durum, bulgur, rye, and semolina together to maintain their shape.
You can find gluten in whole grains, but also in many processed foods as well. If you purchase wheat bread, there will be gluten in it, because wheat by nature has gluten.
Read on: What is gluten in food?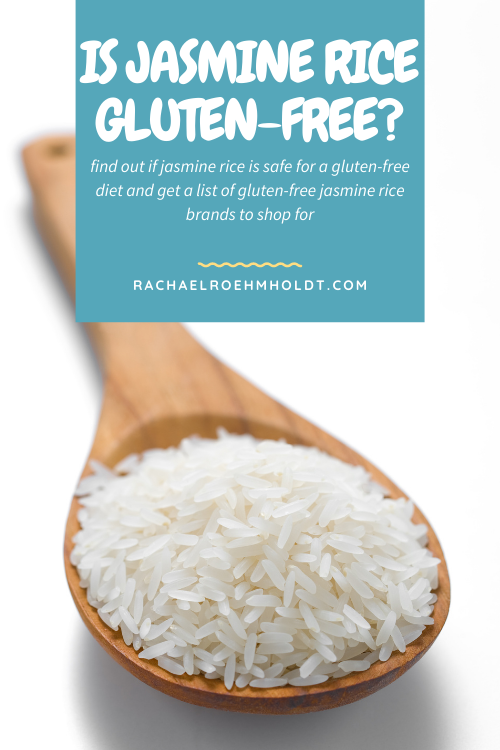 Is jasmine rice gluten-free?
Jasmine rice is naturally gluten-free. Keep in mind that even if jasmine rice itself is gluten-free that all other ingredients that are added to a recipe must also be gluten-free.
For example, if you use jasmine rice in a fried rice dish, make sure that the soy sauce used is gluten-free tamari soy sauce instead of traditional Chinese soy sauce, which contains gluten.
Also, though jasmine rice is gluten-free, it may be manufactured on the same equipment and processing lines as other grains that contain gluten. If you are extremely sensitive to gluten, you may consider finding a brand of rice that shows a gluten-free label on the packaging.
A gluten-free label ensures that the product contains no more than 20ppm of gluten in that product.
Read on: Is rice gluten-free?
Read on: Is white rice gluten-free?
Read on: Is brown rice gluten-free?
Read on: Which whole grains are gluten-free?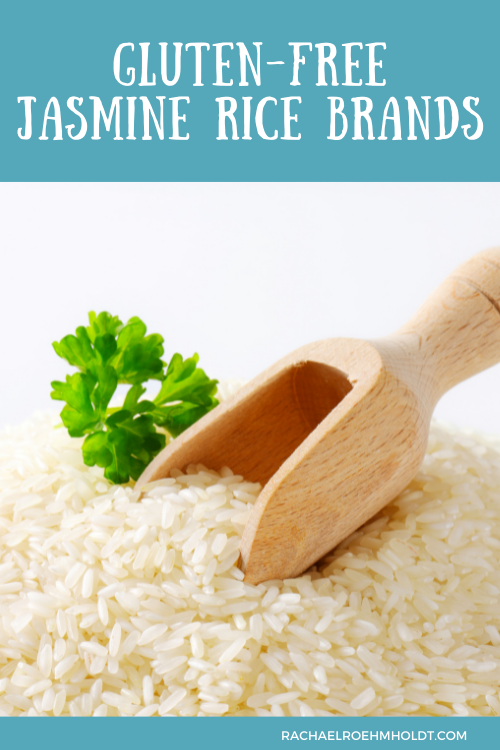 Gluten-free jasmine rice brands
To be sure you're buying a gluten-free option of jasmine rice, here are some brands you can look for that have a gluten-free label on their packaging.
If you love jasmine rice and have been unsure how it fits into your gluten-free diet, I hope this post has been useful for you to get the information you've been looking for.
If you loved this post, I hope that you'll share it with your friends on Facebook and pin it for future reference on Pinterest.
Love this post? You might also want to check out these!
Find out if your favorite foods and ingredients contain gluten with these posts!