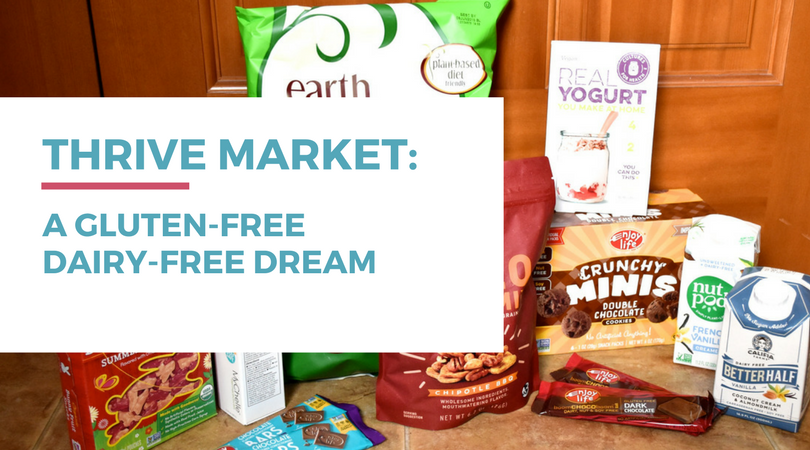 Please note I am a proud Thrive Market and Amazon.com affiliate and if you click the links here and buy products from these websites, I may receive a small affiliate referral compensation. I only recommend products and services I have tried and can vouch for.
In the past couple of months, life has been getting more and more busy. As my son gets older (how is he almost 4 already?!), we're spending more time out of the house with friends, at events, and doing more all-day activities.
Where we used to make sure we were home for lunch then nap time, these days we can head out in the morning and be gone almost all day – or until one of us runs out of steam.
What that's meant for us is that we're often not at home for lunch as we used to be.
I'm always good about packing food and snacks for my son, but when it comes to packing a lunch for myself well, I don't do it often. It's more things to add to my list to get done before I leave the house (this list is never-ending by the way), and depending upon where we go, it's more to carry in a bag – and I like to pack lightly when I'm out.
This has been exciting being out more with him during the day. We've had a number of super-awesome adventures. We've gone to the beach for the day, on day-long hikes, drives up to a local family-friendly cidery, children's museums, and for fun family day trips.
While all this is fun, I don't always eat well and take care of myself when we have these adventures. I've been known to sneak a few bites of his Fig Bars or Cheddar Bunnies (both of which are not gluten-free by the way) and then feel icky later. Or when we finally do get home around 2:00 or 3:00 in the afternoon after a full morning of playing, I'm hangry and wishing I would have just packed the darn lunch I was too lazy to throw together before I left the house.
All this to say, I've been finding a gap in my diet and in my day for snacks and food that I can have on-the-go when I don't get home until later in the afternoon. Because if I'm being honest, my meal times midday have been replaced with healthy snacking. I've been looking for some grab-and-go options that can sustain me through until I get home – and also stick with my gluten-free and dairy-free dietary needs.
While I used to buy all my snack foods on Amazon, I've since been turned on to a new snack provider that I know can suit my gluten-free dairy-free diet. Since my calendar has been filling up, I'm realizing just how precious my time is. Reading through ingredient lists or buying a pack of 6 or 12 of something on Amazon only to discover I don't like it just isn't a great use of my time or money anymore.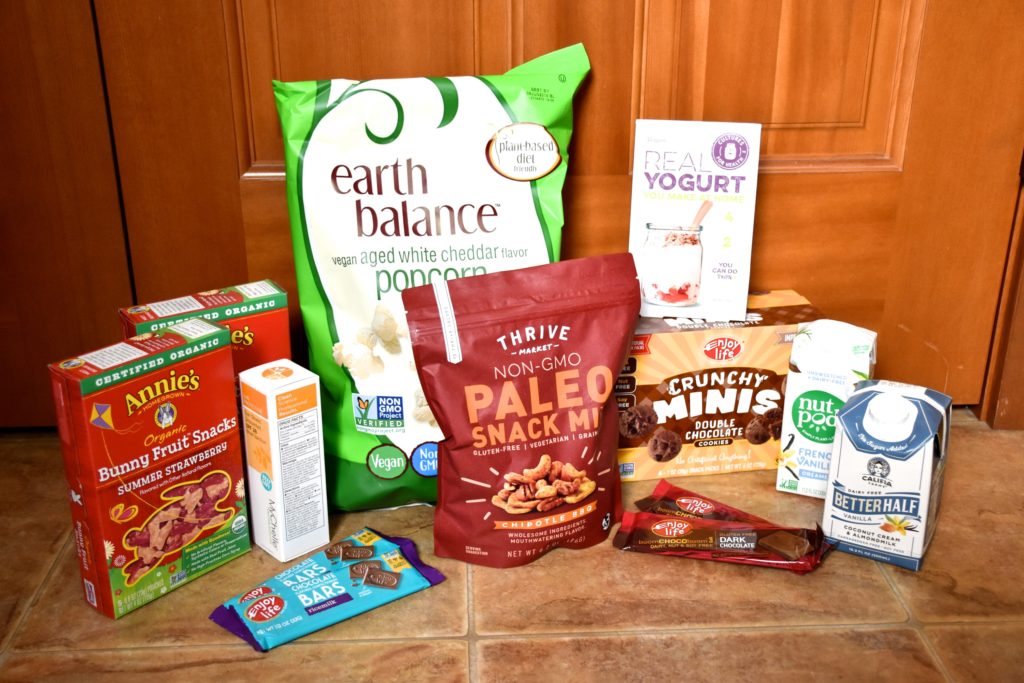 Thrive Market is an online organic, healthy food delivery service that has blown my mind.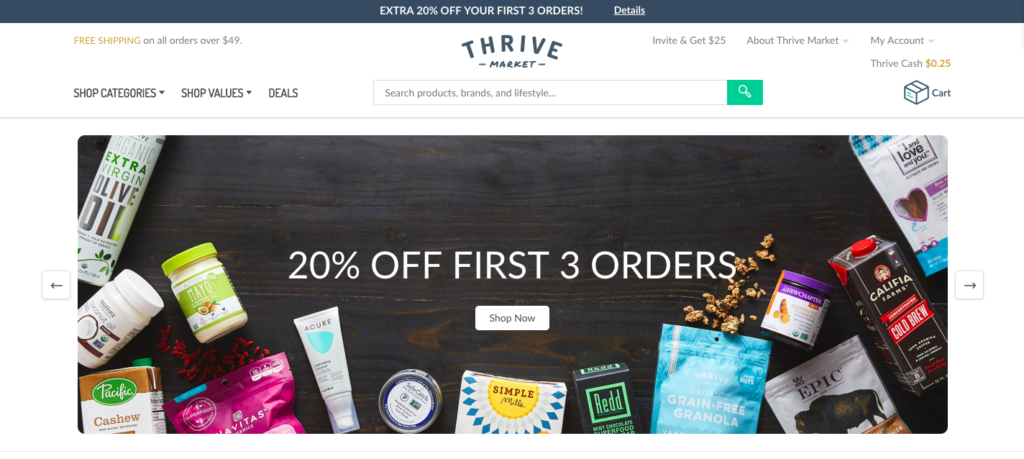 I'll be honest – I have heard of Thrive Market for a while now and thought it was just another service that was competing with my beloved Amazon. I mean, if I can get everything on Amazon that I can get from there, then why jump on board the Thrive Market boat at all?
Well, let me tell you why I've fallen in love with Thrive Market.
First, Thrive Market absolutely DOES compete with Amazon on price.
Before I even considered buying from Thrive Market, I did my own research. I wasn't about to go along for the ride for a paid-for subscription service if it wasn't worth it, ya know?
What I did was create a list of some of the top ingredients and products I buy from Amazon on a regular basis and compared them against Thrive Market's prices. I did my very best to make sure it was a match for quantity and size of the product. If I couldn't find an exact match, I threw it out of my research – no point in comparing apples to oranges, right?
Here's what I found on my personal price comparison of common gluten-free dairy-free ingredients that I buy regularly on Amazon (as of April 2018, prices may have fluctuated if you're reading this after that date):
| Brand | Product | Size | Thrive Market | Amazon | Difference |
| --- | --- | --- | --- | --- | --- |
| Mary's Gone Crackers | Original Crackers | 6.5 oz | $3.79 | $4.99 | $1.20 |
| Bob's Red Mill | Brown Rice Flour | 24 oz | $4.99 | $9.66 | $4.67 |
| Spectrum Essentials | Organic Ground Flax Seeds* | 14 oz | $4.99 | $8.84 | $3.85 |
| Purely Elizabeth | Blueberry Hemp Ancient Grain Granola* | 12 oz | $5.99 | $7.98 | $1.99 |
| Bragg | Nutritional Yeast Seasoning | 4.5 oz | $4.99 | $6.69 | $1.70 |
| Bionaturae | Organic Gluten-free Spaghetti* | 12 oz | $3.29 | $4.47 | $1.18 |
| Earth Balance | Vegan Buttery Popcorn | 6 oz | $2.99 | $3.94 | $0.95 |
| King Arthur | Gluten-free Measure for Measure Flour | 3 lb bag | $9.49 | $10.99 | $1.50 |
| Nutpods | French Vanilla Unsweetened Non-Dairy Creamer* | 11.2 oz | $2.99 | $3.55 | $0.56 |
| Enjoy Life | Boom CHOCO Boom Bars Box Ricemilk Chocolate* | 1.12 oz | $1.79 | $2.22 | $0.43 |
| Simply Organic | Vanilla Extract | 4 oz | $10.99 | $10.99 | $0.00 |
| Enjoy Life | Semi-Sweet Chocolate Chips | 10 oz | $4.29 | $4.61 | $0.32 |
| Thai Kitchen | Organic Coconut Milk | 13.66 oz | $2.39 | $2.27 | -$0.12 |
| Manitoba Harvest | Raw Hemp Hearts | 16 oz | $10.29 | $9.78 | -$0.51 |
| King Arthur | Gluten-free Pancake Mix | 15 oz | $4.49 | $3.78 | -$0.71 |
| Lundberg | Organic Short Grain Brown Rice | 32 oz | $3.99 | $4.45 | $0.46 |
| Vega | One All-In-One Plant Based Protein Powder, Natural | 30.4 oz | $52.49 | $47.49 | -$5.00 |
Note that the times with an asterisk (*) mean that I couldn't find a product that wasn't in a set or package of 2 or more, so the cost is based on a calculation to get the price per item. For example, you can only get of 4 NutPods French Vanilla Unsweetened Non-Dairy Creamers as opposed to just one on Thrive Market. I divided the total cost ($14.95) by the amount you'd get in one set (4) to get the cost per item from Amazon.
So you can see that a number of products came out to be cheaper on Thrive Market – even when they come as a set or a pack with multiples in it. The opposite of what you'd think, right? You'd think if you're buying more, you'd get a better deal? Not always, I found.
Some items were actually more expensive on Thrive Market, which kind of surprised me being that they promote themselves as cheaper than MSRP through and through. But hey, doing a little research between Amazon, Thrive Market, and even your local grocery store is worth it if you want to save some money on these specific gluten-free dairy-free items.
Thrive Market makes finding gluten-free dairy-free products extremely easy.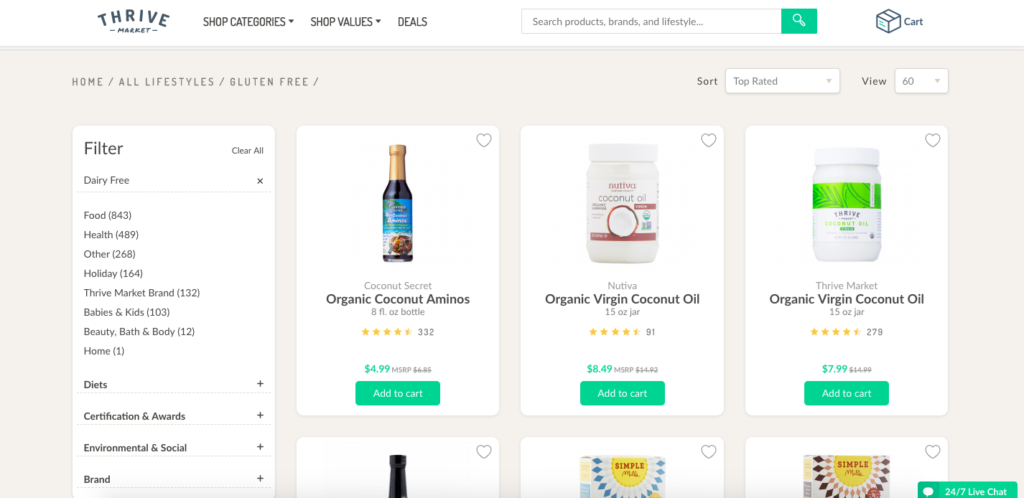 When I was looking around on their site, I was floored at how quick and easy it was to find the set of products that were gluten-free dairy-free friendly. I'm so used to having to go into a product description online or in the store, flip the item over to the back and read the ingredient lists.
All I had to do was choose Gluten-free from the "Shop Values" menu at the top on their main homepage. Then I saw a whole bunch of products that were gluten-free but they weren't dairy-free so I scrolled down to find that there's a filter called "Health & Diets" and selected "Dairy-free" and bingo-bango, I had over 1300 products that fit the specific diet I need.
Now, if you've been GFDF for a while, you know how much time and research it takes to find products that suit this diet. I couldn't believe how simple this was – someone took the guesswork and WORK out of it. I haven't had an easier time finding products for ME in years!
If you aren't sold on the price comparison, the convenience factor may win out for you. It did for me!
Thrive Market offers more than just food.
At first glance of the Thrive Market website, I was kind of thinking well, heres a place I can spend all my money on expensive snack foods, but after some more looking around, I realized that Thrive Market is way more than just food.
You can buy all kinds of health foods and other items without having to find a Whole Foods or health food store in your area. This is kind of a big deal for me, as my local grocery store only has so much of what Im looking for, the nearest place that has more natural and organic foods and supplements is about 25 minutes away, and most of the time they don't have what I'm looking for anyway.
Some of the things I was pleasantly surprised to find on Thrive Market, aside from their vast food options at great prices were:
probiotic supplements

tongue scrapers

pet food

hair care

makeup

you can even buy high quality meat!



Seriously, the more I look at this website, the more trouble I think I'm in with wanting to buy all. the. things.
Its exciting to have all these high quality, eco conscious, healthy options at your fingertips – without having to wade through the options at sites like Amazon (don't get me wrong, I still LOVE Amazon) or browse through the aisles and read all the ingredients of every single box at a grocery store.
Thrive Market has their own brand of high quality foods and health products.
One great thing that I found is that Thrive Market has their own brand of food, bath and body products, health products, home goods and even items for babies and kids. They have basic food items like marinara sauce, raw and roasted nuts, coconut oil, applesauce really so many different foods but at great prices. They even have vitamins, digestive enzymes, probiotics, cleaning products, and even diapers and wipes if you've got little ones at home.
Not only do they have their own brand, but their prices compete with some of the bigger names that they carry, making saving on high-quality items even easier on their website.
Thrive Market offers simple and useful ways to sort their thousands of health foods and wellness items.
This is one of the things I loved most about using the Thrive Market website to buy from them: they make finding what you want super easy.
First, they have their top categories that they cater to on their website: gluten-free, paleo, vegan, staples, raw, and moms. But from there, you can "drill down" into different sub-categories of each.
For example, if you wanted to buy gluten-free dairy-free and non-GMO certified foods, you can easily filter for this using their filters on the right-hand sidebar of their online shop. You can filter from any of these high-level groupings into any categories that are important to you, like Non-GMO, Soy-free, No Artificial Ingredients, sustainably farmed, BPA free, made with recycled packaging. It's really useful and easy to use!
Another cool thing that they offer are "Starter Kits" for different diets. I was intrigued to find a gluten-free, paleo, AIP, and Whole 30 kit – all of which are very likely to be approved for a gluten-free dairy-free diet, by the way! All these starter kits are is a combined set of ingredients for each of these diets so you can buy them all at once. You may have seen me do something similar using Amazon products I've found over on Kit.com.
Thrive Market is all about convenience.
The checkout process was seamless. I could even opt to use PayPal for checkout if I wanted to instead of a credit card.
Also, I was interested in buying up to the $49 price point, because at $49 you get free shipping with your order. I figure if I'm going to buy from them, I might as well make it worth my effort and get something free in return.
I also found out that they have an app for your phone to make looking up products, comparing prices, and the checkout process even easier while on the go. You can even see previous orders so you can add items you've loved in the past which is super handy.
We live in a convenience world these days, and I don't know about you, but if something takes more than 3 days to show up on my doorstep, I start wondering what went wrong with the shipping.
Well, Thrive Market is all about the convenience factor. My order came in just two days and my son was literally jumping up and down excited by getting a package in the mail. Since I let him pick out a few things just for himself, it was a big deal for everyone in the family to get this first box and I know I'll be reordering from them soon.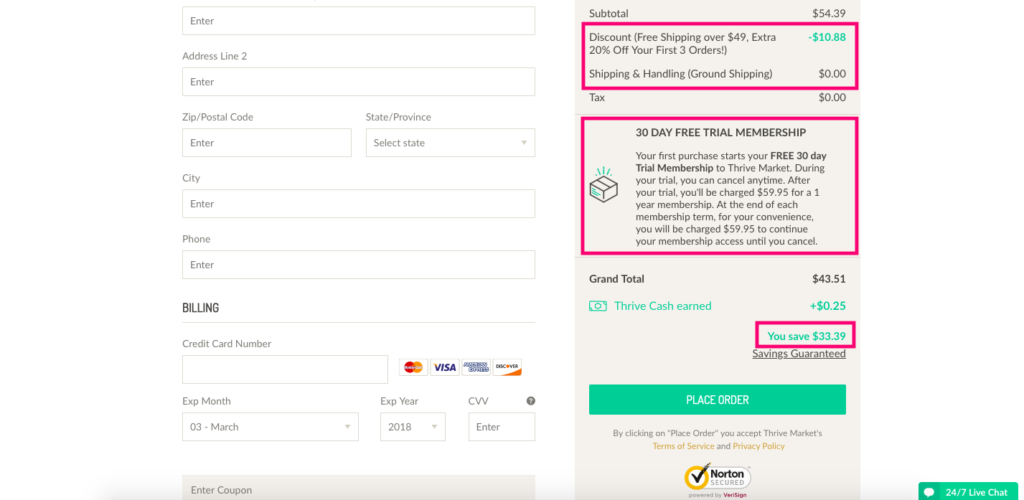 Plus there were a few extra perks to ordering from Thrive Market and being a new member:
I saved 20% off my first order (and I'll get two more of these codes to use as a Thrive Market newbie)

I saved $10.88 on my $54.39 subtotal. Woop!

I got FREE shipping because I ordered over $49. Double woop!

As just a trial customer, I was already offered $25 for each new member I invite to join Thrive too! More Woop!! – I can invite my friends and family and maybe even make back that $60 annual subscription fee.
Thrive Market costs $60 for a full one-year membership – only after your FREE 30-day trial.
At the time of me writing this, I still haven't even paid for my membership yet but definitely reaped the benefits of this awesome service.
And you might be wondering is that $60 per year membership fee worth it? Isn't it just another fee I have to pay – especially if I already have Amazon Prime and can get everything I need there?
Here's why I think Thrive Market is more than worth paying for:
They have more gluten-free dairy-free items I've ever found online – without the nonsense of having to filter through to find them.

If you do the research and find that Thrive Market is cheaper for SOME of even your gluten-free dairy-free pantry staples, you'll be saving money in the long-run on your food and grocery bills.

If you purchase from Thrive Market regularly, you'll wind up saving way more than your $60 annual subscription fee. In my first order alone, I saved $30 than if I had paid full retail price for the items – I'm halfway to making up for my fee that I haven't even paid for yet

It doesn't have to be an either/or decision. Both Amazon and Thrive Market offer great high-quality products in terms of gluten-free and dairy-free items. They both have great health, home, and kid items. There are some things on Amazon you just won't find on Thrive Market – and that's why you'll find me being a long-term Amazon lover. But I'm now a converted Thrive Market lover too.
The amount of time I saved even just finding new gluten and dairy-free foods to try out was super worth it don't get me wrong, the amount of stuff on their site probably ate away all that time, because I was so interested to see all that they offer (they've got a LOT of great things!).

In summary of this giant Thrive Market love fest, here are the key takeaways:
Thrive Market competes on price

Thrive Market allows you to save time sifting through ingredient lists to discover gluten-free and dairy-free products

Their namesake brand has awesome options – and delicious treats – that are worth trying and at a great price

Their shipping is quick AND free over $49

You can even make money by referring friends – $25 for each friend you pass it along to
If you'd love to give Thrive Market a try, be sure to use my special link below!
Get up to $20 in shopping credit when you purchase a Thrive Market Membership! (1 year and 1 month memberships available)
If you try it out, I'd love to hear what you think of it! 🙂

If you loved this post, I hope that you'll share it with your friends on Facebook and pin it for future reference on Pinterest.
Want more product recommendations for gluten and dairy-free foods? Check out these posts!