Find out if buckwheat is gluten-free, what you need to know about eating buckwheat on a gluten-free diet, and brands you can look for.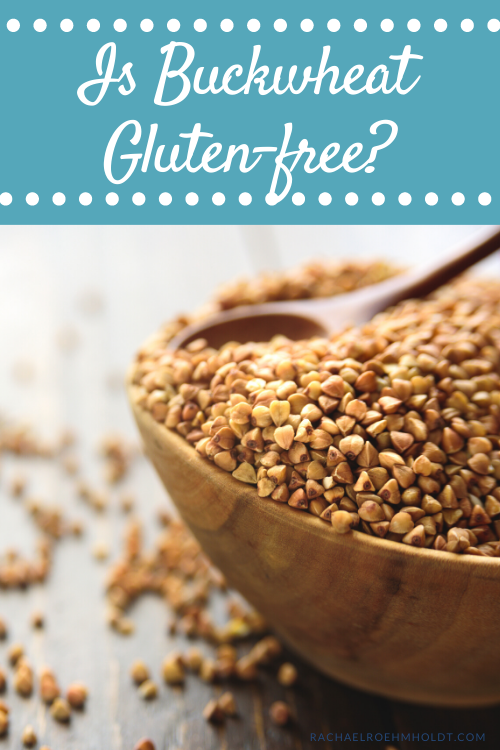 Note: I am a proud Amazon, Chomps, MunkPack, and Thrive Market affiliate and am happy to recommend their service and products to you. Please know that as an affiliate, I may receive a small commission on the products you purchase after clicking through my links. For more info, please see my disclosure policy here.
If you've been gluten-free for any amount of time, you know that not all grains are safe to enjoy on your gluten-free diet. Buckwheat is a grain that many folks aren't quite sure of, because it has the name "wheat" in it.
In this post, we're going to talk about this grain, find out if it's gluten-free, and what you need to know about eating buckwheat on a gluten-free diet.
We'll also discuss the different types of buckwheat and how you can find them at the store, plus go over some brands you can look for next time you're shopping for this ingredient.
What is buckwheat?
Buckwheat is a grain, well technically it's a seed that has a nutty earthy flavor. It can be cooked as whole seeds, ground into flour, roasted and cooked, and used in a variety of different recipes from salads to pancakes to bread.
Although buckwheat has the word "wheat" in it, it isn't actually related to wheat at all. Buckwheat are seeds from a completely different plant than its wheat counterparts.
It's high in B vitamins, fiber, magnesium, phosphorus, and zinc so it's overall a very healthy ingredient to add to your diet, particularly if you're looking for an alternative flour or grain to use in your gluten-free recipes.
What is gluten?
Gluten is a protein found in most wheat products, and acts as the "glue" that helps to hold wheat, barley, kamut, spelt, farro, durum, bulgur, rye, and semolina together to maintain their shape.
Gluten is naturally occurring in these grains, and even if the grains have gone through a lot of processing and manufacturing, the gluten can't truly be removed from the rest of the grain.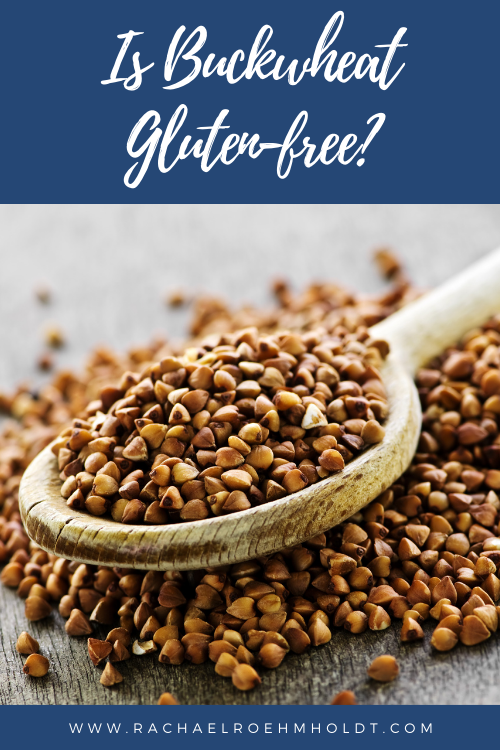 Is buckwheat gluten-free?
Buckwheat is naturally gluten-free as it doesn't come from a gluten-containing grain. In fact, it's a really great substitute for rice or barley (not gluten-free) in many recipes.
You can find a number of recipes that call for buckwheat that are safe for a gluten-free diet, but it's not as straightforward as saying that buckwheat is always gluten-free.
What do I need to know about buckwheat and gluten
While buckwheat is naturally gluten-free, it is often processed on shared equipment and in facilities with gluten-containing grains. This means that it's likely that most buckwheat, unless processed on dedicated lines, contain gluten from cross contamination.
Since there's no way to know how much gluten is present, it's best to avoid any buckwheat from bulk bins or from brands that sell it without gluten-free labels on the packaging.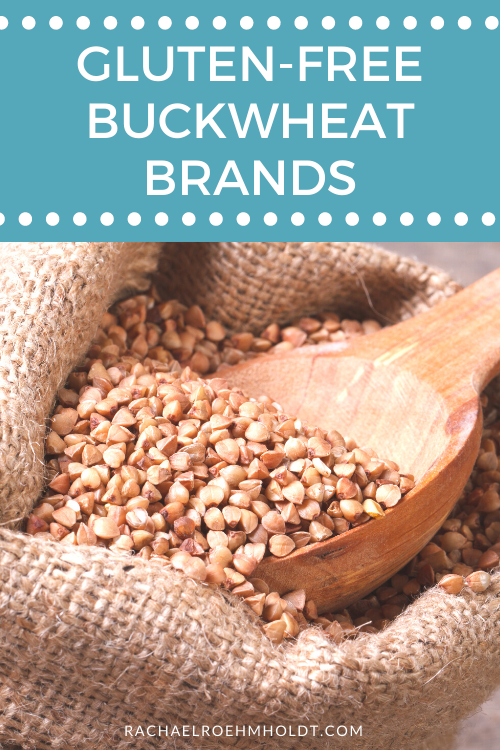 Gluten-free Buckwheat Brands
When you're at the store looking for buckwheat, be sure to choose an option that has a gluten-free label on the package. This label will help you confidently know that the product has less than 20ppm of gluten and is considered safe by the FDA for a gluten-free diet.
This company offers certified gluten-free buckwheat groats and flour. They also have buckwheat cereal.
This brand offers organic certified gluten-free buckwheat flour, groats, cream of buckwheat, and kasha.
Bob's Red Mill is a reputable company with certified gluten-free products. They offer buckwheat flour, groats and a creamy buckwheat hot cereal.
Types of buckwheat
You may find buckwheat labeled as "buckwheat" on packages, but you can also look for these other names of buckwheat and buckwheat products. Be sure to check for a gluten-free label or ask if the item is gluten-free to ensure there's minimal potential for cross contamination.
Buckwheat groats
Kasha (roasted buckwheat groats)
Buckwheat flour
Buckwheat hot cereal
Buckwheat cereal flakes
Soba noodles
Kasha bread
Buckwheat pancakes
Read on: Are soba noodles gluten-free?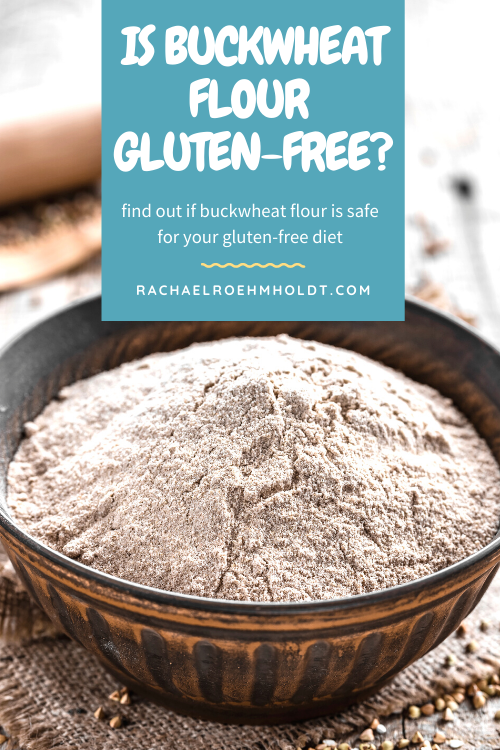 Is buckwheat flour gluten-free?
Buckwheat flour is naturally gluten-free, however you'll want to be careful to not buy just any brand of buckwheat flour.
Look for a gluten-free label on the package to help you identify the brands that don't use the same processing equipment as other gluten-containing grains and have less of a chance for cross contamination.
Read on: Is buckwheat flour gluten-free?
If you follow a gluten-free diet or are just getting started, I hope this helped you get the answers you've been looking for about if this is a safe ingredient and food to add to your diet.
As long as you purchase buckwheat and buckwheat products with gluten-free labels, you should be able to enjoy this ingredient without issue on your gluten-free diet.
f you loved this post, I hope that you'll share it with your friends on Facebook and pin it for future reference on Pinterest.
Love this post? You might also want to check out these!
Find out if your favorite foods and ingredients contain gluten with these posts!