Find out if raisins are a good option for your gluten-free diet. Plus get a list of gluten-free raisin brands.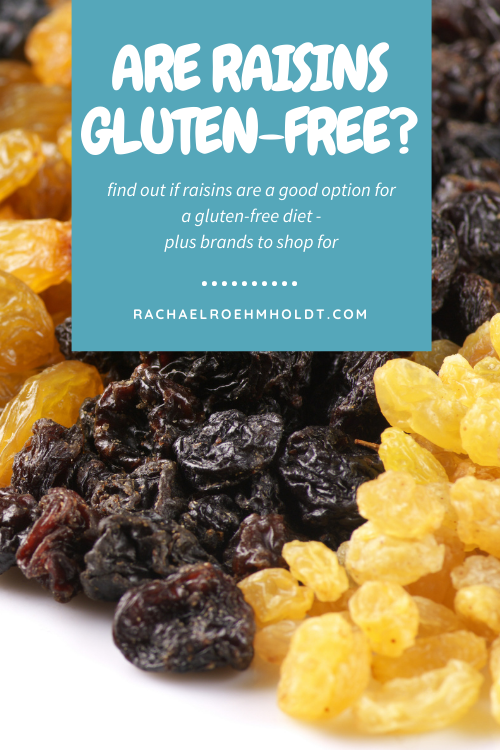 Note: I am a proud Amazon, Chomps, MunkPack, and Thrive Market affiliate and am happy to recommend their service and products to you. Please know that as an affiliate, I may receive a small commission on the products you purchase after clicking through my links. For more info, please see my disclosure policy here.
If you love adding raisins to your favorite oatmeal raisin cookies, eating a handful of trail mix with raisins, or love a slice of cinnamon raisin bread in the morning once in a while, I can safely assume you're a fan of this dried fruit.
If you're getting started with a gluten-free diet or have been at it for a while, you may have wondered about this ingredient and whether or not it's a safe choice for you to keep eating.
As with any food that has to go through processing, there's always that concern of cross contamination with gluten ingredients while on the manufacturing line.
That's why it's important for us to find out whether or not raisins are gluten-free – and most importantly, if they are always gluten-free.
In this post, we're going to dive into the topic of raisins and talk about what they are, what they're used for, why they come in light and darker varieties, and which brands you can feel good about eating on a gluten-free diet.
It's not a fancy topic, but it's one that's useful if you love to eat this ingredient regularly. Let's talk about raisins!
What are raisins?
Raisins are a type of dried fruit made from grapes. The grapes for raisins can be grown in many different locations in the world, but here in the US, most of our raisins are grown in California.
Raisins can come in their well-known dark red color as well as a golden yellow color. The color is based on what type of grapes are used, red or white. Red grapes produce a dark red or purple colored raisin, whereas white grapes produce a golden colored raisin.
This sweet dried fruit is loaded with iron, potassium, copper, vitamin B6, and manganese. Grapes are full of all of these vitamins and minerals, but when they are concentrated down, the health benefits remain along with the sugar. Raisins are healthy but with so much sugar, they are really best in moderation.
Along with other types of dried fruit, the fiber in raisins are great for digestive health. They're also high in antioxidants which are said to lower the risk of chronic health issues like diabetes, osteoporosis, and cancer.
Raisins can be eaten plain as a snack, added to snack mixes like trail mix or granola, and added to baked goods. Many people love to add raisins to cookies, bars, and even raisin bread.
Read on: Gluten-free oatmeal cookies
Read on: Gluten-free dairy-free snack board
Read on: Gluten-free emergency food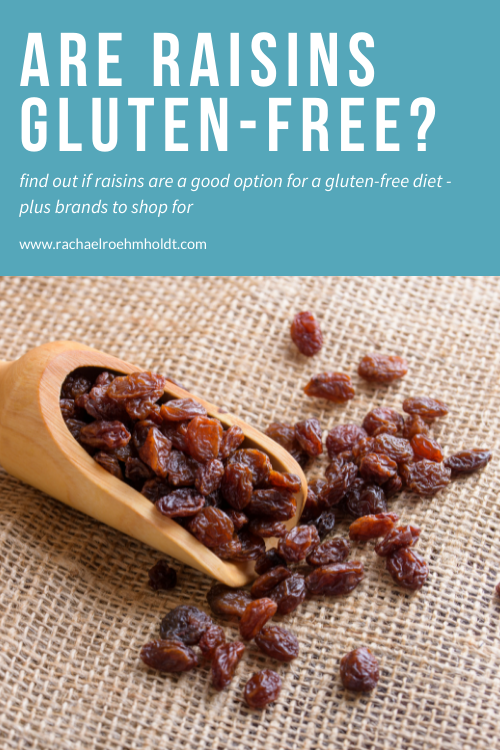 What is gluten?
Gluten is a protein found in most wheat products, and acts as the "glue" that helps to hold wheat, barley, kamut, spelt, farro, durum, bulgur, rye, and semolina together to maintain their shape.
You can find gluten in whole grains, but also in many processed foods as well. If you purchase wheat bread, there will be gluten in it, because wheat by nature has gluten.
Read on: What is gluten in food?
Are raisins gluten-free?
Raisins are a naturally gluten-free food, as they come from grapes. Grapes are also naturally gluten-free.
Keep in mind that raisins are only gluten-free when they're produced in a facility and on machinery that doesn't also manufacture gluten-containing ingredients. It's important to know this so you're aware that even if raisins have no gluten, other ingredients can come into contact with them making them unsafe for folks who are extremely sensitive to gluten in their diets.
You can know that raisins are gluten-free by looking at the package and finding a gluten-free label. Since most raisins won't have any additional ingredients in their ingredients lists, you can be certain they are manufactured in a way that doesn't lend itself to gluten cross contact by looking for that label.
A gluten-free label by FDA regulation means that no more than 20ppm of gluten can be present in a product.
Read on: Is Raisin Bran gluten-free?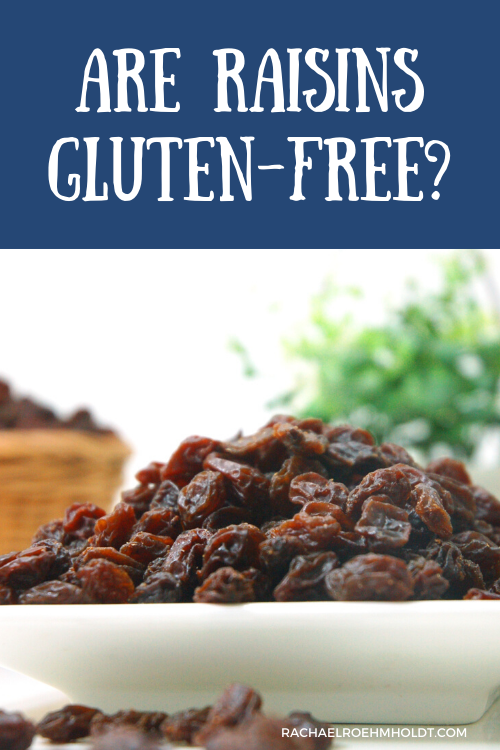 Brands of gluten-free raisins
While raisins are naturally gluten-free, it can be helpful for folks on a gluten-free diet to know for sure which ones are processed in a place where gluten isn't present. That's why it's a good idea to look for gluten-free labels.
This is a list of brands that produce raisins that have gluten-free labels on their packaging. Though this list doesn't have every brand of gluten-free raisins available, I hope it gives you a short list of options next time you're shopping.
If you've been curious about how raisins can fit into your gluten-free diet, I hope this post helped you get the answers you've been after.
Though raisins are naturally gluten-free, it's a good idea to choose a brand that has a manufacturing line that doesn't also produce gluten-containing grains and ingredients.
This keeps the risk of potential cross contamination with gluten down. You can be sure of this by looking for a note on the packaging about shared equipment or a gluten-free label.
If you loved this post, I hope that you'll share it with your friends on Facebook and pin it for future reference on Pinterest.
Love this post? You might also want to check out these!
Find out if your favorite foods and ingredients contain gluten with these posts!