When you follow a gluten-free diet, even your baking essentials need to be gluten-free. Find out if baking powder is gluten-free and which brands to look for to stick with your diet.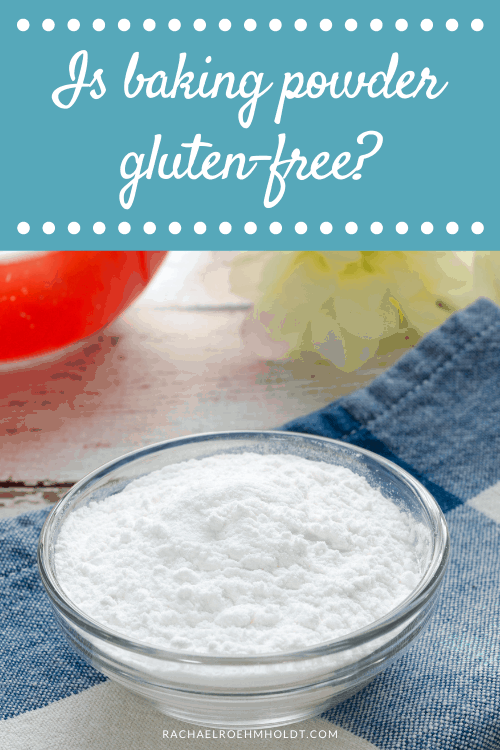 Note: I am a proud Amazon, Chomps, MunkPack, and Thrive Market affiliate and am happy to recommend their service and products to you. Please know that as an affiliate, I may receive a small commission on the products you purchase after clicking through my links. For more info, please see my disclosure policy here.
Baking powder is an essential ingredient if you love to bake cookies, cakes, brownies, or any other type of baked goods. It's useful for helping breads and cakes rise, creating that light and fluffy texture that we all look for in our favorite treats.
Without it, we'd have hard and heavy baked goods coming out of our ovens… something I know most of us feels a little sad to even think about.
If you follow a gluten-free diet, you need to be on the lookout for hidden gluten – and believe it or not, it can hide in the most unlikely of places. That's why we need to do our due diligence in looking at ingredients lists and brands before we purchase.
In this post, we're going to talk about baking powder, if it's gluten-free, which brands to look for, and even go over some of the most popular baking powder brands to help identify if they're still a good option if you're staying away from gluten.
Let's get into the details of this essential ingredient and find out just how safe it is for a gluten-free diet.
What is baking powder?
Baking powder is a powder that is used as a leavening agent in baked goods. It is used to help breads and baked goods rise, creating bubbles in dough and a light and fluffy texture to the recipe you're making.
While yeast is often used in baked goods to create the same height and lightness to a baked good, baking powder is often used because the chemical reaction takes place much faster than having to wait for yeast to rise. Baking powder can create the same chemical reaction as yeast with only liquid being added to it.
Baking powder is used in so many different recipes, from cakes to cookies to pancakes, muffins, bread, biscuits, and rolls.
Read on: Gluten-free Biscuits, Gluten-free Waffles, Gluten-free Pancakes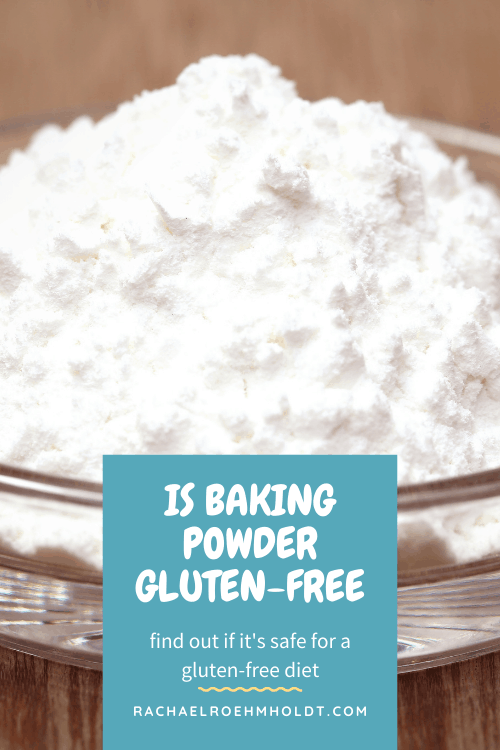 What is baking powder made of?
According to MadeHow.com, baking powder usually contains baking soda, cream of tartar, and cornstarch. They also explain this is a base, an acid, and a filler.
Sometimes baking powder can be made with wheat starch instead of cornstarch, which is what you'll want to look out for if you're following a gluten-free diet.
Unlike baking soda that needs an acid (like lemon juice or vinegar) to react, baking powder already contains an acid from the cream of tartar and only needs a liquid to "activate" the chemical reaction.
In this way, baking powder is helpful for bakers who don't want to add acidity to their recipe and they can simply add liquid to create the lightness that causes baked goods to rise.
Read on: Is baking soda gluten-free?
Read on: Is cream of tartar gluten-free?
What is gluten?
Gluten is a protein found in most wheat products, and acts as the "glue" that helps to hold wheat, barley, kamut, spelt, farro, durum, bulgur, rye, and semolina together to maintain their shape.
Gluten is naturally occurring, and therefore is impossible to strip away from the grain. If a grain naturally has gluten in it, there's no way to make that food gluten-free.
It is often added to products as a binding agent or in the form of flavoring, as well.
Is baking powder gluten-free?
Baking powder is made with baking soda, cream of tartar, and a starch. Assuming all three of the ingredients that are included in the recipe are gluten-free, the baking powder will also be gluten-free.
Some baking powder is made using cornstarch, while others are made with wheat starch. Be sure to look at the ingredients list to be sure you're buying one with cornstarch.

If you can't tolerate corn in your diet, you may consider making your own baking powder at home with baking soda, cream of tartar, and another starch, like arrowroot or tapioca starch.
You can find out if a baking powder you're reaching for is gluten-free by looking at the packaging. Look for a gluten-free label to help you find the answer you need to make an informed decision.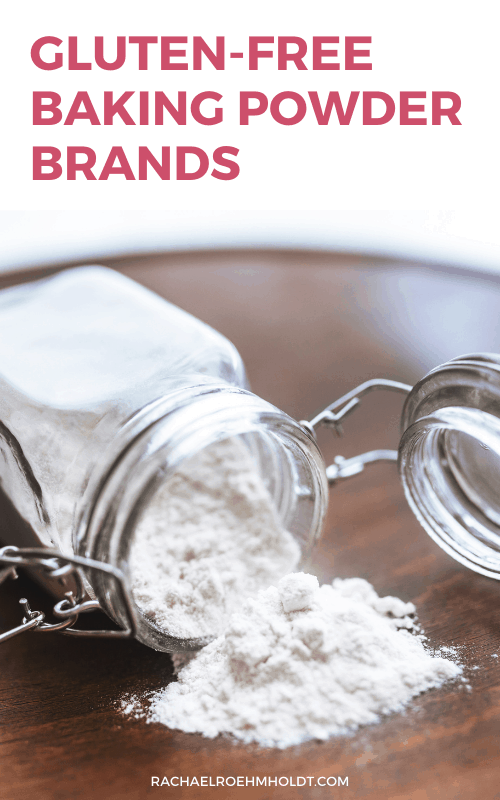 Gluten-free Baking Powder Brands
Look for some of these gluten-free baking powder brands next time you're at the store:
Click the links above to get these brands on Amazon or Thrive Market.
What baking powder is gluten-free?
So many people have asked about specific brands of baking powder, so I thought I'd answer a few of these questions directly. Find out if some of your favorite baking powder brands are gluten-free below.
Is Clabber Girl baking powder gluten-free?
The Clabber Girl website states that their baking powder is safe for a gluten-free diet.
Is Rumford baking powder gluten-free?
Rumford baking powder is owned by Clabber Girl, and is noted as gluten-free on their website.
Is Bob's Red Mill baking powder gluten-free?
According to their website, Bob's Red Mill baking powder is gluten-free.
Is Trader Joe's baking powder gluten-free?
I wasn't able to confirm that Trader Joe's baking powder is gluten-free anywhere online. Their gluten-free products dietary list did not list their baking powder, which makes me believe that it may not be.
Is Calumet baking powder gluten-free?
According to the Kraft Heinz website, Calumet baking powder does not contain any gluten-containing ingredients and is safe for a gluten-free diet.
I hope if you've been looking for a gluten-free baking powder, that this list has been helpful to you! Here's to baking up some delicious recipes!
One of my little secrets is that I carry around a copy of my GFDF Take Along Cards so that I always have a point of reference when I can sneak a peek at the ingredient list of a food.
>> Get your copy of the GFDF Take-Along Cards to make this easy on you.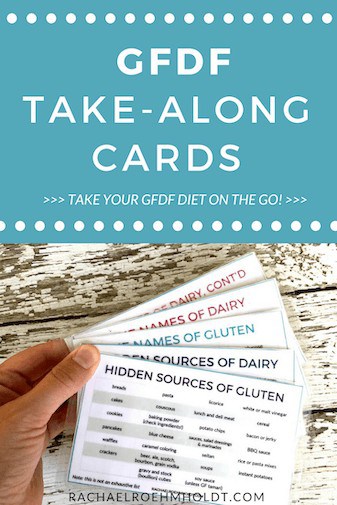 If you loved this post, I hope that you'll share it with your friends on Facebook and pin it for future reference on Pinterest.