If you love spreading ketchup on your hamburgers, hot dogs, or dipping French fries into this tomato-based condiment, you'll love this post. Find out if ketchup is gluten-free and what brands to look for.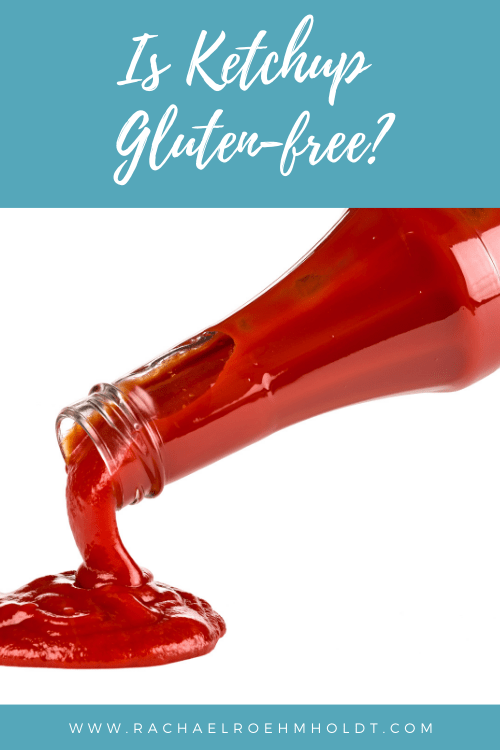 Note: I am a proud Amazon, Chomps, MunkPack, and Thrive Market affiliate and am happy to recommend their service and products to you. Please know that as an affiliate, I may receive a small commission on the products you purchase after clicking through my links. For more info, please see my disclosure policy here.
Ketchup is a much-loved ingredient in many of our favorite barbecue dishes, sandwiches, and used as a dip for fries, a glaze for gluten-free meatloaf, to top eggs, and makes for a great addition to marinades and homemade sauces.
If you follow a gluten-free diet, you know that every food, including condiments, needs to be reviewed before enjoying it without abandon. In this post, we're going to talk about ketchup and dive in to find out if this ingredient is safe for a gluten-free diet.
Read on: Gluten and Dairy-free Diet: 17 Condiments to Stock Your Kitchen
We'll also discuss how to make sure the ketchup you buy is gluten-free and wrap it up with some gluten-free ketchup brands you can look for at the grocery store.
What is ketchup made of?
Different brands of ketchup will have different ingredients, and depending on the recipe they may vary slightly. However, these are the most common ingredients you'll find in many bottled ketchups on the grocery store shelves:
Tomatoes, sugar, vinegar, onion, garlic, salt, mustard, and cloves. Some recipes also use celery salt, coriander, cumin, and allspice in their recipes.
Read on: Is mustard gluten-free?
What is gluten?
Gluten is a protein found in most wheat products, and acts as the "glue" that helps to hold wheat, barley, kamut, spelt, farro, durum, bulgur, rye, and semolina together to maintain their shape.
You can find gluten in whole grains, but also in many processed foods as well. If you purchase wheat bread, there will be gluten in it, because wheat by nature has gluten.
Many processed foods have hidden gluten in them in the form or gluten or wheat derivatives. These are also in the form of flavorings, binders to keep ingredients together, or other additives.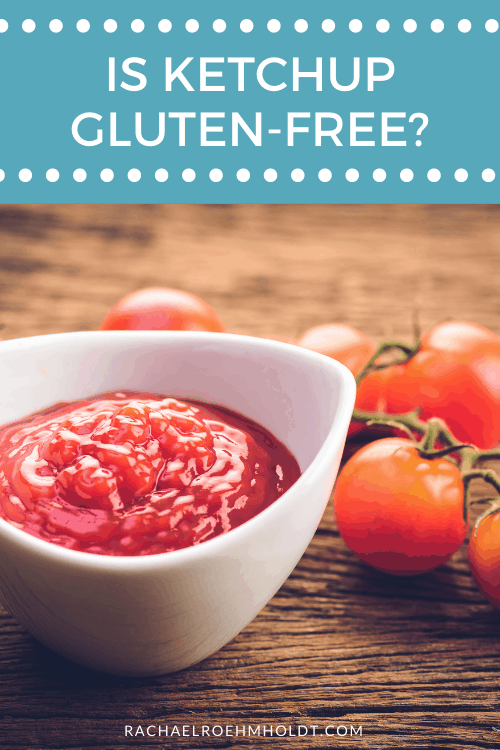 Is ketchup gluten-free?
Most ketchup brands use naturally gluten-free ingredients and are safe for a gluten-free diet.
However, if you like to do your due diligence, you'll want to look for a brand with a clear gluten-free label and gluten statement. 
Read on: Are hot dogs gluten-free?
How to make sure your ketchup is gluten-free
While most ketchup is safe for a gluten-free diet, you may want to go the extra mile to be sure. If that's the case, you can do a few things to know that the ketchup you buy is for certain gluten-free.
First, read ingredients lists. Review the list of ingredients to be sure there are no obvious gluten-containing ingredients in the product.
One of my little secrets is that I carry around a copy of my GFDF Take Along Cards so that I always have a point of reference when I can sneak a peek at the ingredient list of a food.
>> Get your copy of the GFDF Take-Along Cards to make this easy on you.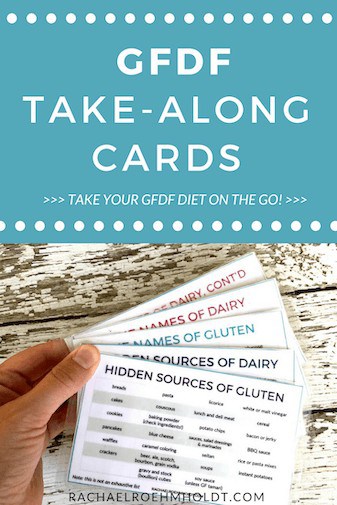 Second, look for a gluten-free label. Not all ketchup brands will have this, but if you like to err on the side of caution, you can look for this label and know that the FDA requires a product to have less than 20ppm of gluten in the product in order to carry that label.
Third, seek out brands that have clear gluten and allergen statements. Check out the list of brands below that offer a gluten-free statement on their website.
Fourth, be sure whatever you're eating with ketchup is also gluten-free. It doesn't make much difference if your ketchup is gluten-free, if you plan to dip a gluten-y piece of breaded chicken in it.
Read on: Are French Fries Gluten-free?
Is ketchup dairy-free?
Almost all ketchup is dairy-free. The easiest way to know is to look through the ingredients lists for any names of dairy. Another way to find out if your brand of ketchup contains dairy is to look for a "Contains" note under the ingredients list.
Is ketchup vegan?
Most ketchup is vegan as it's often made with corn syrup. However, some ketchup may not be suitable for vegans if it uses granulated sugar bleached through bone char or honey. Look for a brand that is made for vegans in the list below to help you find options that work for your diet.
Read on: Is corn syrup gluten-free?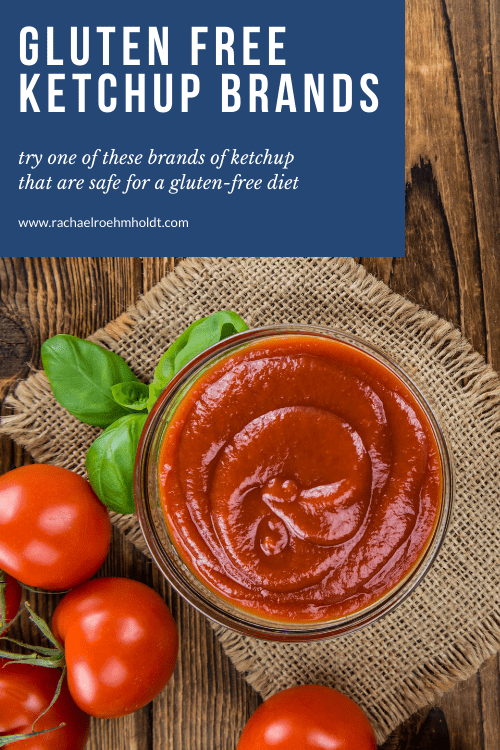 Gluten-free Ketchup Brands
Most ketchup brands are safe for a gluten-free diet, however these brands specially have gluten allergen statements that will help you feel safe that you're making the right choice for your body.
Keep one of these on hand in your gluten-free pantry for easy dipping and sauce-making for all your favorite dishes.
Annie's Organic Ketchup labels their packaging as gluten-free, vegan, and certified organic. You can see information on their website.
According to the McCormick website, French's parent company, the most updated version of their allergen and nutritional information will be on the packaging of the product. They claim to always note the presence of gluten containing grains, including barley, rye, oats, spelt, triticale, and kamut on their labeling so it's easy to identify.
Although I wasn't able to find a specific statement by Heinz, I was able to find on other websites the confirmation that this brand is in fact gluten-free.
Read on: Is Heinz ketchup gluten-free?
Hellmann's real ketchup labels its packaging with a gluten-free label, meaning it contains less than 20ppm of gluten in the product.
The Hunt's website shows that there are no known allergens in their classic tomato ketchup or natural tomato ketchup. See more on their website.
The packaging for Organicville ketchup says "organic and gluten-free," making it a good choice if you follow a gluten-free diet.
The Sir Kensington brand of ketchup has a gluten-free label and a certified vegan label, meaning it's safe for a gluten-free diet. See more details of this ketchup on their website.
The Tessemae's brand of ketchup is organic, vegan, dairy-free, has no added sugar, and is gluten-free. This unsweetened ketchup is a great option if you try to avoid added sugars in your diet. See their response to having gluten in their products here.
Walden Farms offers a gluten-free ketchup that also has no sugar. See more on this ketchup product here and their statement about gluten here.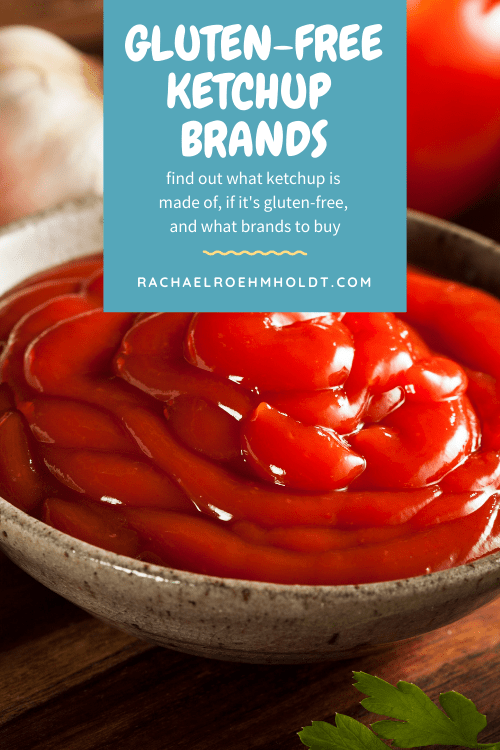 Is ketchup dairy-free?
Ketchup does not contain any dairy ingredients in most recipes, therefore it is safe for a dairy-free diet.
Is ketchup vegan?
Most ketchup brands are vegan, however some make their products with honey as a sweetener instead of sugar. If you are vegan, you will want to double check the ingredients lists before buying and look for a vegan label.
Can you make your own gluten-free ketchup at home?
Of course! If you love the idea of making your own condiments and sauces, you can definitely try your hand at making gluten-free ketchup in your kitchen. Here are a few recipes to get you started!
I hope if you've been looking for answers as to whether you can continue enjoying ketchup on your gluten-free diet that this post has helped you!
There are so many great ketchup brands that are gluten-free, and you can confidently look for a gluten-free label or read ingredients lists to be sure what you're buying is good for you and your diet.
If you loved this post, I hope that you'll share it with your friends on Facebook and pin it for future reference on Pinterest.
Love this post? You might also want to check out these!
Find out if your favorite foods and ingredients contain gluten with these posts!